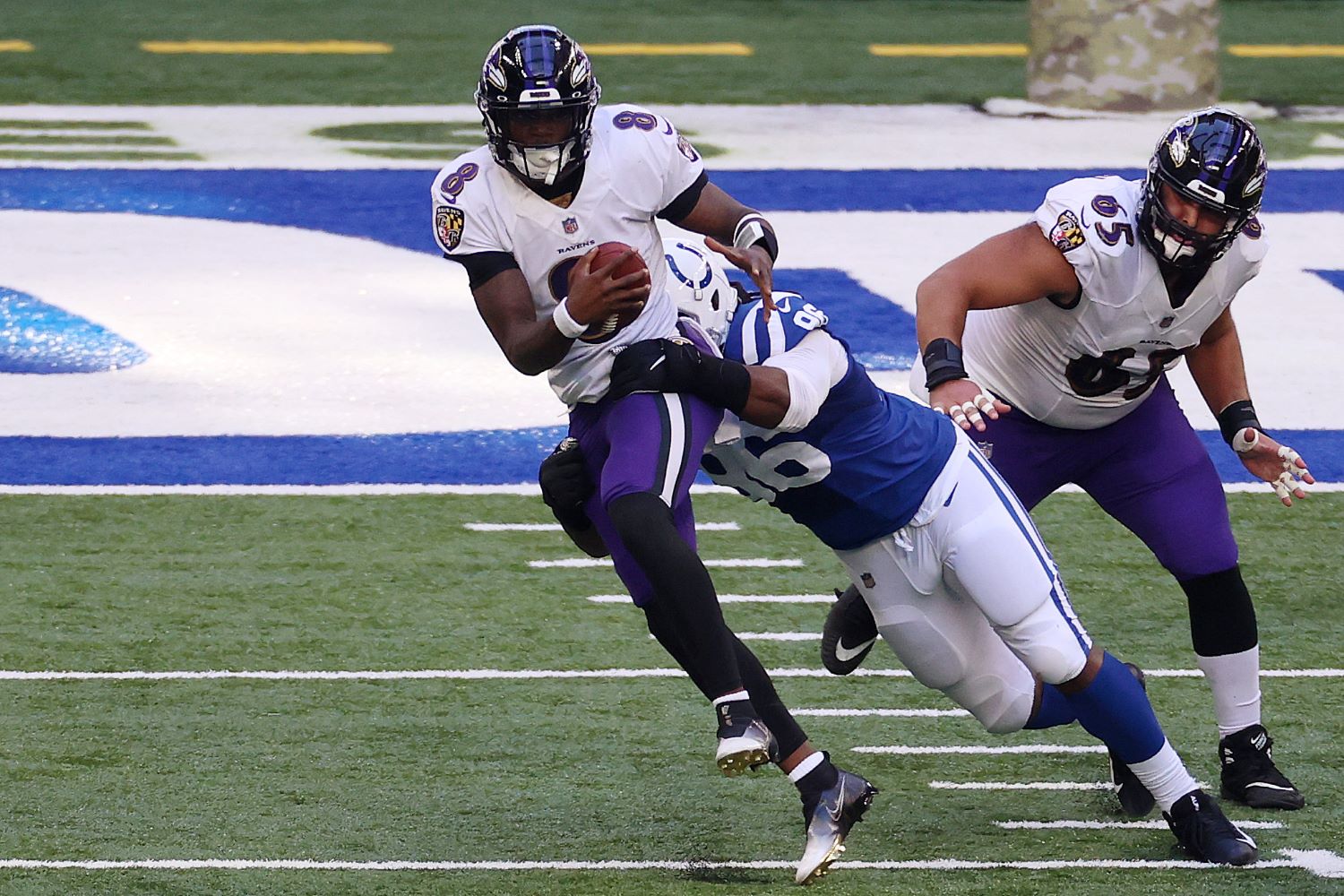 Lamar Jackson Reveals Troubling Trend That Could Threaten Ravens' Super Bowl Chances
Lamar Jackson revealed a troubling trend that should scare Ravens fans. Can Baltimore's offense get back on track against the Patriots?
Last season, the Baltimore Ravens dominated the rest of the NFL with an offense centered around Lamar Jackson and his dynamic skill set. But after leading the league in points in 2019, John Harbaugh's team only ranks eighth in scoring through eight games.
So what's the reason behind Baltimore's decline on that side of the ball? While some may point to injuries or personnel problems, Jackson has another explanation. In fact, the reigning MVP recently revealed a troubling trend that could threaten his team's Super Bowl chances.
Baltimore's offense has taken a step back in 2020
After spending most of his rookie season on the sidelines, Lamar Jackson took over as Baltimore's starting quarterback in 2019. The Ravens completely changed their offense in order to maximize his unique array of skills.
That decision paid off in a major way. After finishing 13th in scoring in 2018, Baltimore jumped all the way to the top spot. Thanks in large part to Jackson's running ability, the Ravens totaled a franchise-record 531 points and lost just two games during the regular season.
This year has been a different story, though.
While the Ravens have gone 6-2, they haven't been nearly as effective on offense. Baltimore averaged about 408 total yards in 2019—good for second in the NFL. This season, they rank 23rd at a clip of 347 yards per game. The Ravens have also dropped from first to 15th in points per game.
Jackson's numbers have also plummeted. His completion percentage has fallen from 66.1 to 62.9. He's on pace to throw just 24 touchdowns after leading the NFL with 36 a year ago. The 23-year-old has also seen his yards-per-carry average drop from 6.9 to 5.9.
Lamar Jackson reveals a troubling trend that could threaten his team's Super Bowl chances
Although they went 14-2 last season, the Ravens fell well short of winning a Super Bowl title. In the divisional round of the playoffs, the Tennessee Titans forced three turnovers and held Lamar Jackson and Co. to just 12 points. While Baltimore has scored at least 20 points in every game this season, it's clear that the offense has taken a step back.
And according to Jackson, there's a troubling trend brewing in Baltimore that could threaten his team's Super Bowl chances.
During a recent appearance on The Rich Eisen Show, the dynamic quarterback said the Ravens are too predictable on offense.
"They're calling out our plays, stuff like that," Jackson said. "They know what we're doing. Sometimes stuff won't go our way if they're beating us to the punch."
That comment should give Ravens fans major cause for concern. After all, Baltimore's offense is predicated on causing confusion and forcing defenders to make quick decisions. But if defenses already know what's coming, that significantly reduces Jackson's effectiveness.
When the playoffs roll around, the stakes only get higher. Defenses can load up to stop the run and force the Ravens to beat them through the air. And considering Jackson doesn't have many proven pass-catchers outside of Marquise Brown and Mark Andrews, completing that mission may be impossible.
Ultimately, the Ravens have to stop this trend of predictability if they want to make a legitimate Super Bowl run. If not, they will struggle to score points and experience another early playoff exit.
The Ravens should get back on track against the Patriots
Normally a matchup against Bill Belichick's defense would be daunting for an opposing quarterback. Luckily for Lamar Jackson and the Ravens, the New England Patriots have experienced a significant drop-off of their own.
After fielding the league's top-ranked defense in 2019, the Patriots rank just 12th in points allowed. A front seven that once featured Dont'a Hightower, Jamie Collins, and Kyle Van Noy has been forced to play the likes of Tashawn Bower, Nick Thurman, and Terez Hall. New England's star-studded secondary hasn't looked nearly as effective without the benefit of a consistent pass rush.
Even though they have to play on the road, the Ravens should have no trouble getting back on track. The Patriots have struggled to stop the run, which bodes well for Baltimore's offense. Jackson, Gus Edwards, and J.K. Dobbins should prove problematic for a New England defense that severely lacks depth at linebacker and defensive tackle.
In perhaps the strangest season in NFL history, a matchup against the Patriots may just be the boost Baltimore's offense needs.
All statistics courtesy of Pro Football Reference.