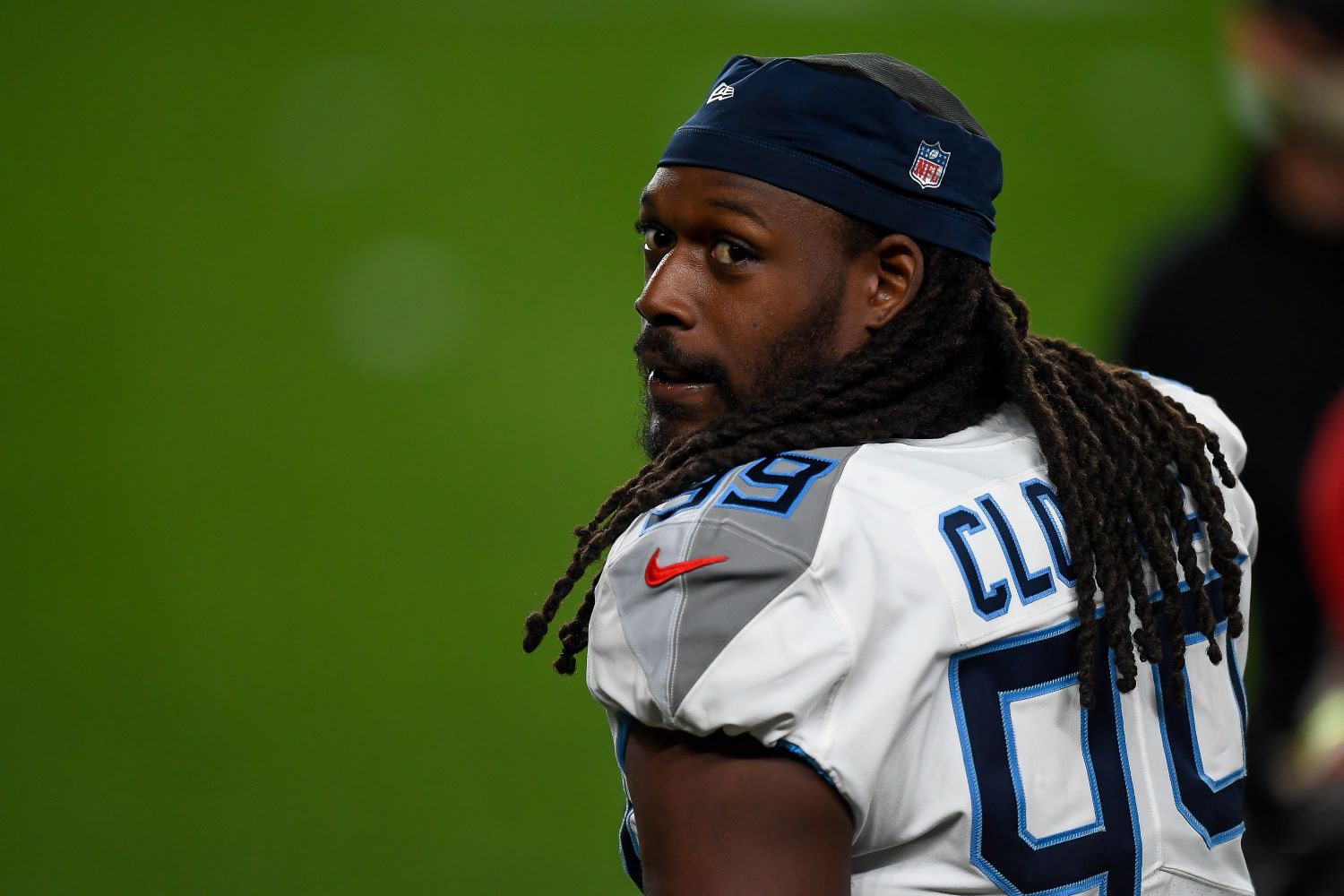 Jadeveon Clowney May Have Played His Final Snap For the Tennessee Titans
Jadeveon Clowney may not play again this season if he has to undergo surgery. Has the former No. 1 pick played his final snap for the Titans?
After spending months on the free-agent market in search of a monster payday, Jadeveon Clowney settled for a one-year deal with the Tennessee Titans. However, the former No. 1 overall pick may have already played his final snap for Mike Vrabel's team.
Once again, an injury has compromised Clowney's availability. And at this point in his career, it's fair to question: Should he be considered a bust?
Jadeveon Clowney has failed to deliver in Tennessee
Jadeveon Clowney entered the NFL as one of the most hyped prospects of all time. While he did earn three consecutive Pro Bowl selections with the Houston Texans, he never quite lived up to expectations from a production perspective.
After spending one season with the Seattle Seahawks, the former No. 1 pick looked to score a lucrative contract in free agency. However, Clowney failed to find a team willing to meet his asking price.
He spent all spring and summer waiting to find the right fit. On Sept. 8, he finally found a new NFL home. The South Carolina native signed a one-year, $13 million contract with the Titans.
That investment has not paid off for Tennessee. Clowney hasn't recorded a single sack through the first seven games of the season. The 6-foot-5, 255-pound edge defender has totaled just 15 tackles, six quarterback hits, and one forced fumble on 373 defensive snaps.
Clowney may have played his final snap for the Titans
Injuries have been a consistent problem for Jadeveon Clowney throughout his football career. He played just four games as a rookie before undergoing microfracture surgery on his knee. In fact, Clowney has played all 16 games just once since entering the NFL in 2014.
Although he has suited up in every game this season, the 27-year-old may miss time with yet another injury. On Saturday, the NFL Network's Mike Garafolo reported that Clowney is dealing with a meniscus issue in his knee. The Titans listed the defensive end as questionable for Sunday's matchup against the Chicago Bears.
However, there's a possibility that Clowney has already played his final snap for Tennessee. Garafolo reported that "surgery has been discussed" and that all options are on the table.
Ian Rapoport provided further context via Twitter.
"A meniscus trim would be a few weeks for Clowney. If he needed the full repair, he would be out for the season," Rapoport wrote.
If Clowney does need season-ending surgery, it only adds another layer to the narrative that he can't stay healthy. If he can't return to action, he will enter free agency coming off another injury-shortened campaign.
And considering he's recorded just three sacks in his last 20 games, that might scare off teams from investing millions in guaranteed money.
Should the former No. 1 pick be considered a bust?
Despite having three Pro Bowl berths and one All-Pro selection on his resume, Jadeveon Clowney's NFL career has not lived up to expectations. Considered to be a once-in-a-lifetime pass-rushing prospect, he has delivered incredible ordinary results in that department.
In 82 career games, Clowney has totaled only 32 sacks and 86 quarterback hits. Of course, those numbers would likely be higher if he managed to stay healthy.
On the other hand, Khalil Mack—who went four picks after Clowney—has completely blown his draft classmate's production out of the water. The five-time Pro Bowler has racked up 68 sacks and 125 quarterback hits in 102 games. Mack has missed just two games since entering the league in 2014.
While Clowney does grade out well against the run, teams don't take defensive ends with the first pick to set the edge. And the Titans certainly didn't give him $11.5 million guaranteed to produce zero sacks and a handful of quarterback hits.
But does that make Clowney a bust?
In one respect, his disappointing production and inability to stay on the field makes that argument a fair one. The Texans definitely would take Mack with the first pick if they had a re-do.
However, to call Clowney a bust may be too much of a stretch. He's earned three Pro Bowl selections and put up 18.5 sacks from 2017-2018. Though he may not be a true superstar, he can be a contributor to a contending team.
Just don't hold your breath on him ever becoming an elite pass rusher.
All contract data courtesy of Spotrac. All statistics courtesy of Pro Football Reference.