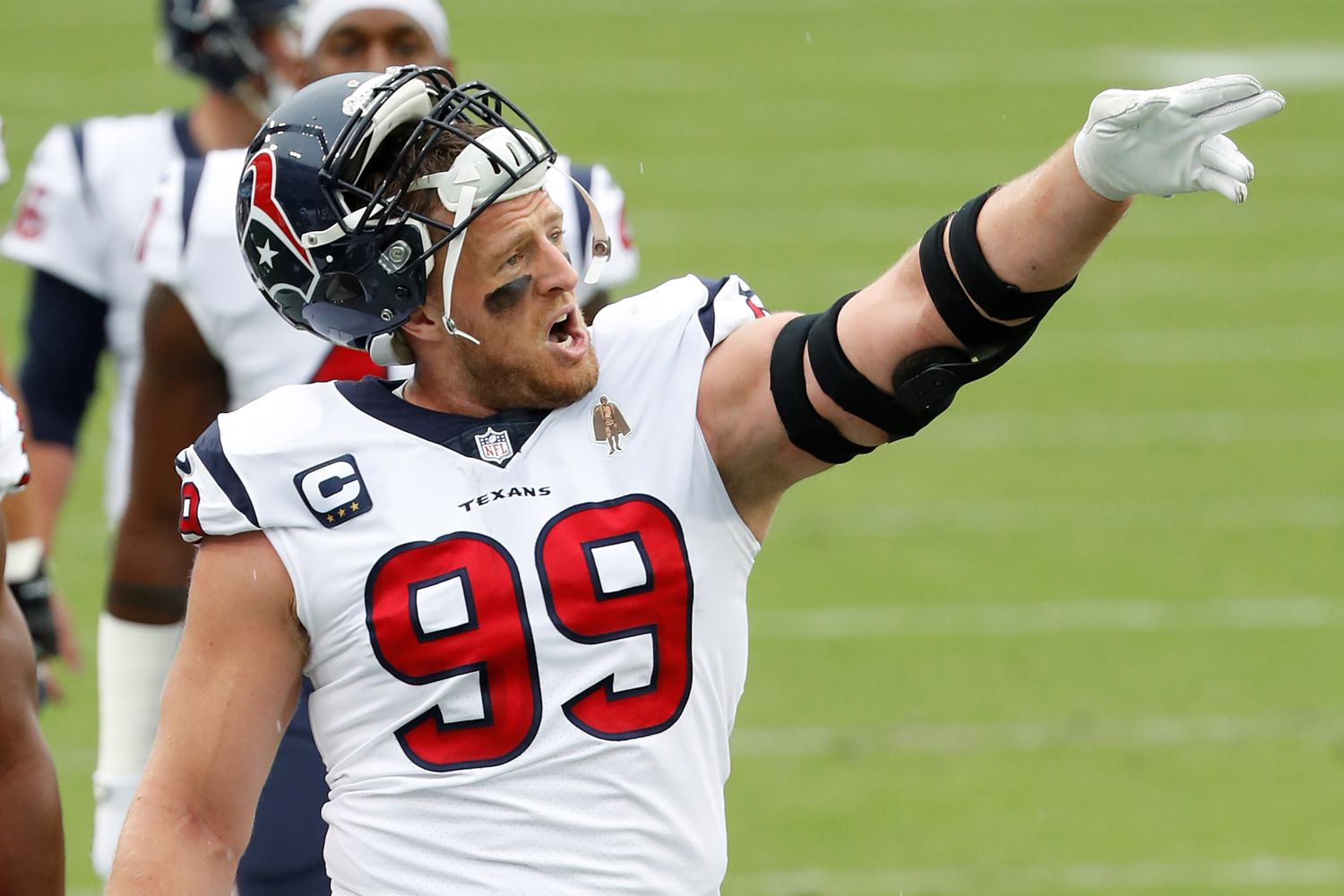 J.J. Watt Just Raised Serious Doubts About His Texans Future
J.J. Watt just raised serious doubts about his future with the Texans. Will Houston trade the star defensive end this offseason?
For the last decade, J.J. Watt has been the face of the Houston Texans. But with the team in a state of transition, the 31-year-old just raised serious doubts about his future with the only NFL franchise he has ever been a part of. And if Houston fully intends on hitting the reset button, Watt should be playing somewhere else in 2021.
Houston is heading in the wrong direction
It's been a rough year to be a Texans fan. Of course, the torture started in the offseason when Bill O'Brien traded star receiver DeAndre Hopkins and a fourth-round pick to the Arizona Cardinals for David Johnson and a second-rounder. That move has proven to be an abject disaster.
While Hopkins leads the NFL in catches (57) and receiving yards (704), Johnson is averaging just 3.9 yards per carry. The 28-year-old still hasn't surpassed 100 rushing yards in a single game.
Left without a bonafide No. 1 WR, the Texans have regressed mightily on offense. Houston ranks 22nd in scoring after finishing 14th in 2019 and 11th in 2018.
However, the defense has been even worse.
Only two years removed from finishing fourth in points allowed, the Texans rank 30th at a clip of 31 points per game. Although J.J. Watt hasn't missed a game, his production has declined. After recording four sacks and 21 quarterback hits in eight games last season, the five-time Pro Bowler has totaled just three sacks and six QBH through seven games.
Needless to say, not much has gone right in Houston. And thanks to O'Brien trading away valuable draft capital, the Texans don't have a direct path to add young, cheap reinforcements to their roster.
J.J. Watt raises serious doubts about his Texans future
Given his age and extensive injury history, J.J. Watt may only have a few years left in the tank. For a player who has yet to play in a Super Bowl, having the chance to compete for the Lombardi Trophy means everything.
However, given the uncertain future of the franchise, continuing to play for the Texans does not seem to align with Watt's goal of winning a title. In fact, during his weekly press conference, the NFL 2010s All-Decade Team member raised serious doubts about his future with the Texans.
"I don't think it's any secret that I don't have 10 years left in this league," Watt said. "I personally believe that I do have a few more great ones left in me, but I'm not looking to rebuild. I'm looking to go after a championship and that's what I want to do."
He further added, "Whatever's in the best interest of the Houston Texans, that's in the best interest of myself."
Based on his comments, it seems like Watt already knows his time in Houston could be coming to an end. After all, if the team intends on hitting the reset button, it doesn't make much sense to hold onto a player who turns 32 in March. But will the Texans pull the trigger and trade the face of their franchise this offseason?
Will the Texans trade Watt?
J.J. Watt has given everything to the Texans. Now, though, it's time for the team to give him what he wants: a chance to win a Super Bowl ring.
That won't happen in Houston given the state of the roster. And while the NFL trade deadline has come and gone, that doesn't mean Watt will play out the remainder of his contract with the Texans.
Despite his age and durability concerns, Watt still could play a valuable role for a contending team. The 6-foot-5, 288-pounder can play all along the defensive line and could experience a resurgence if he's surrounded by more talented players. Perhaps Watt would even be amenable to a reduced role that would help him stay fresh throughout the season.
Set to hit free agency in 2022, he will make $17.5 million next year. A team trading for Watt could consider signing him to an extension to reduce his sizable 2020 cap hit.
Obviously, though, trading away the best player in franchise history is easier said than done. But if the Texans want to secure more draft capital as they embark on a rebuilding plan, then they should trade J.J. Watt this offseason.
In this case, it will be a win-win for both parties.
All statistics courtesy of Pro Football Reference.