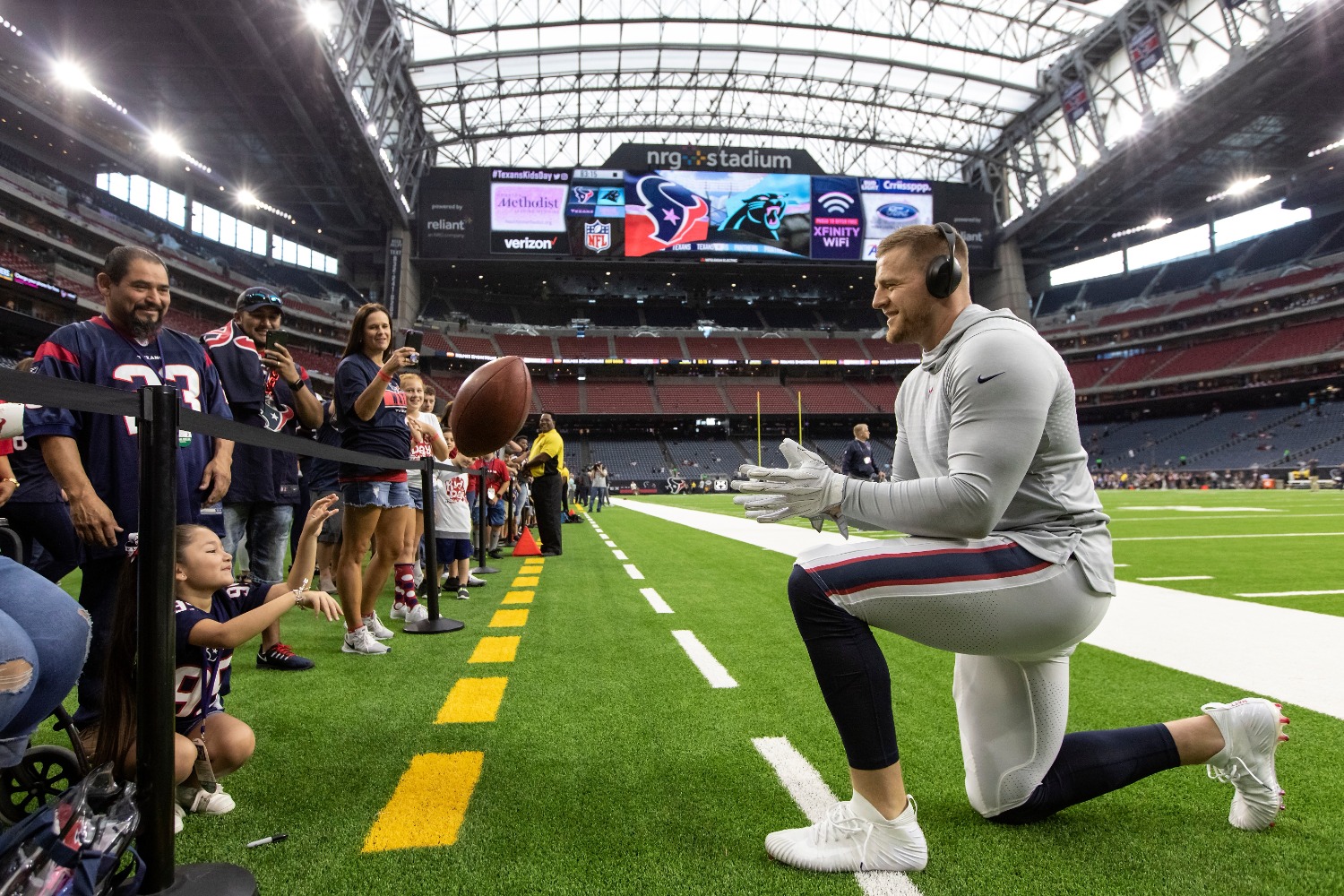 J.J. Watt Just Admitted His True Feelings About Texans Fans
J.J. Watt just admitted his true feelings about Texans fans. Will a change at head coach reignite a Houston team sitting at 1-3?
For Houston Texans fans, watching Bill O'Brien operate over the last few years has been a rough experience. After all, he got rid of two of the team's best players for pennies on the dollar and overspent to acquire and retain Laremy Tunsil. Plus, the Texans went just 2-4 in the playoffs with the former Penn State head coach at the helm.
Those personnel decisions, coupled with the team's postseason failures, have led to frustration within Houston's fan base. That change in attitude has not been lost on J.J. Watt. In fact, Houston's star defensive end just admitted his true feelings about Texans fans while offering an optimistic outlook about the direction of the team moving forward.
A new era in Houston
In his first six seasons in Houston, Bill O'Brien led his team to four playoff berths. However, he recorded just two postseason victories in six games.
Last season's divisional-round loss to the Kansas City Chiefs drove a stake into the hearts of Texans fans. After jumping out to a commanding 24-7 lead, Houston watched Patrick Mahomes and his crew of weapons score 34 unanswered points. O'Brien went from nearly beating the best quarterback in football to allowing the Chiefs to complete the largest comeback in franchise history.
The oft-criticized head coach did not do himself any favors this offseason by trading away DeAndre Hopkins for a paltry return. Still, the Texans entered the 2020 season with a playoff-caliber roster headlined by J.J. Watt and Deshaun Watson.
Yet, after starting the season 0-2, Watt and his head coach reportedly got into a heated exchange in practice that resulted in O'Brien losing the team. And after falling to 0-4, the Texans fired him on Monday.
J.J. Watt admits his true feelings about Texans fans
Having been a member of the Texans since 2011, J.J. Watt has seen the highs and lows of playing in Houston. And as one of the most respected players in the league, when he speaks, people listen. The three-time NFL Defensive Player of the Year spoke with the media on Thursday and admitted his true feelings about Texans fans, whose attitudes toward the team have been affected tremendously by Bill O'Brien in recent years.
"One of the things I'm excited about right now is hopefully getting on the same page with our fan base again," Watt said. "I feel like that's something where there's certainly been a bit of a tension there in the last months and years. I can't wait to have us all pulling in the same direction again—I feel like there's been a bit of a disconnect there."
The 31-year-old provided further context while offering an optimistic message about the future of the franchise.
"It's not fun as a player to be a part of that when you feel like your fans can't fully back you the way that they want to. I really am so excited because I've been here in some of the best times we've ever had," Watt explained. "There's nothing better than when this city is all on the same page and pulling for the Houston Texans, and I can't wait to have that feeling again because it truly is a blast. I'm really looking forward to that."
Will the Texans give their fans a reason to celebrate on Sunday?
With Romeo Crennel taking over as the team's interim head coach, Texans fans can at least breathe a sigh of relief that they'll never see Bill O'Brien on the sidelines again. Still, J.J. Watt and his teammates face a challenging road ahead to climb back from an 0-4 start.
This week, Houston hosts the Jacksonville Jaguars, who have won just a single game this season. Still, Watt and Co. can't afford to take their AFC South foe lightly. Gardner Minshew's ability to escape pressure and throw on the run makes him one of the league's most exciting young quarterbacks. Plus, he has a few intriguing weapons in DJ Chark, Laviska Shenault, and James Robinson.
Meanwhile, the Texans need to get clicking on offense if they hope to earn their first win of the season. That begins with providing better protection for Watson, who has been sacked 16 times already. After throwing 26 touchdown passes in each of the last two seasons, the fourth-year quarterback is on pace to throw just 24 after four games.
Of course, a lack of weapons has played a significant role in Watson's underwhelming start to the season. That can be traced back to O'Brien, whose personnel moves elicited plenty of frustration from Texans fans and left his quarterback with a less-than-stellar supporting cast.
Ultimately, Sunday represents an opportunity to take another step forward for a franchise that just cut ties with its disappointing head coach. Let's see if J.J. Watt and his team can win their first game of the season and finally give Texans fans something to cheer about.
All statistics courtesy of Pro Football Reference.