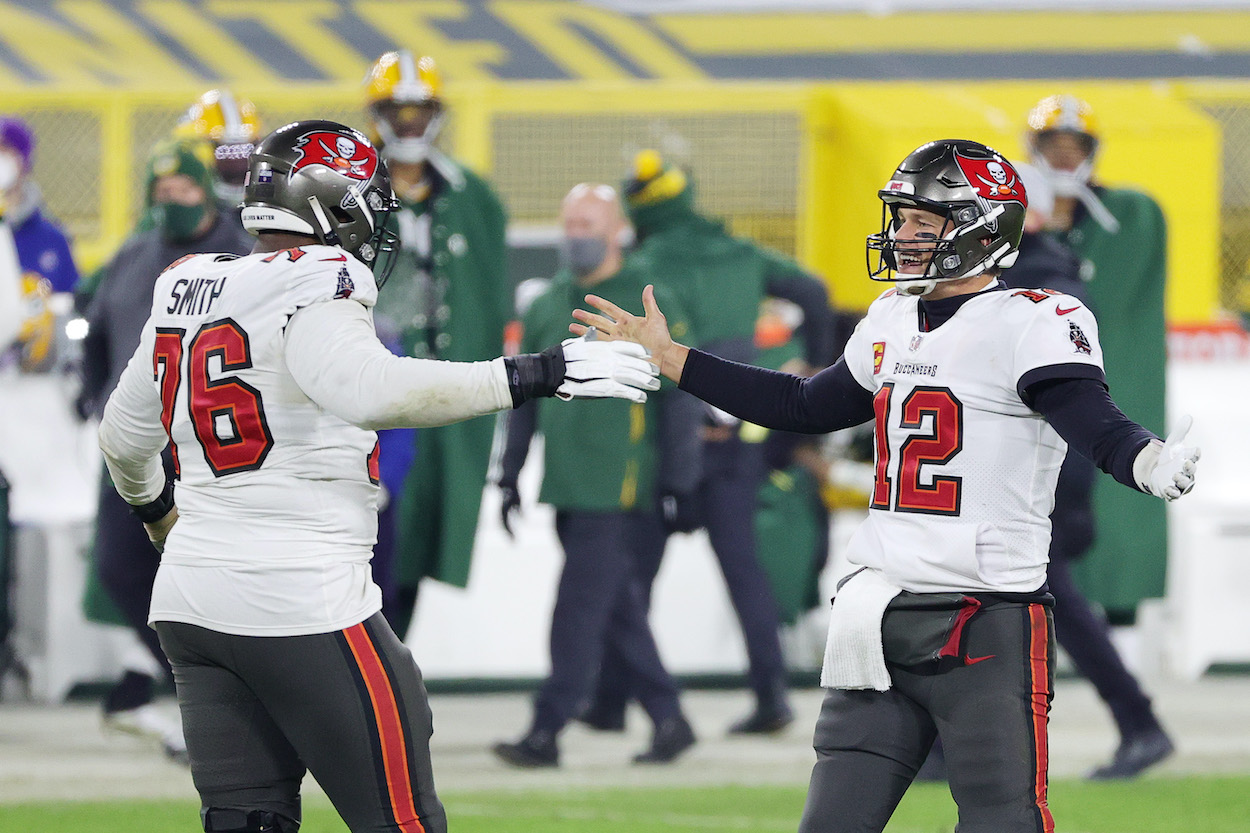 The Tampa Bay Buccaneers Just Secured a $31.8 Million Protection Plan for Tom Brady
Tom Brady is back with the Buccaneers for at least one more season, and Tampa Bay just spent $31.8 million to protect his blind side.
Tom Brady is coming back to Tampa Bay for at least one more season, and the Buccaneers have officially secured a much-needed protection plan for his blind side.
On Wednesday morning, just 11 days after Brady signed a new contract to return to the Bucs, Tampa Bay signed left tackle Donovan Smith to a two-year contract extension worth $31.8 million. After Smith kept Brady upright all season en route to a Super Bowl victory, the Buccaneers bring back a trusted bodyguard who can help guide them to the championship game once again in 2022.
Donovan Smith is as trustworthy as they come at left tackle
NFL teams weigh a few different factors when trying to find an ideal left tackle. Are they big enough to stop power rushers in their tracks? Nimble enough to beat speed rushers to the outside? And can they be trusted to stay on the field and avoid injuries?
Donovan Smith checks all three boxes.
Although he hasn't received the same accolades as some of the top tackles in the NFL, Smith is one of the most durable and trustworthy weapons at the position around the league. In six full seasons in Tampa Bay, Smith has started all but two regular-season games. 94/96. That's almost unheard of.
Smith protected Brady's blind side for the first time last season, and he couldn't have done a better job. Brady was sacked just 21 times in 2021, which was tied for the second-fewest in a full, 16-game season over his entire career.
Brady will be thrilled to have his trusted bodyguard back.
Donovan Smith re-signs with the Buccaneers for $31.8 million
The Buccaneers have employed a clear strategy so far this offseason. The premise? Bring everyone back from last year's roster who contributed to the team's first Super Bowl since 2003.
Mission accomplished with Donovan Smith.
On Wednesday morning, Adam Schefter of ESPN reported that Smith has agreed to a two-year, $31.8 million contract extension with the Bucs that will keep him in Tampa Bay through 2023. Smith will earn $30 million in guaranteed money from the deal.
The Buccaneers are getting the band back together
Boy, what an offseason it's been for the Buccaneers.
First, Tom Brady restructures his contract to create $19 million in cap space. Then, Tampa Bay uses that extra cash to bring back nearly every free agent on the team. That's one way to keep a winning group together.
The Buccaneers have already re-signed Rob Gronkowski, LaVonte David, Shaq Barrett, Ndamukong Suh, Brady, and now Donovan Smith since the league year began earlier this month. Oh, and they also brought back Chris Godwin via the franchise tag.
Tampa Bay knew it had something special in last year's roster, so why change it? It's been a brilliant offseason for general manager Jason Licht and company, and the Buccaneers should be the favorites to represent the NFC in the Super Bowl for a second consecutive year.
All stats courtesy of Pro Football Reference