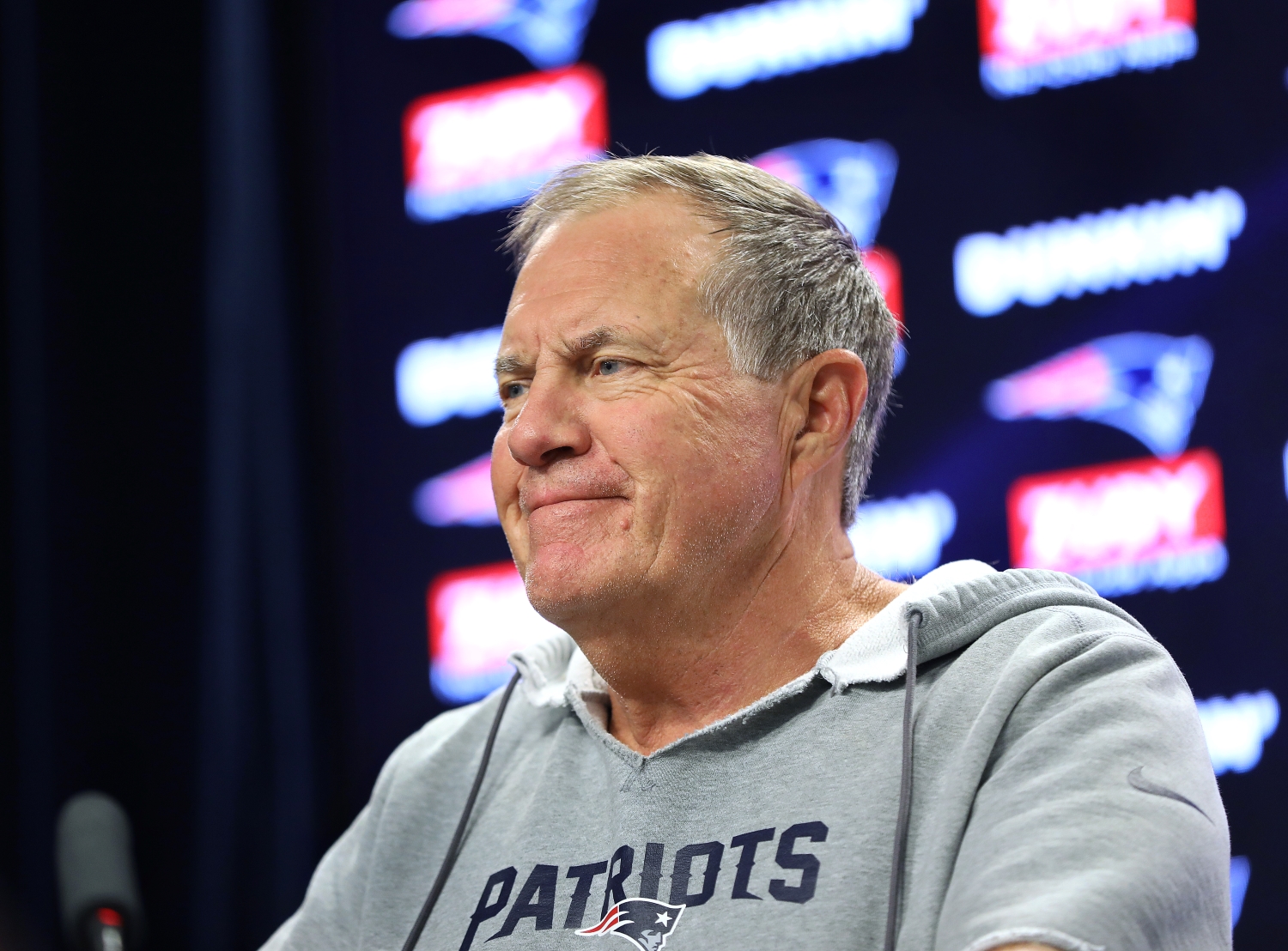 Bill Belichick Scored a Surprising $19 Million Discount to Cap Off a Franchise-Altering Week for the Patriots
By bringing back David Andrews on a surprisingly affordable contract, Bill Belichick secured a major piece of the Patriots' offensive line. But his work is far from finished.
The New England Patriots entered last week with more than $65 million in cap space and a long list of needs to address. And in uncharacteristic fashion, Bill Belichick invested a record-setting amount of guaranteed money to upgrade a roster that clearly didn't have enough talent to compete for a Super Bowl title in 2020.
But after paying market value to import key free agents, he scored a surprising $19 million discount to cap off a franchise-altering week for the Patriots. And if Belichick can rediscover his vintage form in the 2021 NFL draft, New England may just be back in the championship hunt sooner than expected.
The Patriots worked aggressively to make significant upgrades to their roster
Armed with the financial flexibility to make a few big splashes in free agency, Bill Belichick wasted no time using his spending power to secure proven veterans who still have bright futures ahead.
And he paid a premium price to do so.
Rather than settling for Jonnu Smith or Hunter Henry, Belichick signed both tight ends to deals averaging $12.5 million per season.
He also doubled down at wide receiver. Nelson Agholor signed a two-year, $22 million contract that included a $10 million signing bonus. Kendrick Bourne inked a three-year, $15 million deal after setting career-highs in catches (49) and receiving yards (667) in his final year with the San Francisco 49ers.
Belichick also raised some eyebrows by giving former Baltimore Ravens outside linebacker Matthew Judon an $18 million signing bonus as part of his $54.5 million deal.
New England also added Davon Godchaux and Jalen Mills to bolster its defense.
Plus, Patriots fans will get to see a few familiar faces back in Foxborough. Trent Brown, Kyle Van Noy, and Ted Karras will return to try to win another ring playing for Robert Kraft's franchise.
Bill Belichick scored a $19 million discount to cap off a franchise-altering week
Bill Belichick dished out more than $230 million in contracts during the first few days of free agency. While it remains to be seen whether he overpaid in some cases, there's no doubt he scored a major discount on one deal.
And it involved a player who truly epitomizes the "Patriot Way" mantra.
On Saturday, New England retained David Andrews on a four-year, $19 million deal. According to ESPN's Mike Reiss, the 28-year-old center received a signing bonus of just $1.5 million.
The former undrafted free agent has developed into a key leader and a reliable player at the pivot position. But after bringing Karras back on a one-year deal, many expected the Patriots to lose Andrews to a higher bidder.
That surprisingly didn't happen.
Instead, the highly-respected lineman will continue snapping the ball as a member of the Patriots.
For Belichick, convincing Andrews to remain in New England on a very team-friendly contract represents the crowning achievement of a franchise-altering week. The Patriots should have a top-five offensive line, a much more effective group of skill players, and a potentially dominant front seven.
And while it took a significant amount of financial resources to make all of that happen, there's no doubt the Patriots possess a better roster than they did before free agency began.
What will New England do in the 2021 NFL draft?
As much as the Patriots improved last week, Bill Belichick absolutely needs to reverse his trend of missing in the NFL draft.
After all, he had to spend so much money in free agency largely because he has failed to turn picks into productive players in recent years.
However, New England has an opportunity to land a premium prospect with the 15th selection in the first round. And if a quarterback catches Belichick's eye, it wouldn't be surprising to see him move up to land Tom Brady's long-term successor.
Then again, the Patriots could wait until the second or third round to address the position.
In that case, Belichick can simply take the best player available at 15. That could mean a receiver with superstar upside. Or maybe New England opts for a defensive tackle to add an interior pass-rushing presence.
Either way, it's clear the Patriots have the ability to go in a number of different directions in the draft. And if they can figure out a way to upgrade over Cam Newton, they will be a major threat in the AFC in 2021.
All statistics courtesy of Pro Football Reference. All contract data courtesy of Spotrac.