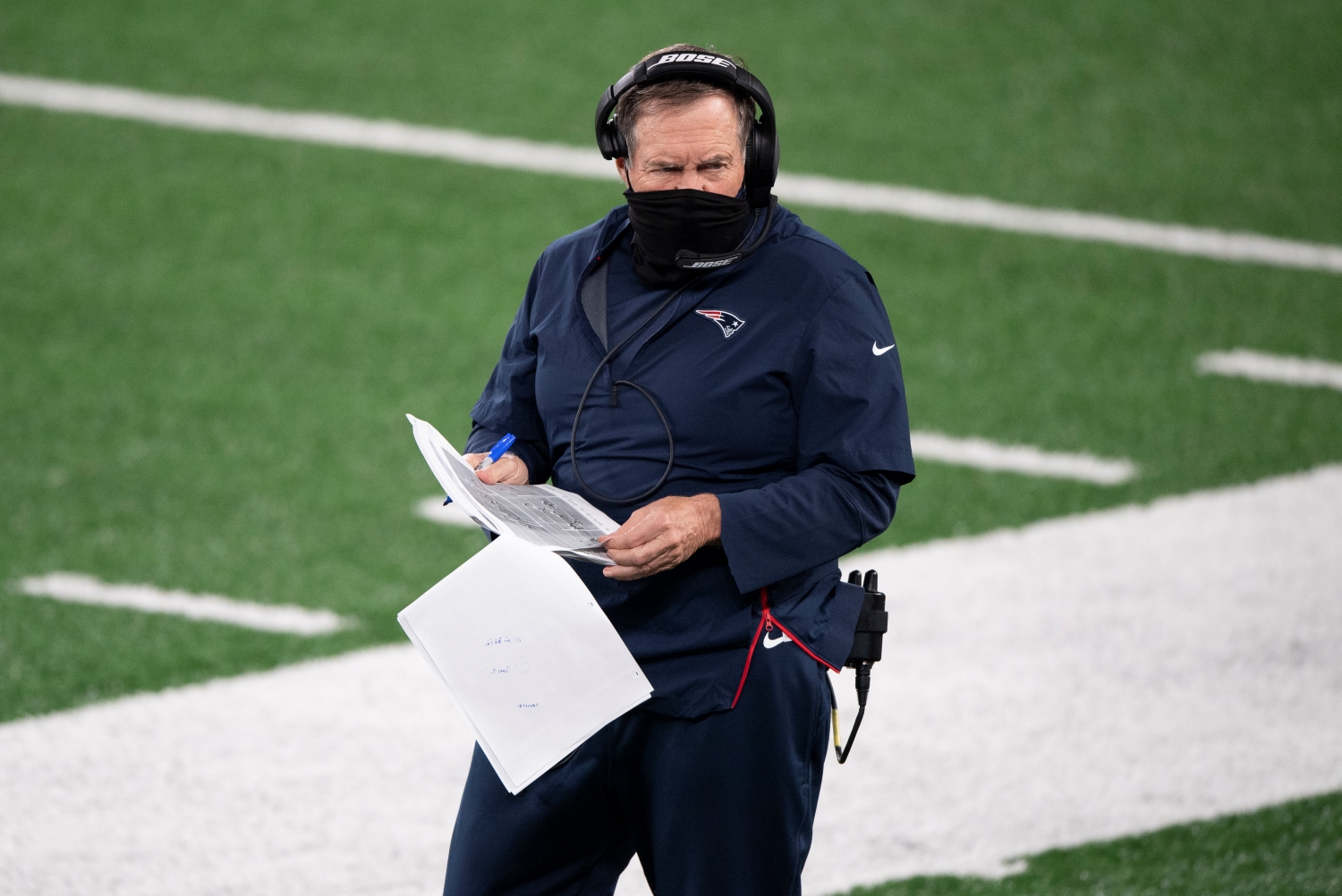 Bill Belichick Has Suddenly Forfeited a Competitive Advantage the Patriots Have Enjoyed For Years
Bill Belichick has suddenly forfeited a competitive advantage the Patriots have enjoyed for years. Will his aggressive approach to free agency pay off in the end?
Bill Belichick rarely makes decisions without a long-term view in mind. However, by taking an uncharacteristically aggressive approach to start the offseason, he has suddenly forfeited a competitive advantage the New England Patriots have enjoyed for years.
Will Belichick regret his new stance on spending big in free agency? Or will shelling out more than $230 million in contracts result in a quick turnaround for a Patriots team coming off its first losing season since 2000?
The Patriots will feature plenty of new faces in 2021
With more than $60 million in cap space, the Patriots entered Monday with a chance to strike big during the legal tampering period.
Needless to say, Bill Belichick blew away the NFL world with his radically different approach to free agency.
Instead of waiting until later in the process to pounce on potential bargain buys, the architect of the greatest dynasty in the history of professional sports paid a premium price to upgrade a talent-depleted roster.
First, New England secured a coveted prize by agreeing to sign Jonnu Smith to a four-year, $50 million contract. The former Tennessee Titans tight end adds much-needed athleticism, pass-catching chops, and solid blocking ability to a group that lacked all three in 2020.
The Patriots also managed to steal away a key contributor from one of their biggest rivals. Versatile edge defender Matt Judon will leave the Baltimore Ravens behind for a four-year, $56 million deal that includes $32 million guaranteed.
And after landing commitments from several more players—including wide receivers Nelson Agholor and Kendrick Bourne—Belichick surprised everyone Tuesday morning by convincing Hunter Henry to come to Foxborough on a three-year, $37.5 million contract.
Bill Belichick has suddenly forfeited a competitive advantage New England enjoyed for years
By handing out $239 million in contracts to fill critical roster holes, Bill Belichick has suddenly forfeited a competitive advantage the Patriots enjoyed for years.
And it has everything to do with his drastically different approach to the team-building process.
Prior to this week, New England rarely went after top-of-the-market free agents. Other than Adalius Thomas (2007) and Stephon Gilmore (2017), the Patriots mostly signed mid- to low-level players to keep costs down. More importantly, their conservative spending strategy helped secure extra NFL draft compensation.
In many cases, Belichick let decorated veterans leave in free agency to sign lucrative deals with new teams. That strategy resulted in the Patriots receiving compensatory draft picks on a routine basis since they often lost more qualifying free agents than they gained.
In fact, according to Over the Cap, only the Baltimore Ravens (53) and the Green Bay Packers (43) have been awarded more comp picks than the Patriots (40). Ironically, Belichick spent one of them on a skinny quarterback out of Michigan 21 years ago.
Let's just say that investment paid off.
But even after losing Joe Thuney to the Kansas City Chiefs on a record-setting deal, the Patriots do not project to get any compensation for any of their free-agent departures. Because by adding a surprising number of free agents, they have essentially removed themselves from the comp pick conversation for 2022.
Will rebuilding through free agency pay off for Belichick?
Bill Belichick may have forfeited the chance to pick up extra picks for the 2022 NFL draft, but that won't matter if his team climbs back to the top of the AFC East this season.
Still, it remains to be seen whether his expensive spending spree will pay off on Sundays.
Will Hunter Henry's injury troubles pop up again?
How will Jonnu Smith look in a different scheme with Cam Newton as his quarterback?
Will Nelson Agholor's breakout 2020 campaign prove to be a fluke?
Can Matt Judon provide enough pass-rush production to justify his pricey payday?
If all their new pieces come together, the Patriots absolutely have a chance to get right back in the Super Bowl mix in 2021. But if their investments backfire, that will only cast a bigger spotlight on Belichick's shaky record as a general manager.
Of course, the entire situation can (and perhaps will) change next month.
Because after fortifying both sides of the ball with quality veterans, Belichick must now fill the biggest hole of them all.
And at this point, he might as well use all of his draft picks to make sure he lands the missing piece to a championship puzzle: a franchise quarterback.
Like Sportscasting on Facebook. Follow us on Twitter @sportscasting19.