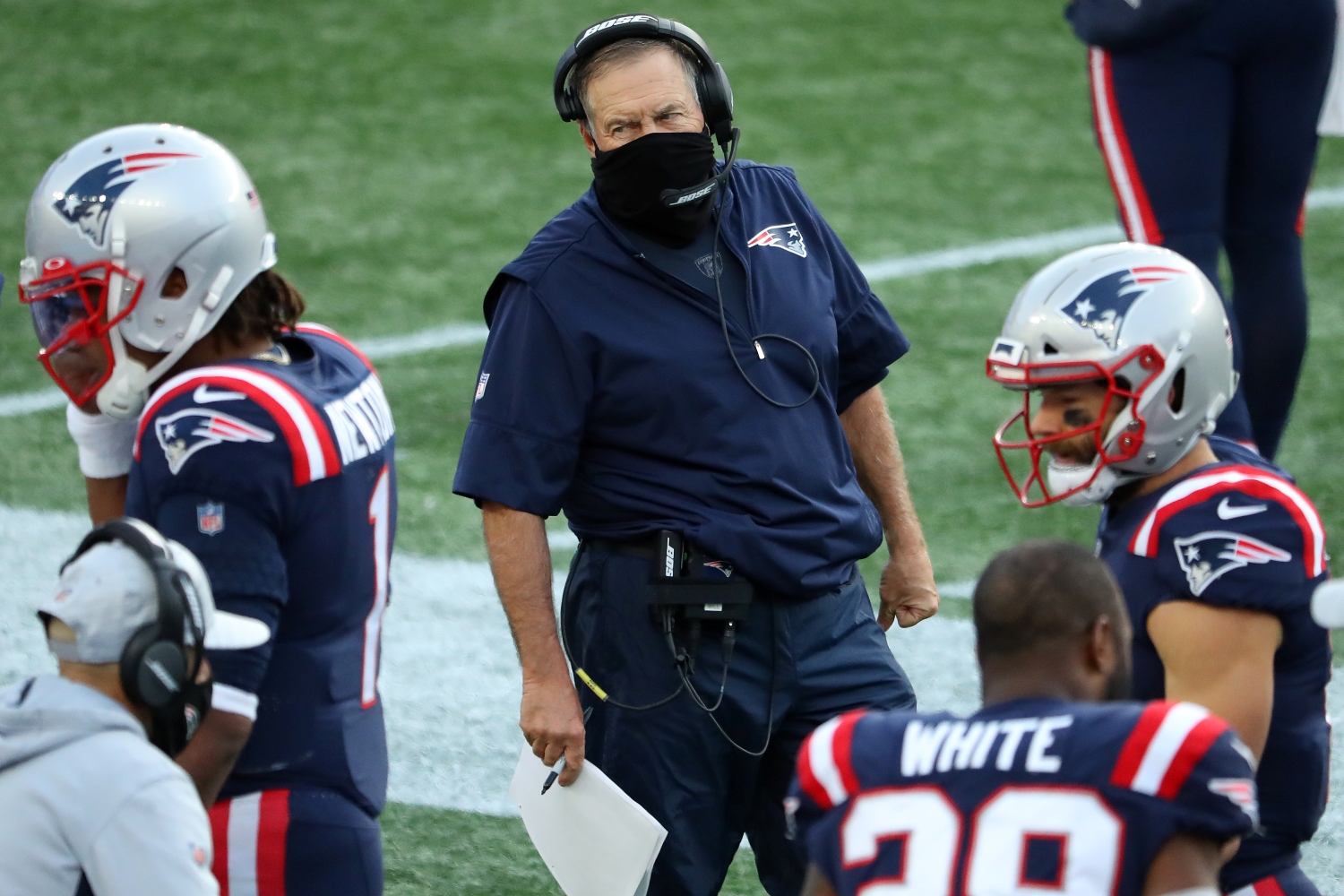 Bill Belichick Has Officially Brought Patriots Fans' Worst Nightmare to Life With a Dangerous $14 Million Gamble
Bill Belichick apparently has no problem ruining Patriots fans' dreams of having a fresh face at quarterback for the 2021 season. Can Cam Newton find a way to make everyone forget about his awful 2020 campaign?
Let's just say the New England Patriots sorely missed Tom Brady (among other faces) during the 2020 season. Without TB12 under center, Bill Belichick posted his first losing record since the year before Brady became the team's starting quarterback.
Unfortunately for fans of Robert Kraft's franchise, the man in charge of making all football-related decisions has officially brought their worst nightmare to life. Because unless Belichick's $14 million gamble somehow pays off, New England will only fall further behind in the AFC.
The Patriots got next to nothing out of the quarterback position in 2020
Tom Brady held down the quarterback spot for nearly two decades before he departed for warmer weather and better weapons down in Tampa. And because Bill Belichick went the cheap route at the most important position in sports, Patriots fans got treated to some of the worst quarterback play in the entire NFL.
Cam Newton's first year in Foxborough featured plenty of frustrating moments. While he did sprinkle in a few solid performances, his inability to consistently make plays in the passing game prevented the Patriots from putting points on the board. Ultimately, his 12 rushing touchdowns got overshadowed by his alarming totals of eight passing touchdowns, 10 interceptions, and six fumbles.
Despite his lackluster play, Newton still didn't surrender his spot atop the depth chart. Second-year pro Jarrett Stidham couldn't convince Belichick to give him even one opportunity to start. Perhaps a 50% completion rate and three interceptions on 44 attempts sealed the former fourth-round pick's fate as just another blown draft choice.
Unfortunately for Patriots fans, their worst nightmare has officially come to life. Because even if the team drafts a quarterback early, the depth chart might still feature the same name at the top as it did in 2020.
Bill Belichick has brought New England fans' worst nightmare to life with a dangerous $14 million gamble
Even Bill Belichick has to admit he's failed to construct a legitimate offense. And because he didn't surround Cam Newton with starting-caliber skill players, Belichick apparently believes the former Carolina Panthers star has a chance to flip the script in 2021.
In fact, he's officially brought Patriots fans' worst nightmare to life by taking a dangerous $14 million gamble.
After Jim McBride of The Boston Globe first tweeted about Newton returning on a one-year deal, ESPN's Adam Schefter reported via Twitter that his contract will be "worth close to $14 million."
ESPN's Mike Reiss later tweeted the deal includes a total of $6 million in incentives based on "honors" and how far the team might advance in the playoffs.
By bringing back one of the worst starting quarterbacks from 2020, Belichick will undoubtedly re-open some fresh wounds for Patriots fans. Instead of completely cutting ties with a player who didn't put the team in a position to succeed on most occasions, he somehow decided to invest more time and money on what appears to be a declining asset.
That represents a dangerous gamble by a general manager with a growing list of misfires. And for Patriots fans who desperately wanted the team to move on from Newton, this move only conjures up nightmarish memories of watching the supposed "dual-threat" signal-caller bounce passes in front of his receivers and completely fall apart under pressure.
Cam Newton needs serious help from his boss if he has any shot of living up to his new contract
Ironically, Cam Newton's deal got announced shortly before the Tampa Bay Buccaneers went public about extending Tom Brady's contract. Even though the seven-time Super Bowl champion turns 44 in August, he doesn't seem close to calling it quits.
On the other hand, Newton—who turns 33 in May—will try to prove his disastrous 2020 campaign wasn't a sign that his NFL career will soon come to an end. Based on his contract, he should at least be in the mix (if not the favorite) to open the season as the Patriots' starting quarterback.
However, unless Belichick suddenly succeeds in identifying and acquiring the right pieces to round out an NFL-caliber offense, his $14 million gamble will assuredly go down as yet another personnel blunder by the architect of the most successful dynasty in league history.
Then again, it may not even matter how much the Patriots improve at receiver and tight end.
Because if Cam Newton has truly lost the magic that once made him one of the most electrifying stars in the NFL, Bill Belichick will have blown a significant amount of money (and time) trying to resurrect the career of a player who no longer deserves to start on Sundays.
All statistics courtesy of Pro Football Reference.