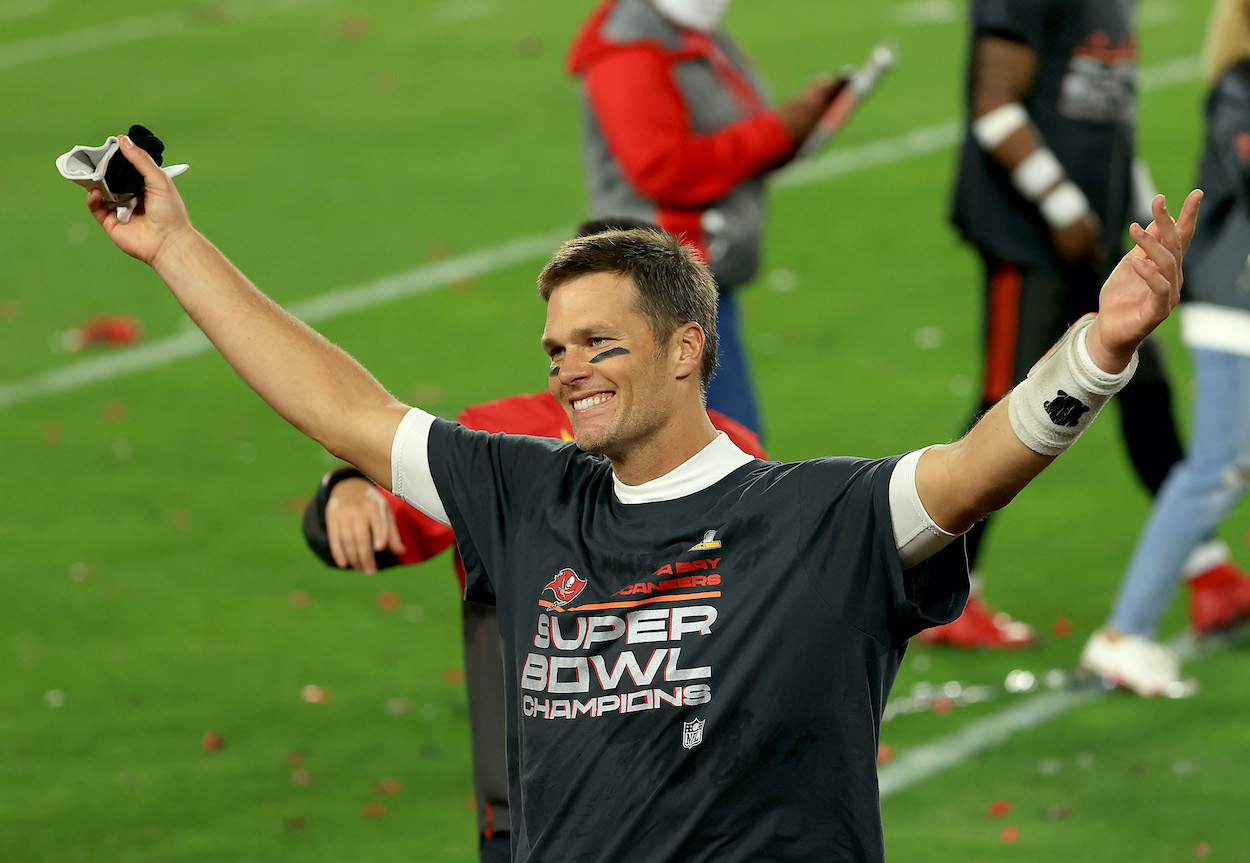 Tom Brady Just Gave the Tampa Bay Buccaneers a $19 Million Gift They Desperately Needed
Tom Brady has officially re-signed with the Tampa Bay Buccaneers, and he created an extra $19 million in cap space in the process.
Sorry, Tom Brady haters. The GOAT isn't going anywhere any time soon.
On Friday morning, Brady agreed to a unique, four-year contract extension with the Buccaneers that translates to a one-year extension to keep him in Tampa Bay through the 2022 season. Translation: Brady is back for at least another season. But this move does more than just bring back the reigning Super Bowl MVP.
The restructured contract also gives the Buccaneers a $19 million gift they desperately needed to keep their core intact and compete for a second straight championship.
Tom Brady signs an extension with the Buccaneers
When the Buccaneers won the Tom Brady free agency sweepstakes last offseason, Tampa Bay fans were enthralled by the fact that they immediately became Super Bowl contenders again. But not even the most die-hard Bucs fans expected Brady could lead them to championship glory in year one.
But, in his first season with his new team, Brady shocked the NFL world by leading the Buccaneers to a Super Bowl victory over Patrick Mahomes and the Kansas City Chiefs. That's what we get for doubting the greatest quarterback to ever walk this earth.
Brady entered the 2021 offseason with one year still left on his contract with the Bucs, but he was expected to restructure his deal before the season got underway. That's exactly what he did this week.
On Friday, Adam Schefter of ESPN reported Brady has signed a four-year extension with the Buccaneers that voids to a one-year extension. The future Hall of Famer is now locked in through 2022, and he gave his team a generous gift in the process.
Tom Brady just gave the Buccaneers a $19 million gift with his new contract
Tom Brady's new contract extension does more than just keep the QB in Tampa Bay for at least another season. The deal also saves the Buccaneers $19 million against the cap this year, according to Schefter.
For a team that was more than $5 million over the cap before Friday, the Buccaneers now have more flexibility to re-sign their coveted free agents or spend on other players available in the market. Brady, who wants to bring back as many players from last year's roster for 2021, just gave a crucial gift to the Bucs. Now, it's time for them to use it.
How will the Buccaneers use Tom Brady's $19 million gift?
In an ideal world, the Buccaneers would keep their entire roster intact from last year's Super Bowl run. And why wouldn't they? Tampa Bay had a perfect mix of talented youngsters and veteran voices that's essential for a deep playoff run. Why not run it back?
The only problem is money doesn't grow on trees in the NFL, and the Buccaneers have too many mouths to feed. Defensive end Shaq Barrett, tight end Rob Gronkowski, defensive lineman Ndamukong Suh, wide receiver Antonio Brown, and running back Leonard Fournette are all hitting free agency this offseason. With an extra $19 million now in the chamber, the Bucs can start negotiations with their free agents that want to remain with the team.
Tampa Bay could also look elsewhere for a splashy signing. Gerald McCoy has expressed interest in returning to the team, and Yannick Ngakoue could bolster the team's pass rush if he's willing to take a pay cut.
Whichever way the Buccaneers decide to go in free agency, they'll have Tom Brady to thank for the extra cap flexibility.