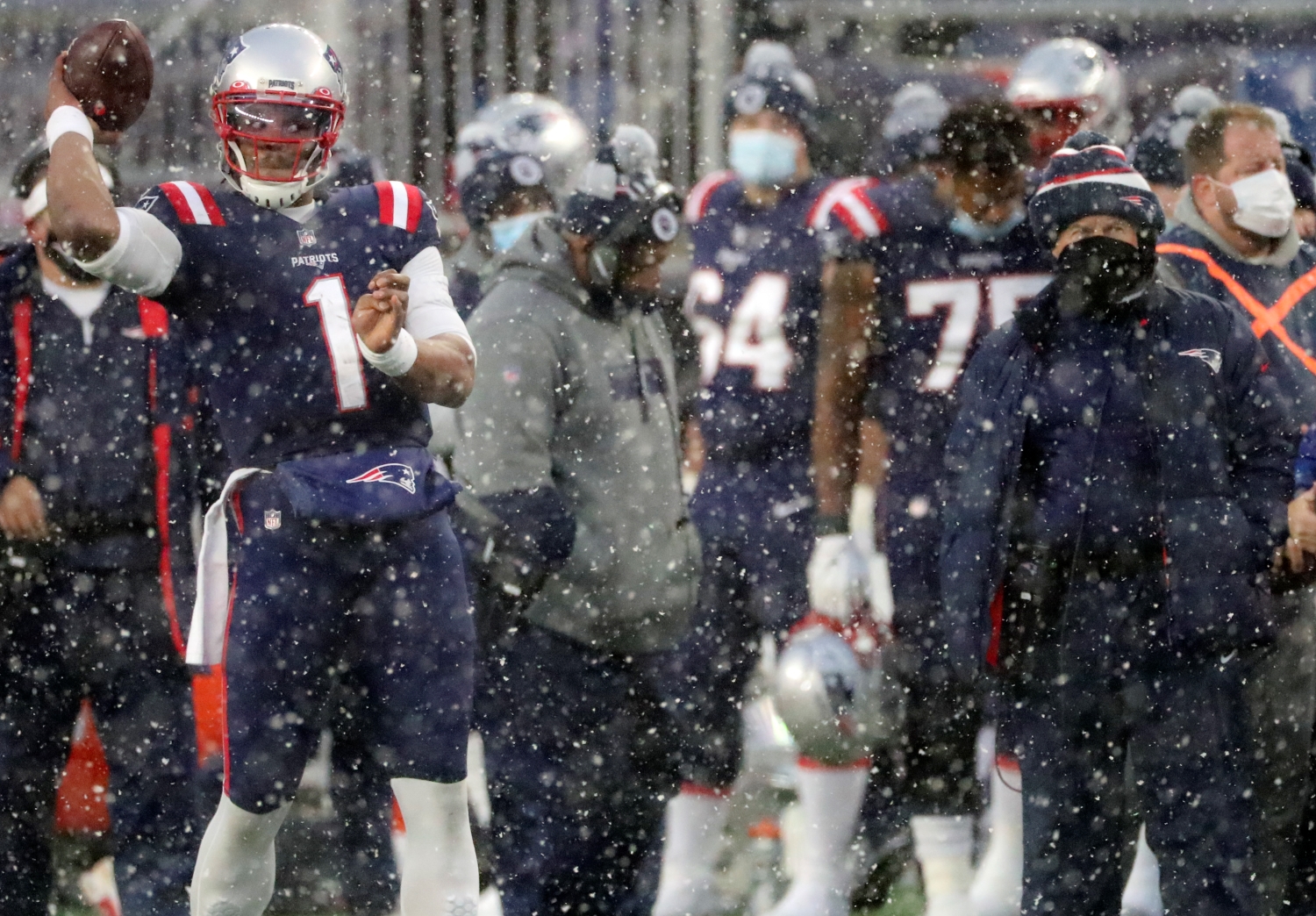 Cam Newton Just Proved Conspiracy Theorists Correct With His Latest Career Move
Bill Belichick conspiracy theorists believe he stuck with Cam Newton last season with an eye on the future. It turns out they were completely correct.
Even though Cam Newton mostly struggled in his first year with the New England Patriots, Bill Belichick continued to stick by him through the very end. Unfortunately for fans who wanted to see Jarrett Stidham receive at least one opportunity to start, that never happened.
Given his affinity for winning football games, Belichick's decision to keep the disappointing quarterback atop the depth chart didn't make much sense. But for conspiracy theorists, his uncharacteristic handling of Newton during the season provided a clue about the future of football in Foxborough.
And on Friday, the former NFL MVP just proved those people correct with his latest career move.
Cam Newton surprisingly received plenty of support from his head coach despite his on-field struggles
While the Patriots didn't pay much for a year of his services, they would have done better to invest more money to find a legitimate starting quarterback. As much as Cam Newton made an impact with his legs, his overall play left New England fans frustrated throughout the course of the team's 7-9 campaign.
Three of Newton's eight touchdown passes came in Week 17 against the New York Jets. Meanwhile, he threw 10 interceptions, committed six fumbles, and posted a career-low QBR of 47.0.
Still, his struggles didn't stop Belichick from putting him in the lineup. Aside from his one-game absence due to COVID-19, Newton started every game for the Patriots.
New England's longtime head coach continually praised his new quarterback's leadership and positive attitude. And even with Newton struggling and the team's playoff hopes on the line, Belichick left no doubt about his status as QB1.
"Cam's our quarterback," he told ESPN's Mike Reiss during his post-game press conference after the Patriots lost to the LA Rams in Week 14.
And he later put an abrupt end (or at least tried to) to further inquiries about Newton's starting status for the rest of the year.
"I've answered that question for the last time," Belichick said.
The former NFL MVP has fueled return rumors with his lofty praise for Bill Belichick
Listening to Bill Belichick publicly praise Cam Newton on seemingly a weekly basis definitely seemed strange based on how he treated Tom Brady.
But Newton showed even more enthusiasm about working with Belichick.
"I'm beginning to think he either has a Staples easy button or a Buffalo Wild Wings button, or just a straight, direct line to the football gods," Newton said after the Patriots defeated the Baltimore Ravens in Week 10. "Because he's like a football whisperer when it comes to anticipating what the game's going to be like, how we need to win, and things like that."
Days later, he took his praise for Belichick to another level.
"He's got a lot of connections in his Rolodex of numbers. I wouldn't be surprised if God or Jesus is on one of those yellow pages he's got tucked under his desk," Newton said during a Nov. 19 video conference with reporters.
Fast forward to March…and the 31-year-old quarterback still hasn't stopped talking about Belichick.
During a recent appearance on the I Am Athlete podcast, Newton called the 68-year-old "the most understood person in all of sports." He also described the NFL legend as "dope as s***" and "a cool dude."
Needless to say, his comments only fueled further speculation from conspiracy theorists that the two men have known all along how their story will end.
Newton just proved conspiracy theorists correct with his latest career move
Bill Belichick did Cam Newton (and his bank account) a huge favor by letting him start 15 games. And for at least a few conspiracy theorists, his surprising allegiance to Newton throughout the season was all part of a long-term plan.
And on Friday, the 31-year-old quarterback just proved those people correct.
After months of speculation, the Patriots officially ended all rumors about Newton returning to Foxborough. Jim McBride of The Boston Globe broke the news via Twitter that New England will re-sign the three-time Pro Bowler to a one-year contract. Longtime Patriots reporter Mike Reiss provided further clarification on Adam Schefter's initial report that Newton can make up to $14 million on his new deal.
"On Cam Newton's 1-year contract, a total of $6 million is tied to honors and how far the Patriots might advance in the playoffs, per sources," Reiss tweeted.
So despite ranking as one of the worst starting quarterbacks in the NFL in 2020, the former league MVP will once again call New England home…at least for one more year. It certainly makes much more sense why Belichick and Newton haven't stopped raving about each other now that the two will officially continue working together.
Apparently all of those warm, fuzzy feelings convinced Belichick to put $14 million on the line and hope the 2021 season goes much better than the Patriots' previous campaign.
Maybe Tom Brady would still be around if he had taken a page out of Cam Newton's playbook.
But if Belichick doesn't fix the offense this offseason, both he and Newton might be searching for new jobs together next spring.
All statistics courtesy of Pro Football Reference.