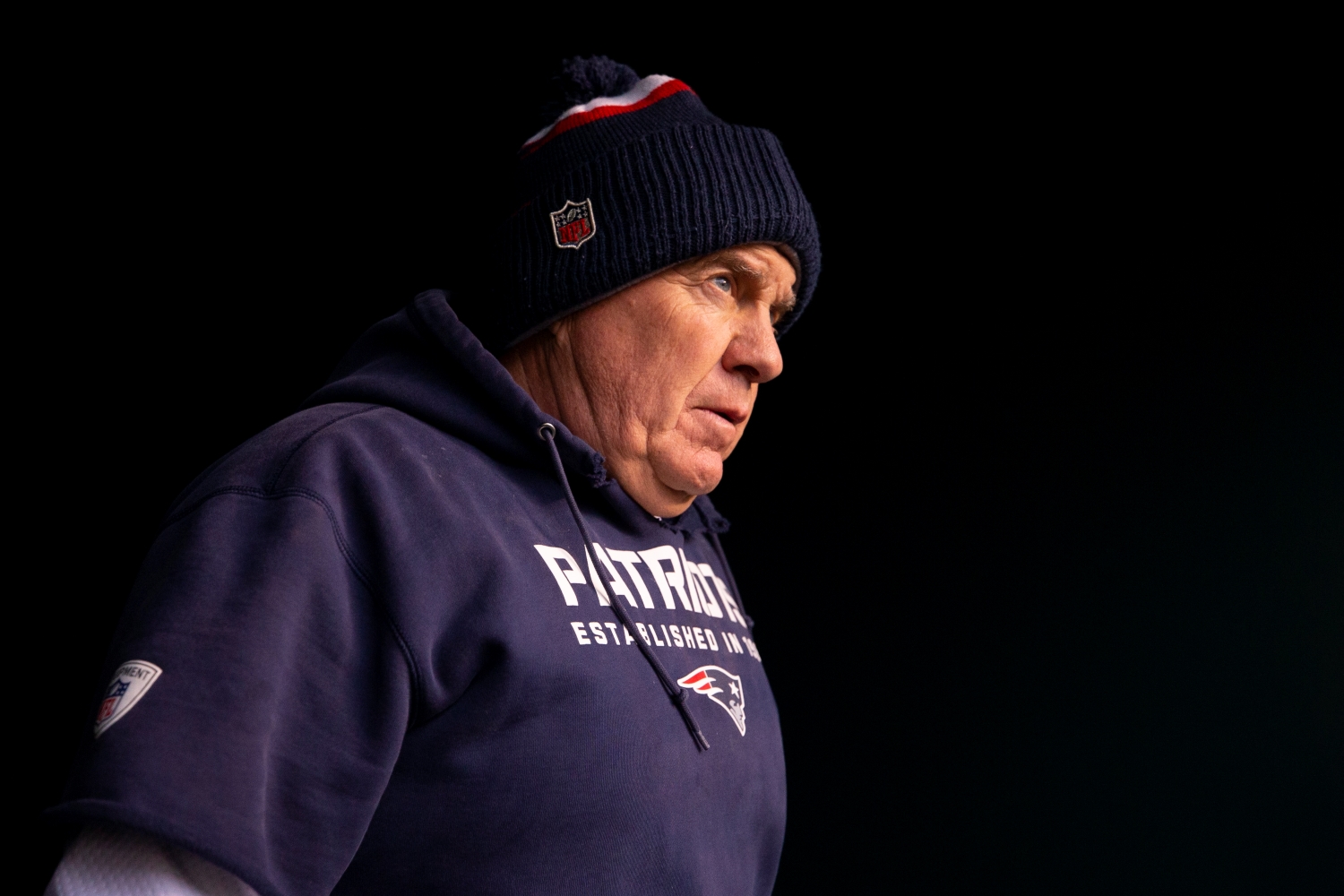 Bill Belichick Just Proved He's Out for Blood With a Surprising $37.5 Million Power Move
Bill Belichick already secured one tight end on Monday. But the Patriots head coach just proved he's out for blood by landing Hunter Henry, too.
On the first day of the legal tampering period, Bill Belichick went on a wild spending spree that sent a clear message that the New England Patriots have no intentions of laboring through another losing season anytime soon.
But even after agreeing to terms with several high-impact free agents, Belichick refuses to stop shopping.
In fact, the architect of the most successful dynasty in NFL history just proved he's out for blood by pulling a surprising $37.5 million power move that could pay huge dividends for the Patriots for years to come.
The Patriots seemingly addressed their tight end problem by agreeing to terms with Jonnu Smith
After getting limited production out of Ben Watson, Matt LaCosse, and Ryan Izzo in 2019, Bill Belichick attempted to restock the tight end position by trading up twice in the third round to select Devin Asiasi and Dalton Keene last April. Unfortunately for the Patriots, the two rookies totaled just five catches for 55 yards and one touchdown.
In desperate need of a legitimate starter, New England entered the offseason with ample cap space to fill a huge hole in the offense.
And boy did Belichick do that on Monday.
The Patriots kicked off a historic day of spending by agreeing to terms with Jonnu Smith on a four-year, $50 million contract. The 6-foot-3, 248-pound tight end developed into a key weapon for the Tennessee Titans since arriving as the 100th overall pick of the 2017 NFL draft. Smith posted career-highs in catches (41), receiving yards (448), and touchdowns (eight) in 2020.
A terrific athlete who draws rave reviews for his toughness and leadership, Smith should become a fan favorite in New England. Plus, he gives Cam Newton (or whoever starts at quarterback) a much-needed security blanket in critical situations.
And after landing one of the top players on the market on Monday, Belichick just proved he's out for blood by pulling a big-time power move to add even more talent to the tight end meeting room.
Bill Belichick just proved he's out for blood with a surprising $37.5 million power move
Bill Belichick doubled down at the tight end position in the draft last year. But after that approach didn't yield immediate dividends, he has applied that same philosophy to free agency.
And in doing so, the aging NFL coach just proved he's out for blood.
Even after committing nearly $32 million guaranteed on Jonnu Smith, the Patriots surprisingly will use even more cap space on another tight end who many projected as a potential free-agent target: Hunter Henry.
ESPN's Adam Schefter tweeted New England will sign the 26-year-old to a three-year, $37.5 million deal that includes $25 million guaranteed.
The 6-foot-5, 250-pounder entered the league as a second-round pick by the LA Chargers back in 2016. Although injuries have limited him to just 55 career games, Henry has increased his reception total in every season in which he has played. Like Smith, he has the versatility to block and make an impact in the passing game.
Rather than choosing one veteran over the other, Belichick decided to devote significant financial resources to secure both of the top tight ends on the market. Of course, that wouldn't have been possible without the benefit of an unusual amount of cap space.
But thanks to carrying over $23 million, the Patriots have the wriggle room to afford two players who will make an average of $12.5 million per season.
New England's offense suddenly looks scary with Hunter Henry added to the mix
In less than 24 hours, New England has dramatically improved on both sides of the ball. But the moves made on offense stand out for a number of reasons.
First, signing Jonnu Smith and Hunter Henry hints at a shift back to a two-tight end offense. While they may not measure up to Rob Gronkowski and Aaron Hernandez from a pure talent perspective, it's hard not to get excited about the prospect of Josh McDaniels' dialing up plays to take advantage of the team's two new weapons. As long as Smith and Henry remain on the field, the Patriots will be much more difficult to defend in 2021.
In addition, New England also bolstered its uninspiring receiver group with two solid system fits. Nelson Agholor cashed in on a career year with the Las Vegas Raiders and will look to take his game to another level playing for Bill Belichick.
Kendrick Bourne doesn't carry quite the same name recognition, but San Francisco 49ers fans watched the 6-foot-1, 203-pound wideout develop into a key contributor over the last four years. At the very least, he should fill a complementary role in an offense that suddenly seems rather deep.
Based on how the first 24 hours have gone, it's clear Bill Belichick spent months plotting a series of moves to put his team back in the mix to compete for a Super Bowl title.
But until he finds a long-term answer at quarterback, his job is far from finished.
All statistics courtesy of Pro Football Reference.