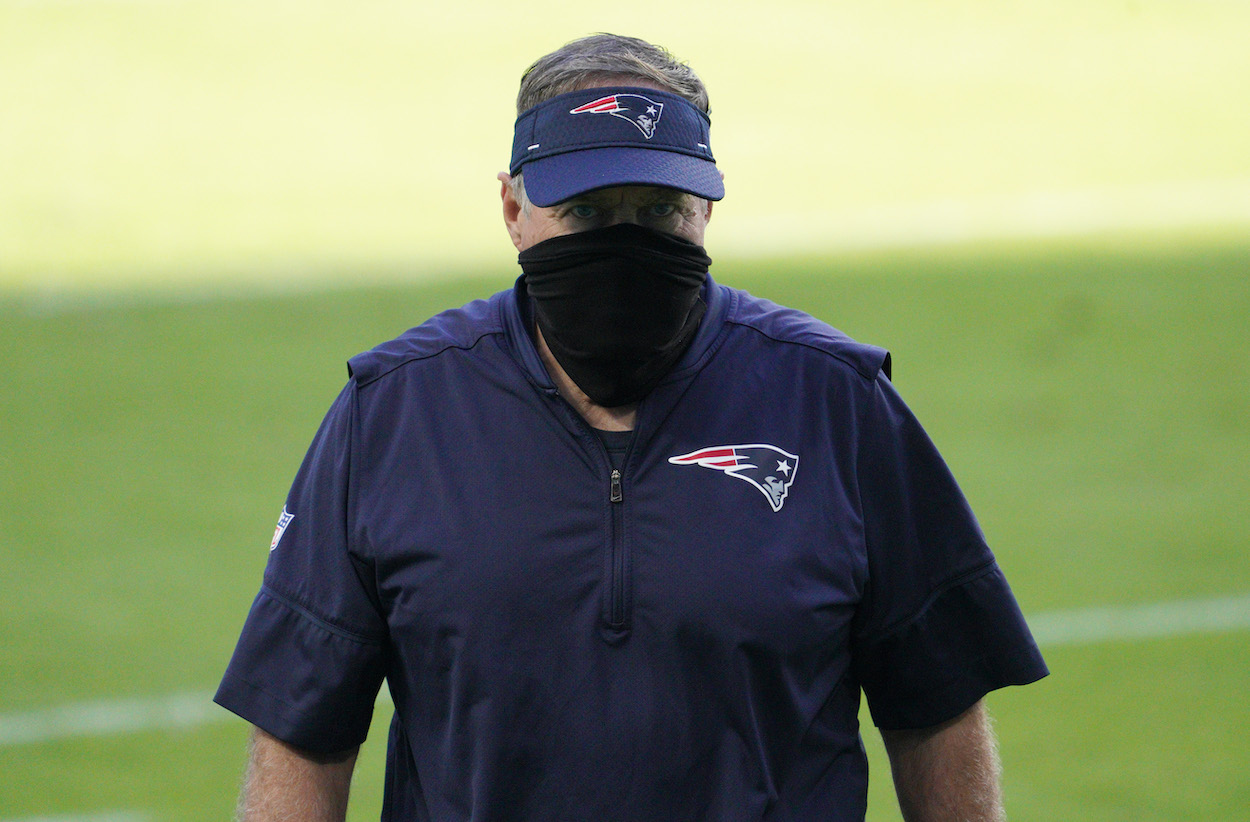 Bill Belichick Just Sent a $146 Million Message That the New England Patriots Won't Tolerate Losing
Bill Belichick never breaks the bank in free agency, but he just spent $146 million in a few hours to bring the Patriots back from the dead.
Bill Belichick has never been one to break the bank in free agency, but desperate times call for desperate measures. Within the first few hours of the 2021 free agency period, Belichick uncharacteristically spent $146 million on four marquee names in an effort to bring the New England Patriots back to prominence as soon as possible. After his worst season in 20 years, Belichick is sending a message to the NFL that the Patriots simply won't tolerate losing.
Bill Belichick and the Patriots are coming off their worst season since 2000
Before last season, you rarely saw the words "Patriots" and "losing" in the same sentence. Under Bill Belichick and Tom Brady, New England recorded a winning record in 19 straight seasons dating back to 2001. During that span, the Patriots reached nine Super Bowls and won six.
Belichick and Brady led the franchise to one of the most dominant stretches in professional sports history, but the dynasty came falling apart once Brady left for the Tampa Bay Buccaneers.
In their first season post-Brady, the Patriots went 7-9 in the regular season and missed the playoffs for the first time since 2008. New England received sub-par quarterback play from Cam Newton all season, and even though the defense gave up the seventh-fewest points in the NFL in 2020, the anemic offense kept the Patriots from their full potential.
Belichick clearly didn't enjoy being a losing team last season, so he made a drastic change to his typical free agency strategy this offseason.
Bill Belichick just spent $146 million in the first few hours of free agency
Well, that was fast. Belichick is wasting no time this free agency trying to improve New England's roster and get back to the top of the AFC East hierarchy.
Just a few minutes after the 2021 free agency period began on Monday, the Patriots agreed to deals with former Titans tight end Jonnu Smith and former Dolphins nose tackle Davon Godchaux. Smith received a massive, four-year, $50 million contract that makes him the highest-paid pass-catcher in team history based on annual salary. Godchaux agreed to a less lucrative deal worth $16 million over two years.
A few hours later, the Patriots made another splash by landing star outside linebacker Matthew Judon with a four-year, $56 million contract. They finished off the frenzy by signing former Eagles defensive back Jalen Mills to a four-year, $24 million deal.
In all, Belichick spent $146 million within the first few hours of free agency. He spent just shy of $360 million in free agency in the previous 10 years combined.
Did Bill Belichick overspend in a panic to start free agency?
Patriots fans are probably thrilled Monday afternoon with four marquee names joining the roster for 2021, but it's possible Belichick overspent on the first day of free agency in an effort to accelerate New England's rebuild.
The Patriots are still handcuffed at the quarterback position by Cam Newton, who seems to be on the downside of his career. If he can't show significant improvement from last season, New England's offense will still be one of the worst in the NFL in 2021.
The three defensive signings should help the Patriots return to their elite ways on the other side of the ball, but this team will only go as far as Newton can take them. Maybe Belichick has a few more signings up his sleeve to help his second-year quarterback return to his MVP ways. He's already shown he's willing to be extra aggressive this offseason. Why stop now?