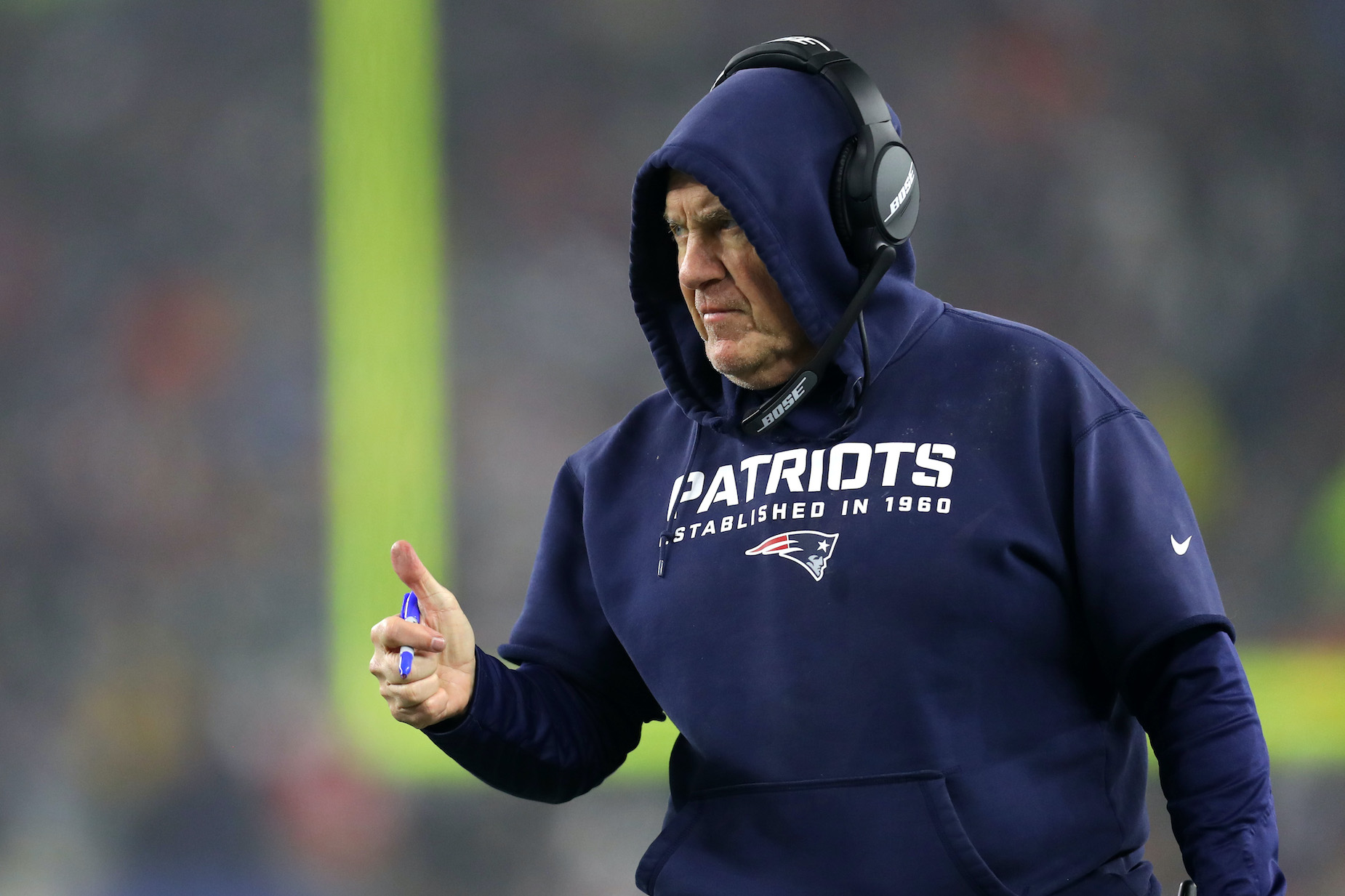 Bill Belichick Could Make Amends for 1 of His Biggest Mistakes by Replacing a Major Patriots Bust With a Talented Free Agent
Even the great Bill Belichick makes mistakes sometimes. This offseason, though, the New England Patriots GM could make amends in a major way.
While it's tough to argue with his entire body of work, Bill Belichick had a pretty tough 2020. After Tom Brady left the New England Patriots, all eyes were on the veteran head coach. Could he lead his team into the playoffs without the star quarterback? As we now know, he could not.
With that disappointing campaign in the books, it's now up to Bill Belichick to turn things around. While there are still plenty of moving parts, it seems like he could be plotting to fix one of his biggest mistakes in a two-part deal.
Bill Belichick has struggled to build a potent Patriot offense
It goes without saying that the 2020 NFL campaign was something of a struggle for the New England Patriots. While it's tough to assign blame to one specific person, Bill Belichick has to shoulder a decent amount of the blame.
Although most football fans probably think of Belichick as the Patriots' head coach, he's also the team's general manager. That means he's responsible for keeping the club's cupboard stocked with talented players. In 2020, though, the shelves were pretty bare.
Once Brady left town—we can debate how responsible Belichick was for that divorce—the Patriots were left without a true replacement at quarterback. As we no know, the Cam Newton experiment failed; Jarrett Stidham and Brian Hoyer probably wouldn't have faired much better, though, had they been given the chance.
The issues weren't limited to the quarterback room, though. For the past few years, the Patriots have lacked talent at both wide receiver and tight end; once Julian Edleman went down injured, the offense was essentially dead in the water.
All of that combined to create an anemic unit. According to ESPN's team stats, the Patriots had the NFL's sixth-worst offense in terms of total yards, only outperforming teams like the Jets and Jaguars.
Drafting N'Keal Harry was a major mistake, and the Patriots may be ready to move on
On paper, N'Keal Harry looks like a pretty perfect wide receiver. In reality, though, things have been quite a bit different.
In 2019, Bill Belichick snagged Harry with the 32nd-overall pick of the NFL draft. While that seems to suggest he was something special—the Patriots, for better or worse, rarely select receivers that early—things haven't panned out. Through the first two seasons of his professional career, the Arizona State alum has only pulled in 45 passes for 414 yards and four touchdowns.
Things only get worse when you look at the receivers who the Patriots left on the board. While hindsight is 20-20, Belichick passed up of D.K. Metcalf, A.J. Brown, and Deebo Samuel. That reality, combined with Harry's stats, make his selection look like a pretty awful mistake.
In light of that underperformance, it seems there's a chance Harry could be on the move this season. According to an NFL.com report, teams have been calling the Patriots to inquire about the receiver's availability; the piece also notes that Belichick hasn't been afraid to move someone who he deems surplus to requirements.
Could Bill Belichick replace N'Keal Harry with JuJu Smith-Schuster?
Even though N'Keal Harry hasn't set the world on fire during his time with the New England Patriots, moving him will still create a hole in the depth chart. If Bill Belichick does move the receiver, it appears that JuJu Smith-Schuster could be a potential replacement.
Smith-Schuster is set to hit free agency this offseason and, by the Steelers website's own admission, he'll probably be priced out of a return to Pittsburgh. According to NFL Insider John Clayton, who recently appeared on the Steel City's 93.7 The Fan, the Patriots could be one of the teams in the hunt for the receiver's services.
While there are still plenty of moving parts—it's unclear if Belichick wants to move Harry, is willing to tolerate Smith-Schuster's TikTok dances, and can actually make both deals happen—the appeal is clear for the Patriots. Not only would they get something in return for a struggling receiver, but they'd bring a legitimate offensive talent to Foxborough.
In recent years, Bill Belichick hasn't done his best work as a general manager. If he can replace N'Keal Harry with JuJu Smith-Schuster, though, that will be a major step in the right direction for his New England Patriots.
Stats courtesy of Pro-Football-Reference