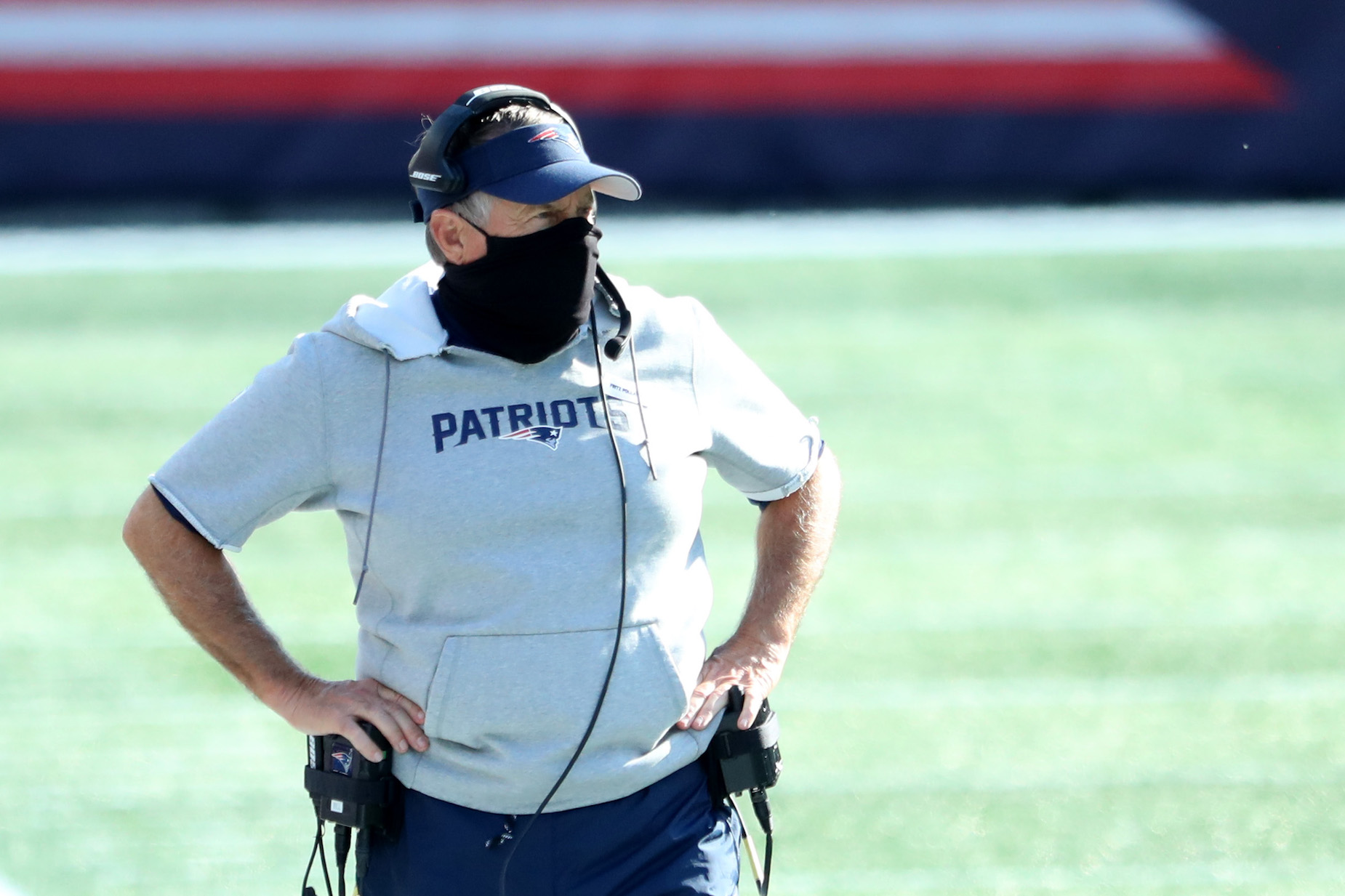 Bill Belichick Is No Longer Living Up to His Massive Salary With the New England Patriots
While Bill Belichick has achieved incredible success with the New England Patriots, he isn't exactly earning his salary this season.
When you think of iconic football coaches, Bill Belichick has to be pretty near the top of the list. During his time in Foxborough, the hoodie-wearing head coach has transformed the New England Patriots into a modern dynasty. The 2020 campaign, however, has been a bit of a different story.
For the first time in what feels like an eternity, the Patriots are without Tom Brady, and they're struggling. To make matters worse, Bill Belichick isn't living up to his massive salary, either.
Bill Belichick became a living legend with the New England Patriots
These days, it seems impossible to imagine Bill Belichick as anything other than an iconic NFL coach. Before arriving in New England, however, he wasn't always a marquee name.
After his college playing career came to an end, Belichick decided to follow his father's footsteps and head to the sidelines. He landed an 'apprentice' job with the Baltimore Colts; from there, he worked with the Detroit Lions and Denver Broncos.
Belichick's big break, however, came in 1979, when he joined the New York Giants as a special teams coach and defensive assistant; before long, he was the defensive coordinator on two Super Bowl-winning squads. He then struck out on his own, taking charge of the Cleveland Browns, before stints as an assistant with the Patriots and New York Jets.
In 2000, though, Belichick returned to Foxborough as the head coach, and everything seemed to click. From a personnel perspective, he seemed to have the magic touch, capable of plucking players out of obscurity and turning them into stars; on the coaching side of things, he was able to cook up the perfect game plan to counteract any opponent. Even if you think Tom Brady deserves most of the credit, it's tough to argue with six Super Bowl victories and three Coach of the Year titles.
The New England Patriots unsurprisingly pay their head coach a sizable salary
A place in NFL history hasn't been Bill Belichick's only reward, though. He is also able to command a sizable salary thanks to his success with the New England Patriots.
While coaching salaries rarely see the light of day, it's safe to assume that Belichick, as a six-time Super Bowl champ, takes home a nice paycheck. In the past, Forbes pegged his annual salary at roughly $12 million; that's higher than any other coach, regardless of the sport.
While some may balk at paying anyone, let alone a football coach, multiple millions of dollars each year Belichick's salary does make sense in an NFL context. In addition to his impeccable track record, the head coach also handles the Patriots' personnel decisions. If you look at the $12 million as the combined cost of a coach and a general manager, it seems unlikely that Belichick could realistically earn any less.
This season, though, Bill Belichick isn't living up to that salary
Based on his track record, it seems almost blasphemous to suggest that Bill Belichick isn't worth his salary. In 2020, however, his general managerial game seems to have slipped.
In theory, this season was supposed to be the ultimate test case for Belichick's personnel management skills; without Tom Brady, it would be up to him to populate the offense with talented players. Instead, years of poor decisions and bad drafting has come home to roost.
"That's why we need to hold Belichick's feet to the fire for vastly underperforming as a de facto general manager despite his unrivaled success as a head coach," Bucky Brooks wrote on NFL.com. "He's done such a poor job of replenishing the roster with young talent in recent years that his exceptional tactical ability can't bail him out. Now, it'd be foolish to completely bury Belichick's Patriots. The coach can still come up with a game plan that'll allow the Pats to work around some deficiencies and win some games. But Belichick needs to take a long, hard look at how his organization goes about the draft process. Because right now, it's not working."
For the past two decades, the 'Patriot way' has meant that your performance matters more than your salary and name. Based on that standard, Bill Belichick is falling short of his own $12 million standard.