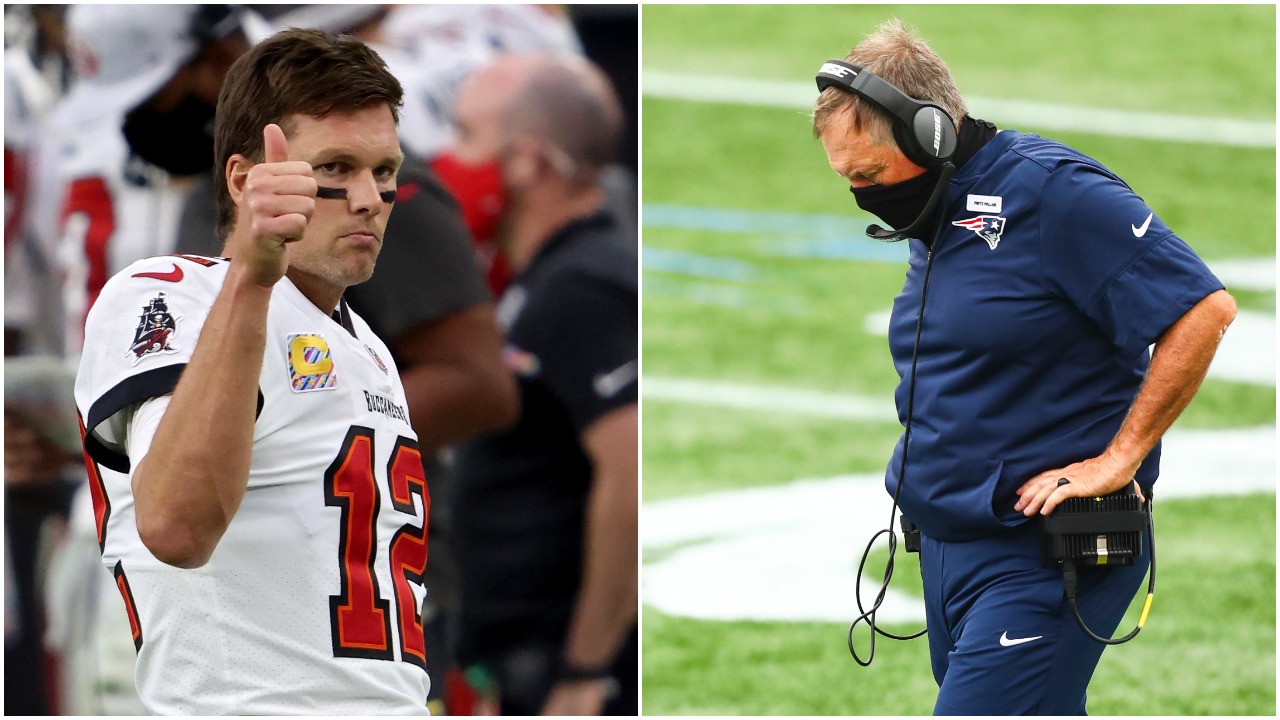 It's Quite Clear Who is Winning the Tom Brady-Bill Belichick Divorce
While Tom Brady is thriving in his first season with the Tampa Bay Buccaneers, Bill Belichick and the New England Patriots are struggling.
For two decades, Tom Brady and Bill Belichick were the hottest couple in the National Football League. Yes, as you can see from the title of this piece, we're going with a relationship theme here. In that time, the two won six Super Bowl titles with the New England Patriots and were the faces of what could end up being the greatest dynasty the NFL will ever see.
But as it happens with so many long-term relationships, things soured between Brady and Belichick as time went along. In the final few years of their time together, the Patriots were still winning but it was clear to see that a breakup was coming.
Belichick seemed to have the younger version of Tom Brady all lined up when he drafted Jimmy Garoppolo in 2014. But Robert Kraft wouldn't let Belichick cheat on Tom Brady like that and essentially forced a trade to the 49ers. Brady, of course, was still playing at a high level (he won three Super Bowls after Jimmy G was drafted) and thought he had proven to Belichick that he had even more left in the tank following the 2019 season.
But Belichick seemed ready to move on and Brady felt the same way. So when the final two years of his contract were automatically voided on the final day of the league year, Tom Brady announced that he'd be finishing his career elsewhere, finalizing the divorce that had been in the making for years.
When Brady signed with the Buccaneers, everybody wondered who would have the better season. Would TB12 thrive in Tampa Bay without his longtime coach? Would Bill Belichick prove that he didn't need Brady to continue winning? Well, the winner of this divorce is quite obvious.
Tom Brady is thriving with the Tampa Bay Buccaneers
Through the first seven weeks of his first season in two decades without Bill Belichick as his head coach, Tom Brady is playing some really good football with the Tampa Bay Buccaneers. He has the team off to a 5-2 start and, at 43 years old, is still playing at an extremely high level.
In seven starts with the Bucs, Brady has completed 65.7% of his passes for 1,910 yards and 18 touchdowns against just four interceptions. He has the Bucs in first place in the NFC South and is getting more and more comfortable in the Tampa Bay system each and every week, as evidenced by the fact that he just had his best game of the season on Sunday in a road win over the Raiders.
Brady completed a season-best 73.3% of his passes in Las Vegas, tied his season high with 369 yards, and threw four touchdowns with no picks, giving him a season-high 127.0 quarterback rating.
Clearly, Tom Brady isn't missing Bill Belichick at all.
Bill Belichick and the Patriots are struggling
As for Bill Belichick, he's finding out that life without Tom Brady isn't that much fun. Outside of the 2008 season in which Brady was hurt and those four games TB12 was suspended due to Deflategate, Belichick hasn't had to worry about who would be under center for the Patriots for 20 years. But in six games in 2020, he's already used three quarterbacks.
Cam Newton has started five games but was benched on Sunday for Jarrett Stidham. When Newton was unable to play in Week 5 due to his COVID-19 diagnosis, Brian Hoyer, who is in his third stint in New England, got the call. Yes, the Patriots have had to deal with a number of opt-outs and injuries. But this is simply not a good football team.
It's rare to see a Belichick-coached team execute this poorly on both sides of the football and things only seem to be getting worse. And it certainly can't be fun for Belichick to watch Tom Brady and Rob Gronkowski hooking back up again. The Patriots are 2-4 and looking up at the Miami Dolphins and the Buffalo Bills in the AFC East, a division they've won 17 of the last 19 years.
Do Tom Brady and the Buccaneers play Bill Belichick and the Patriots in 2020?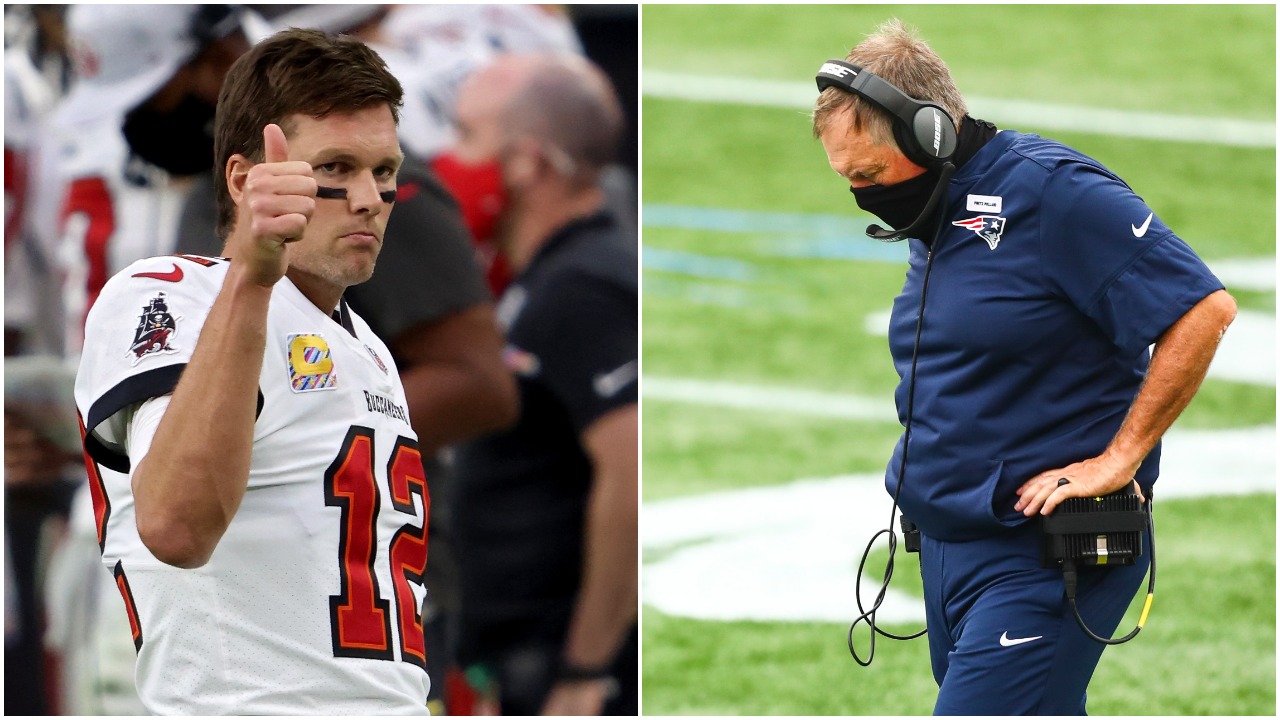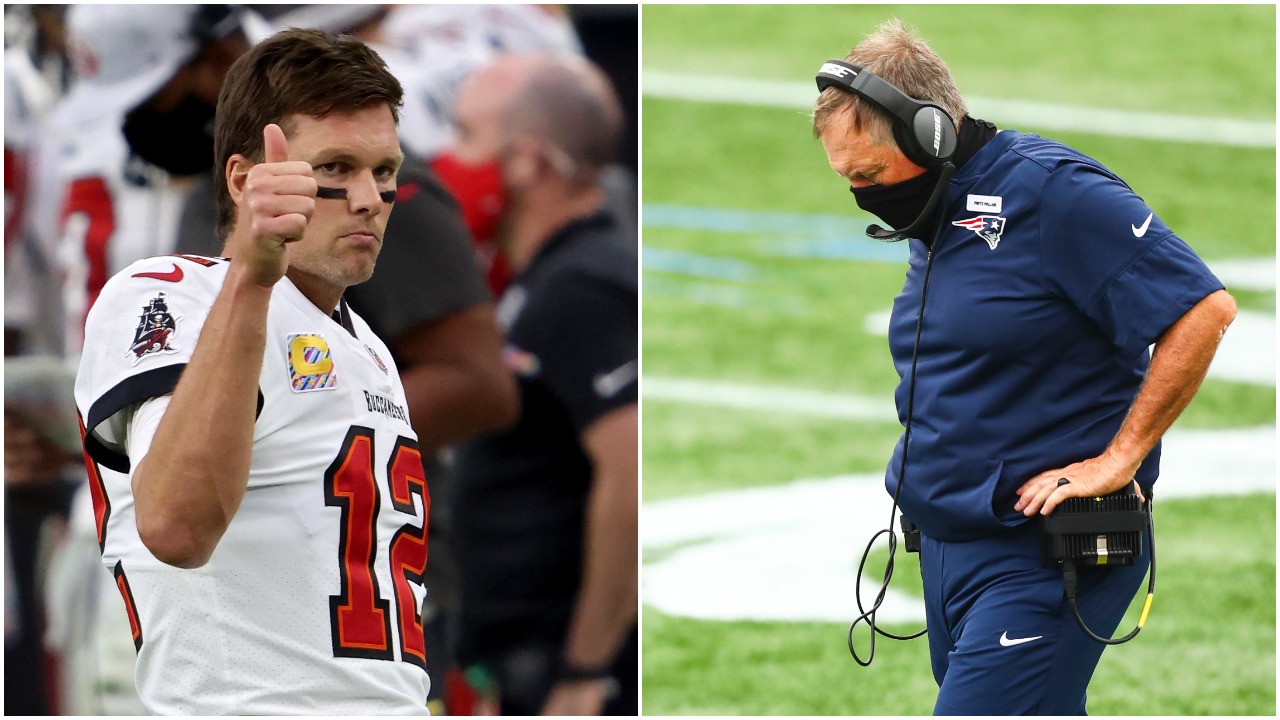 The only way Tom Brady and the Buccaneers would play Bill Belichick and the New England Patriots in 2020 would be if both teams made it to the Super Bowl, which will actually be played at Raymond James Stadium in Tampa this February.
However, Brady and the Bucs will visit Foxboro at some point in the 2021 season. One just has to wonder if Tom Brady will have a flashy new ring to show off to Bill Belichick.
All stats courtesy of Pro Football Reference