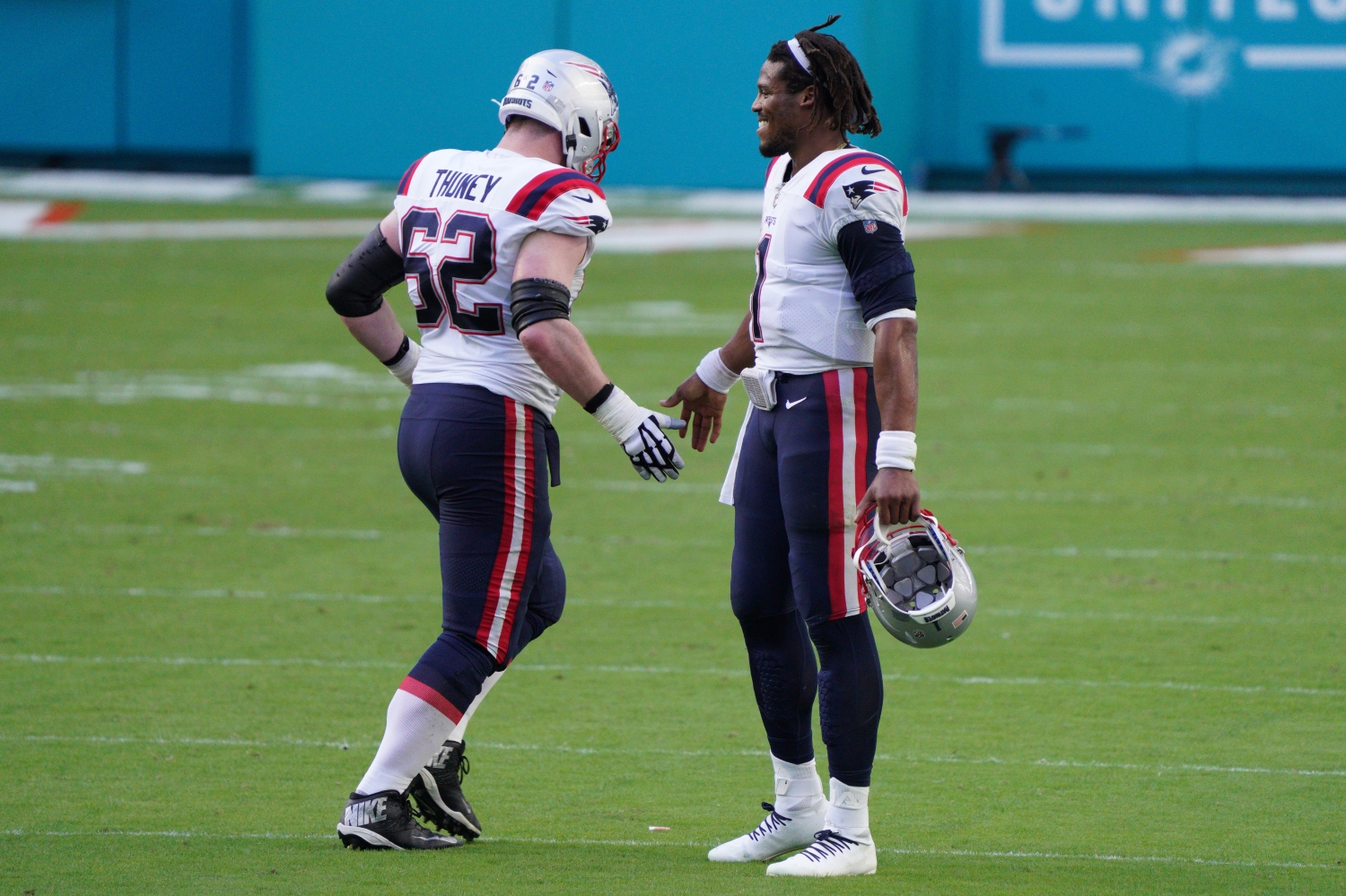 With Cam Newton Coming Back, the Patriots Suddenly Have a New Stance on Their Star Free Agent's Future in Foxborough
The New England Patriots will have Cam Newton back in the fold. And based on a report from Albert Breer, it sounds like he won't be the only member of the 2020 offense returning on a new deal...if the price is right.
New England Patriots fans started their weekend off by finding out that Cam Newton will be back for at least one more year. Of course, that didn't represent a total shock based on the way he and Bill Belichick have spoken about each other ever since they joined forces last summer.
What does qualify as a surprise, however, is New England's sudden strategic shift toward potentially investing significant money on a player who made nearly $15 million in 2020. But with a quarterback back in the fold who made more of an impact with his legs than his arm, perhaps that partially explains why the Patriots have reportedly changed their stance on their star free agent's future in Foxborough.
Bill Belichick committed to another year of the Cam Newton experiment
Despite watching Cam Newton struggle throughout the 2020 season, Bill Belichick apparently thinks the veteran quarterback still has something left in the tank. After all, he wouldn't have brought the former NFL MVP back on a one-year deal if he didn't have at least some faith that Newton can take a significant step forward in his second year in Foxborough.
However, the 31-year-old signal-caller faces quite an uphill battle to maximize his 2021 payday from the Patriots. Once again, Belichick signed him to an incentive-laden contract that won't take up a sizable chunk of New England's salary-cap space.
By securing another year of Newton's services, the Patriots at least have some stability at the most important position in sports. But that won't preclude the team from exploring other avenues to add more talent to the quarterback meeting room.
Of course, Belichick also has to upgrade other areas of the roster. And with several key contributors set to hit the free-agent market, the Patriots face tough decisions about how to invest their money. Surprisingly, though, a team that will surely add many new faces this offseason may just keep an old one around longer than anyone expected.
The Patriots suddenly have a new stance on their star free agent's future
Although the Patriots no longer boast an elite offense, they still have a few standout players on that side of the ball. In particular, Joe Thuney has stood out as a shining example of why the draft-and-develop model works.
Since arriving as a third-round pick in 2016, the 6-foot-5, 308-pound lineman has started all 80 games. A two-time Super Bowl champion, Thuney earned second-team All-Pro honors in 2019 thanks to his stellar play at left guard.
Despite ranking as one of the best draft picks of the Bill Belichick era, the 28-year-old had to play the 2020 season on the franchise tag. But after paying the durable and consistent lineman nearly $15 million last year, New England recently passed on using the tag again to retain his rights.
Given their long list of needs, their unsettled quarterback situation, and the cost of a long-term deal, it certainly seemed like the Patriots would let Thuney sign elsewhere in free agency.
According to Albert Breer of Sports Illustrated, the Patriots had minimal discussions about a long-term deal with Thuney after they used the tag on him last March, and the two sides reportedly made "no progress" right up to when New England agreed to trade for Trent Brown last week.
But with Newton back in the mix, they have suddenly switched their stance on their star free agent's future in Foxborough.
"The lines of communication have reopened, and the Patriots have expressed that they'd like to keep Thuney," Breer reported in his weekly colmun. "Whether the sides can meet on a price remains to be seen."
Will Joe Thuney remain in New England?
Based on Albert Breer's report, Patriots fans may still get to see Joe Thuney line up at left guard for the foreseeable future. However, retaining the versatile lineman will cost New England quite a bit of money.
Dallas Cowboys star Zack Martin tops the guard market with an average salary of $14 million. Thuney should command somewhere near that figure (if not more) on a multi-year contract. And based on his resume, he should generate ample interest from other NFL teams.
Don't forget the Patriots already signed one of their stalwart guards to a lucrative extension. With Shaq Mason counting $9.6 million against the 2021 cap, will Bill Belichick want to commit even more money to the same position? Plus, New England also has to decide whether to re-sign longtime center David Andrews.
Ultimately, it still seems unlikely the Patriots will devote such significant financial resources to two guards.
Then again, Belichick just ensured Cam Newton will remain a part of the future of football in Foxborough.
Perhaps he will do the same with a player much more deserving of an extended stay in New England.
All contract data courtesy of Spotrac. All statistics courtesy of Pro Football Reference.