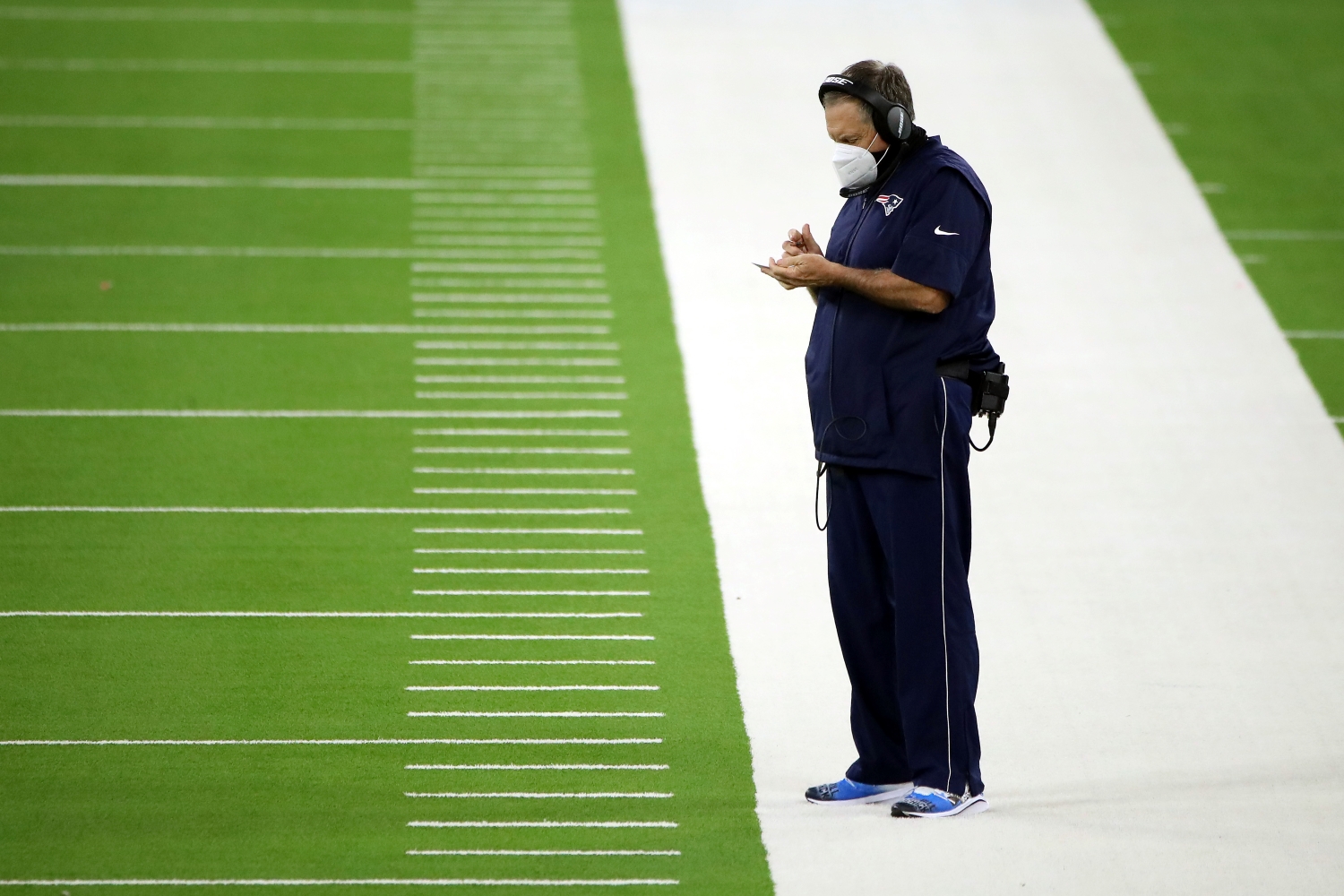 Bill Belichick May Just Have a Diabolical Plan to Make Trey Lance the New Face of the New England Patriots
With the Patriots bringing back Cam Newton on just a one-year deal, Bill Belichick may have future plans to make a big-time move to land Trey Lance in the 2021 NFL draft.
The New England Patriots may have Cam Newton under contract for one more year, but that doesn't mean the former No. 1 pick will be the best quarterback on the roster by the time the 2021 season begins. After all, Bill Belichick most certainly will select a signal-caller in the upcoming NFL draft.
And given all the factors at play, it wouldn't be surprising at all if the architect of the most successful dynasty in league history has a few impending moves up his self-shortened sleeves to make uber-talented prospect Trey Lance the future face of Robert Kraft's franchise.
Cam Newton has no long-term job stability in New England
On Friday, Cam Newton proved conspiracy theorists correct.
After months of speculation about a potential second go-around in New England, the former league MVP agreed to terms on a one-year deal that carries a maximum value of $14 million. Once again, the Patriots protected themselves by tying a significant portion of his deal to incentives and per-game roster bonuses.
By securing another year of Newton's services, Bill Belichick at least has one "proven" quarterback under contract.
Still, based on his erratic 2020 campaign, the 6-foot-5, 245-pound signal-caller doesn't exactly have a firm grasp on the starting job. And with Jarrett Stidham as the only other quarterback currently on the roster, it's clear the Patriots have to invest more resources to find a long-term successor to Tom Brady.
Ultimately, that will likely include spending an early-round pick on the position in next month's draft.
Bill Belichick may just have a diabolical plan to make Trey Lance the new face of the franchise
Ironically, on the same day they re-signed Cam Newton, the Patriots also had their eyes on a prospect with limitless potential: Trey Lance.
On Friday morning, longtime NFL reporter Albert Breer revealed on Twitter that New England sent national scout Matt Groh to North Dakota State's pro day. Several quarterback-needy teams—including the New York Jets, the Miami Dolphins, and the Carolina Panthers—also had representatives in attendance.
Tipping the scales at 6-foot-4, 226 pounds, Lance boasts all the physical traits teams look for in a modern-day quarterback. A true dual-threat athlete, he completed 66.9% of his passes for 2,786 yards and 28 touchdowns in 2019. He also racked up 1,100 yards and 14 touchdowns as a runner.
However, the 20-year-old only played one game last fall. And with just 17 college starts under his belt, he seems destined to spend at least a year or two developing his skills before he finally takes over as the face of an NFL franchise.
And that's exactly why Lance is the perfect prospect for Belichick to target next month. In fact, based on the Newton signing, their presence at his pro day, and their need at the position, the Patriots may very well be laying the foundation for the two-time FCS champion to come to Foxborough.
Can the Patriots maneuver into the top-10 to land a potential superstar quarterback?
Although it's impossible to predict Bill Belichick's next move, it wouldn't be surprising to see New England go all-in on making Trey Lance the new face of the franchise.
After all, Cam Newton will become a free agent after the 2021 season. In reality, that makes him the bridge guy to whoever the Patriots decide to draft. And based on Lance's need for more seasoning, that meshes perfectly with New England's timeline.
Assuming Belichick invests heavily at receiver and tight end, Newton will at least have a better chance of succeeding than he did last year. Plus, if New England already has high-impact skill players under contract, Lance wouldn't have to suffer from a lack of adequate weapons like Newton did in 2020.
Belichick has several routes he can take to move up in the draft to land a franchise-altering talent. Trading Stephon Gilmore could yield somewhere in the range of a fourth-round selection. N'Keal Harry and Sony Michel could also get moved for extra draft capital.
And could Belichick consider trading Isaiah Wynn now that Trent Brown will return to New England? The 2018 first-rounder possesses starting-caliber traits and could command a decent pick despite his injury history.
Armed with the 15th overall selection in the first round, the Patriots will certainly have to include multiple picks (and possibly a player) to make a leap into striking range for Lance. And while that might not be Belichick's typical method of conducting business, perhaps watching Tom Brady win a Super Bowl title has inspired the diabolical juices to start flowing in his brain.
All statistics courtesy of Sports Reference.