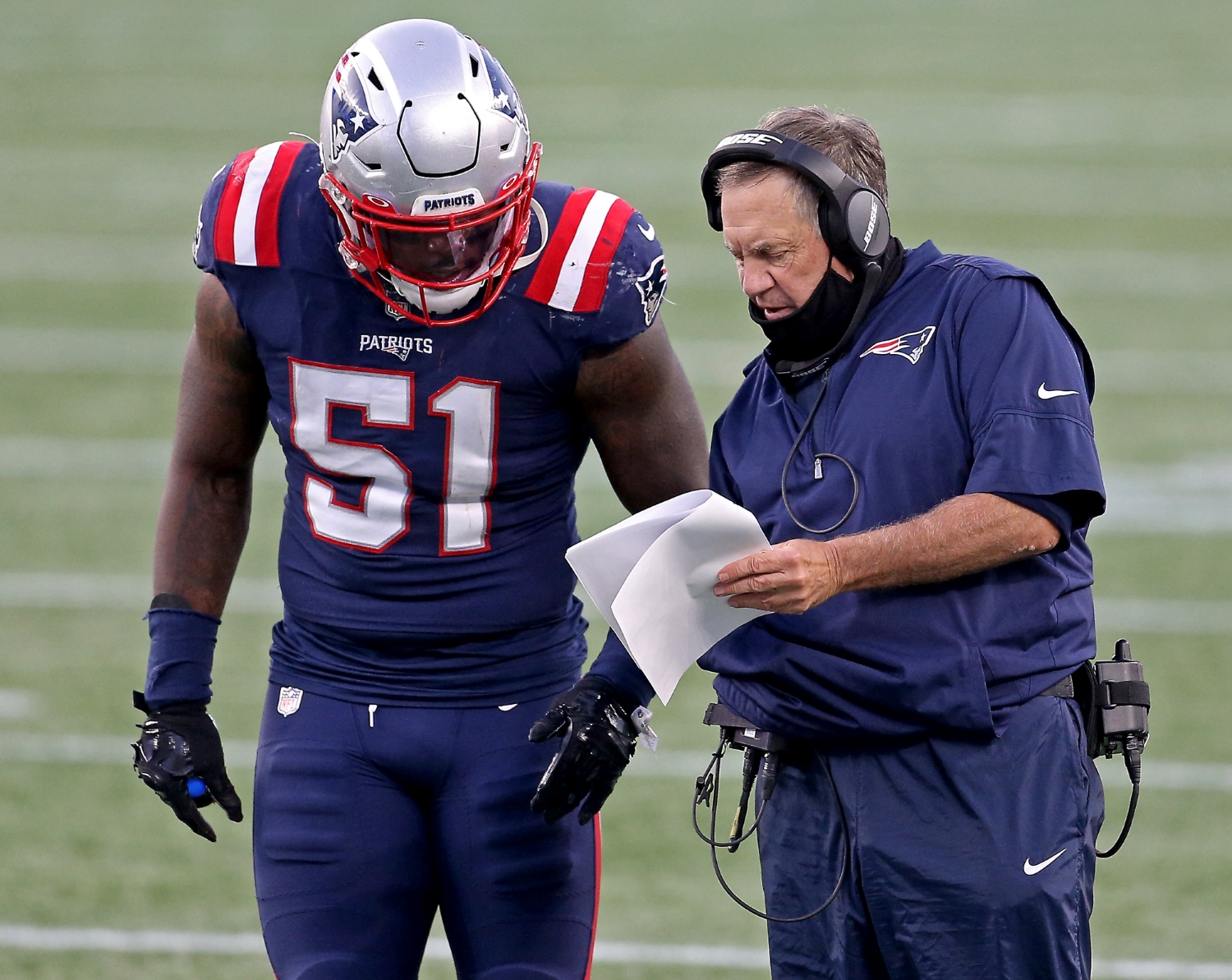 The Patriots' Shocking $239 Million Spending Spree is Simply a Brutally Expensive Cover-Up Job by Bill Belichick
Bill Belichick has executed an expensive cover-up job to mask his failures as a general manager. Will the Patriots regret handing out $239 million in contracts to start free agency?
The New England Patriots have started the week off by spending a lot of money. Then again, they entered the offseason with more than $60 million in cap space thanks to Bill Belichick taking a conservative approach to the team-building process a year ago.
While the Patriots have undoubtedly improved their overall talent level, they've also paid a steep price to do so. Ultimately, their shocking $239 million spending spree simply represents a brutally expensive cover-up job by Belichick.
The Patriots have handed out $239 million worth of contracts to start free agency
Bill Belichick typically takes a pass during the first few days of the free-agency period.
But not this year.
Armed with ample cap space and a lengthy list of holes to fill, Belichick has taken a shockingly aggressive approach to kickstart the most pivotal offseason in franchise history.
Almost immediately after the legal tampering period began on Monday, Patriots fans got greeted to a flurry of moves rarely seen around Foxborough.
New England finally landed a starting tight end by agreeing to sign Jonnu Smith to a four-year, $50 million deal. The team also added Nelson Agholor and Kendrick Bourne to bolster a lackluster passing attack.
By the end of the day, the Patriots had also secured commitments from several defensive players. Former Baltimore Ravens outside linebacker Matt Judon agreed to a four-year, $56 million contract that includes $32 million guaranteed. Versatile defensive back Jalen Mills will join New England on a four-year, $24 million deal.
The front seven will also feature new faces in former Miami Dolphins nose tackle Davon Godchaux and fellow former division rival Henry Anderson, who spent the last three years with the New York Jets.
To top it off, the Patriots surprised everyone Tuesday morning by agreeing to a three-year, $37.5 million deal with former LA Chargers tight end Hunter Henry. In total, they have handed out $239 million in contracts in less than 24 hours.
New England's shocking spending spree is simply an expensive cover-up job by Bill Belichick
The Patriots' string of free-agent signings seems like a surefire way to improve their chances of winning a Super Bowl title. And in one respect, they definitely have a much better roster than they did in 2020.
Still, that doesn't take away from the fact that they shouldn't have been in this position in the first place.
New England's uncharacteristically aggressive approach to free agency highlights how poorly Bill Belichick has performed as a general manager in recent years. In fact, the team's shocking $239 million spending spree simply represents a brutally expensive cover-up job by the man in charge of football-related decisions in Foxborough.
While adding Jonnu Smith and Hunter Henry most certainly makes the Patriots more of a threat in 2021, Belichick already tried to restock the tight end position in the third round of the 2020 NFL draft…twice.
However, after Devin Asiasi and Dalton Keene failed to make an impact as rookies, he has been now committed more than $56 million in guaranteed money to finally shore up a weak spot in the offense.
And the cover-up job doesn't stop there, either.
The tight end position isn't the only example of Belichick paying to mask his mistakes
Matt Judon fills a huge hole on the edge of New England's defense, but his arrival comes after a number of misses in the draft by Belichick.
2015 third-round pick Geneo Grissom recorded just one sack in 37 games with the Patriots.
Two years later, Belichick selected Derek Rivers one pick before the Tampa Bay Buccaneers took Chris Godwin. While the latter has become one of the best players at his position, the former totaled 2.5 sacks during his brief stint in New England.
Plus, Chase Winovich, Josh Uche, and Anfernee Jennings have yet to earn full-time roles despite arriving as early-round picks.
Of course, it's impossible to ignore what's gone on at wide receiver.
Although Patriots fans may still have reservations about the state of the position, Nelson Agholor and Kendrick Bourne represent significant upgrades over what the team trotted out in 2020.
Then again, New England thought it acquired a future star when N'Keal Harry came aboard as the 32nd overall pick in 2019. But after two disappointing and injury-plagued seasons, the former first-rounder seems destined to play for a new team this fall. And don't forget Belichick also sent a second-round pick to the Atlanta Falcons for what amounted to eight forgettable games from Mohamed Sanu.
Ultimately, the Patriots' de-facto GM just paid big money for proven receivers to make up for missing badly in the draft, free agency, and the trade market.
Let's see if his unorthodox approach to free agency pays off. If not, New England will have to hit the reset button and start from scratch all over again.
All statistics courtesy of Pro Football Reference.