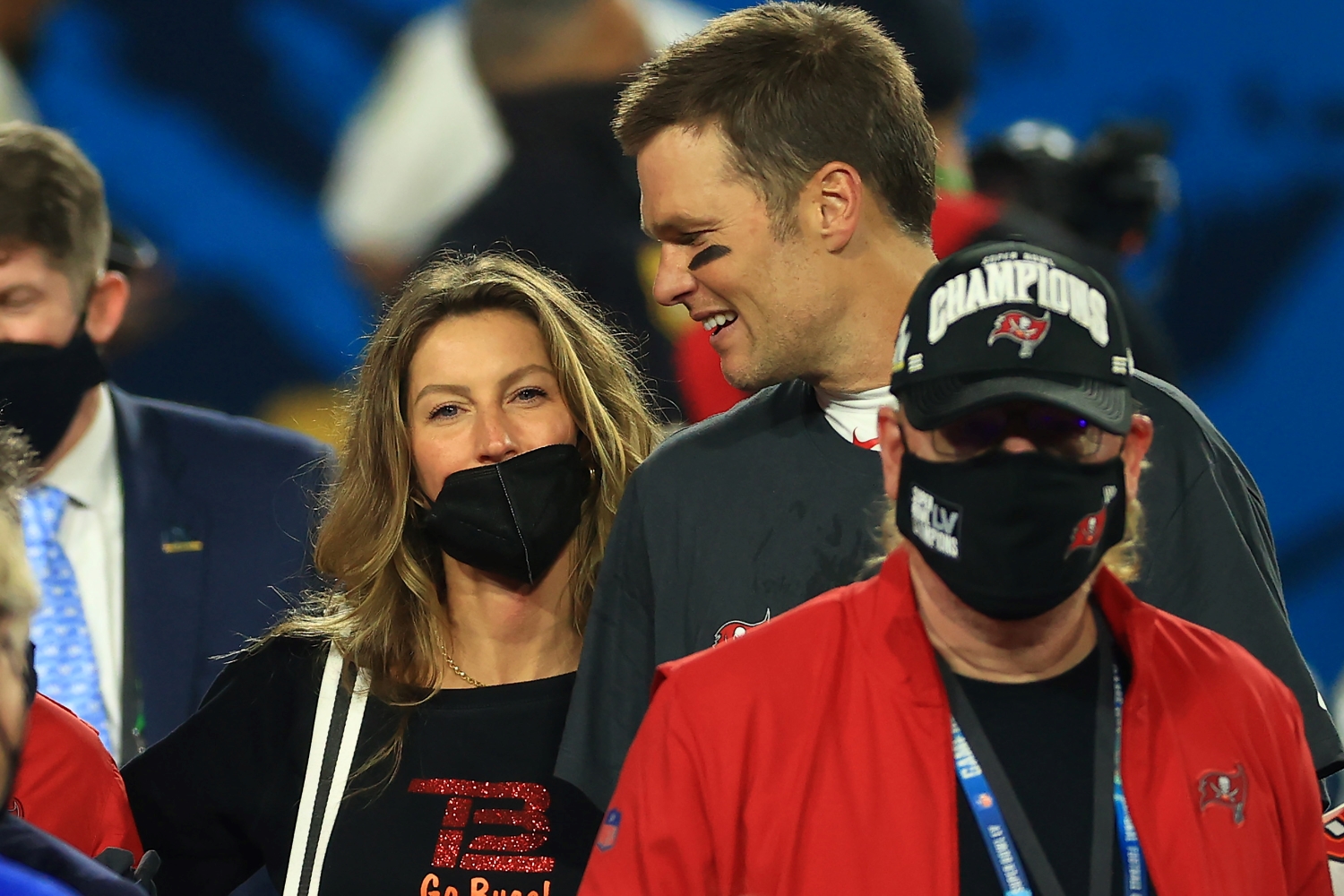 Tom Brady Just Received Some Brutally Honest Advice From His Childhood Hero That Won't Make Gisele Bundchen Too Happy
Joe Montana recently gave Tom Brady some career advice that seems to go against Gisele Bundchen's wishes for her husband's NFL future.
Now that Tom Brady secured a seventh Super Bowl ring, it would make sense for the Tampa Bay Buccaneers quarterback to seriously consider hanging up his helmet and shoulder pads for good. At this stage of his decorated NFL career, what more does he have left to prove?
He just won a title in his first season without Bill Belichick as his head coach. And he surely answered any remaining questions about who deserves the NFL's GOAT title.
However, if the 43-year-old heeds the advice of his childhood hero, he could put himself in hot water with his wife, Gisele Bundchen.
Tom Brady doesn't appear close to falling off the proverbial cliff
The war between Tom Brady and Bill Belichick has at least one more year to go before a true winner can get declared. But the longtime New England Patriots star decisively won the first battle against his former head coach.
While Robert Kraft's franchise limped to a 7-9 finish with Cam Newton under center, Brady led the Buccaneers to their first playoff berth since the Patriots finished one game shy of a 19-0 season in 2007.
After throwing just 24 touchdown passes in 2019, Brady completed 40 in his age-43 campaign. He threw 10 more in Tampa's four-game Super Bowl run.
With Brady leaving the door open about playing beyond the age of 45, that gives the Buccaneers a chance to go on a Patriots-like title run until Gisele Bundchen's husband finally brings his Canton-worthy career to a close.
Gisele Bundchen hasn't shied away from talking about her husband retiring from the NFL
With 21 seasons under his belt, Tom Brady could easily retire from the NFL and enjoy the warm weather of Tampa with Gisele Bundchen, his kids, and the rest of his family and friends.
In fact, he recently told The Late Late Show host James Corden that in the immediate aftermath of the Buccaneers' victory against the Kansas City Chiefs, his wife asked him, "What more do you have to prove?"
Bundchen could have asked that same question four years ago when New England finished off the Atlanta Falcons in overtime to complete the largest comeback in Super Bowl history.
Her point only grew stronger after Brady won his sixth ring in his penultimate season with the Patriots. After all, a few months prior, she admitted to failing to convince her husband to retire during a conversation with Ellen DeGeneres.
And with Brady winning a seventh ring in his first year as the face of a second NFL franchise, Bundchen definitely has plenty of supporters (particularly any defenses that have to face her husband) who would support the future Hall of Famer retiring.
But if Brady listens to the advice of his childhood hero, he certainly could put himself in a tough position with his wife.
Joe Montana's advice could cause some uneasiness in the Brady household
Even though he could retire right now with seemingly zero regrets about his NFL career, Tom Brady shouldn't do so. At least, that's how Joe Montana views the situation.
"Play as long as you can," the 64-year-old former San Francisco 49ers star recently told Fox News. "Because once it's over, it's over. And if you try to get back to it after you retire, especially at a later age, it's hard to get that motivation back again."
With TB12 showing no signs of slowing down, the three-time NFL MVP may just threaten to take snaps as a 50-year-old. However, Gisele Bundchen has made it clear she would prefer Brady to walk away from a game that can result in significant long-term health issues.
But with the Buccaneers expected to extend the star quarterback's stay in Tampa, Montana's final piece of advice could sway Brady to commit to playing even longer depending on how which "people" he takes into consideration.
"As long as you can keep it going, and if people want you to play, keep playing," the Pro Football Hall of Famer said.
Will Montana's first piece of advice about playing "as long as you can" convince Brady to put off his retirement date for a few more years? Because as long as Alex Guerrero's methods continue to keep the seven-time title winner feeling pliable, it doesn't seem like Brady will retire to spend more time at home with Bundchen and his kids anytime soon.
Perhaps, though, he'll take the "if people want you to play" part of the equation into the mix and finally wrap up perhaps the most impressive career in the history of professional sports.
But as long as the competitive fire burns within him, it seems as though nothing will stop Tom Brady from continuing to play football for a living.
All statistics courtesy of Pro Football Reference.