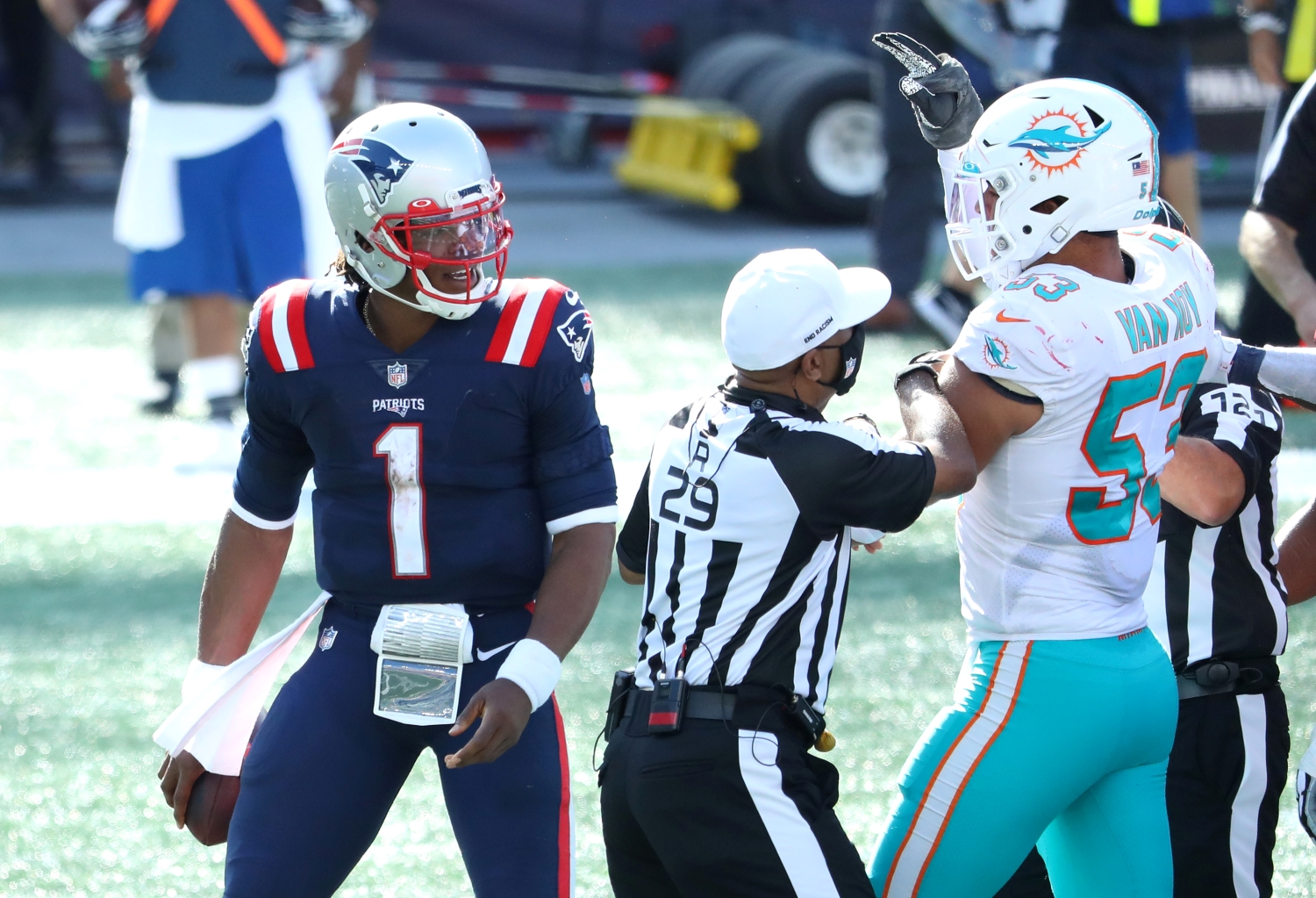 The Miami Dolphins Just Admitted They Made a $51 Million Mistake by Poaching From the Patriots
Even though he just signed a $51 million contract with the Miami Dolphins last offseason, former Patriots LB Kyle Van Noy will once again find himself on the free-agent market.
Last offseason, the Miami Dolphins made a big splash in free agency by signing Kyle Van Noy to a lucrative four-year contract. Given his success with the New England Patriots, it made sense for Brian Flores to go back to his roots to find a defensive leader with championship experience.
But on Tuesday, the Dolphins just admitted they made a $51 million mistake by poaching from the Patriots.
Kyle Van Noy won two Super Bowl rings in New England before taking his talents to Miami
Originally a second-round pick by the Detroit Lions, Kyle Van Noy failed to live up to his draft status with the NFC North franchise. After recording just one sack in 30 games with the Lions, he finally got a chance to showcase his skills playing for a far better team.
In the middle of the 2016 season, Bill Belichick traded a sixth-round pick for Van Noy and a seventh-round selection.
Let's just say New England got a huge steal on that deal.
The former BYU star played a multitude of roles for the Patriots. And no matter where he lined up, Van Noy managed to make an impact.
After winning a Super Bowl ring in his first year in Foxborough, he racked up 73 tackles and 5.5 sacks for a Patriots team that eventually lost to the Philadelphia Eagles in Super Bowl 53.
Van Noy followed up by totaling 92 tackles, 10 quarterback hits, 3.5 sacks, two forced fumbles, and a defensive touchdown in 2018. He added 18 tackles and three sacks in the playoffs and once again experienced the feeling of hoisting the Lombardi Trophy.
The veteran linebacker saved his best for last by racking up a career-high 6.5 sacks and 15 QBH in 2019. That set Van Noy up for a chance to cash in on his success with the Patriots.
Less than a year ago, the Dolphins poached away a key contributor from their longtime division rival. Miami signed the versatile defender to a four-year, $51 million deal with $30 million guaranteed.
The Dolphins just admitted they made a $51 million mistake by poaching from the Patriots
Named a team captain by Brian Flores, Kyle Van Noy entered the 2020 season with an opportunity to prove the Dolphins made the right call to hand him such a massive contract.
He put up solid but unspectacular numbers in his first year in Miami. The 6-foot-3, 250-pound outside linebacker compiled 69 tackles, 10 QBH, six sacks, six passes defended, two forced fumbles, and two fumble recoveries in 14 games.
Van Noy certainly seemed like a long-term building block for a team in need of veteran leadership.
But the 29-year-old won't be around to see Tua Tagovailoa—or perhaps Deshaun Watson—turn the Dolphins into a Super Bowl contender.
On Tuesday, Cameron Wolfe of ESPN first reported via Twitter that the Dolphins will move on from Van Noy this offseason. Barring a last-minute trade, they will release their high-priced free-agent acquisition from a year ago in a move that will save nearly $10 million in cap space.
By cutting ties with the two-time Super Bowl champion already, the Dolphins just admitted they made a $51 million mistake by poaching from the Patriots. Once again, another player who left New England for the allure of greener pastures and a big payday ended up failing to live up to expectations with his new team.
In recent years, Malcolm Butler, Dion Lewis, and Nate Solder have all departed in free agency. None of them provided the same impact as they did in New England despite signing expensive free-agent contracts.
Van Noy never put up elite numbers with the Patriots. Instead, he excelled in specific roles that Bill Belichick and the coaching staff put him in. Miami foolishly wasted millions on a player who never actually played at a level worthy of a $51 million payday before he took his talents to South Florida.
What does the future hold for the soon-to-be 30-year-old veteran linebacker?
Kyle Van Noy should generate ample interest once he officially becomes a free agent. After all, it's not like he totally flopped in his first (and only) year in Miami.
In fact, it wouldn't be shocking to see him go right back to the Patriots. New England desperately needs better linebackers, and with Dont'a Hightower expected to return, bringing back Van Noy would instantly upgrade that position group.
Then again, perhaps Belichick would rather get younger at the position instead of re-signing a familiar face.
And considering he turns 30 later this month, Van Noy doesn't exactly have time on his side.
Let's see if the aging linebacker lands on his feet with a Super Bowl contender rather than another franchise in the midst of a rebuilding process.
All contract data courtesy of Spotrac. All statistics courtesy of Pro Football Reference.