Julian Edelman Gets Blunt About Mac Jones Expectations for the Patriots
Mac Jones is in a good spot, but he's also in a tough one. Drafted to be the long-term answer at quarterback for the New England Patriots, Jones has the opportunity of a lifetime. Former Patriots wide receiver Julian Edelman knows what lies ahead for Jones, and the Patriots' fan-favorite pulled no punches when discussing what Jones is up against.
Mac Jones has some big shoes to fill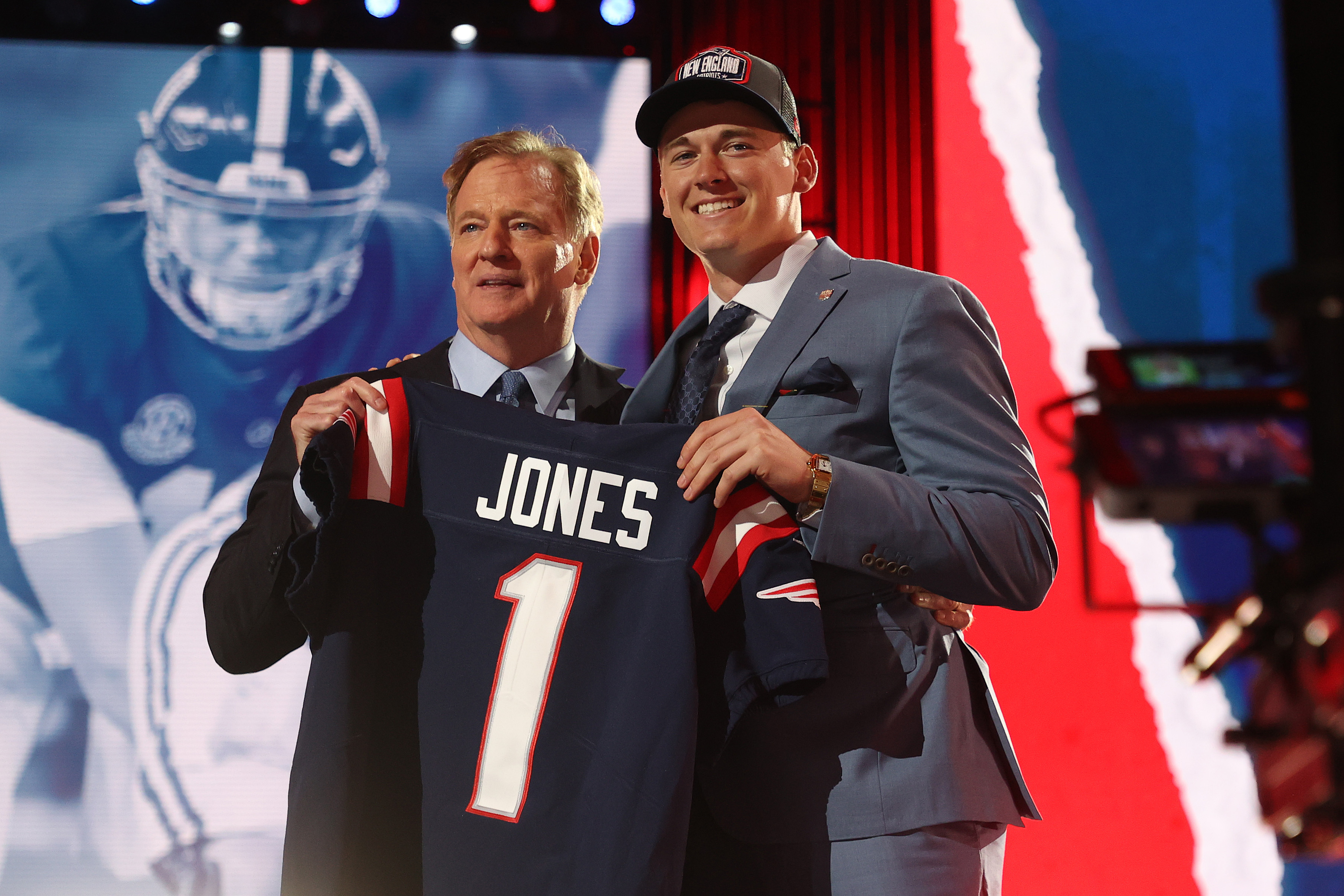 The Patriots got their man in the 2021 NFL draft. Selecting 15th, getting one of the top five quarterbacks in the first round was not a given. The odds were much slimmer when the first three picks were all quarterbacks. The Alabama quarterback found his way to the Patriots, who quickly scooped him up a few picks after the Chicago Bears traded up to select Justin Fields.
The 6-foot-3, 217-pound Jones put up some big numbers as a junior last year at Alabama. Aside from guiding the Crimson Tide to the championship, he threw 41 touchdown passes with four interceptions. He also completed 77.4% of his passes.
The Patriots drafted him for a long-term fix at quarterback. Last year, former MVP Cam Newton was brought in after Tom Brady bolted town via free agency. The Patriots finished with their first losing season since 2000 by going 7-9 and struggling offensively.
Newton wasn't expected to be the long-term answer after Brady, but Jones is. Although Newton was re-signed for 2021, he's expected to be the bridge between Brady and Jones.
Julian Edelman tells it like it is
RELATED: The Miami Dolphins May Have Changed Mac Jones' Life by More Than $12 Million
There was no beating around the bush when Edelman talked about Jones' expectations with the Patriots. Speaking on the Michael Irvin Podcast on Thursday, Edelman said things won't be easy for the rookie. Drafting a quarterback in the middle of the first round is unfamiliar territory for Bill Belichick and the Patriots, and Edelman said he better be ready.
"When you play on Bill's teams, (first-round picks) are usually defensive ends," Edelman said. "Those are usually corners. We usually have the 28th pick or something; we're getting a defensive player. That's how Bill builds a team. But if you come in and you're a quarterback drafted by Bill Belichick, I mean, let's go, buddy."
All eyes will be on Jones. The New England fans are used to winning and another 7-9 season won't cut it. Jones, according to Edelman, will be under a lot of pressure. "He needs to have that eye," said Edelman. "He needs to have that confidence. What are you going to do?
"This kid, it's not easy playing in New England, especially after Tom Brady, if he gets the opportunity and beats out the other guy. This ain't going to be easy. This town is tough. This town is mean, and his town is blue-collar. Boston people, the New England people, they want winning. They're used to that in all sports. The kid's going to have a lot of pressure."
Edelman said Jones could get thrown into the fire
With a year in New England already under his belt, Newton is projected to be the starter in the season opener. Edelman believes that could change. He thinks Jones is the real deal and could make some noise right away.
"He's probably been working hard," Edelman said of Newton. "That's his M.O. Cam works hard. Now we've got to see if he can work smart in the right areas, and if he does that, he's going to give himself an opportunity to do well.
But he's also going to have to beat out the young gun because the young guy is there — little Mac Attack. This kid, that's a first-round draft pick. That's, like, a real first-round draft pick."
All stats courtesy of Sports Reference.