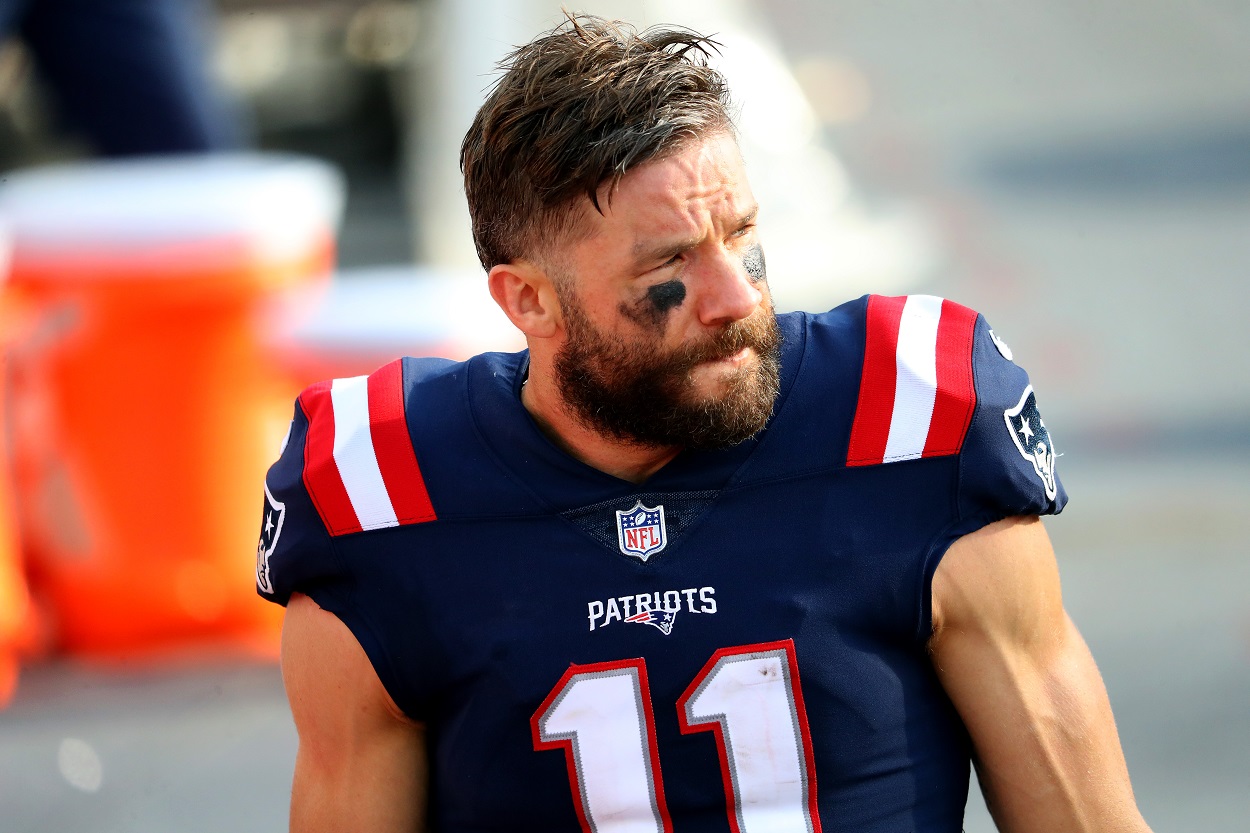 Julian Edelman Will Join a Long List of Super Bowl MVPs Not in the Pro Football Hall of Fame
Longtime Patriots wideout Julian Edelman had a solid career but not one worthy of the Hall of Fame. But he won't be the only Super Bowl MVP not in Canton.
You may look at the title of this piece and think it's meant to bash longtime New England Patriots wideout Julian Edelman, who announced his retirement on Monday after a dozen seasons in Foxboro. But that's certainly not the case whatsoever.
It's not often that a small-time college quarterback (sorry, Kent State) can come into the NFL and transition to wideout, especially at 5'10" and 195 pounds, but that's what Edelman did. And he truly did have a solid career, especially in the postseason. But as for all of this talk of him being in the Pro Football Hall of Fame? Yeah, that's not going to be a thing, nor should it be, even with three Super Bowl rings and a Super Bowl MVP trophy.
Julian Edelman was never a Pro Bowler or an All-Pro selection with the Patriots
In 11 seasons with the New England Patriots (he missed the 2017 campaign after tearing his ACL in the preseason), Julian Edelman caught 620 passes for 6,822 yards and 36 touchdowns. Averaged out, that's 56.4 receptions for 620.2 yards and 3.3 touchdowns per season. Solid numbers, yes. But Hall of Fame worthy? Absolutely not.
Edelman was never a Pro Bowler or an All-Pro selection and his resume simply doesn't warrant Hall of Fame induction. Sure, he has the fourth-most receiving yards and the second-most receptions in franchise history, which will earn him a spot in the Patriots Hall of Fame at some point. But as far as overall NFL history is concerned, he ranks 75th in receptions, 156th in receiving yards, and is tied for 261st in touchdown receptions.
With all due respect, that's simply not worthy of Canton, especially when there are guys out there that are far more deserving that are still waiting for that call. Take seven-time Pro Bowler and two-time All-Pro Torry Holt, for example, who had eight consecutive 1,000-yard seasons (Edelman had just three total) during his 11-year career and caught 920 passes for 13,382 yards and 74 touchdowns…and he's got a Super Bowl ring as well. Yeah, that guy's not in the Hall of Fame.
Nor is four-time Pro Bowler Gary Clark, who won two Super Bowls with Washington and caught 699 passes for 10,856 yards and 65 touchdowns during his 11-year career.
His postseason career and Super Bowl MVP still aren't enough to get him to the Hall of Fame
So the biggest argument for Julian Edelman to be elected to the Pro Football Hall of Fame down the line is his production in the postseason, which was certainly incredible.
In 19 postseason games for the Patriots, Edelman caught 118 passes for 1,442 yards (both are good for second on the all-time list behind Jerry Rice) and five touchdowns (tied with 24 others for 46th). Of those 118 receptions, 24 came in his four Super Bowl appearances, obviously including the 10 he made during New England's 13-3 victory over the Rams in Super Bowl 53, which earned Edelman MVP honors.
Again, you can't take anything away with what Julian Edelman did in the postseason but it's just not going to be enough to get him into the Hall of Fame, which is about the overall body of work.
Julian Edelman will join a list of Super Bowl MVPs not to make the Pro Football Hall of Fame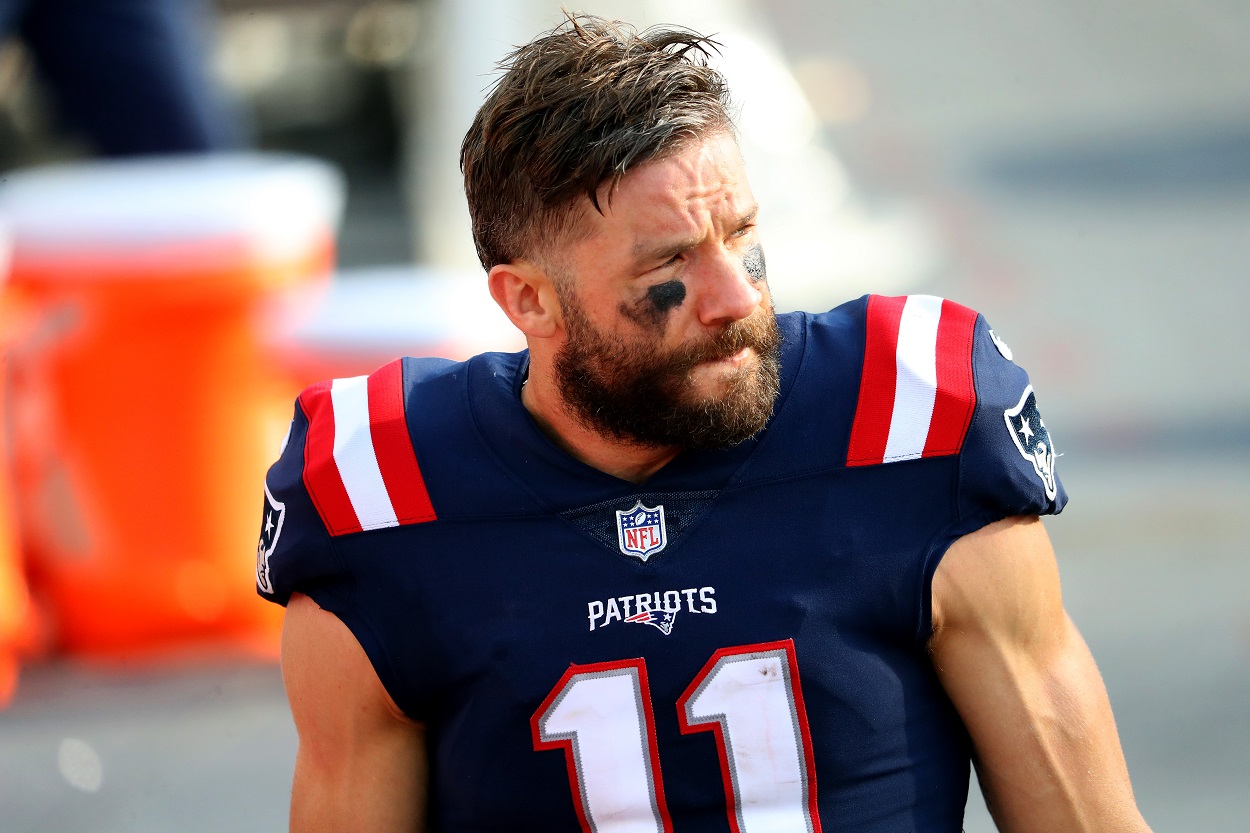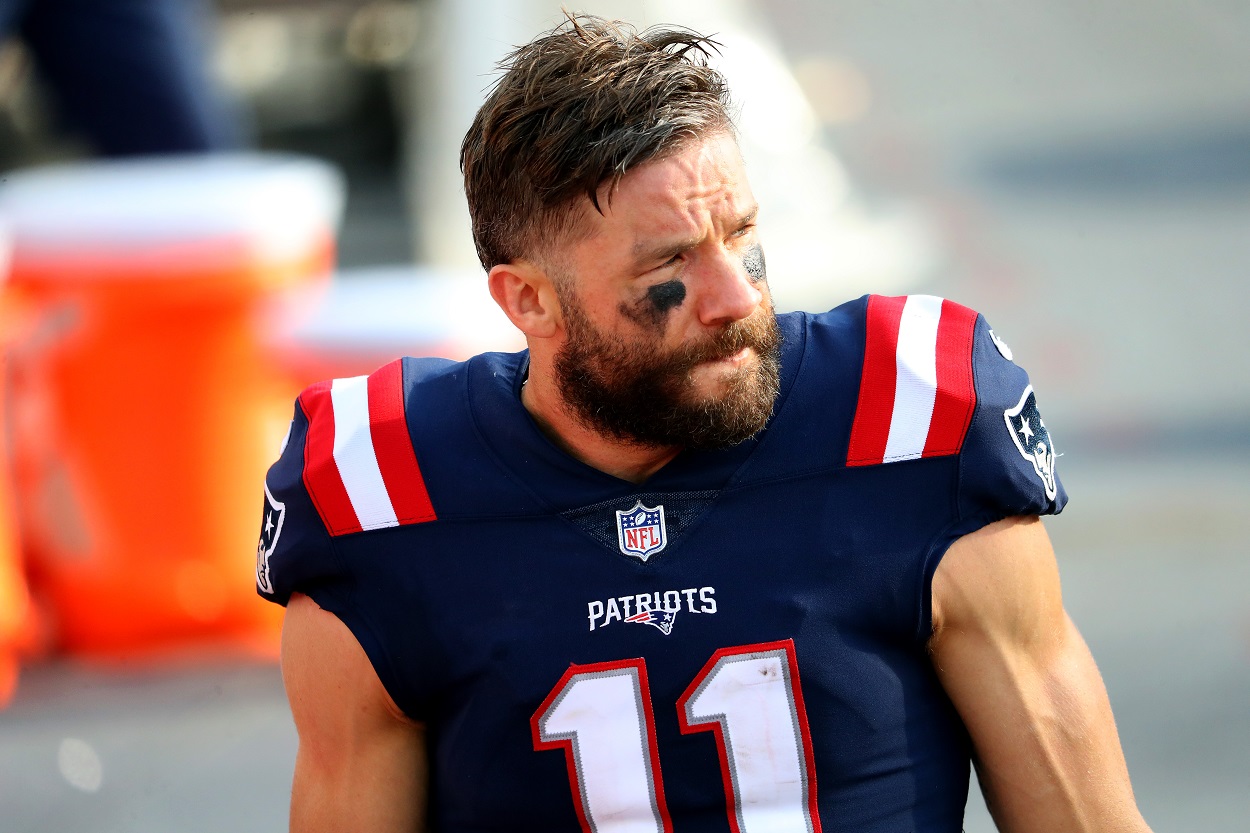 Now, let's not feel sorry for Julian Edelman when he doesn't make the Pro Football Hall of Fame. He still has those three Super Bowl rings and that Super Bowl MVP trophy and made more than $44 million during his career with the Patriots. And it's not as if he'll be the only Super Bowl MVP not to get the call to Canton.
Not counting those who aren't yet eligible for induction (Tom Brady, Eli Manning, Drew Brees, Aaron Rodgers, Joe Flacco, Malcolm Smith, Von Miller, Nick Foles, Julian Edelman, Patrick Mahomes), here's the list of Super Bowl MVPs who haven't been inducted to the Pro Football Hall of Fame.
Chuck Howley, Dallas Cowboys, Super Bowl 5
Jake Scott, Miami Dolphins, Super Bowl 7
Harvey Martin, Dallas Cowboys, Super Bowl 12 (co-MVP with Randy White)
Jim Plunkett, Oakland Raiders, Super Bowl 15
Phil Simms, New York Giants, Super Bowl 21
Doug Williams, Washington Redskins, Super Bowl 22
Ottis Anderson, New York Giants, Super Bowl 25
Mark Rypien, Washington Redskins, Super Bowl 26
Larry Brown, Dallas Cowboys, Super Bowl 30
Desmond Howard, Green Bay Packers, Super Bowl 31
Dexter Jackson, Tampa Bay Buccaneers, Super Bowl 37
Deion Branch, New England Patriots, Super Bowl 39
Hines Ward, Pittsburgh Steelers, Super Bowl 40
Santonio Holmes, Pittsburgh Steelers, Super Bowl 43
Stats courtesy of Pro Football Reference