Every Major Individual Super Bowl Record in NFL History
Getting the chance to play in a Super Bowl is a dream for NFL players and coaches alike and actually winning the game is obviously even better. Setting records in the biggest football game on the planet is simply an added bonus.
Now, while a few single-game records have been set by players that some fans may not know well, the majority of those records have been set by big-name players that already have or will go on to be inducted into the Pro Football Hall of Fame. The same goes for career records for the Super Bowl, which is why you'll see names like Tom Brady, Emmitt Smith, and Jerry Rice as you move your way through these lists.
So without further ado, here's a look at both single-game and career individual records for the NFL's biggest game.
*Records current through Super Bowl 56
Passing records 
–

 single game

RELATED: Why Tom Brady Loves Using the 'F-Word'

Pass attempts
62 – Tom Brady, New England Patriots, Super Bowl 51
Pass completions
43 – Tom Brady, New England Patriots, Super Bowl 51
Completion percentage
88% – Phil Simms, New York Giants, Super Bowl 21
Passer rating
150.9 – Phil Simms, New York Giants, Super Bowl 21
Passing yards
505 – Tom Brady, New England Patriots, Super Bowl 52
Longest pass completion
85 – Jake Delhomme, Carolina Panthers, Super Bowl 38
Touchdown passes
Interceptions
5 – Rich Gannon, Oakland Raiders, Super Bowl 37
Passing records 
–

 career

RELATED: Who Has the Most Passing Yards in a Single NFL Playoff Game?

Passer rating
127.8 – Joe Montana, San Francisco 49ers
Pass attempts
421 – Tom Brady, New England Patriots
Pass completions
277 – Tom Brady, New England Patriots
Completion percentage
Passing yards
3,039 – Tom Brady, New England Patriots
Touchdown passes
21 – Tom Brady, New England Patriots
Rushing records 
–

 single game

Attempts
38 – John Riggins, Washington Redskins, Super Bowl 17
Yards
204 – Timmy Smith, Washington Redskins, Super Bowl 22
Longest run
75 yards – Willie Parker, Pittsburgh Steelers, Super Bowl 40
Yards per carry (minimum 10 attempts)
10.5 – Tom Matte, Baltimore Colts, Super Bowl 3
Touchdowns
3 – Terrell Davis, Denver Broncos, Super Bowl 32
Rushing records 
–

 career

RELATED: Emmitt Smith Says His Lone Matchup Against the Cowboys in a Cardinals Uniform Took His 'Soul for the Game' and Made Him Cry

Rushing attempts
101 – Franco Harris, Pittsburgh Steelers
Rushing yards
354 – Franco Harris, Pittsburgh Steelers
Yards per carry (minimum 20 attempts)
9.6 – Marcus Allen, Los Angeles Raiders
Rushing touchdowns
5 – Emmitt Smith, Dallas Cowboys
Receiving records 
–

 single game

Receptions
14 – James White, New England Patriots, Super Bowl 51
Yards
215 – Jerry Rice, San Francisco 49ers, Super Bowl 23
Longest reception
85 yards – Muhsin Muhammed, Carolina Panthers, Super Bowl 38
Yards per reception (minimum 3 receptions)
40.3 – John Stallworth, Pittsburgh Steelers, Super Bowl 14
Touchdowns
3 – Jerry Rice, San Francisco 49ers, Super Bowl 24/Super Bowl 29
Receiving records 
–

 career

Receptions
33 – Jerry Rice, San Francisco 49ers
Receiving yards
589 – Jerry Rice, San Francisco 49ers
Yards per reception (minimum 8 receptions)
24.4 – John Stallworth, Pittsburgh Steelers
Touchdown receptions
8 – Jerry Rice, San Francisco 49ers
Defensive records 
–

 single game

Interceptions
3 – Rod Martin, Oakland Raiders, Super Bowl 15
Longest interception return
100 yards – James Harrison, Pittsburgh Steelers, Super Bowl 43
Sacks
4 – L.C. Greenwood, Pittsburgh Steelers, Super Bowl 10
Tackles (combined)
18 – Dan Morgan, Carolina Panthers, Super Bowl 38
Defensive records 
–

 career

Interceptions
3 – Chuck Howley, Dallas Cowboys
3 – Rod Martin, Oakland/Los Angeles Raiders
3 – Larry Brown, Dallas Cowboys
Sacks
4.5 – Charles Haley, Dallas Cowboys/San Francisco 49ers
Tackles (combined)
34 – Rodney Harrison, San Diego Chargers/New England Patriots
Special teams records 
–

 single game

Extra points made (tie)
7 – Doug Brien San Francisco 49ers, Super Bowl 29
7 – Lin Elliott, Dallas Cowboys, Super Bowl 27
7 – Mike Cofer, San Francisco 49ers, Super Bowl 24
Field goals made (tie)
4 – Don Chandler, Green Bay Packers, Super Bowl 2
4 – Ray Wersching, San Francisco 49ers, Super Bowl 16
Longest field goal
54 yards – Steve Christie, Buffalo Bills, Super Bowl 28
Punts
11 – Brad Maynard, New York Giants, Super Bowl 35
Longest punt
65 yards – Johnny Hekker, Los Angeles Rams, Super Bowl 53
Punting average (minimum 4 attempts)
50.2 yards – Tom Rouen, Seattle Seahawks, Super Bowl 40
Longest kickoff return
108 yards – Jacoby Jones, Baltimore Ravens, Super Bowl 47
Yards per kickoff return (minimum 3 attempts)
47.5 – Fulton Walker, Miami Dolphins, Super Bowl 17
Longest punt return
61 yards – Jordan Norwood, Denver Broncos, Super Bowl 50
Yards per punt return (minimum 3 attempts)
18.7 – John Taylor, San Francisco 49ers, Super Bowl 23
Special teams records 
–

 career

Field goals made (tie)
7 – Adam Vinatieri, New England Patriots/Indianapolis Colts
7 – Stephen Gostkowski, New England Patriots
Most punts
17 – Mike Horan, Denver Broncos/St. Louis Rams
17 – Mike Eischeid, Oakland Raiders/Minnesota Vikings
Yards per punt (minimum 10 punts)
46.5 – Jerrel Wilson, Kansas City Chiefs
Most kickoff returns
10 – Ken Bell, Denver Broncos
Most kickoff return yards
283 – Fulton Walker, Miami Dolphins
Yards per kickoff return (minimum four returns)
42 – Tim Dwight, Atlanta Falcons
Most punt returns (tie)
8 – Troy Brown, New England Patriots
8 – Julian Edelman, New England Patriots
Punt return yards
94 – John Taylor, San Francisco 49ers
Yards per punt return (minimum four returns)
15.7 – John Taylor, San Francisco 49ers
Miscellaneous records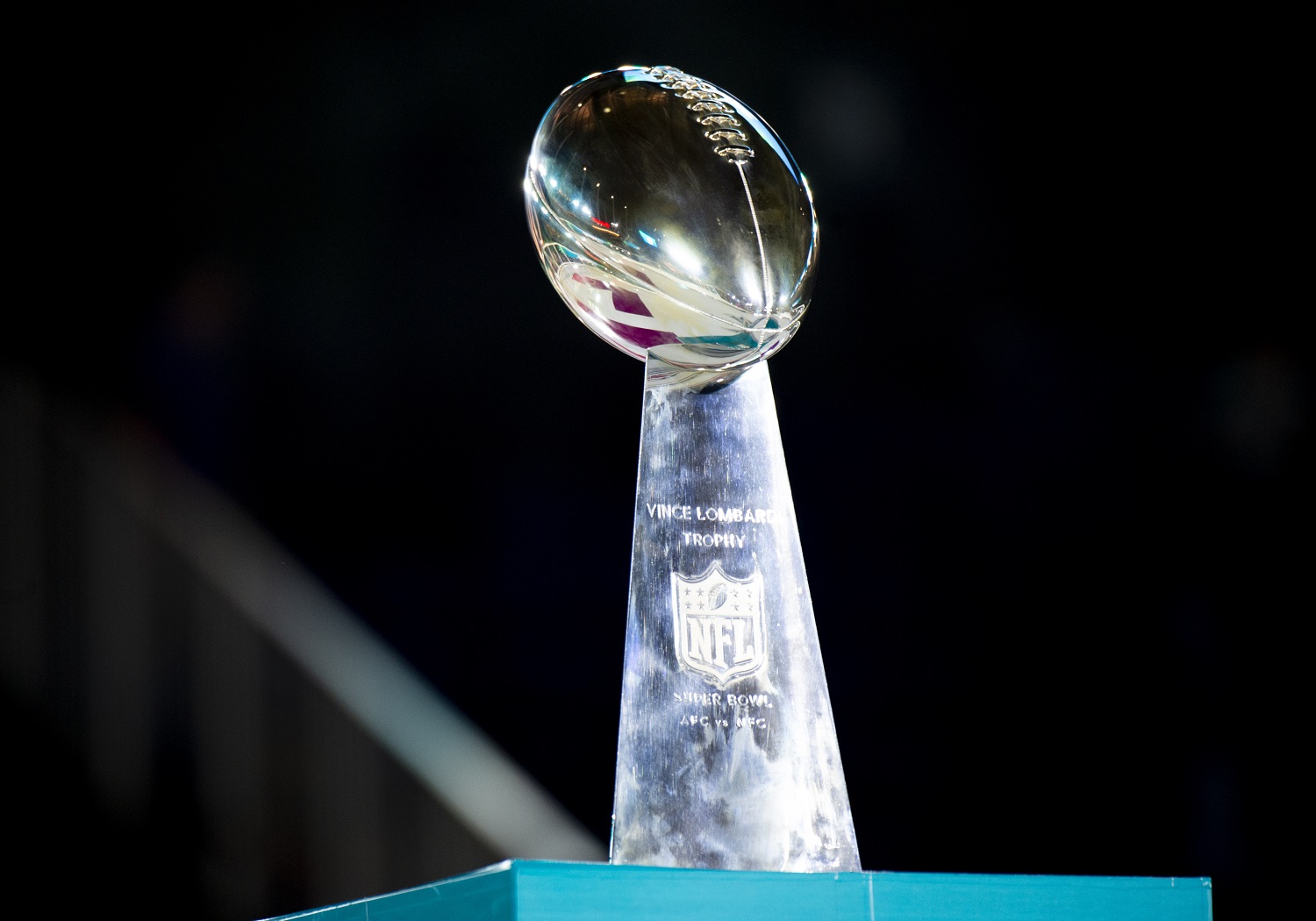 Most games (player)
10 – Tom Brady, New England Patriots
Most games (head coach)
9 – Bill Belichick, New England Patriots
Most wins (player)
7 – Tom Brady, New England Patriots
Most wins (coach)
6 – Bill Belichick, New England Patriots
Most total yards (single game)
290 – Jacoby Jones, Baltimore Ravens, Super Bowl 47
Most yards from scrimmage (single game)
220 – Jerry Rice, San Francisco 49ers, Super Bowl 23
Most total yards (career)
604 – Jerry Rice, San Francisco 49ers
Most touchdowns (career)
8 – Jerry Rice, San Francisco 49ers
Stats courtesy of Pro-Football-Reference