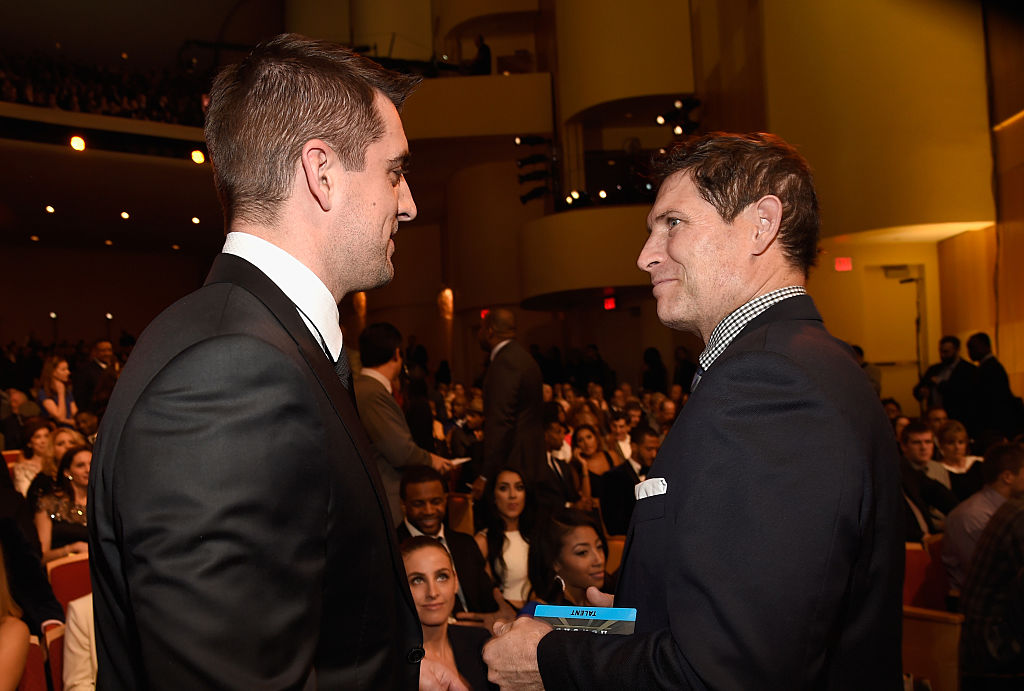 Steve Young vs. Aaron Rodgers, Who's the Better Quarterback?
A comparison of Steve Young and Aaron Rodgers, two of the greatest quarterbacks in the history of the National Football League.
The coronavirus has the sports world in a standstill at the moment. It's Saturday afternoon, there are no games to watch outside of classics (which isn't a bad thing) and every sportswriter in the world is looking for something to write about. So I jump on Twitter and see that Steve Young, a quarterback who's been retired for more than two decades, is trending and I'm hoping it's not for a bad reason. It's not. People are just debating on whether Steve Young or Aaron Rodgers is the better quarterback, one of many strange discussions sports fans will have until the games return.
So instead of just tweeting out, I've decided to actually break it down a bit. Who's the better quarterback, Steve Young or Aaron Rodgers?
Steve Young stats
It took a while for Steve Young to get his chance in the NFL. A phenomenal player at BYU in college, Young actually chose the now-defunct USFL over the NFL in 1984 and didn't get to the NFL until 1985, signing with the Tampa Bay Buccaneers, who had taken him in a supplemental draft of USFL and CFL players. Playing on some really bad teams, Young started 19 games for the Bucs over two seasons, posting just 11 touchdowns against 21 interceptions on his way to a 3-16 record. Young, considered a bust, was moved to the San Francisco 49ers in 1987 after Tampa Bay selected Vinny Testaverde in the draft.
From 1987-1990, Young sat behind Hall of Famer Joe Montana, who was simply one of the best quarterbacks in NFL history. He would play sparingly if the 49ers got up big or fell behind big and he performed well. In four years behind Montana, Steve Young threw 23 touchdowns and just six picks, setting himself up as the team's next starter.
An elbow injury to Montana gave Steve Young his chance. However, things didn't go great in the beginning. He had competition from Steve Bono, whom he eventually beat out. Montana went to Kansas City and the rest is history.
Over the course of his 15-year career, Steve Young threw for 33,124 yards and 232 touchdowns with 107 interceptions. He was a First-Team All-Pro three times, a seven-time Pro Bowler, a two-time MVP, a three-time Super Bowl champion (one as a starter), and was the MVP of Super Bowl XXIX. He led the league in passer rating six times, completion percentage five times, and passing touchdowns four times.
Aaron Rodgers stats
Much like Steve Young, Aaron Rodgers had to wait in line behind a Hall of Fame quarterback. Drafted 24th overall out of California by the Green Bay Packers in the 2005 NFL draft, Rodgers had to wait out ironman and Packers legend Brett Favre. From 2005-2007, Rodgers only appeared in seven games, all in a backup capacity. In those seven games, Rodgers threw for one touchdown and zero interceptions.
The Packers saw the potential in Rodgers and were looking toward the future as Favre got older. Favre briefly retired in 2008 but decided to return just a short time later. However, Green Bay had made the decision to go with Aaron Rodgers and Favre was traded to the New York Jets. The Packers struggled in Rodgers' first year as a starter, going 6-10, but he was on his way to becoming a star. He threw for 4,038 yards with 28 touchdowns and 13 interceptions in 2008.
In the years since then, Aaron Rodgers has been looked at as one of the best quarterbacks in NFL history, a conversation that some would say also includes Steve Young. Rodgers just completed his 15th season in the NFL, equaling Young's total. In his career, Rodgers has thrown for 46,946 yards with 364 touchdowns against just 84 interceptions.
Aaron Rodgers is also a two-time MVP, winning in 2011 and 2014. He's been a First-Team All-Pro selection twice, a Pro Bowl selection eight times, and led the Packers to a Super Bowl victory XLV victory, taking MVP honors as well. He led the league in passer rating in 2011 and 2012 and threw for the most touchdowns in 2016.
So who's the better quarterback, Steve Young or Aaron Rodgers?
Steve Young or Aaron Rodgers? That's a tough call. Some would say that Steve Young played in a tougher era while Aaron Rodgers has had the benefit of rules that are a bit more strict when it comes to hitting the quarterback. Some might say that Young was the better runner. He has more than 1,000 yards more than Rodgers, 4,239 to 3,122.
However, over 15 years, Rodgers has over 13,000 more yards passing than does Young. He's also thrown for more touchdowns (364 to 232) with fewer interceptions (84 to 107). But again, is that because of the difference in eras? The NFL is more of a passing league now than it was in the '90s.
Steve Young or Aaron Rodgers? It's simply one of those fun questions that will never have a true answer. But it's certainly enjoyable, isn't it? And we certainly need some enjoyment right about now.