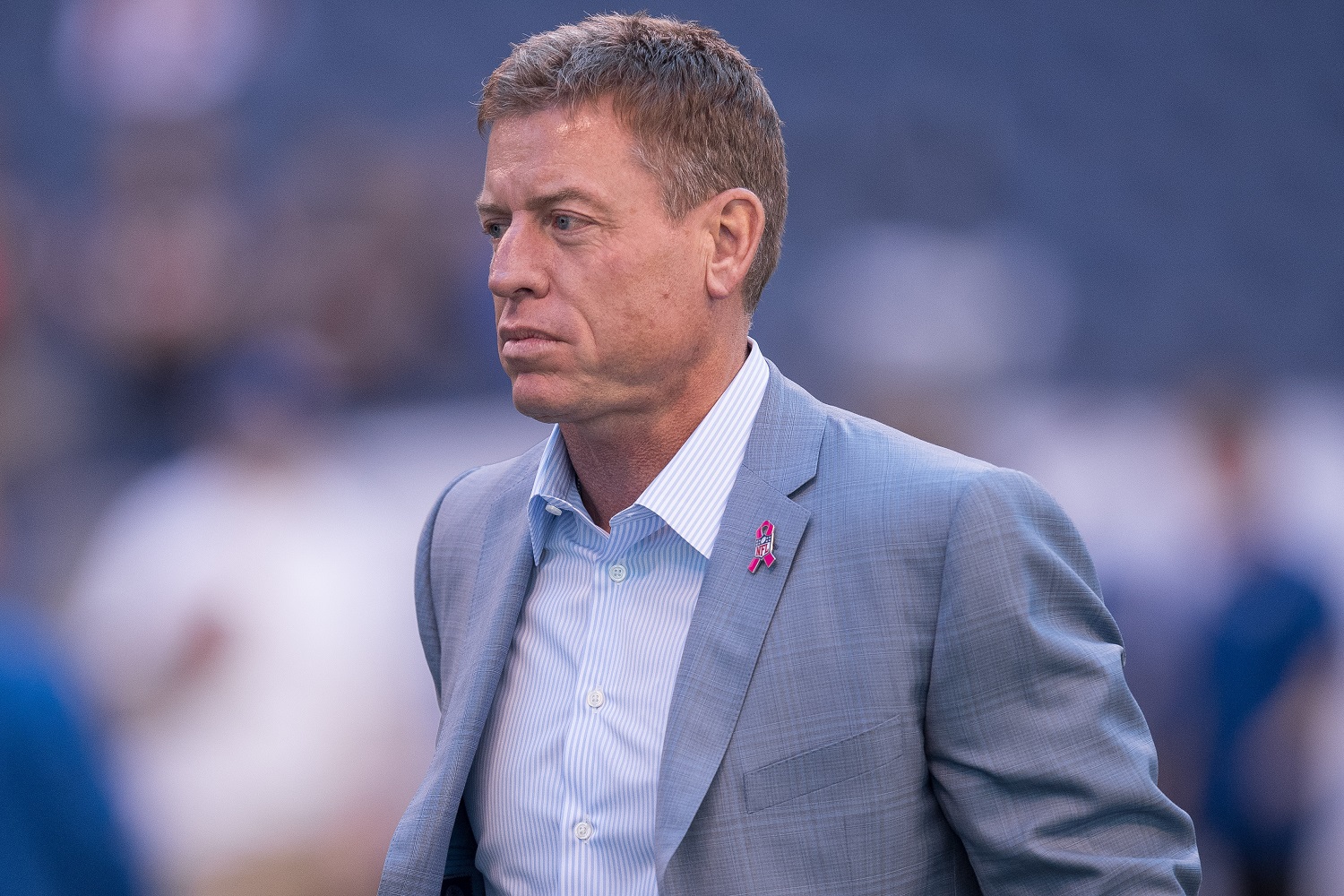 Why Troy Aikman Nearly Left Fox in His First Year Working Alongside Joe Buck
A look back on why three-time Super Bowl champion Troy Aikman nearly the Fox network in his first year alongside Joe Buck in 2002.
It's sometimes hard to believe that Troy Aikman has been a part of the NFL for more than three decades now. Following a decorated college career split between the University of Oklahoma and UCLA, Aikman was the starting quarterback of the Dallas Cowboys for a dozen consecutive seasons, the most of any Cowboys quarterback in history, and has been calling NFL games for the Fox network since 2001.
However, Troy Aikman nearly left the Fox broadcast booth in 2002, his first year working alongside Joe Buck, to return to the NFL to suit up for the Miami Dolphins.
Troy Aikman played 12 seasons for the Dallas Cowboys and won three Super Bowls
Taken with the first overall pick of the 1989 NFL draft by the Dallas Cowboys, Troy Aikman started 11 of 16 games as a rookie, losing all 11, as the Cowboys finished 1-15 in Jerry Jones' first year as team owner and Jimmy Johnson's first year as head coach, the first season in franchise history in which Tom Landry wasn't on the sidelines. But despite the poor record, Aikman showed plenty of promise and set an NFL rookie record (which has since been broken) by throwing for 379 yards in a game against the then-Phoenix Cardinals.
The Cowboys drafted Emmitt Smith the following season, which formed one of the greatest offensive trios in NFL history with Smith, Michael Irvin, and Troy Aikman. Dallas went 7-9 in 1990 and the team truly found its stride in 1991, the same year in which Aikman earned the first of six consecutive Pro Bowl selections. The Cowboys went 11-5 that year but were knocked out of the playoffs in the second round as Aikman was hobbled by injury.
In 1992, Aikman led the Cowboys to their first NFC East title since 1985 and then led the team to a 52-17 victory over the Buffalo Bills in Super Bowl XXVII, earning MVP honors after completing 22 of 30 passes for 273 yards and four touchdowns. Dallas would again defeat the Bills in the Super Bowl the following year and Aikman & Co. won a third title two years later.
The Cowboys began to lose key players as the decade rolled along but were still able to win a couple of NFC East titles in the last half of the '90s, although they were never able to get back to the Super Bowl or even the NFC Championship. In 2000, Aikman suffered a number of concussions and was waived after the season.
In 165 regular-season games with the Cowboys, Troy Aikman threw for 32,942 yards and 165 touchdowns and added an additional 3,849 yards and 23 touchdown passes in 16 postseason games. He was inducted into the Pro Football Hall of Fame in 2006.
He joined the Fox network in 2001
After failing to find a team to play for ahead of the 2001 NFL season, Troy Aikman joined the Fox network as a color commentator. After just one season in the booth, he was promoted to Fox's No. 1 announce team as the network experimented with a three-man crew that featured Joe Buck on play-by-play and Aikman and Cris Collinsworth as color commentators.
The trio called games together for three seasons before Buck and Aikman started their run as a two-man team in 2005. Since starting with Fox, Troy Aikman has broadcast six Super Bowls and has been nominated for multiple Emmy awards.
However, he nearly left the Fox broadcast booth in his first year alongside Buck and Collinsworth as one of his old coaches needed his help.
Troy Aikman nearly left Fox in 2002 to join the Miami Dolphins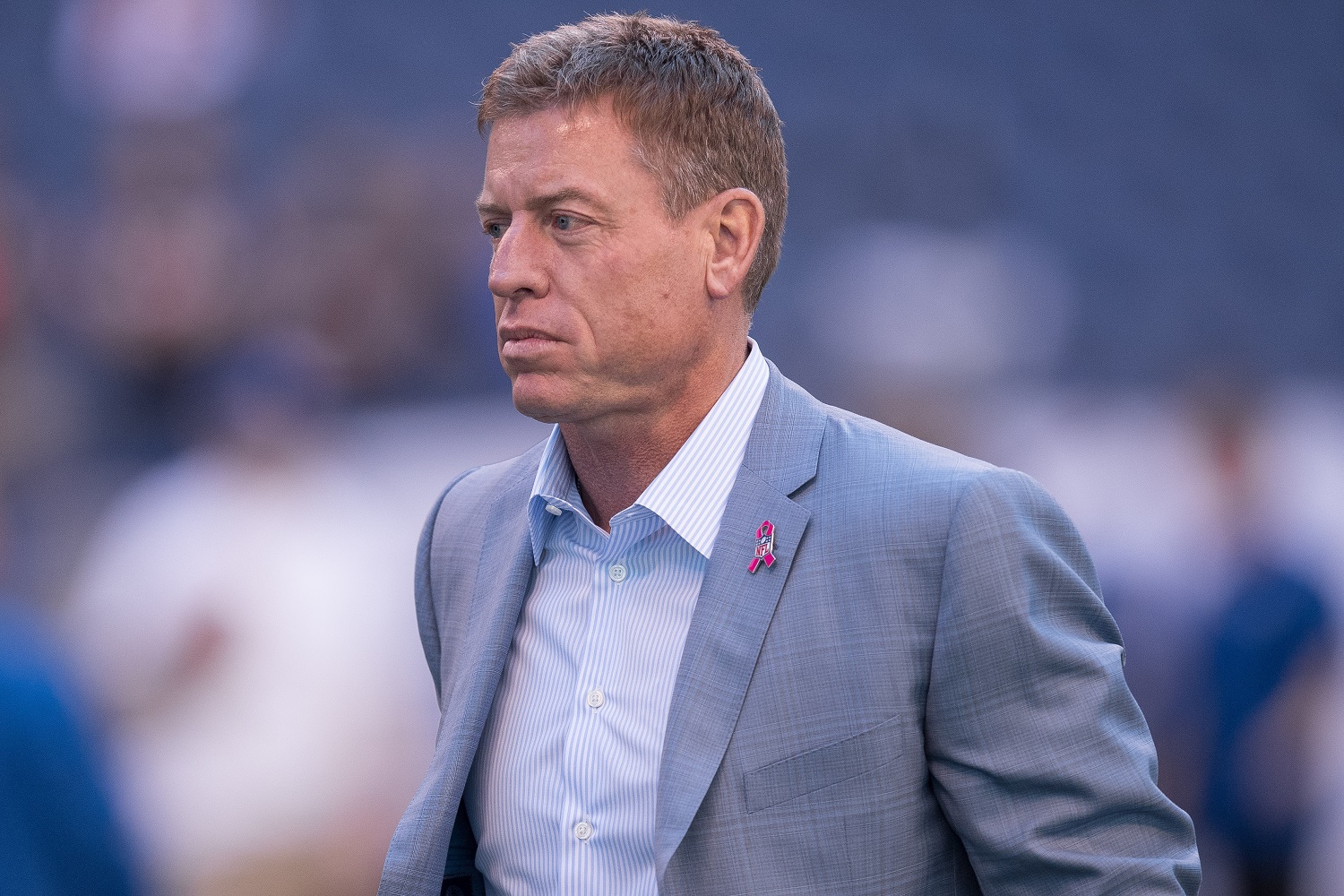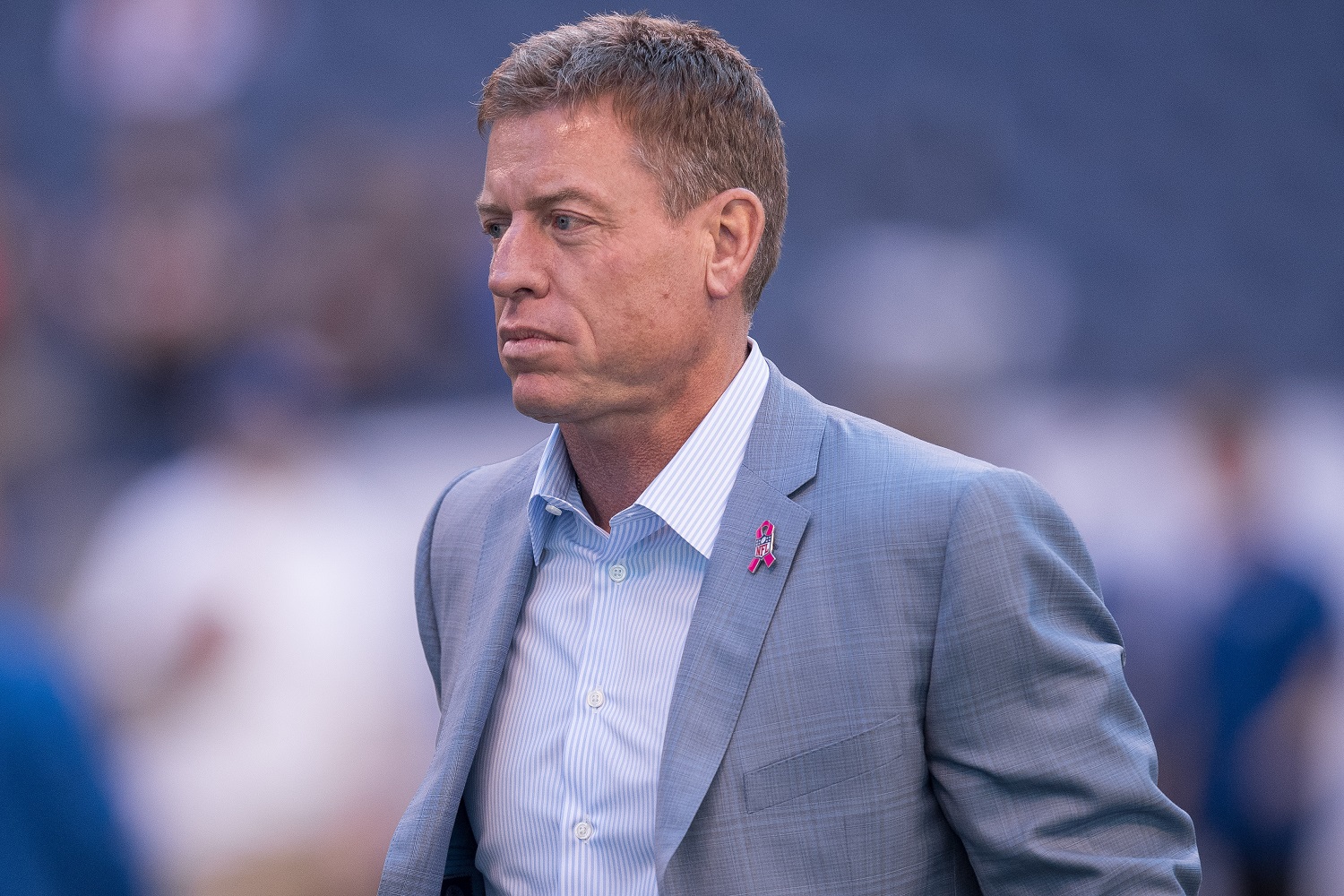 In 2002, Norv Turner, who was Troy Aikman's offensive coordinator with the Dallas Cowboys for three seasons, including when Aikman when his first two Super Bowl rings, was in his first year as the OC of the Miami Dolphins under Dave Wannstedt, who was the defensive coordinator in Dallas from 1989-1992.
In Week 6 of the '02 campaign, Dolphins starting quarterback Jay Fiedler broke his thumb during a Miami win over the Denver Broncos, leaving Ray Lucas to take the snaps. The Dolphins, who hadn't missed the postseason since 1996, were 5-1 at the time and were looking for a bit of an upgrade from Lucas, who had just nine NFL starts under his belt, all of those coming with the New York Jets in 1999.
So Norv Turner gave Troy Aikman a call and asked him if he'd be willing to leave Fox and join the Dolphins. Aikman's longtime agent, Leigh Steinberg, wrote a column for USA Today in which he says Aikman truly believed he could still play and seriously considered leaving the booth to suit up for his former OC.
"Troy had financial security, a great family, and a prestigious second career, but he still agonized over the opportunity. He firmly believed he could still play. We discussed it. In the end, Troy decided it was necessary to put the same passion and commitment into his broadcast career that he had put in football."

Leigh Steinberg on Troy Aikman
The Dolphins ended the season with a 9-7 record and missed the playoffs.
But Miami wasn't the only team to call Troy Aikman in 2002. When Donovan McNabb went down with a broken ankle for the Philadelphia Eagles in Week 11, Andy Reid actually reached out to Aikman while he was calling a game for Fox. Aikman called Reid back at halftime and was told that if he wanted to, he'd be the Eagles' starter the following Monday night against the San Francisco 49ers. Aikman obviously turned down this request as well.