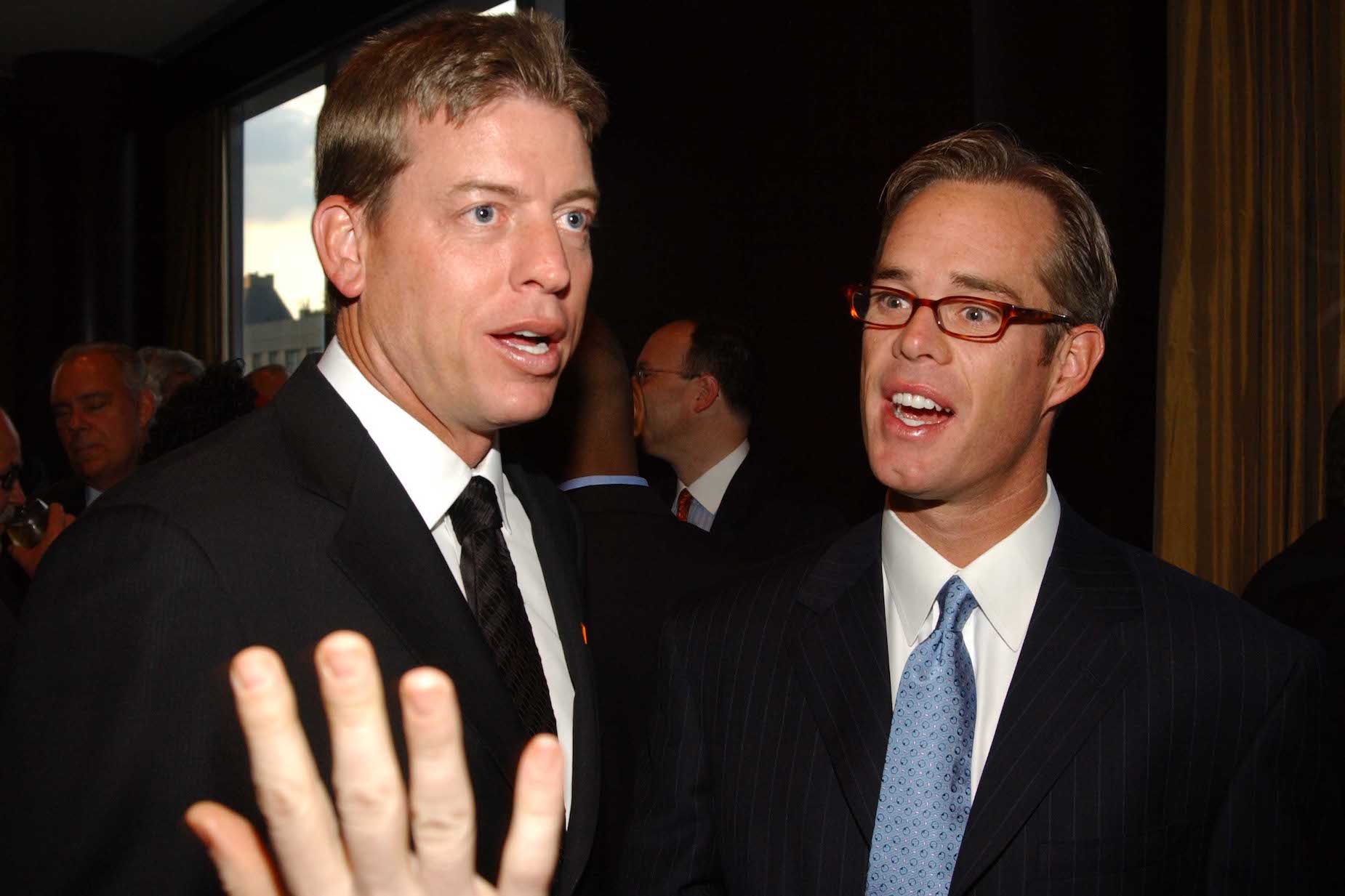 Are Troy Aikman and Joe Buck Friends Beyond the Fox Broadcast Booth?
Joe Buck and Troy Aikman have spent almost two decades covering NFL games together. Are the two men friends outside of the Fox broadcast booth?
For NFL fans, Sunday is full of ritual and routine. Once the football games kick off, there's no room for innovation; it's time to hit the couch, grab some snacks, and tune in to all the action. For most people, they'll hear Troy Aikman and Joe Buck before the afternoon is out.
For almost two decades, Aikman and Buck have been spending Sundays together, bringing NFL action to football fans around the country. While they've become quite the team over the years, are the two men actually friends? Or are they simply long-term coworkers?
Troy Aikman had an impressive playing career before becoming a broadcaster
While Troy Aikman has become a fixture on Fox, his NFL experience hasn't been confined to the broadcast booth. Before picking up a microphone, the quarterback already had quite the career on the gridiron.
Aikman's NCAA career started at Oklahoma, but injuries derailed his time with the Sooners. Looking for a better fit, the quarterback transferred to UCLA; that move paid off in spades, as Aikman blossomed into a star.
After finishing third in Heisman voting and leading the Bruins to a Cotton Bowl victory Aikman entered into the 1989 NFL draft. He joined the Dallas Cowboys as the first-overall pick, won the starting job out of training camp, and, from there, the rest is history.
While Dallas struggled during Aikman's rookie season, the team eventually turned the corner. With some help from Emmitt Smith and Michael Irvin, the quarterback lifted three Lombardi Trophies; he also piled up 32,942 passing yards and 165 touchdowns, earning himself a place in Cowboys history.
Joe Buck is a long-time play-by-play announcer
While Joe Buck might not have the on-field experience of Troy Aikman, he's no sporting novice. As the son of the legendary Jack Buck, the broadcaster always seemed destined to call games.
After cutting his teeth in the Midwest, Buck stepped onto the national stage in 1994, when he joined Fox. He immediately began calling NFL games for the network and, after a few years, took over in the baseball both as well. These days, it's rare to watch a big game in either sport without hearing Buck's voice.
Despite that accomplished career, though, Joe Buck isn't universally beloved by sports fans; in fact, they often feel he's biased against their preferred team. In an interview with SFGate, however, the broadcaster addressed those issues, saying the perception stems from being an objective national broadcaster rather than one of the "hometown guys."
Troy Aikman and Joe Buck are 'really good friends'
As anyone who's spent any amount of time in their job can confirm, working with someone doesn't automatically create a friendship. During their 18+ years together, though, Joe Buck and Troy Aikman have formed quite a beneficial bond.
Purely in logistical terms, the two are on the same wavelength during games; at this point, neither man is catching the other by surprise in the broadcast booth.
"There is so much unsaid awareness, a familiarity where I know when he's going to talk or how long he's going to talk just by the way he moves in the booth," Buck told Justin Terranova of the New York Post. "If he has something he has to say, I can tell out of the corner of my eye and subtly watch him lean in. I don't even know if he's aware that I am aware of that. If I have a point that's really important for him to hear, because I am really saying it for him to react, I'll just grab him by the left arm and make sure he's listening to me."
Aikman agreed, adding an all-important detail: at the end of the day, he and Buck just get along.
"There's a comfort level with he and I, not only professionally, but we're really good friends," Aikman explained, according to Charles Curtis of For the Win.