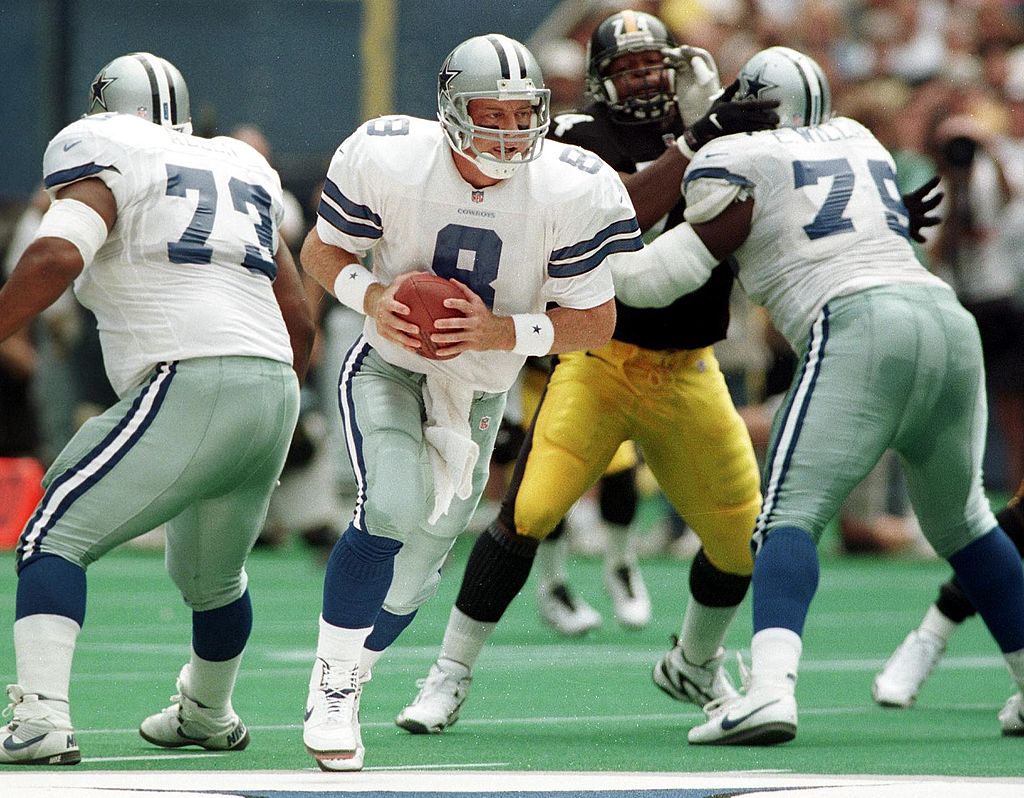 Troy Aikman and Mickey Mantle Were Both Haunted by the Same Recurring Nightmare
While Troy Aikman and Mickey Mantle found success in their respective sports, both men were haunted by a recurring nightmare.
While professional athletes may play a game for a living, they also work under an incredible amount of pressure. When you're playing for a marquee franchise, like the Dallas Cowboys or the New York Yankees, the expectations are ratcheted up another notch. During their playing careers, Troy Aikman and Mickey Mantle experienced that reality firsthand.
Although the two men played different sports, they both felt the pressure to produce. That led Aikman and Mantle to share the same recurring nightmare.
Troy Aikman's Dallas Cowboys career
After an impressive high school career, Troy Aikman headed to Oklahoma and took over as the Sooners starting quarterback. A broken leg, however, derailed his sophomore campaign; after he recovered, Aikman transferred to UCLA, where he blossomed into a star.
In 1989, the Dallas Cowboys made Aikman the first overall pick of the NFL draft. He won the starting job out of training camp, but things didn't immediately fall into place. As a rookie, the quarterback didn't win a single start. The Cowboys, however, wouldn't remain in the cellar for long.
Once Emmitt Smith joined the club, things started to turn around. Dallas would go on to win three Super Bowl titles, with Aikman taking home Super Bowl MVP honors in 1993. By the time he called it a career, the quarterback had 32,942 passing yards and 165 touchdowns; those stats, combined with his three championships, have earned him a place in Cowboys lore.
Mickey Mantle shone as a New York Yankees star
During his time with the Dallas Cowboys, Troy Aikman was the star player on one of the nation's biggest teams. Mickey Mantle, albeit in a different sport, had that same experience during his time with the New York Yankees.
While his road to the pros wasn't easy—Mantle nearly lost his leg as a child, then considered quitting baseball on several occasions—the outfielder eventually burst onto the scene with the Yankees. He blossomed into a dominant hitter, capable of batting for both average and power, and a strong defensive outfielder.
Although he was hampered by injuries and alcoholism, Mantle still posted impeccable career numbers. During his 18 years in the big leagues, the outfielder batted .298 with 1,509 RBIs and 536 home runs; he also won three MVP awards, seven World Series titles, and one famous Triple Crown.
Troy Aikman and Mickey Mantle were both haunted by the same nightmare
During their playing careers, Troy Aikman and Mickey Mantle both reached sports' highest heights. Despite that reality, they were haunted by a similar nightmare.
According to a 1998 feature in Texas Monthly, Aikman had recurring nightmares about missing a Cowboys game. The quarterback wouldn't be hurt, however; in the dream, he'd be stuck in the locker room, unable to get dressed and make it onto the field.
Skip Hollandsworth, who wrote the original article, learned that Mickey Mantle had a similar dream. The Yankees star would arrive at the stadium, late for the game; while he could hear Bob Sheppard announcing that it was his turn to bat, Mantle couldn't make inside. He would panic, then eventually wake up.
Mantle apparently believed that the dream meant that, despite his success, he hadn't lived up to his on-field potential; Aikman, for his part, didn't offer a specific interpretation. At the risk of playing amateur psychologist, though, both nightmares seem to suggest the same thing: no matter how much success an athlete might have, they're not immune to pressure.