Julian Edelman Takes Cheap Shot From Former First-Round NFL Bust After Announcing Retirement
Gone are Tom Brady and Rob Gronkowski. Now the New England Patriots can add Julian Edelman to the list. Edelman announced his retirement in a social media video Monday, ending a 12-year career with the Patriots. After the announcement, one former Philadelphia Eagles first-round bust took a cheap shot at the MVP of Super Bowl 53.
Injuries finally caught up with Edelman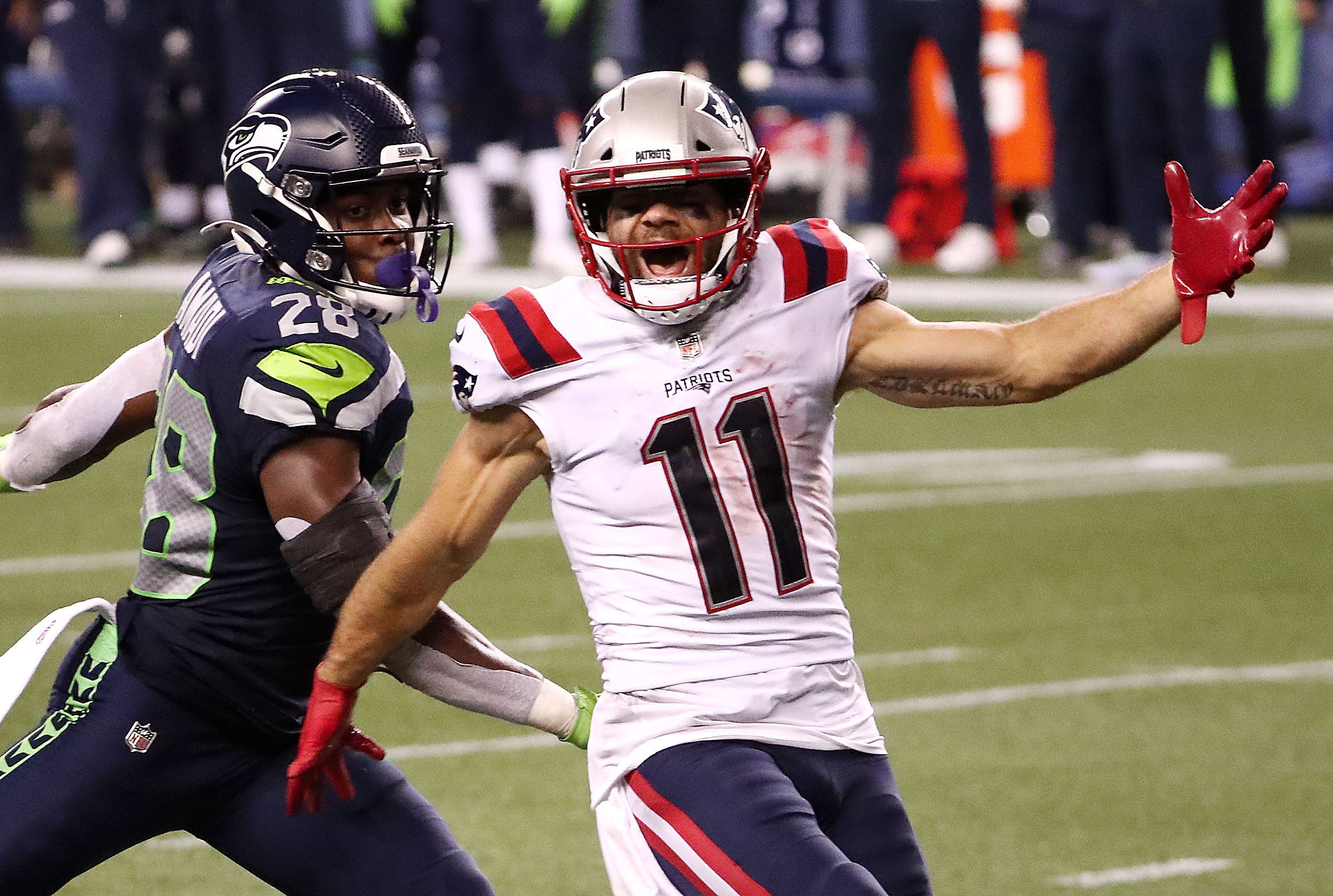 It was more than just watching Tom Brady and Rob Gronkowski leaving New England and winning a Super Bowl in their first year with the Tampa Bay Buccaneers. A knee injury limited Julian Edelman to six games last year during the Patriots' toughest season in 21 years. He said the wheels have "fallen off."
"Nothing in my career has ever come easy, and no surprise, this isn't going to be easy either," Edelman said, according to ESPN. "I've always said, 'I'll go until the wheels come off.' And they finally have fallen off. Due to an injury last year, I'll be making my official announcement of my retirement from football."
Edelman, who played quarterback in college, made the transition to wide receiver and took a tremendous amount of hits during his career. "It was a hard decision, but the right decision for me and my family," Edelman said. "And I'm honored and so proud to be retiring a Patriot. … It's been the best 12 years of my life."
Edelman came up big when it counted most
Julian Edelman's career numbers are good at best. He was a tough-as-nails wide receiver who averaged three touchdowns per season in his 12-year career. He had three 1,000-yard seasons and finished with 6,822 career yards. Edelman, however, was at his best in the postseason.
Only Jerry Rice has more career playoff receptions than Edelman. Rice, arguably the greatest wide receiver of all time, collected 151 postseason catches, while Edelman had 118. Edelman won three Super Bowls and was named the MVP of Super Bowl 53.
Tom Brady, Edelman's quarterback for 12 seasons, reached out to Edelman via Twitter, confirming Edelman came up big when the lights were the brightest. "On the biggest stage and in the biggest moments, you always came through," Brady wrote. "You never lost that chip on your shoulder and you never let anyone define you as a person or player. I'm proud of you Jules. Love you."
Freddie Mitchell takes a cheap shot at Edelman
Former Philadelphia Eagles wide receiver Freddie Mitchell isn't overly impressed with Julian Edelman's career. Some have said Edelman's career is borderline Hall-of-Fame material. It seems like a far-fetched debate when Edelman averaged three touchdowns and 52 catches per season. Edelman backers point to his postseason numbers and make the case that those numbers are HOF-worthy.
When Bleacher Report posed the question if Edelman is a Hall of Famer on Twitter, Mitchell took his cheap shot. "Depends on if steroids play a factor #privilege," he wrote. In 2018, Edelman, who was rehabbing from a torn ACL, was suspended the first four games of the season for using a performance-enhancing drug. According to The Washington Post, Edelman even admitted to the offense, telling reporters during training camp, "I'm definitely accountable for that."
Who is Freddie Mitchell, you ask? He's a first-round bust who was drafted by the Eagles in 2001. He played four years and had five career touchdown catches. He finished his entire career with 1,263 yards, which is just 146 more yards than Edelman's best season. Maybe there's a little jealousy on Mitchell's part. Edelman isn't a legitimate Hall of Famer, but he's a Hall of Famer when compared to Mitchell – PED suspension or not.
All stats courtesy of Pro Football Reference.