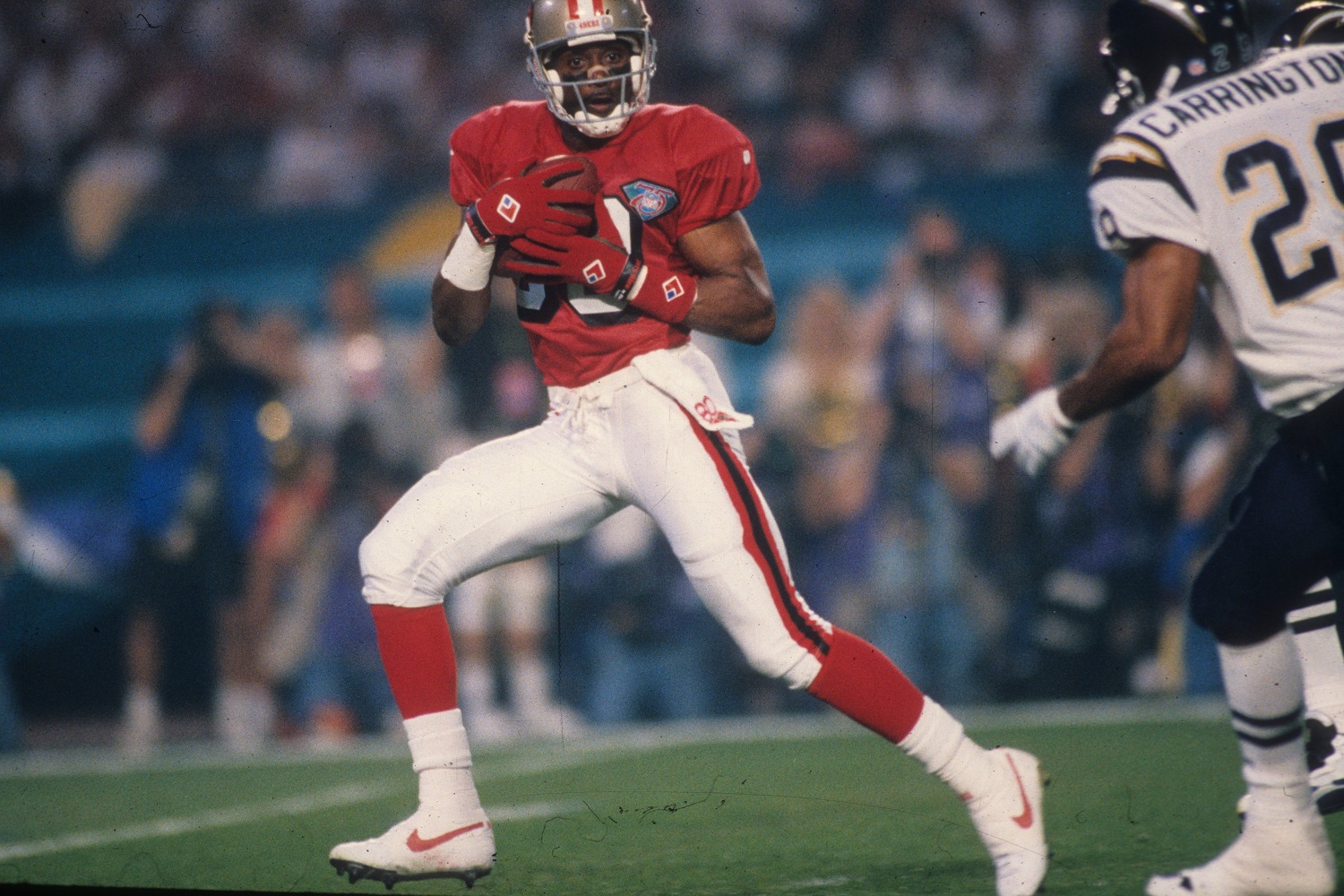 Who Has the Most Receiving Yards and Touchdowns in NFL Playoff History?
A look at the players who have the most receiving yards and receiving touchdowns in NFL playoff history.
Let's just go ahead and end the suspense right from the get-go. Jerry Rice, who most believe is the greatest wide receiver in history, is the all-time leader in receiving yards and touchdowns in the NFL Playoffs, and it's not even close in both categories.
Now, one of the reasons why Rice is the all-time postseason leader in these categories could simply be because he's appeared in more NFL playoff games than any other wide receiver in history. But let's get real. Jerry Rice, who's also the all-time regular-season leader in receiving yards (22,895) and touchdowns (197), really was just that damn good.
Oh, by the way, those 197 receiving touchdowns are part of another NFL record held by the Hall of Famer. Rice, who played 20 seasons with the San Francisco 49ers, Oakland Raiders, and Seattle Seahawks, has scored more touchdowns than any player in NFL history with 208.
But even though we know Jerry Rice holds the No. 1 spot in each category listed below, we'll still go ahead and give you the top five in each.
Jerry Rice has played in more NFL playoff games than any wide receiver in history
Jerry Rice appeared in 29 NFL playoff games over the course of his career, 23 with the Niners, five with the Raiders, and one with the Seahawks, a game in which he didn't even record a single reception.
Those 29 appearances are the most by any wide receiver in NFL history and the third-most of any player. Only Tom Brady and Adam Vinatieri have appeared in more. Stephen Gostkowski also appeared in 29.
As far as wide receivers go (by the way, we're counting tight ends in all of this as well), Rice is obviously No. 1 on the list and is seven games clear of second place, a spot currently held by five players.
Jerry Rice: 29 games — San Francisco 49ers, Oakland Raiders, Seattle Seahawks
Cliff Branch: 22 games — Oakland/Los Angeles Raiders
Billy Joe DuPree: 22 games — Dallas Cowboys
Pete Metzelaars: 22 games — Seattle Seahawks, Buffalo Bills, Detroit Lions (he also played for the Carolina Panthers for one season in 1995 but did not appear in the NFL Playoffs that year)
Drew Pearson: 22 games — Dallas Cowboys
Rob Gronkowski: 22 games — New England Patriots, Tampa Bay Buccaneers
Jerry Rice has the most receiving yards in NFL playoff history by a wide margin
In those 29 NFL playoff games, which included four appearances in the Super Bowl, three with the 49ers and one with the Raiders, Jerry Rice caught 151 passes (another NFL record) for 2,245 yards, which is 697 more than the man in second place, Travis Kelce. Here's a look at the top five.
Jerry Rice: 29 games — 2,245 receiving yards
Travis Kelce: 18 games — 1,548 receiving yards
Julian Edelman: 19 games — 1,442 receiving yards
Rob Gronkowski: 22 games — 1,389 receiving yards
Michael Irvin: 16 games — 1,315 receiving yards
Rice also has the most receiving touchdowns in the postseason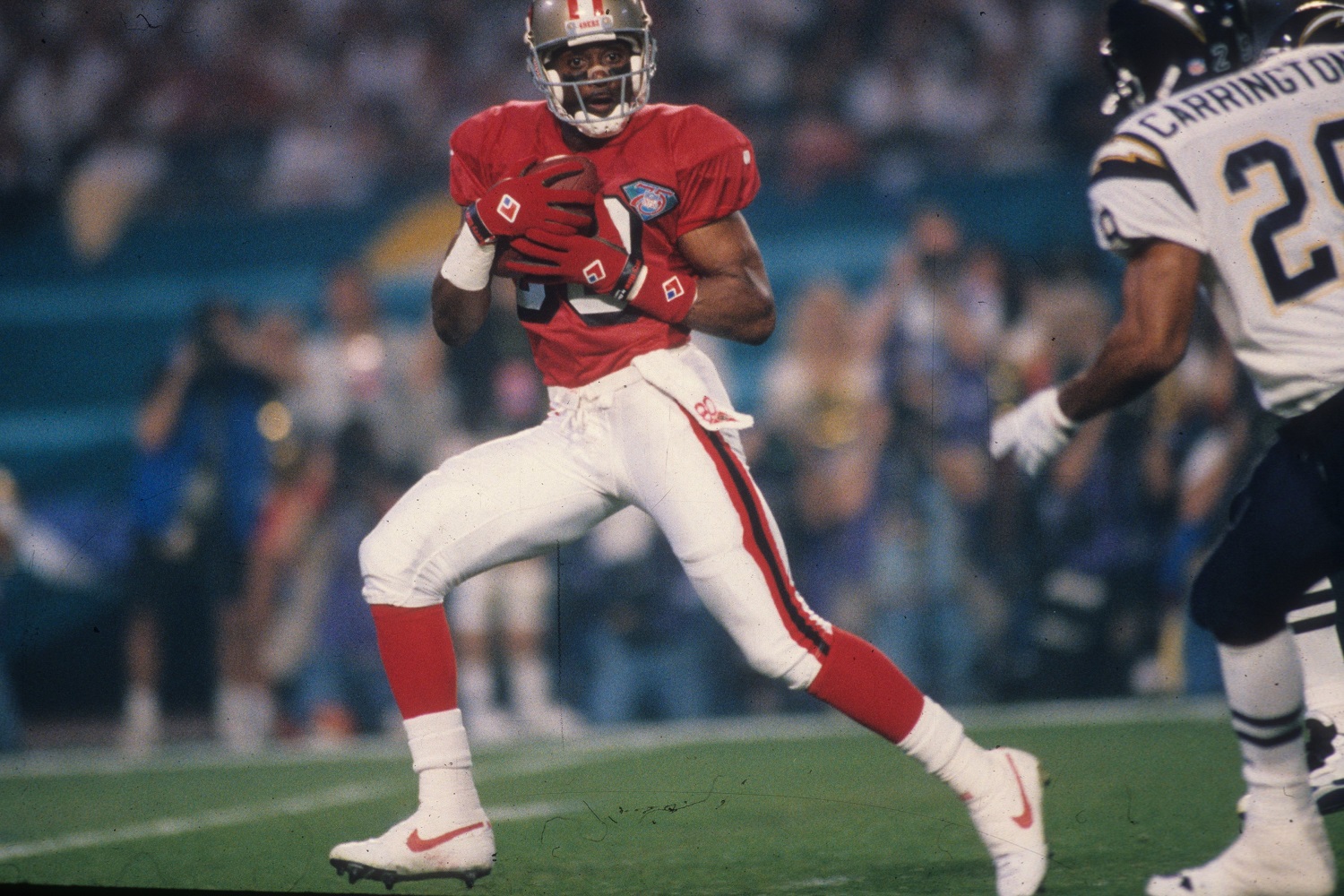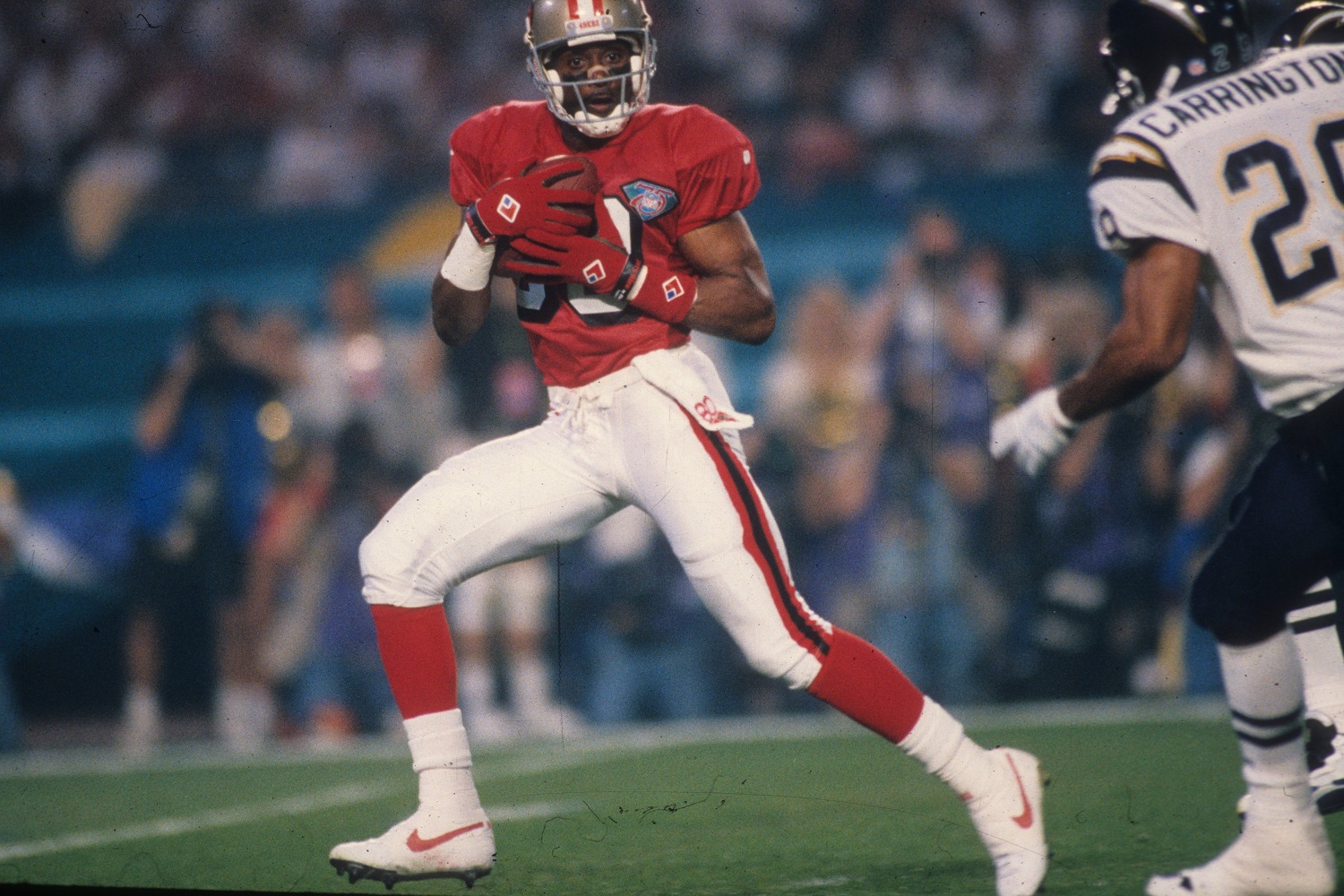 Jerry Rice also holds a commanding lead in receiving touchdowns scored in the NFL playoffs with 22, eight of which came in his three Super Bowl victories with the 49ers. Travis Kelce sits in solo second with 16, while Gronk is in third with 15. John Stallworth sits in solo fourth with a dozen, while five are tied for fifth with 10.
Jerry Rice: 29 games — 22 touchdown receptions
Travis Kelce: 18 games — 16 touchdown receptions
Rob Gronkowski: 22 games — 15 touchdown receptions
John Stallworth: 18 games — 12 touchdown receptions
Fred Biletnikoff: 19 games — 10 touchdown receptions
Larry Fitzgerald: 9 games — 10 touchdown receptions
Antonio Freeman: 16 games — 10 touchdown receptions
Randy Moss: 15 games — 10 touchdown receptions
Hines Ward: 18 games — 10 touchdown receptions