Justin Fields Already Becoming a Leader for the Chicago Bears
It hasn't taken long for Justin Fields to show why the Chicago Bears traded up in the first round of the 2021 NFL draft to select him. The quarterback-starved franchise is still looking for their offensive leader and is hoping the Ohio State standout is their man. So far, so good.
Justin Fields saw his draft stock slip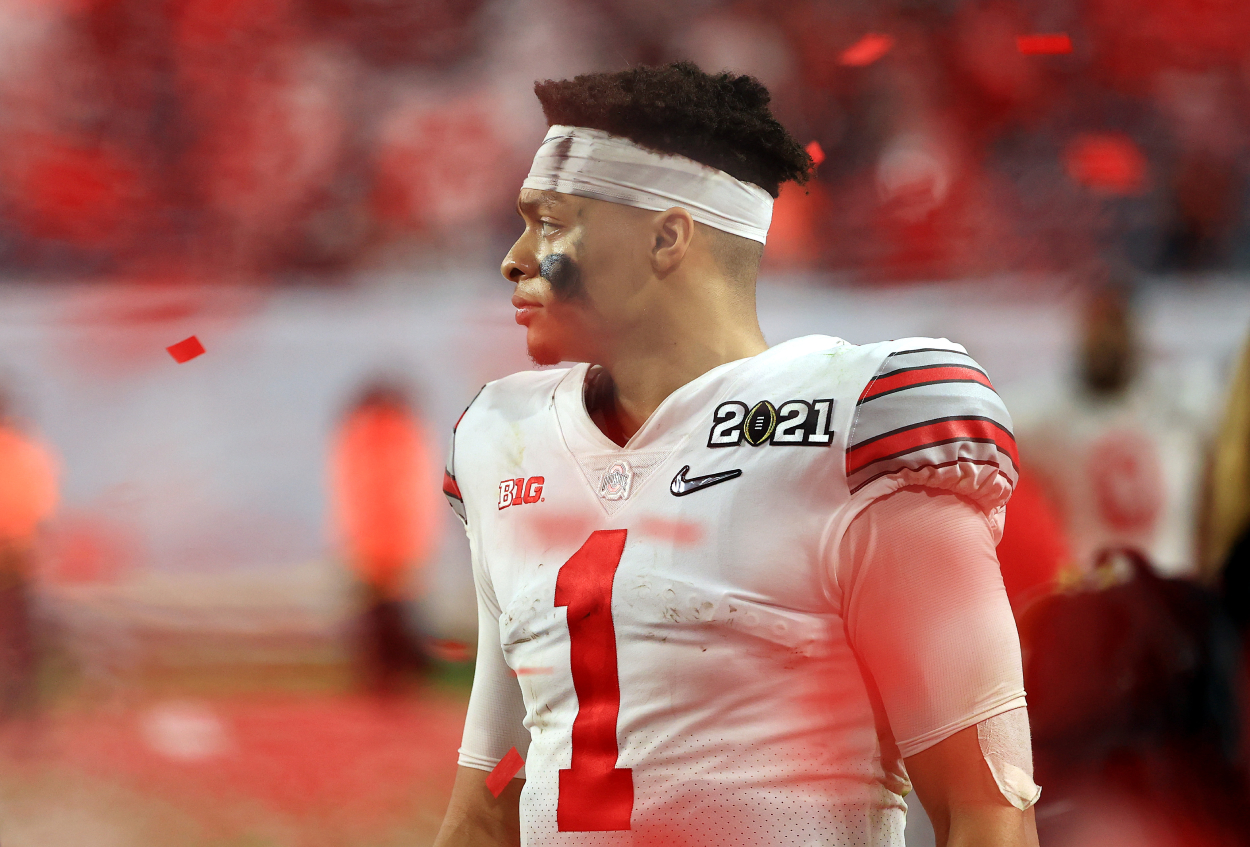 At one point before the 2021 NFL draft, Fields was considered the second-best college quarterback behind Clemson's Trevor Lawrence. It looked like the New York Jets might select him with the second overall pick. Then things began to fall for Fields, despite taking Ohio State to the national title game.
He took a massive shot to the ribs in the playoff game against Clemson. NFL analyst Cris Collinsworth said he heard he was "still messed up" from the hit.  "There are people telling me that he's still not right from that hit, that he's still messed up from that hit," he said on Doug Flutie's Flutie Flakescast podcast.
Three quarterbacks wound up going before Fields. The top three picks in the draft were QBs. Lawrence, Zach Wilson, and Trey Lance had their names called before Fields. Fields didn't even crack the top 10. The Bears saved him by trading up from No. 20 to No. 11 to grab him. They may have also saved themselves.
Justin Fields takes charge early on at camp for the Chicago Bears
Although he's labeled the quarterback of the future, Fields knows he likely won't be starting this season. During an interview before a minicamp session, he said he knew head coach Matt Nagy "has a set plan on my development." That doesn't stop him from having the mindset that he's going to be the starter.
"Everybody on our team should be striving for the starting job," he said. "If you're not, then there's no reason for you to be here. Of course, I'm going to do everything I can to get that starting job." He also said he knows there will be bumps along the way. "I'm not oblivious," he said. "I know I'm not going come out here and, you know, be mistake-free."
His long-term goal is to lead the team as the starter. He knows it's baby steps first. Fields outlined his short-term goals for now. "My short-term goals are just to be crisp with the huddle call," Fields said. "Making sure I'm precise with my reads and stuff like that and really taking command of the huddle. And show the guys out there that I am leading the offense."
Fields already displaying his leadership skills
Fields has taken charge from the get-go at Bears camp. He said his coaching staff had helped make the transition from college easy. He's learning the playbook, but what's stood out so far to Nagy has been his leadership skills so early on.
"I thought it was pretty cool that already on Day 1 Justin was going over and in a coachable and teachable way was explaining to that player, 'Hey, they changed rotation-wise. Next time that happens, you have to run this route instead of that route,'" Nagy said, according to The Chicago Tribune. "Day 1, that's pretty good."
Nagy said Fields has tools you can't teach. "He's always got that competitive drive ingrained in him — that's where he's at all the time," he said. "The more that we have these meetings, the more that we work with him, the more that we realize and get to see his commitment to being focused on the details of this offense and see how fast he can grow, it gives us a chance to be able to work off of that."