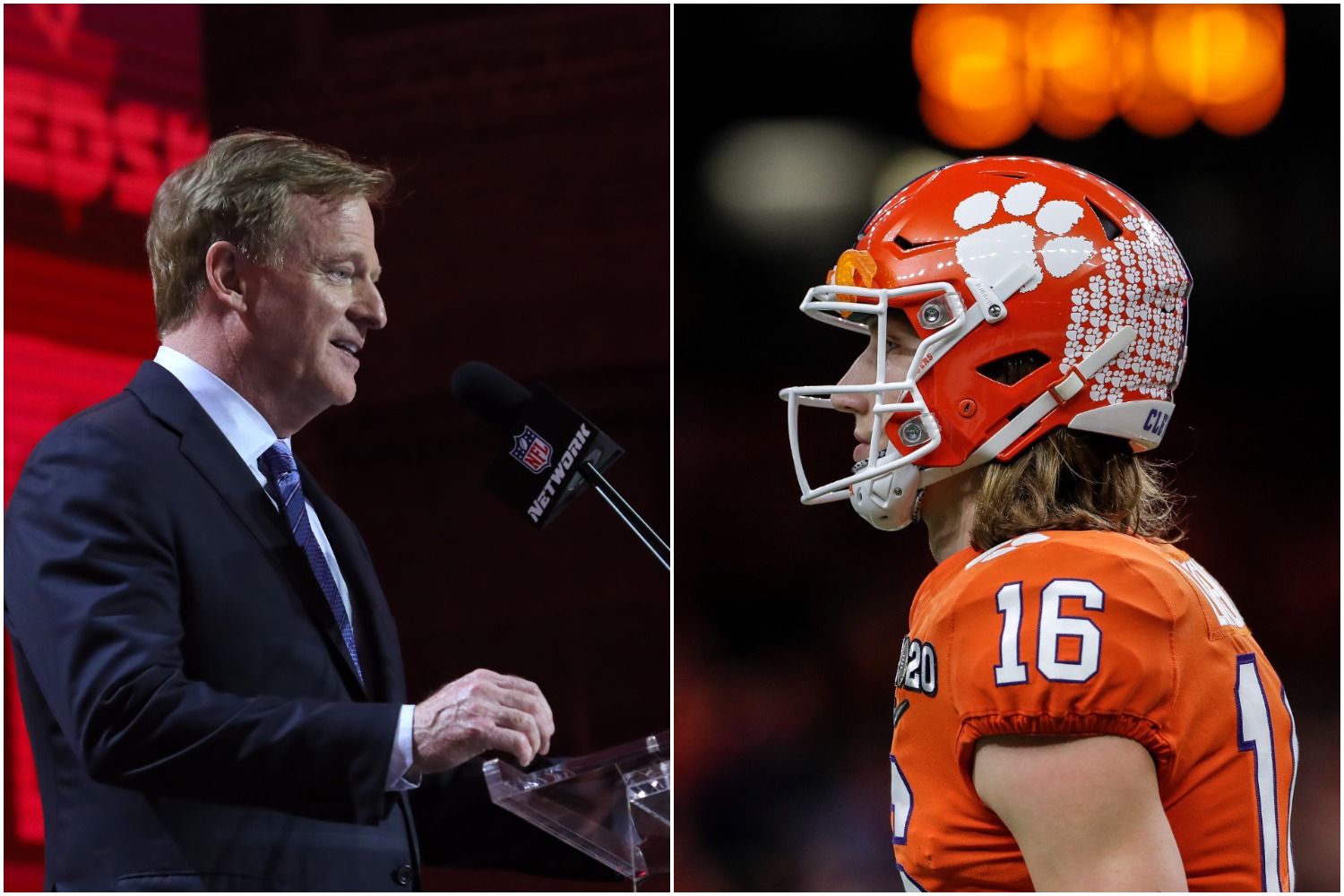 Trevor Lawrence Officially Won't Be the First Player to Shake Hands With Roger Goodell at the 2021 NFL Draft
Even though Clemson quarterback Trevor Lawrence should go No. 1 overall, he won't be the first 2021 NFL draft pick to shake hands with commissioner Roger Goodell
Although the Jacksonville Jaguars will undoubtedly take Trevor Lawrence with the No. 1 overall pick, the former Clemson star won't be the first player to shake hands with Roger Goodell at the 2021 NFL draft.
But even if his peers get a chance to embrace the NFL commissioner in Cleveland, they will only do so after Lawrence's name gets called. Because even amongst a group of talented quarterbacks, the 21-year-old Tennessee native represents a true once-in-a-lifetime prospect.
Trevor Lawrence is fully expected to go No. 1 overall in the 2021 NFL draft
Barring a complete surprise, Trevor Lawrence will hear his name called by Roger Goodell before any other 2021 NFL draft prospect. And when you look at his resume, that shouldn't be a surprise.
As a true freshman, Lawrence took the college football world by storm by throwing for 3,280 yards, 30 touchdowns, and just four interceptions. Oh, he also led Clemson to a stunning 44-16 victory against the Alabama Crimson Tide in the national championship game.
Although the Tigers fell short of winning back-to-back titles, Lawrence strengthened his resume by increasing his numbers across the board. And despite missing two games last season due to COVID-19, the 6-foot-6, 220-pound signal-caller completed a career-high 69.2% of his passes in 10 starts.
With seemingly no holes in his game, Lawrence easily ranks as the No. 1 prospect in his draft class. While other top players boast intriguing traits of their own, none measure up to the full package he provides.
So unless Urban Meyer has spent the last few weeks sending smokescreens about his team's draft plans, Jaguars fans should prepare to welcome a once-in-a-lifetime prospect to Jacksonville next month.
The former Clemson star won't be the first player selected to shake hands with Roger Goodell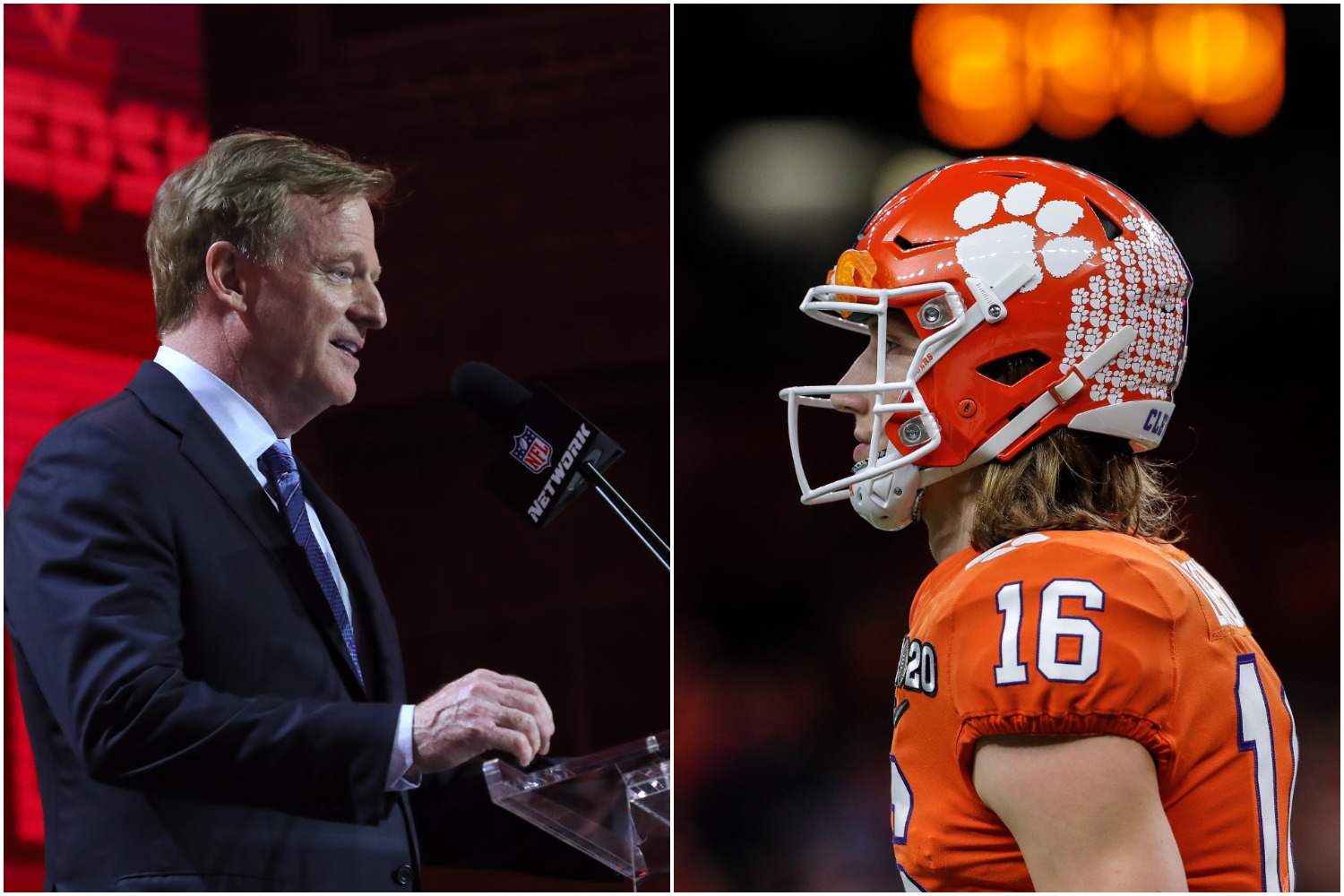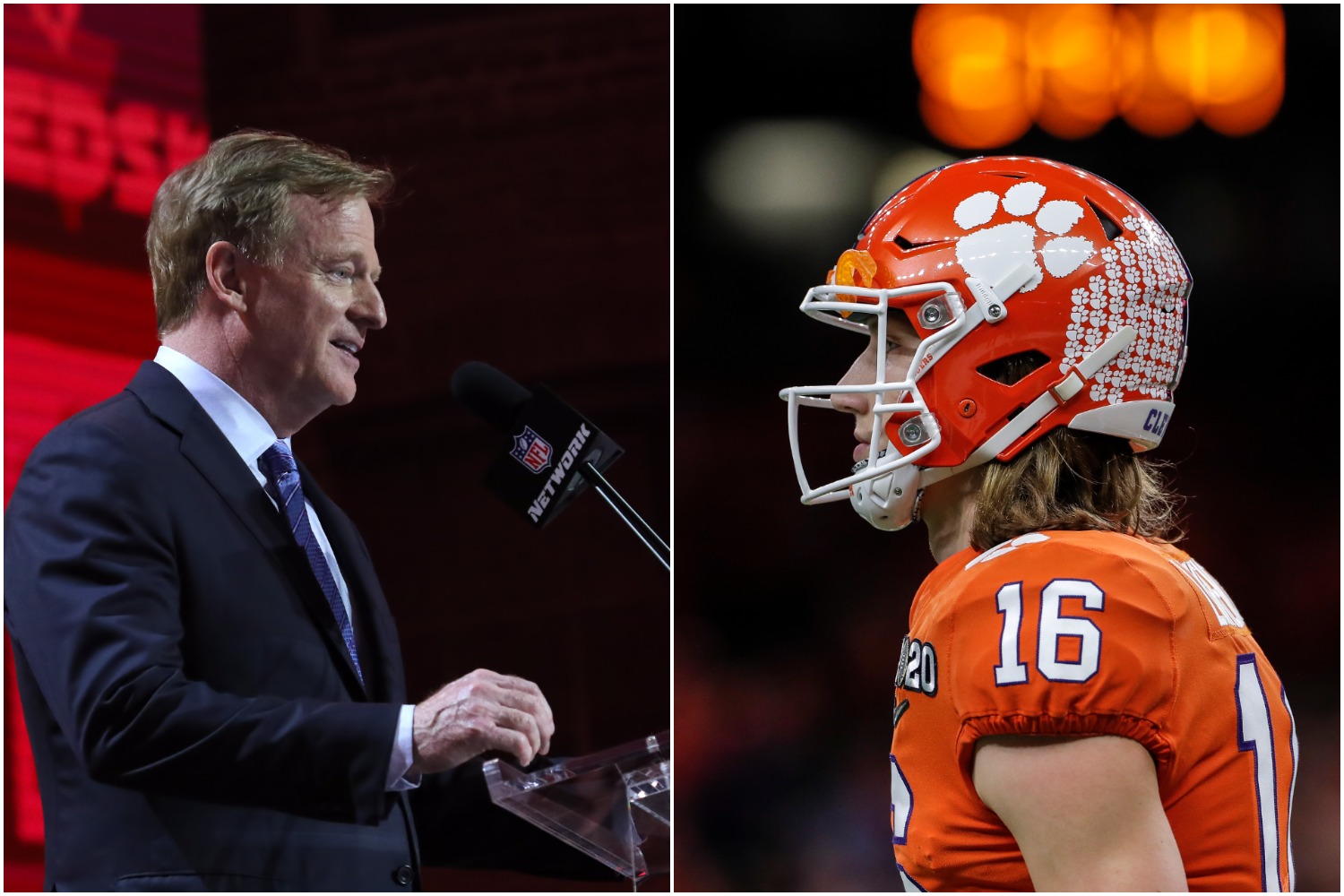 Roger Goodell spends most of the NFL draft getting booed by fans. But the commissioner can always look forward to a warm embrace from former college stars who realize their dream of making it to the league.
However, even though Trevor Lawrence should go No. 1 overall, he won't be the first player to shake hands with Goodell.
As Adam Schefter of ESPN first reported, Lawrence has declined an invitation to attend the 2021 NFL draft. Rather than taking part in the festivities in Cleveland, he will watch the draft at Clemson with a few family members and friends. His decision ensures that another quarterback will walk across the stage first for a photo opportunity with Goodell.
Lawrence joins a growing list of recent No. 1 picks who turned down the chance to attend the NFL draft. Jameis Winston, Myles Garrett, and Baker Mayfield also skipped out on experiencing the event.
So if Lawrence won't be in Cleveland, who should fans expect to see walk across the stage after the Jaguars make their selection?
Who should NFL fans expect to see walk across the stage after Lawrence comes off the board?
The 2021 NFL draft features five first-round quarterback prospects. After Trevor Lawrence comes off the board, it looks like BYU's Zach Wilson has the best odds of hearing his name called next.
Tipping the scales at 6-foot-3, 210 pounds, he boasts superstar upside. The talented dual-threat signal-caller seems destined to take over as the new face of the New York Jets.
Assuming Wilson goes No. 2 overall, the San Francisco 49ers will select from a group that includes Mac Jones, Justin Fields, and Trey Lance. With Kyle Shanahan under pressure to win now, Jones projects as the most likely candidate to unseat Jimmy Garoppolo as the team's long-term starting quarterback.
Then again, Fields and Lance theoretically offer more upside simply because of their athleticism. Perhaps the 49ers will throw everyone for a loop by passing over Jones in favor of a more physically-gifted prospect.
At No. 4, the Atlanta Falcons look like a potential landing spot for whoever is left out of Jones, Fields, and Lance. New general manager Terry Fontenot must decide whether drafting Matt Ryan's successor outweighs the value of trading the team's top pick for multiple draft choices.
So even though Lawrence won't be there to shake his hand in person, Roger Goodell will get used to embracing quarterbacks early and often during the opening hour of the 2021 NFL draft.
All statistics courtesy of Sports Reference.