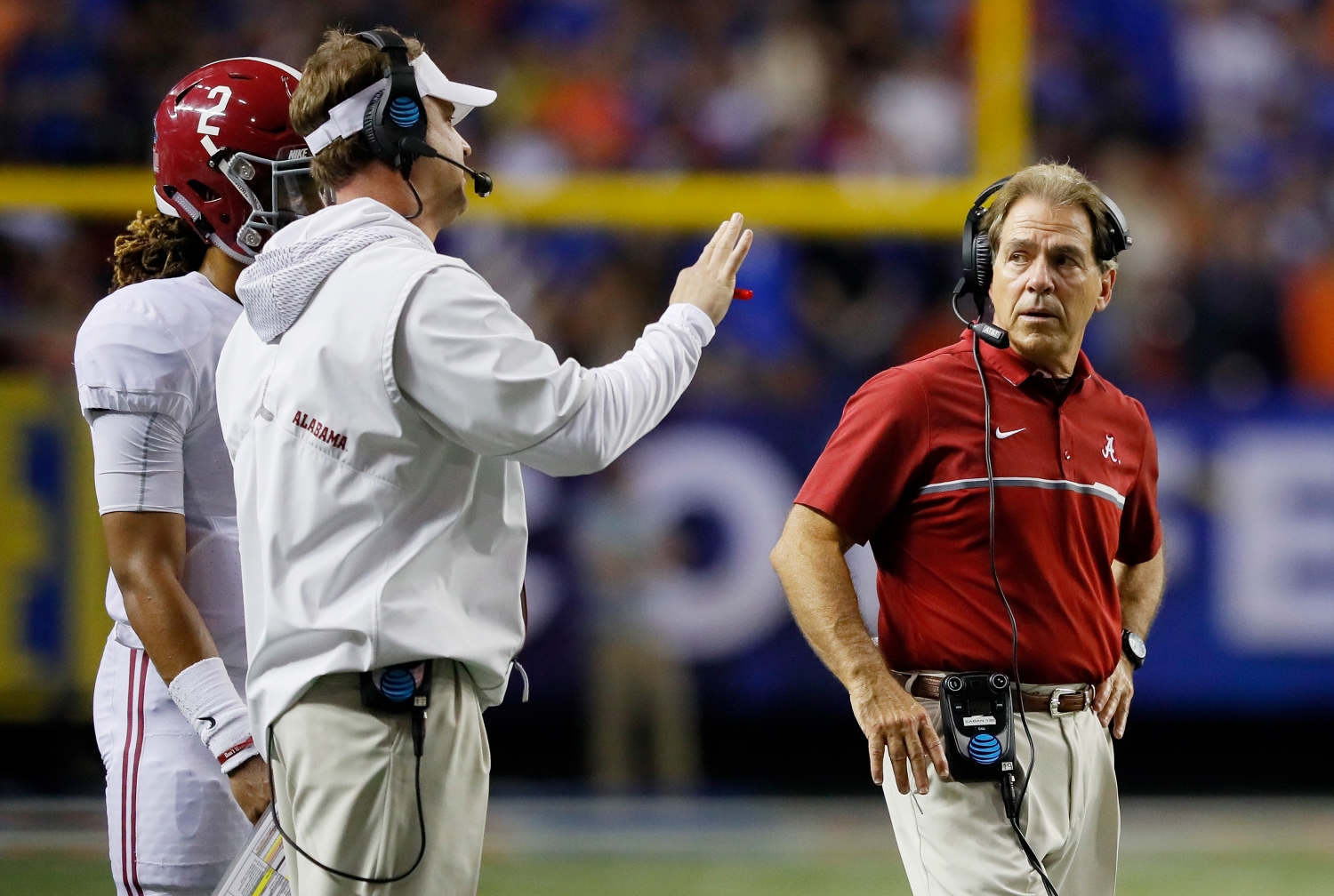 Nick Saban Reveals Why He Changed His Entire Football Philosophy Once Lane Kiffin Came to Alabama
Alabama head coach Nick Saban had no choice but to change his football philosophy once Lane Kiffin joined the Crimson Tide.
The Alabama Crimson Tide established a reputation as the most dominant team in college football by physically overpowering their opponents. However, Nick Saban added a few more championship rings to his collection in recent years by relying on an entirely different football philosophy.
As it turns out, former Raiders head coach Lane Kiffin played a heavy hand in taking the Tide in a new direction. And if Alabama can't re-stock its star-studded offense, he may just have a chance at beating his former boss when Ole Miss travels to Tuscaloosa in October.
Alabama won multiple national titles with a very different approach
Nick Saban won three national championship rings between 2009-12. He accomplished that feat by placing a heavy emphasis on fielding an elite defense and a run-first offense.
In 2009, the Crimson Tide went undefeated while finishing second in the nation in points allowed. Mark Ingram took home Heisman Trophy honors after totaling 17 rushing touchdowns—the same number starting quarterback Greg McElroy completed all season.
Two years later, Alabama won another national title thanks to a historically-dominant defense that allowed just 8.2 points per game. Trent Richardson ran for 21 touchdowns. Meanwhile, A.J. McCarron only totaled 16 through the air.
The Crimson Tide followed up by winning their third championship in four years. While the offense ranked 12th in scoring, Saban's squad surrendered the fewest points in the country. McCarron threw 30 touchdowns, but the offense actually featured two 1,000-yard rushers.
Nick Saban reveals why he changed his entire football philosophy when Lane Kiffin came to Tuscaloosa
In 2014, Nick Saban hired Lane Kiffin to fill Alabama's offensive coordinator vacancy. That fall, the Crimson Tide went 12-2 by using a dual-threat quarterback in Blake Sims. Two years later, Jalen Hurts took the SEC by storm with 2,780 passing yards and 954 more on the ground.
Overall, the Crimson Tide started to shift from a defensive-minded team to an offensive-driven one.
During a recent virtual coaches clinic, Saban explained how the college football landscape has changed in recent years.
"We gave up 19 points a game last year and that was first in the SEC," he said during a clip shared on Twitter. "That's six points above what we think is average, which is giving up 13 points a game. And it's first in the SEC. So the game is different now."
After highlighting how he grew up with the idea of needing to play good defense, run the ball, and "control vertical field position on special teams" to win on Saturdays, he acknowledged rule changes and the emergence of the spread offense has rendered that strategy ineffective.
"No-huddle fastball has changed college football," Saban explained. "So I changed my philosophy about five or six years ago—maybe more than that. When Lane [Kiffin] came here, we said we got to outscore them."
And it's fair to say Alabama has succeeded in employing that strategy.
After ranking 15th in scoring in 2017, the offense finished third in 2018, and second in both 2019 and 2020.
But after averaging 48.5 points per game during their latest title-winning campaign, the Crimson Tide face a daunting task in replacing a number of offensive stars who should hear their names called early during the 2021 NFL draft.
Can the Crimson Tide keep winning with so many offensive stars heading to the NFL?
Nick Saban's philosophical shift has resulted in Alabama churning out a number of high-profile offensive stars in recent years. Once again, the Crimson Tide have several decorated players destined to become early-round NFL draft picks.
Mac Jones took over for Tua Tagovailoa in 2019 and turned himself into a first-round prospect. After throwing 41 touchdown passes and completing 77.4% of his attempts last season, the skilled pro-style quarterback should become a top-10 selection.
Of course, Jones benefitted from having two of the most electrifying wideouts in the country. Heisman winner DeVonta Smith and fellow star receiver Jaylen Waddle should hear their names called during the first half of the first round of next month's draft.
With several other prominent players also taking their talents to the NFL, Saban faces a stiff challenge to replace the production and leadership they provided. And when his team takes the field against Lane Kiffin's Rebels later in October, it'll be interesting to see if an offense with plenty of new faces can still put up points at such a prolific pace.
All statistics courtesy of Sports Reference.