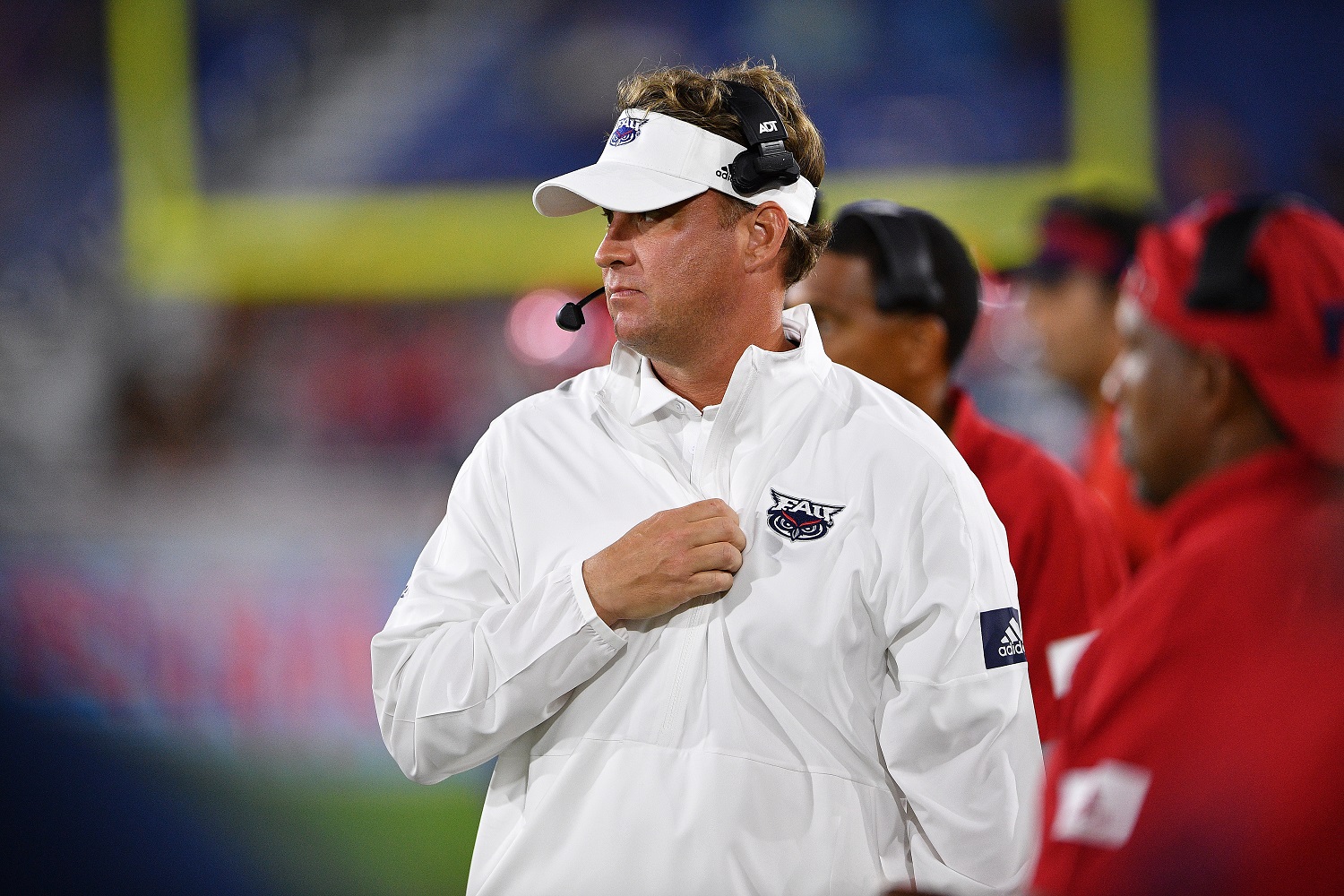 Lane Kiffin Flew Home From a Bad Loss and Got Fired at the Airport
Lane Kiffin has been fired from coaching three times. His departure from USC was easily the oddest of the bunch.
Lane Kiffin has been fired over character issues by an NFL team owner with a history of signing players of questionable character. He also found himself banished by Nick Saban at a most inopportune time. But the ways Kiffin departed the Oakland Raiders and Alabama Crimson Tide pale in comparison to the time he was fired from USC.
Lane Kiffin is getting mentioned again at Tennessee
As has frequently been the case in recent years, the University of Tennessee is in the market for a football coach. As has frequently been the case in recent years, Lane Kiffin's name has come up in the coaching search despite the fact he is gainfully employed.
Counting the last of Philip Fulmer's 17 seasons, the Vols have gone through six head coaches (one interim) since 2008. The first in the string of successors was Lane Kiffin, who went 7-6 in 2009 but then took off for the University of Southern California.
Danny White, who has a history of sharp hires in previous AD roles, is in charge of this search. He needs a big name who can accept that Tennessee could be facing NCAA sanctions. The role could be right for Kiffin, who faced a worse situation at USC and later did well at Florida Atlantic. Leaving Mississippi after a 5-5 debut season is a possibility.
Given the state of the Vols program, the next coach can expect a longer than usual grace period, and Kiffin is the sort who could bring in a pair of strong recruiting classes to make Tennessee start to look respectable again by 2024.
His history in coaching hasn't always been good
Lane Kiffin had never been a head coach and was only an offensive coordinator at USC for two seasons when Al Davis hired him for the Oakland Raiders in 2007, making Kiffin the NFL's youngest head coach at 31. In hindsight, the relationship fell apart the day that Davis drafted JaMarcus Russell, who would quickly become one of the NFL's all-time quarterback busts.
Sure enough, Davis fired Kiffin four games into his second season. Davis, with a reputation for signing players with checkered NFL pasts, accused his coach of being a liar and "bringing disgrace to the organization," according to ESPN. Davis successfully argued in arbitration that the firing was "for cause," freeing him from paying the remainder of the contract.
Kiffin landed on his feet in the college ranks, coaching one season at Tennessee and then three-plus years at USC. After USC dismissed Kiffin, he arrived at Alabama as Nick Saban's offensive coordinator.
Kiffin succeeded in three seasons with the Crimson Tide, and he accepted the head job at Florida Atlantic on Jan. 2, 2017. However, Alabama was heading to the playoffs, and Saban forced Kiffin out a week before the championship game, apparently deciding that he couldn't handle two jobs at once. Steve Sarkisian, who had also replaced Kiffin at USC, received the battlefield promotion from Saban.
USC fired Lane Kiffin while he was at the airport
The oddest of Lane Kiffin's forced departures in coaching was undoubtedly the end of his time at USC. Kiffin arrived in 2010 and went 8-5, 10-2, and 7-6 in his three full seasons, the first two of which were under heavy NCAA sanctions related to previous regimes. At one point in 2011, Kiffin was down to 51 scholarship players.
On Sept. 2, 2013, Arizona State lit up the Trojans, 62-41, to drop USC to 3-2 heading into a week off on the schedule. Kiffin never made it to the bye week. In fact, he never made it out of LAX as coach. Athletic director Pat Haden was waiting just off the tarmac after the plane landed at the airport. It was there that he fired Kiffin.
"I had no idea at all," Kiffin told CBS Sports. "It totally caught me off guard. I got off the plane. I put my bag on the bus. I was going to sleep at the facility. Someone came and said, 'Pat wants to see you.' I left my briefcase on the bus."
Kiffin never returned to the bus. A university security officer ended up driving Kiffin home.
"The thing that was kind of bad about the ASU game: I was in the locker room, (and) I said to Pat, 'At least we found our quarterback,'" Kiffin recalled. "He kind of shook his head. Little did I know he'd already fired me."
Like Sportscasting on Facebook. Follow us on Twitter @sportscasting19.