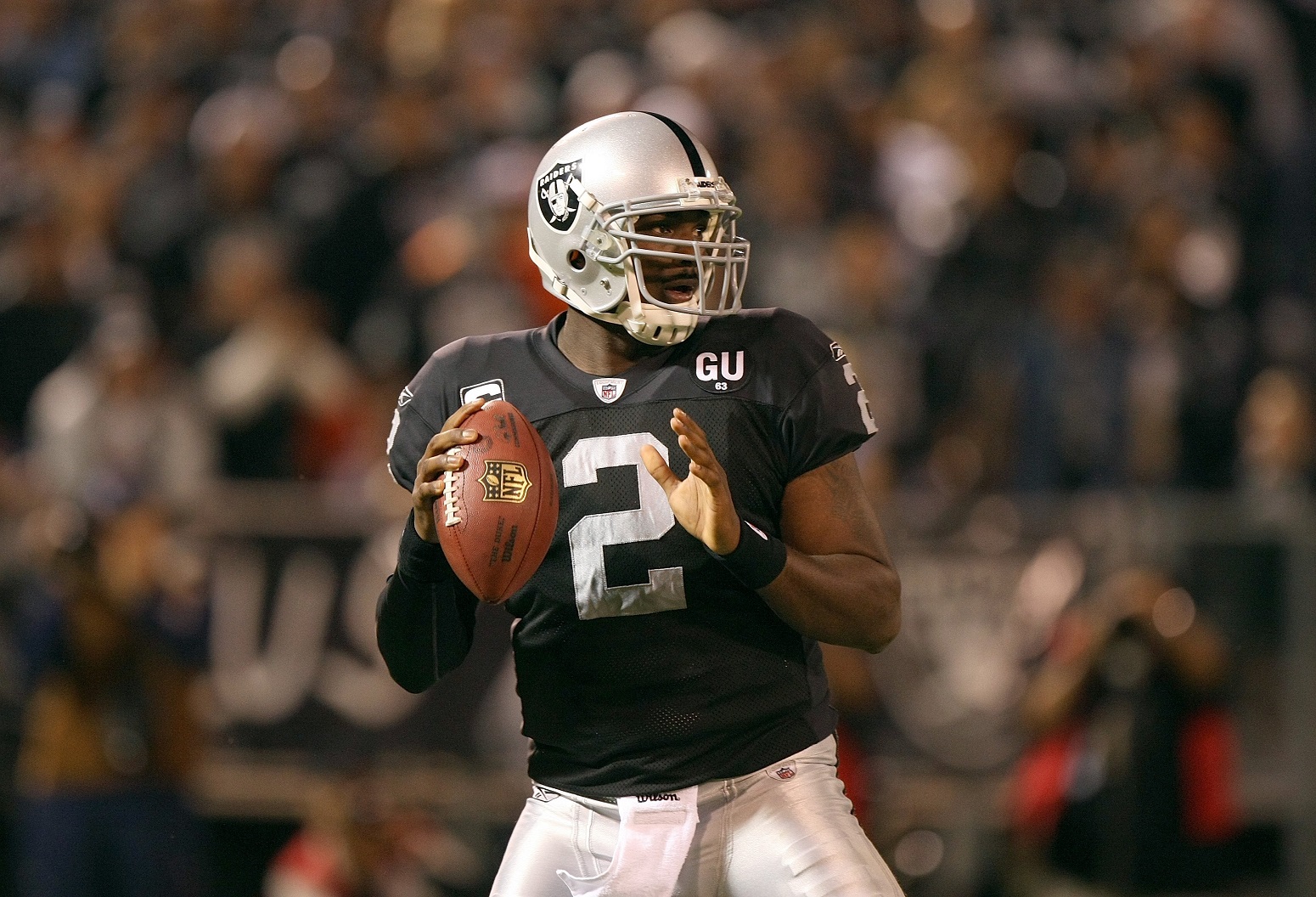 A Blank DVD Told the Raiders Everything They Needed to Know About JaMarcus Russell's Future
Former first overall pick JaMarcus Russell had an infamous incident with a blank DVD that told the Raiders everything they needed to know.
Many hold the strong belief that JaMarcus Russell is one of the biggest busts in NFL history. Russell's failed stint with the then-Oakland Raiders played a massive part in the franchise's negative public image.
With that in mind, the Raiders had a particular moment involving a blank DVD that told them everything they needed to know about the quarterback.
JaMarcus Russell's failed NFL career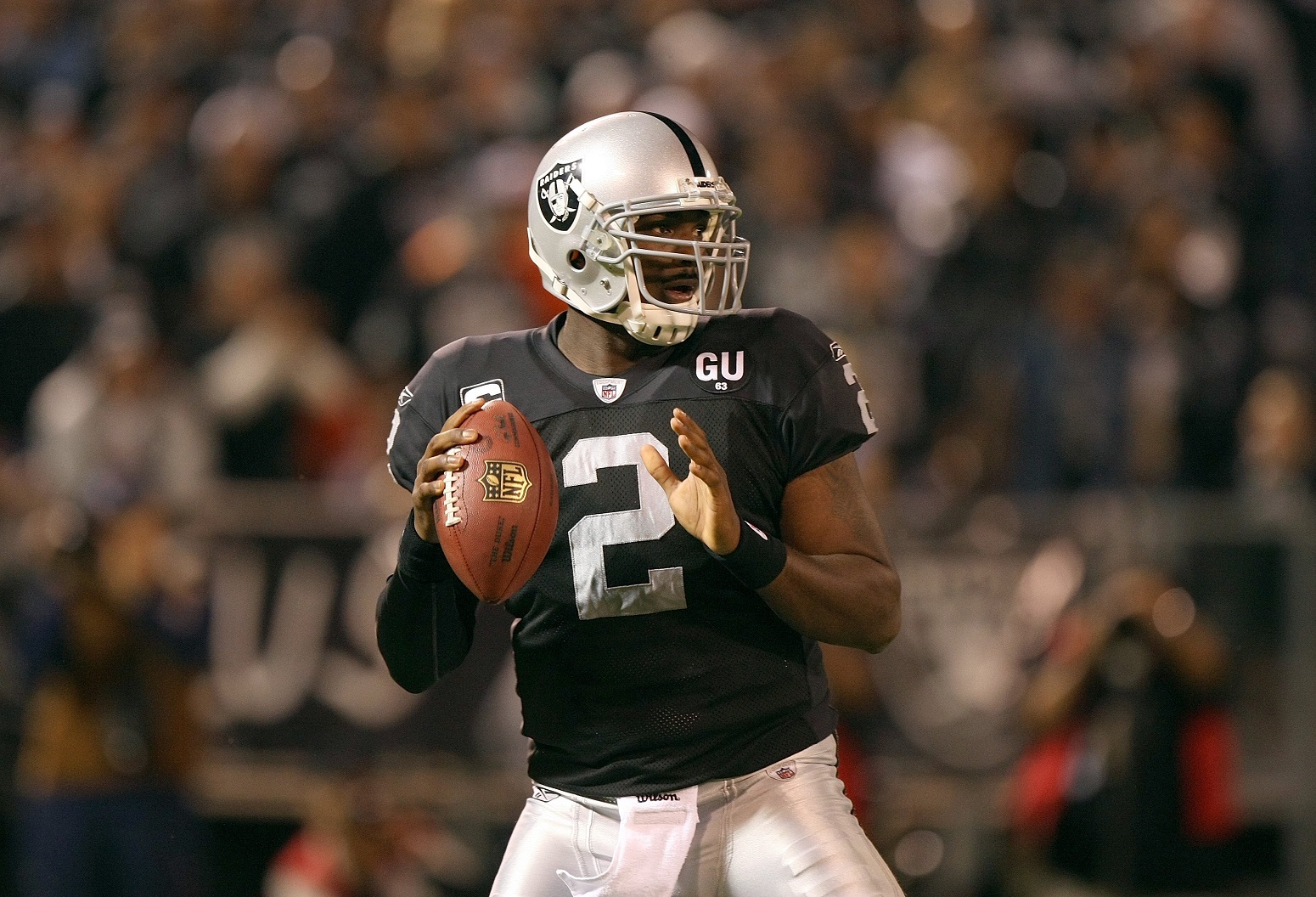 After the Raiders selected JaMarcus Russell with the first overall pick in the 2007 NFL Draft, things quickly headed south.
The LSU product struggled to find his footing at any point in his three-year NFL career. Although it was a different time in the league — a time when a first-round quarterback didn't have the pressure to play right away — the Raiders quickly saw what they needed to see from Russell.
In his three seasons, he had 4,803 passing yards on a 52.1% completion rate with 18 touchdowns, 23 interceptions, and a 65.2 passer rating in 31 games with 25 starts. Beyond his lackluster production, Russell demonstrated in another way why the Raiders made a massive mistake by drafting him.
JaMarcus Russell's blank DVD incident said it all
Throughout JaMarcus Russell's brief NFL career, there were plenty of telling signs that the Raiders made a massive mistake.
Beyond his porous play, Russell demonstrated this to the team's coaching staff on numerous occasions. In 2018, Kirk Morrison discussed one such incident during a fill-in host spot on the Rich Eisen Show. The former Raiders linebacker said just about everything concerning the first overall pick of the 2007 NFL Draft. Morrison recalled:
"Coach [John] Defilippo said, 'Look, JaMarcus, we got 15-20 plays that we want this week. Here's a DVD for you. Tonight, we want you to watch these because tomorrow this is what we are going with the game plan.'

The next day, they come to practice, and they say, 'JaMarcus, how is the DVD? Did you look at it?' He was like, "Oh, coach, all the plays. They look good. Whatever you want to run, let's do it. I like them. They said, 'Did you like five of them or seven of them? 10 of them? [He then said] 'Coach whichever. I saw them, and we got ready to go. I went through them all.'

Coach Defilippo was looking around and was like, 'It was a blank DVD.' So he didn't watch the DVD. That's when they knew they were in trouble."
The Raiders already saw several red flags about Russell entering the NFL, including his work ethic. Russell's lack of commitment to film study became evident through his play as he struggled to find his footing in any regard.
This singular story further underlines how risky it can be to find a franchise quarterback.
The Raiders will forever live with the mistake
The Raiders' failure with JaMarcus Russell set the franchise back several years.
The team disappointingly attempted to give Russell a run through three seasons. What made matters worse is that the organization paid him $32 million guaranteed. The Raiders did manage to get out from under the final three years of his six-year, $61 million contract.
By that point, the damage had already been done as the Raiders pushed themselves further south. The organization remained in a vortex of mediocre play throughout those three seasons. The Russell experience further stained the Raiders as a team marred by poor decision-making from management and ownership.
What puts a bigger knife in Raiders fans' hearts is then-head coach Lane Kiffin's desire to take Calvin Johnson with that first overall selection. Johnson became one of the league's greatest wide receivers.
Statistics courtesy of Pro Football Reference and Spotrac.