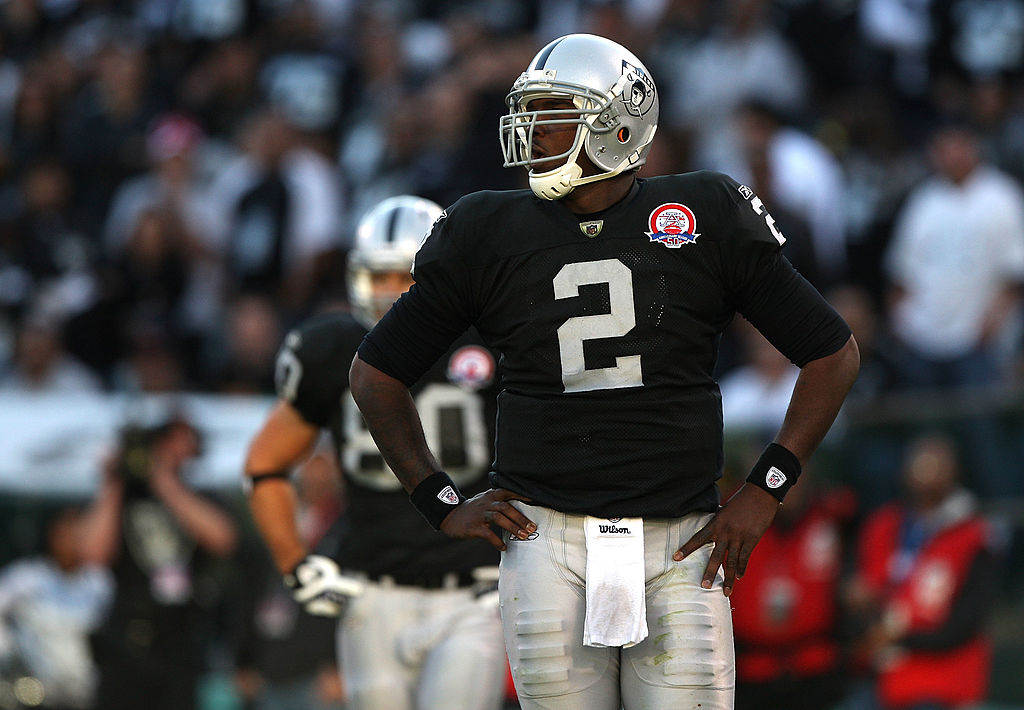 Jamarcus Russell Needed to Be Bribed With 10 Cheeseburgers to Do His Film Study
Raiders draft bust Jamarcus Russell apparently needed a bag of junior bacon cheeseburgers in order to study game film.
While it might seem great to land the first overall pick in the NFL draft, that selection doesn't guarantee success. For every Peyton Manning or Bo Jackson, there's a bust like Ryan Leaf. Unfortunately for the Oakland Raiders, quarterback Jamarcus Russell fell into the latter category.
While Russell seemed to have all the talent necessary for NFL success, he never found his footing in the pros. His work ethic apparently didn't help things; the quarterback even needed to be bribed with cheeseburgers to watch game film and prepare for his next opponent.
Jamarcus Russell's rise and fall
Even in high school, Jamarcus Russell seemed like a star quarterback. His stats, size, and athleticism made him the perfect prospect; he ultimately chose to play his college football at LSU.
After redshirting his first year in Baton Rouge, Russell stepped into the starting role. While his freshman campaign wasn't statistically remarkable—he threw for 1,053 yards with nine touchdowns and four interceptions—the quarterback improved with each passing season. As a junior, he put up more than 3,000 passing yards and led LSU to a Sugar Bowl title.
While there were some personality concerns, the Raiders eventually decided that Russell was a can't miss talent and selected him with the first overall pick of the 2007 draft. In the pros, however, he proved to be anything but a sure thing.
Due to a contract dispute, Russell didn't join the Raiders until Week 1 of the regular season; he would only start one game that season. He took over the top job in 2008, but hardly set the league on fire; the following year, he slipped to number three on the depth chart before being cut. He never played a down of professional football again.
Needing a cheeseburger bribe to study film
During his time with the Oakland Raiders, Jamarcus Russell had plenty of issues. While his fitness issues were well documented, he apparently wasn't able to put in the required work behind the scenes, either.
"Tuesdays are our days off, but not for the quarterback," Bruce Gradkowski, who played alongside Russell, remembered on The Cris Collinsworth Cocktail Hour. "You'd always go in, watch film, get a work out in, prepare for who you're playing next, and Jamarcus would never come in on Tuesdays. So myself and Charlie Fry were the backups, and we took it upon ourselves to try [to see] how we could get him to watch film on Tuesdays."
It tuned out that they could get the young quarterback to watch film on two conditions. The veterans had to bring the DVDs to Russell's house and show up with some snacks.
"So for him to be up for this," Gradkowski continued, "we had to stop by Wendy's and pick up like 10 junior bacon cheeseburgers."
Jamarcus Russell had another famous film faux pas
While Bruce Gradkowski's story hadn't come to light until recently, that's not the first time Jamarcus Russell had difficulties watching film.
During his time with the Raiders, Russell apparently received DVDs featuring concepts and plays central to the team's gameplan. The coaching staff, however, was skeptical; they doubted if the quarterback was actually putting in the proper preparation. One day, they decided to put Russell to the test and sent him home with a blank DVD. The next day, he said the gameplan looked good.
Although the story was never officially confirmed, it was reported by everyone from former teammates to Rich Eisen and the San Francisco Chronicle as accurate. Even if it didn't go down exactly as rumored, it doesn't seem out of character based on Russell's time in Oakland.
At the end of the day, Jamarcus Russell simply wasn't cut out to be an NFL quarterback. He had plenty of talent but didn't have the work ethic—or the diet—to transition into the pros.