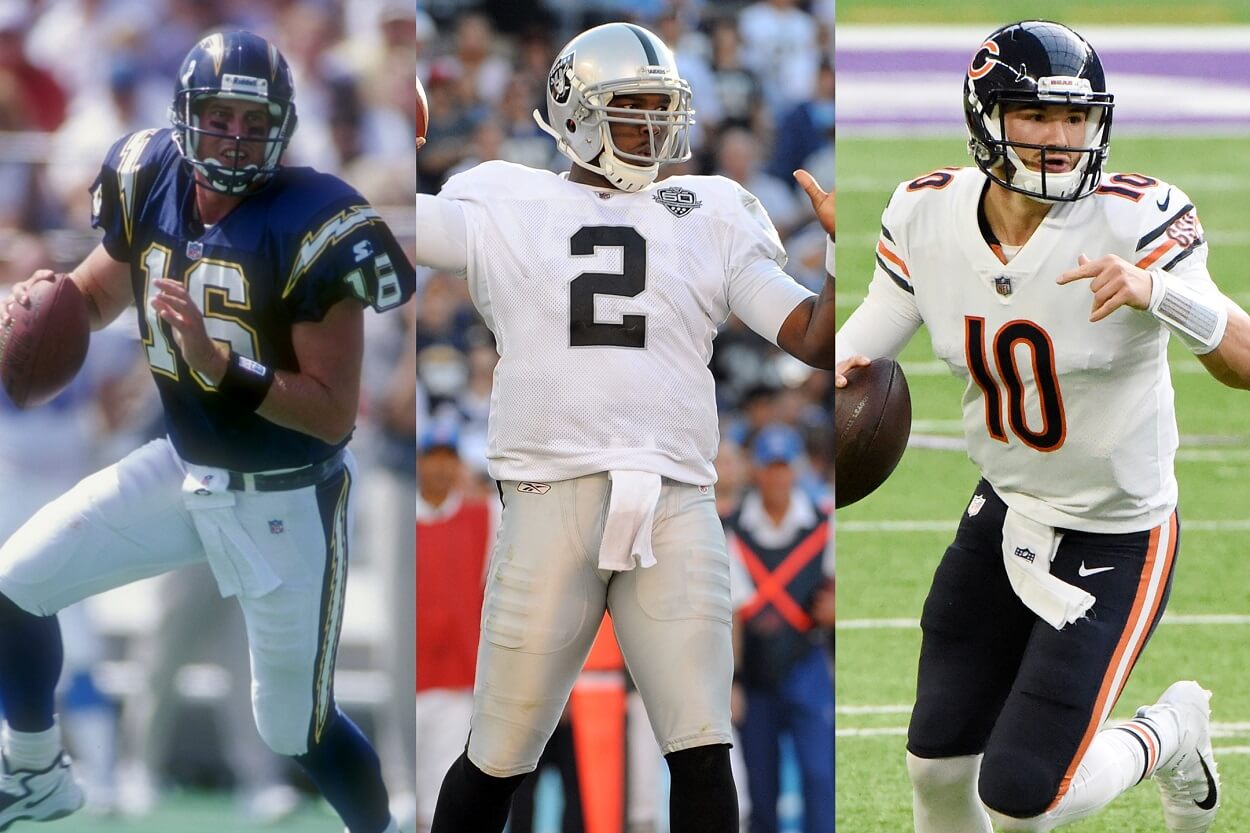 The Biggest NFL Draft Bust in Every Franchise's History
A look at the biggest draft bust for every current NFL franchise.
While the NFL Draft is always an exciting time of year for football fans, not every pick your favorite team makes works out.
And no franchise has ever been immune to busts. But let's get real here. Some busts are simply more significant than others. But instead of taking the general route and ranking the biggest busts in NFL history, we're going a step further and listing the biggest draft bust of each and every franchise currently in existence.
Now, there's a strong chance you won't agree with some of my selections below. However, if you disagree with the player I've chosen for your favorite team as the biggest bust, I'm betting they're still right up there on your list.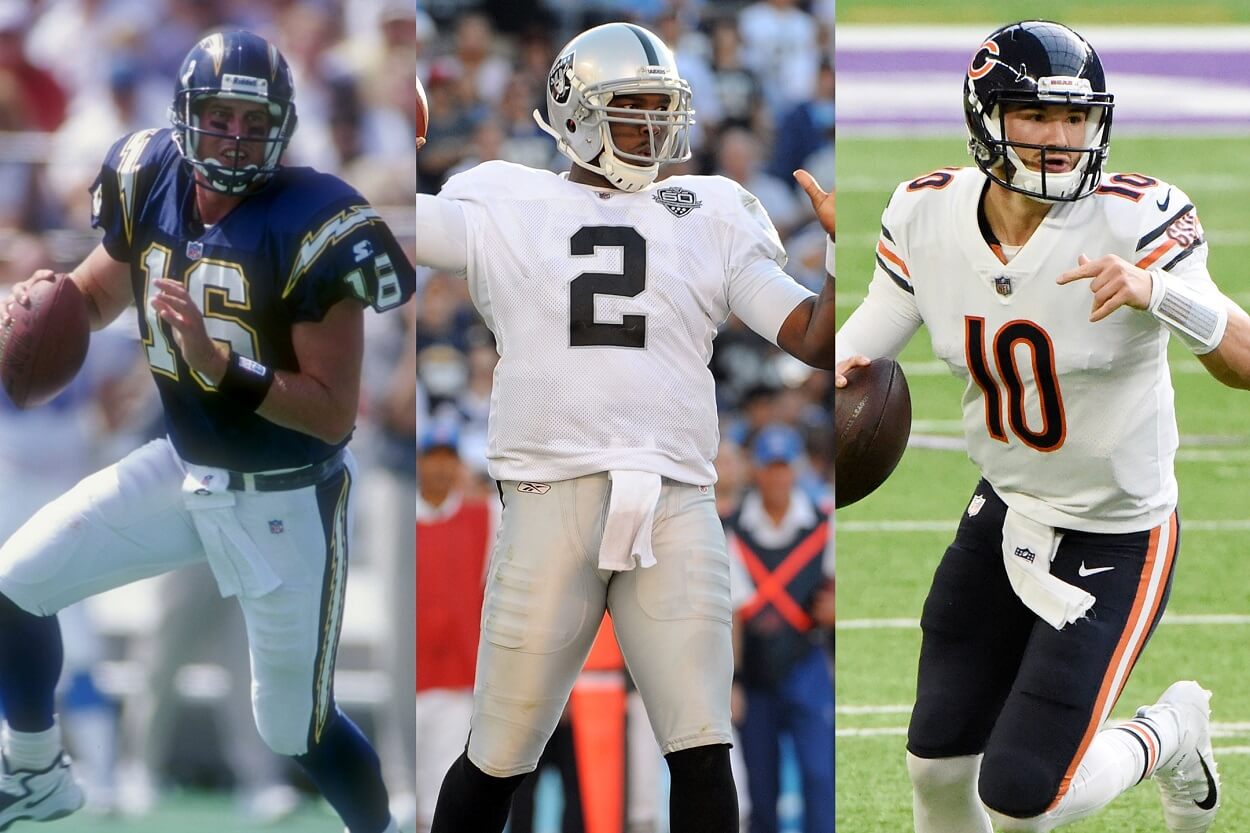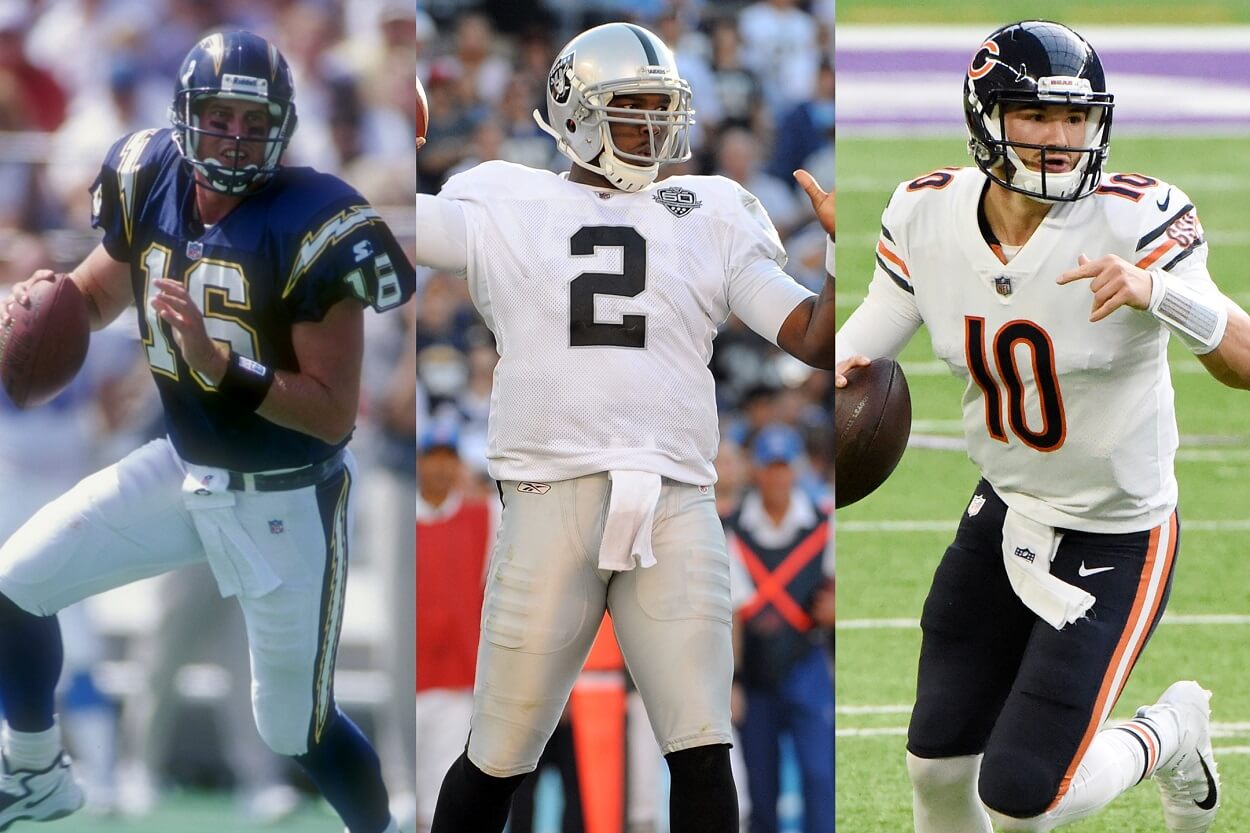 So let's get to it.
Arizona Cardinals — Matt Leinart, QB, No. 10 overall, 2006
Taken by the Arizona Cardinals with the 10th overall pick out of USC, Heisman Trophy-winning quarterback Matt Leinart was the last player of the entire 2006 NFL Draft class to sign a contract. And the $51 million he was eventually given by Arizona certainly wasn't worth it.
While he started 11 games as a rookie, Leinart couldn't stay healthy and ultimately lost his job to a resurgent Kurt Warner. In four seasons with the Cardinals, Leinart started 17 games, winning just seven of them, and completed a dismal 57.1% of his passes for 3,893 yards with 14 touchdowns against 20 interceptions in 29 total appearances.
He spent a season each with the Texans and Raiders and was out of the NFL following the 2012 season.
Atlanta Falcons — Aundray Bruce, LB, No. 1 overall, 1988
An All-American and two-time All-SEC selection at Auburn, linebacker Aundray Bruce was taken with the No. 1 overall pick in the 1988 draft by the Atlanta Falcons. But of the 11 players taken in the top 15 that year to make at least one Pro Bowl appearance, Bruce wasn't one of them.
After starting 28 games in his first two years in Atlanta, Bruce started just five games over the next two years before the Falcons moved on. As he wasn't working out on defense, Atlanta moved him to tight end but only in spot situations. Since Bruce was taken with the top pick, no other NFL team has used the No. 1 overall selection on a linebacker.
Baltimore Ravens — Matt Elam, S, No. 32 overall, 2013
Many might go with quarterback Kyle Boller here, but I've opted for safety Matt Elam, who was taken out of Florida with the 32nd overall pick in 2013 by the Baltimore Ravens.
Expected to be the replacement for Ed Reed, Elam started 26 games for the Ravens before being benched during his second season, recording just one interception in that time. He then missed the entire 2015 season due to a bicep injury and played just nine games in 2016, starting none of them.
In early 2017, Elam was arrested for drug possession, and Baltimore cut ties with him soon after. He hasn't played in the NFL since.
Buffalo Bills — Aaron Maybin, LB, No. 11 overall, 2009
An All-American at Penn State, linebacker Aaron Maybin was taken with the 11th overall pick by the Buffalo Bills in the 2009 NFL Draft.
While he appeared in all 16 games as a rookie, he never cracked the starting lineup and started just one game in his second season. In those two years, Maybin didn't record a single sack and made just 25 total tackles.
He was waived ahead of the 2011 campaign and spent time with the Jets and Bengals before making his way to the CFL. Maybin retired from football in 2014.
Carolina Panthers — Rae Carruth, WR, No. 27 overall, 1997
Following a strong career at Colorado, wide receiver Rae Carruth was taken with the 27th overall pick in 1997 by the Carolina Panthers. And his performance as a rookie made the Panthers look good, as he caught 44 passes for 545 yards with four touchdowns.
But it all went downhill from there. In the 1998 season opener, he broke his foot and missed the remainder of the year. And in five games in 1999, he caught just 14 passes for 200 yards. And then things really went downhill as Carruth was charged with conspiracy to commit murder against a woman carrying his unborn child.
He was later found guilty and spent 18 years in prison.
Chicago Bears — Mitchell Trubisky, QB, No. 2 overall, 2017
Simply put, the Chicago Bears have never had much good fortune as it pertains to the quarterback position. Think about this. In more than a century, the Bears have never had a quarterback throw for 4,000 yards or 30 touchdowns in a single season. Never.
And for some reason, the powers that be in the Windy City thought Mitchell Trubisky, who was the starter for one year at North Carolina, would change that.
So in the 2017 NFL Draft, which included far more talented players, the Bears traded up to take Trubisky with the second overall pick. Now, it's not as if Mitch was a complete disaster. But he only lasted four years in Chicago before becoming a wandering backup. And the fact that Patrick Mahomes was taken eight picks later makes the decision look that much worse.
Cincinnati Bengals — Akili Smith, QB, No. 3 overall, 1999
Like Trubisky, Akili Smith really had only one solid year at the college level at Oregon before entering the 1999 NFL Draft. But compared to Smith, Trubisky looks like freaking Joe Montana.
Taken with the third overall pick by the Cincinnati Bengals, Smith was a disaster from the get-go as he sat out training camp over a contract dispute. And once he did hit the field, he performed poorly. He appeared in 22 games in four seasons with the Bengals and started 17 of them, going 3-14.
Smith completed just 46.6% of his passes for 2,212 yards with only five touchdowns against 13 interceptions while taking 59 sacks, earning him a dismal 52.8 career passer rating. He was released in 2003 and later spent time in NFL Europe and the CFL.
Cleveland Browns — Tim Couch, QB, No. 1 overall, 1999
We'll stick with the 1999 NFL Draft for our next entry, quarterback Tim Couch, who was taken with the top pick that year by the Cleveland Browns, this being the revived edition of the franchise that hadn't yet played a game.
A consensus All-American and the 1998 SEC Player of the Year at Kentucky, Couch never got truly comfortable at the professional level, but the Browns still stuck with him for five seasons. In those five seasons, Couch appeared in 62 games and went 22-37 in 59 starts. He completed just 59.8% of his passes for 11,131 yards with 64 touchdowns against 67 interceptions and took 166 sacks.
Couch was released following the 2003 season, and while he spent time with the Packers and Jaguars, he never appeared in a regular-season NFL game again.
Dallas Cowboys — Bobby Carpenter, LB, No. 18 overall, 2006
Ahead of what turned out to be his final season as the head coach of the Dallas Cowboys, Bill Parcells persuaded Jerry Jones to take Ohio State linebacker Bobby Carpenter with the 18th overall pick in the 2006 NFL Draft, the main reason seemingly being that Parcells had coached Carpenter's father, Rob, who was a running back with the New York Giants in the early-to-mid 1980s.
But while the younger Carpenter was a solid college player, his game simply didn't translate to the NFL. In four seasons with America's team, Carpenter started just three games and recorded only 99 tackles and 3.5 sacks.
He was traded to the Rams in 2010 but was traded again before ever playing a game. He then spent time with the Dolphins, Lions, and Patriots and was out of the NFL in 2012.
Denver Broncos — Ted Gregory, DT, No. 26 overall, 1988
An All-American during his final year at Syracuse, defensive tackle Ted Gregory never actually met with the Denver Broncos before they took him with the 26th pick in the 1988 NFL Draft.
On top of having a knee injury, Gregory was about four inches shorter than the height at which he was listed. To make matters worse, he reinjured his knee during training camp, at which point Denver traded him to the Saints. In his third game with New Orleans, Gregory blew out his knee and never played another NFL game.
Detroit Lions — Andre Ware, QB, No. 7 overall, 1990
Two years after taking Barry Sanders at No. 3 overall, the Detroit Lions added another Heisman Trophy to the mix, taking quarterback Andre Ware with the No. 7 overall selection in 1990.
But while Sanders went on to have a Hall of Fame career, Ware most certainly did not. In four seasons in the Motor City, the Texas native appeared in just 14 games and only started six, going 3-3. He completed just 51.6% of his passes for 1,112 yards with five touchdowns and eight interceptions. After leaving the Lions, Ware spent time with the Raiders and Jaguars but never played a regular-season game for either.
What's wild is that Detroit's scouting director strongly advised against the selection. But when the Lions went ahead and chose Ware anyway, he quit the very next day.
Green Bay Packers — Tony Mandarich, No. 2 overall, 1989
An All-American and a two-time First-Team All-Big Ten selection at Michigan State, Tony Mandarich was referred to by many as the greatest offensive line prospect of all time, which is why the Green Bay Packers took him with the No. 2 overall pick in the 1989 NFL Draft.
But Mandarich never lived up to the hype. He didn't start a single game as a rookie and was gone from Green Bay after just three seasons.
Do you remember the other players drafted in the top five that year? Troy Aikman went No. 1. Barry Sanders went No. 3. Deion Sanders went No. 4. And Derrick Thomas went No. 5. All are members of the Pro Football Hall of Fame.
Houston Texans — David Carr, QB, No. 1 overall, 2002
Look, it couldn't have been easy for David Carr to be the first draft pick in Houston Texans history. That being said, however, the Texans didn't have to take a quarterback with the top selection in the 2002 NFL Draft. But they did, and Carr simply failed to live up to the expectations of a No. 1 pick.
In five seasons in Houston, Derek's older brother went 22-53 as a starter and completed an even 60% of his passes for 13,391 yards with 59 touchdowns against 65 interceptions. And in three of his five years with the Texans, Carr led the NFL in sacks taken. In total, he was sacked 249 times in 76 appearances.
He spent the remainder of his career as a backup, and despite not playing a single snap for the New York Giants during the 2011 season behind Eli Manning, Carr still got himself a Super Bowl ring.
Indianapolis Colts — Art Schlichter, QB, No. 4 overall, 1982
A four-year starter at Ohio State and the last starting quarterback for the legendary Woody Hayes, Art Schlichter was taken with the fourth overall pick in the 1982 NFL Draft by the then-Baltimore Colts.
After appearing in just three games during his strike-shortened rookie season, the Ohio native was suspended for the entire 1983 campaign for gambling. He was reinstated ahead of the '84 season and started five games, losing all of them. Schlichter made one start in 1985, losing that one as well, before he was released just five games into the season, again due to his gambling addiction.
His NFL career ended with him having completed just 45% of his passes for 1,006 yards with three touchdowns and 11 interceptions. After several more incidents involving gambling, Schlicter did revive his football career in the Arena Football League, where he won a championship and an MVP.
Jacksonville Jaguars — Blaine Gabbert, QB, No. 10 overall, 2011
After a solid career at Missouri, quarterback Blaine Gabbert was taken with the 10th overall selection in the 2011 NFL Draft by the Jacksonville Jaguars, who have certainly had their fair share of busts over the years.
And Gabbert certainly falls into that category. In three seasons with the Jags, the Missouri native appeared in 28 games and started 27 of them, posting a dismal 5-22 record. He completed just 53.3% of his passes for 4,357 yards with 22 touchdowns against 24 interceptions.
In 2014, Jacksonville dealt Gabbert to the 49ers, where he eventually took the starting job from Colin Kaepernick. He later won a Super Bowl with the Buccaneers as Tom Brady's backup.
Kansas City Chiefs — Todd Blackledge, QB, No. 7 overall, 1983
The 1983 NFL Draft class is among the most decorated of all time, especially at the quarterback position. John Elway, of course, was the first quarterback off the board at No. 1.
And six picks later, the second signal-caller was taken as the Kansas City Chiefs selected Todd Blackledge, who'd won the Davey O'Brien Award en route to leading Penn State to a national championship.
But Blackledge couldn't find the same success in the NFL. In five seasons with the Chiefs, the Ohio native went 13-11 as a starter and completed a woeful 49.1% of his passes for 4,510 yards with 26 touchdowns and 32 interceptions in 40 total appearances. He spent two years with the Steelers but was out of the NFL following the 1989 season.
In that same '83 draft, Jim Kelly was taken at No. 14, and Dan Marino was selected at No. 27.
Las Vegas Raiders — JaMarcus Russell, QB, No. 1 overall, 2007
Considered by many as the biggest bust of all time, former LSU quarterback JaMarcus Russell is the easy call here.
Taken by the then-Oakland Raiders with the top pick in 2007, Russell sat out training camp due to a contract dispute and didn't join his team until the season had already begun. While he made just one start as a rookie, he started 15 games in his second season, going 5-10.
And in year three, he went 2-7 in nine starts and had the lowest completion percentage (48.8%), the fewest passing yards (1,287), the fewest passing touchdowns (three), and the lowest quarterback rating (50.0) of any qualifying quarterback in the league.
Russell was released in May 2010 and never played in the NFL again.
Los Angeles Chargers — Ryan Leaf, QB, No. 2 overall, 1998
Like Russell, Ryan Leaf is seen by many as the biggest bust in history.
Leaf had a strong career at Washington State, where he was an All-American and a Heisman Trophy finalist in 1997, and some believed he was just as good as fellow top prospect Peyton Manning. That obviously turned out not to be the case.
After the Indianapolis Colts took Manning with the No. 1 pick in the 1998 NFL Draft, the then-San Diego Chargers took Leaf at No. 2. And it was an absolute disaster. In three seasons with the franchise (he missed the entire 1999 season due to injury), Leaf went 4-14 as a starter and completed just 48% of his passes for 3,172 yards with 13 touchdowns against 33 interceptions while taking 53 sacks.
And his attitude was just as bad as his play. Unsurprisingly, Leaf was released following the 2000 season. He later spent time with the Buccaneers, Cowboys, and Seahawks but was out of the NFL in 2002.
Los Angeles Rams — Lawrence Phillips, RB, No. 6 overall, 1996
While a ridiculously talented running back on the field, Lawrence Phillips dealt with several issues off of it throughout his career, both at the college and professional levels.
Despite Phillips' personal problems while at the University of Nebraska, the then-St. Louis Rams still opted to take him with the sixth overall selection of the 1996 NFL Draft, trading away Jerome Bettis on the very same day.
After rushing for 632 yards and four touchdowns in 15 games as a rookie, Phillips ran for 677 yards and eight scores in a dozen games in 1997 but was abruptly released as the team had grown tired of his off-the-field issues. By the end of 1999, he was out of the NFL altogether.
Phillips died in prison in 2016.
Miami Dolphins — Dion Jordan, DE, No. 3 overall, 2013
An All-American and a two-time First-Team All-Pac 12 selection at Oregon, defensive end Dion Jordan was taken with the third overall pick in the 2013 NFL Draft by the Miami Dolphins.
He appeared in all 16 games as a rookie but never cracked the starting lineup and made just 26 tackles with a pair of sacks. Ahead of his second season, Jordan was suspended for four games for violating the NFL's performance-enhancing substance policy. And two extra games were tacked on when he violated it a second time just a couple of months later.
After a third violation, Jordan was suspended for the entire 2015 season. He was reinstated prior to the 2016 campaign but didn't play a single snap. And in March 2017, Miami finally released him after he failed a physical. Jordan then spent two seasons with the Seahawks and one each with the Raiders and 49ers. In total, he started five games during his NFL career.
Minnesota Vikings — Troy Williamson, WR, No. 7 overall, 2005
Ahead of the 2005 NFL Draft, the Minnesota Vikings famously traded Randy Moss to the Raiders. And with one of the assets they received in return, that being the seventh overall pick, they hoped they were selecting his replacement in South Carolina wideout Troy Williamson.
They weren't.
In three seasons with the Vikings, Williamson caught just 79 passes for 1,067 yards with three touchdowns. Following the 2007 season, he was traded to the Jaguars for a sixth-round pick. He spent two years in Jacksonville and was out of the NFL in 2010.
New England Patriots — Kenneth Sims, DE, No. 1 overall, 1982
A Lombardi Award winner at the University of Texas, the New England Patriots were hoping Kenneth Sims would be the next great NFL defensive lineman when they took him with the No. 1 overall pick in 1982.
He wasn't.
Truth be told, had Sims been taken in the middle or later rounds, his career likely wouldn't be seen as negatively as it has been. After all, he played eight seasons with the Patriots, which is a solid NFL career. However, for a No. 1 overall pick at defensive end, 17 sacks in eight years certainly isn't a positive.
It also doesn't help his case that he appeared in just 74 games during that stretch as he dealt with injuries to his back, legs, and knees throughout his career.
New Orleans Saints — Russell Erxleben, P, No. 11 overall, 1979
No, that big "P" above isn't a typo. The New Orleans Saints legit took a punter with the 11th overall pick in 1979.
Russell Erxleben was a three-time All-American at Texas, and, for some reason, the Saints felt they just had to have him in the first round. And their boneheaded move bit them in the butt immediately. In his very first game, Erxleben, following a poor snap in overtime during a tie game with the rival Falcons, picked up the ball and threw a hurried pass that was intercepted and returned for a touchdown.
The very next week, he suffered a hamstring injury and missed the rest of the season. Erxleben remained with the team for five seasons, never making a Pro Bowl. He spent time with the Lions as a replacement player in 1987 but was out of the NFL for good that same year.
Erxleben had issues in his next career in finance as well and served multiple prison terms on various charges of fraud and money laundering.
New York Giants — Cedric Jones, DE, No. 5 overall, 1996
Following a stellar career at Oklahoma, defensive end Cedric Jones was taken with the fifth overall pick in the 1996 NFL Draft by the New York Giants, joining a unit that included Michael Strahan, who was on the verge of becoming a star.
Jones, on the other hand, struggled at the professional level, no doubt in part because he was blind in one eye. He didn't record a sack until his third year in the league and recorded just 15 total in five years with the Giants. He signed with the Rams in 2001 but was injured and never took the field. That was the extent of his NFL career.
New York Jets — Vernon Gholston, DE, No. 6 overall, 2006
The New York Jets have certainly had their fair share of first-round busts over the years, but Vernon Gholston takes the title as the biggest.
A two-time All-Big Ten selection at Ohio State, Gholston was selected sixth overall in 2006 after a strong performance at the NFL Combine. The Jets thought they were getting the league's next great pass rusher, but the Michigan native was anything but.
In three years with Gang Green, Gholston started just five games, never recorded a single sack, and registered just 42 total tackles. He was released following the 2010 campaign, and while he spent time with the Bears and Rams, he never played another NFL game.
Philadelphia Eagles — Kevin Allen, OT, No. 9 overall, 1985
In 1985, the Philadelphia Eagles used the ninth overall pick on Kevin Allen, an offensive tackle out of Indiana.
While he appeared in all 16 games as a rookie, he only started four of them. And by the middle of the season, he'd been relegated to special teams. That turned out to be his only NFL season.
After reporting to training camp in 1986, Allen tested positive for cocaine and was released that October. Not long after being cut, he was arrested on rape charges and was later sentenced to 15 years in prison, resulting in a lifetime ban from the NFL. The ban was lifted after his release in the early '90s, but he never played in the league again.
Pittsburgh Steelers — Huey Richardson, DE/LB, No. 15 overall, 1991
An All-American and a two-time All-SEC selection at the University of Florida, Huey Richardson was taken with the 15th overall selection in the 1991 NFL Draft by the Pittsburgh Steelers.
But it was essentially a panic move by the Steelers as the three players they were targeting were taken with the three picks immediately preceding theirs, which led them to effectively settle for Richardson. And he certainly didn't join the ranks of the all-time defensive greats in Pittsburgh.
As a rookie, Richardson was moved from his customary position at defensive end to linebacker by legendary Steelers coach Chuck Noll, and he didn't adjust well. And when Bill Cowher replaced Noll the following season, Richardson was traded to Washington, who released him after only a few games. He appeared in seven games for the Jets during that same '92 season, and his NFL career was done.
San Francisco 49ers — Jim Druckenmiller, QB, No. 26 overall, 1997
In 1997, the San Francisco 49ers were nearing the end of the Steve Young era. With that in mind, they used the 26th overall selection in the NFL Draft to take quarterback Jim Druckenmiller, who'd earned All-Big East accolades in his final season at Virginia Tech.
Now, nobody could have expected Druckenmiller to be the next Steve Young. But the Niners certainly had to be hoping for more than they got.
In two seasons with San Francisco, Druckenmiller appeared in six games, completing 40.4% of his passes for 239 yards with a touchdown and four interceptions. But at least he won the one game he started, right? The Pennsylvania native was traded to the Dolphins in 1999 but never appeared in a regular-season game for Miami.
He was cut by the Dolphins in 2000 and later spent time in the Arena Football League and the first version of the XFL.
Seattle Seahawks — Rick Mirer, QB, No. 2 overall, 1993
Heading into the 1993 NFL Draft, the Seattle Seahawks were coming off a 2-14 campaign and hadn't made the postseason since back-to-back appearances in 1987 and 1988.
In need of a franchise quarterback, they were unable to get Drew Bledsoe, who went No. 1 to the New England Patriots. With him off the board, Seattle went with Notre Dame signal-caller Rick Mirer, who'd accounted for the most points in Fighting Irish history, with the No. 2 pick.
And early on, it seemed like a decent move as Mirer threw for 2,833 yards as a rookie while upping the Seahawks' win total to six. But that was as good as things would get. In four seasons in Seattle, the Indiana native went 20-31 as a starter and completed just 53.4% of his passes for 9,094 yards with 41 touchdowns against 56 interceptions.
In 1997, Mirer was traded to the Bears and spent the remainder of his NFL career primarily as a backup, also spending time with the Packers, Jets, 49ers, Raiders, and Lions.
Tampa Bay Buccaneers — Bo Jackson, RB, No. 1 overall, 1986
During his later years at Auburn, Bo Jackson made it crystal clear that he intended to focus more on baseball than football. While obviously a phenomenal talent in both sports, the Alabama native intended to take his talents to Major League Baseball, not the NFL.
Nevertheless, the Tampa Bay Buccaneers brought him to the team facility for a visit, which actually ended up costing Jackson his final season of eligibility for Auburn's baseball team, as the visit, unbeknownst to Bo, was never authorized.
Once Jackson learned this, he vowed not to sign with the Bucs if they took him with the No. 1 overall pick in the 1986 NFL Draft, which they did anyway. And it was indeed a wasted top pick as Bo stuck to his word and refused to sign, instead inking a deal with the Kansas City Royals.
Tampa Bay forfeited his rights, and Jackson was taken in the seventh round of the 1987 NFL Draft by the Raiders, for whom he played four seasons and earned a trip to the Pro Bowl before an injury cut his football career short.
Tennessee Titans — Jake Locker, QB, No. 8 overall, 2011
Ahead of the 2011 draft, one NFL GM anonymously stated that Washington quarterback Jake Locker was the right-handed version of Steve Young, only bigger and taller. It's safe to say that assessment wasn't correct.
Locker, who some predicted would be the top pick that year or at least the first quarterback off the board (both honors went to Cam Newton), fell to No. 8 and was taken by the Tennessee Titans.
After sitting behind Matt Hasselback as a rookie, Locker won the starting job in 2012 but didn't perform overly well, completing just 56.4% of his passes for 2,176 yards with 10 touchdowns and 11 interceptions in 11 games (he missed time with a shoulder injury).
Locker suffered multiple injuries in 2013 and appeared in just seven games. And in 2014, he appeared in just five as he was benched. Upon his return, he was injured again and ultimately retired in March 2015, saying he'd lost his passion for the game. Locker ended his career with a 9-14 record.
Washington Commanders — Heath Shuler, QB, No. 3 overall, 1994
To close things out, we've got the Washington Commanders, who used the No. 3 pick in the 1994 NFL Draft to select Tennessee quarterback Heath Shuler, who finished second in the 1993 Heisman Trophy vote to Charlie Ward.
He began his career by alienating the passionate fans in the nation's capital by holding out of training camp over a contract dispute. And once he did hit the field, he certainly didn't endear himself to the Washington faithful as he went 1-7 as a starter during his rookie campaign and completed just 45.3% of his passes for 1,658 yards with 10 touchdowns against 12 interceptions, five of those picks coming in one game alone.
Shuler appeared in only eight more games over the next two years before being traded to the Saints. He started nine games for New Orleans in 1997 before suffering a serious foot injury and missed the entire '98 campaign because of it. The future congressman signed with the Raiders in 1999 but was cut before the season began.
And there you have it, folks, the biggest NFL Draft bust for each of the 32 current franchises. We'd love to get your thoughts, so please feel free to make your own picks in the comments section below.