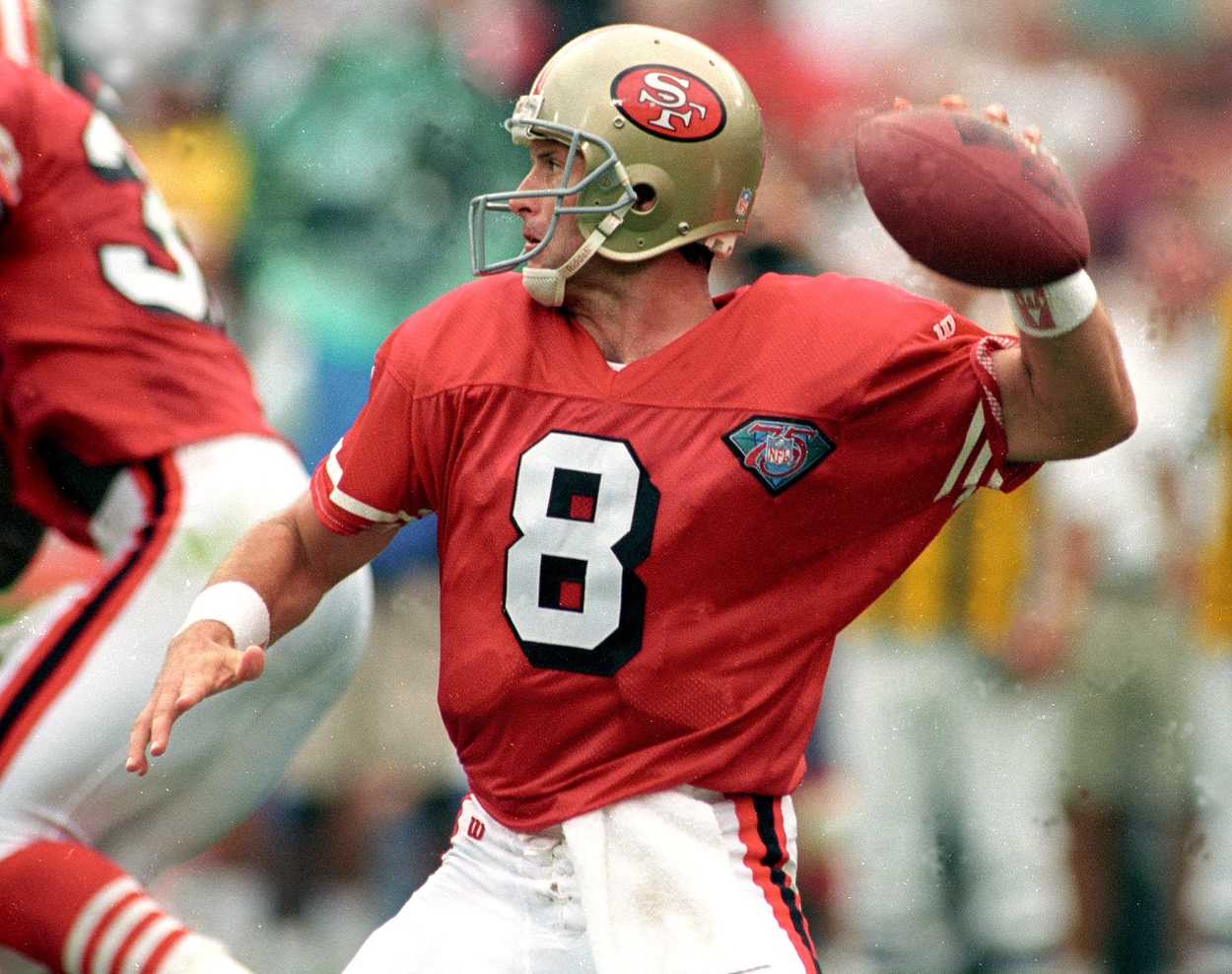 Steve Young Was Legit Ready to Fight His Head Coach After Getting Benched the Year He Won NFL MVP and Led the 49ers to a Super Bowl Win
Steve Young was ready to fight San Francisco 49ers head coach George Seifert during their 1994 Super Bowl-winning season.
Of all the sensational seasons Steve Young had with the San Francisco 49ers, his 1994 campaign stands out above all others.
In leading the Niners to a 13-3 regular-season record, the Utah native completed a career-high 70.3% of his passes, which ultimately became the best mark of the entire decade, and threw for 3,969 yards and a then-franchise record 35 touchdowns. He also added 293 yards and seven scores on the ground en route to winning his second NFL MVP award in three years.
Young also set what was then the single-season record for passer rating (112.8), surpassing the mark set by his predecessor, Joe Montana, five years earlier.
More importantly, however, Young got out from underneath Montana's towering shadow for good by leading the 49ers to a Super Bowl victory. While he'd won a pair of rings as Montana's backup, this one was obviously much different.
And for good measure, the BYU product broke Montana's record for touchdown passes in a single Super Bowl by tossing six in a 49-26 beatdown of the San Diego Chargers, earning him Super Bowl MVP honors.
Months before that record-breaking performance, however, the Niners' season was on the rocks and was nearly derailed during a lopsided loss to the Philadelphia Eagles, a game during which Young was benched and was ready to legitimately fight his head coach.
Steve Young was benched during a blowout loss to the Eagles during the 49ers' 1994 season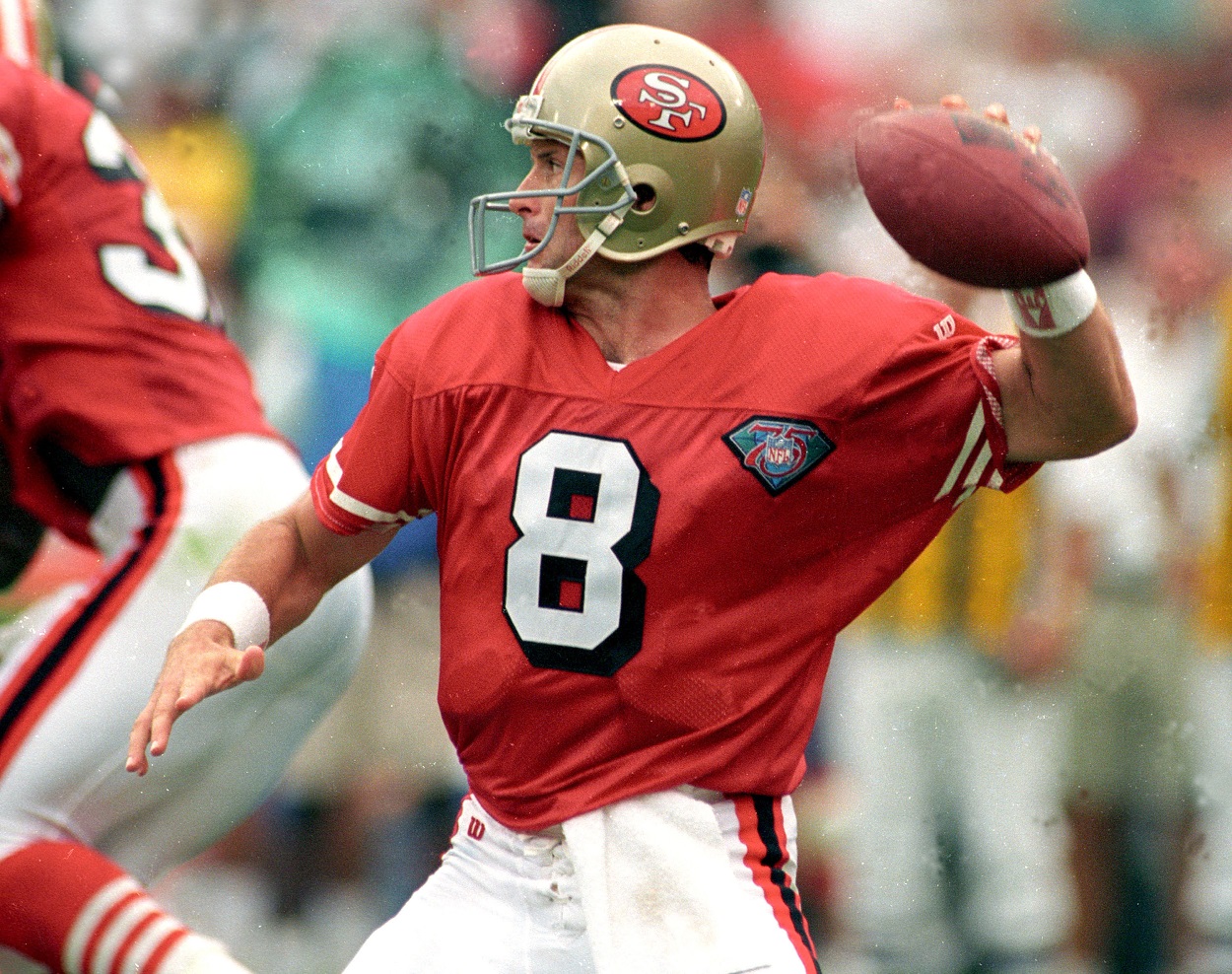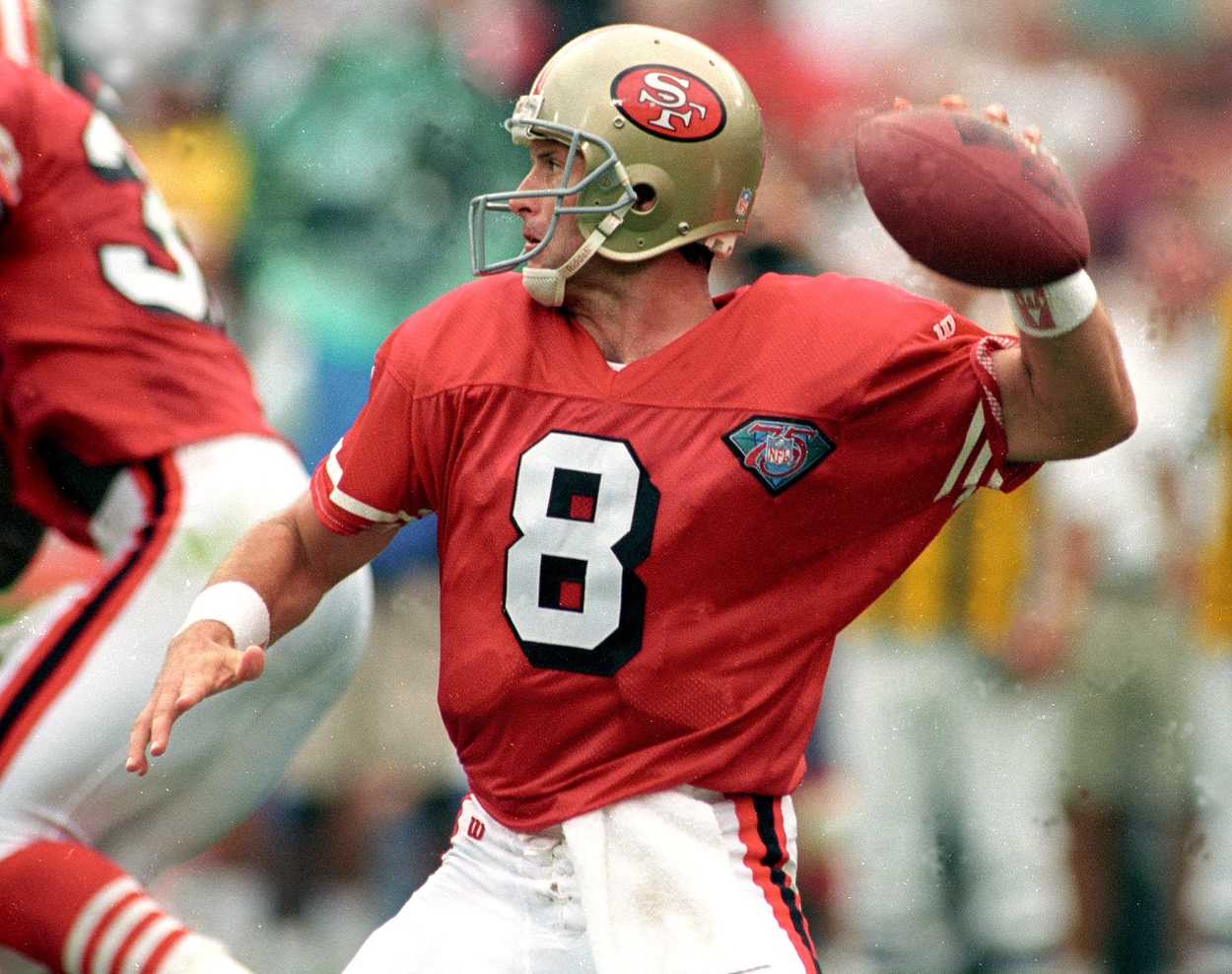 There was a lot of pressure on the Niners coming into the 1994 season. While they'd been to the NFC title game in each of the previous two seasons, they'd lost both to the Dallas Cowboys. And after Montana set such a high bar in the 1980s, folks were getting anxious.
As it goes in the NFL, the vast majority of the pressure fell on the head coach, George Seifert, and the starting quarterback, Steve Young. And it certainly didn't help when San Francisco lost to Montana's Kansas City Chiefs in Week 2, a game in which Young threw two picks. Montana, meanwhile, threw a pair of touchdowns and no picks in a 24-17 victory.
The 49ers bounced back with victories the next two weeks over the Saints and Rams to get to 3-1, but Week 5 didn't go quite as well, at least not initially.
Facing an Eagles team that ultimately finished the 1994 season with a 7-9 record, the 49ers got rocked and took a 40-8 loss, the second-worst loss by an eventual Super Bowl champion in history.
The low point came during the third quarter when Seifert yanked Young out of the game and inserted backup Elvis Grbac. And Young certainly wasn't pleased. He and Seifert hadn't always had the greatest relationship, and he'd clearly reached his boiling point.
Young was legit ready to fight George Seifert
Steve Young blasted his head coach on the sidelines, getting right in his face while shouting profanities, clearly not caring who saw. In fact, he was so upset that he later admitted that he was legit ready to fight Seifert right there on the sideline at Candlestick Park.
"I remember' 94… it's early on, and we're getting crushed by the Eagles out of nowhere at home, and George (Seifert) comes to Jerry (Rice) and I on the sideline and says 'Look, we're going to end this. We're done. I'm pulling you out.' I go, 'Fine, fine, fine.'
"So we go out for the next series, and next thing I know, I'm watching Elvis Grbac come running on the field. And I don't know what it was. I don't know if it was the pent-up years of frustration and anxiety I had with George and how he dealt with me. I don't know. It was like, 'This is the time?! I'm coming out because we're down 40-8, and it's me? Is this how this is going down?' And I remember just flipping my lid, and I rarely — my kids will tell you — I rarely raise my voice. It's hard to wind me up.
"I don't know what it was about that moment, but I had had it. And I went to the sidelines, and I went after George, and I was in his ear. I was saying things that I've never said to another human. I was looking for a fight, and I wanted to go to fists there, right now. So people were trying to hold me back, but they didn't want it to look like a big scene, and I just wouldn't let up. I give George so much credit for just staring out, straight ahead, and letting that wind just go by like nothing."
The incident rallied the Niners
Young continued by saying that he was still hot once the game ended and refused to leave the stadium until he got the confrontation he was so desperately seeking. But it never came as Seifert simply "got in his car and left," leaving his quarterback to "sit there stewed."
While an incident such as this would have destroyed many teams, it had the exact opposite effect on the 49ers. Young had proved to his teammates how much winning meant to him, and the incident with Seifert actually brought the team closer together.
The Niners lost just one game the rest of the way, and that was also another game in which Young was pulled.
But that was a much different scenario, as it was the last game of the regular season, and San Francisco had already locked up the No. 1 seed in the NFC. Young willfully took a seat after throwing just 13 passes in a 21-14 loss to the Minnesota Vikings.