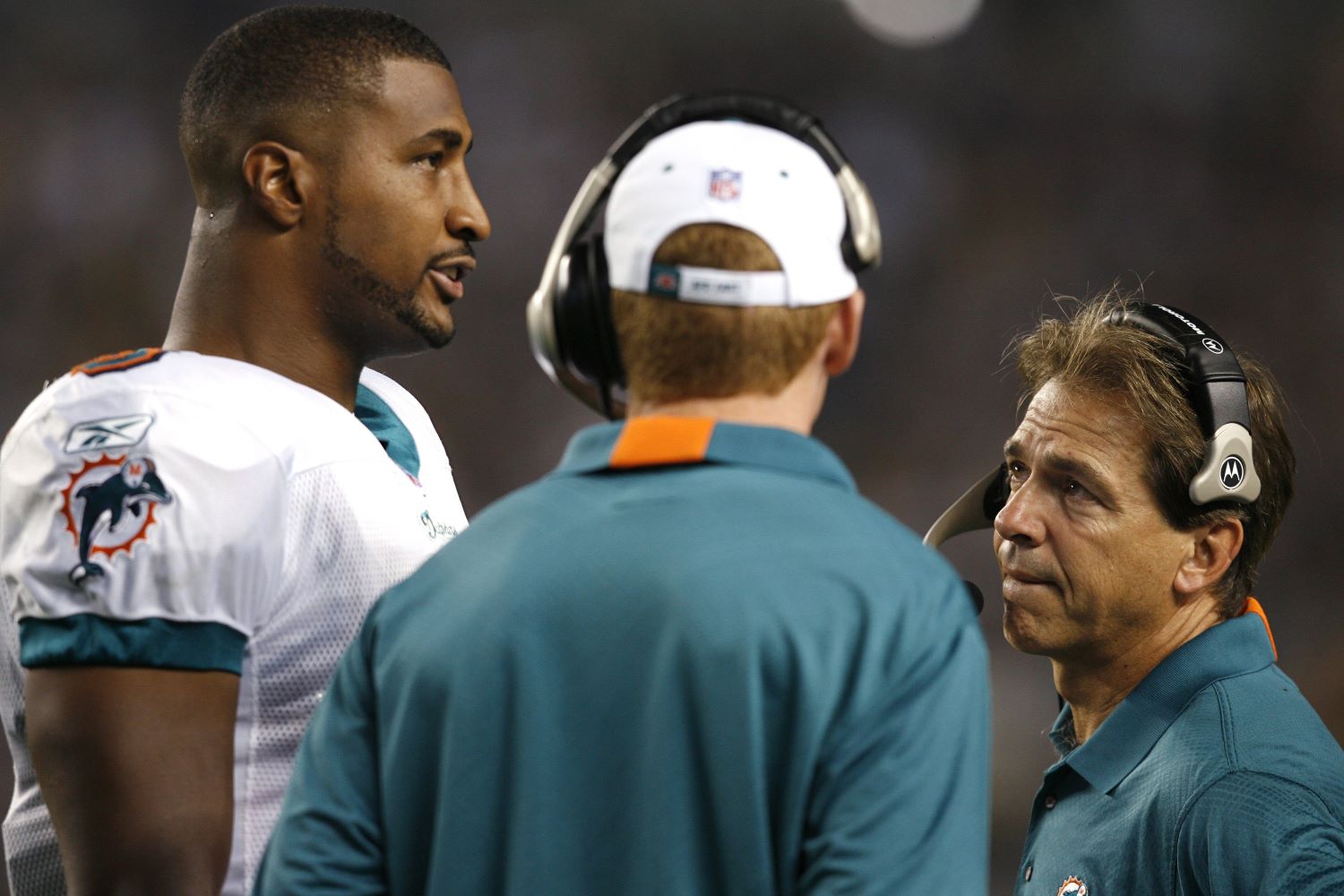 Just Like Alabama's New Offensive Coordinator, Nick Saban Completely Destroyed an NFL Franchise of His Own
When Nick Saban finally retires, he will likely go down as the greatest head coach in the history of college football. But before winning national titles became a yearly expectation at the University of Alabama, the man responsible for turning the program into a football dynasty completely destroyed an NFL franchise. Ironically, the Crimson Tide's …
When Nick Saban finally retires, he will likely go down as the greatest head coach in the history of college football. But before winning national titles became a yearly expectation at the University of Alabama, the man responsible for turning the program into a football dynasty completely destroyed an NFL franchise.
Ironically, the Crimson Tide's newest offensive coordinator has officially made his return to the college game only because of his own failures at the NFL level.
Nick Saban has a new offensive coordinator…again
While Nick Saban has remained firmly in place at Alabama since 2007, the program has experienced a ton of turnover at offensive coordinator. Of course, when you call plays for the top team in college football, you put yourself in a position for a promotion.
Over the years, the Crimson Tide have cycled through coordinators and still managed to win six championships under Saban.
Lane Kiffin held the position for three seasons before he took over as the head coach at FAU. Brian Daboll called plays for the 2017 season before he bolted for the Buffalo Bills. Mike Locksley only served as offensive coordinator for one year before he got hired by the University of Maryland.
For the last two seasons, Steve Sarkisian has run Alabama's offense. However, earlier this month, the University of Texas hired him to be their new head coach.
Coming off another championship campaign, Saban once again had to replace his offensive play-caller.
On Thursday, Alabama officially announced that Bill O'Brien will take over as the team's offensive coordinator and quarterbacks coach. He boasts a wealth of experience at both the college and NFL levels.
Following the Joe Paterno-Jerry Sandusky scandal, O'Brien took over as head coach and led Penn State to a 15-9 record across two seasons.
However, while Nittany Lion fans can mostly speak fondly of the Bill O'Brien era, the same cannot be said of Houston Texans fans.
Bill O'Brien comes to Alabama after a failed stint in Houston
The only reason Nick Saban had the opportunity to hire Bill O'Brien is because of his new offensive coordinator's failures at the NFL level. After his two-year stint at Penn State, the former New England Patriots OC got a chance to run his own franchise.
From 2014-19, O'Brien led the Texans to four playoff berths. The team only had one losing season during that stretch.
However, the team routinely fell short of its ultimate goal. The Texans never advanced past the divisional round during the O'Brien era.
Although he posted a 52-48 record (plus two postseason victories) before getting fired back in October, O'Brien left the AFC South franchise in ruins.
O'Brien's personnel moves ruined the Texans
As Bill O'Brien's power increased, he continued to baffle NFL fans, players, coaches, and the media with his personnel moves.
Just before the start of the 2019 season, O'Brien stunningly traded two first-round picks and a 2021 second-rounder in a deal centered around left tackle Laremy Tunsil. To make matters worse, Houston ended up signing the former SEC star to a record-setting three-year, $66 million contract extension since he arrived without a long-term deal in place.
Tunsil has never made an All-Pro team in five NFL seasons.
O'Brien also traded away former No. 1 pick Jadeveon Clowney for pennies on the dollar.
But his most egregious blunder, of course, was trading DeAndre Hopkins to the Arizona Cardinals in a deal that brought back David Johnson and a second-round pick. The move drastically impacted the locker room and the team's offense. And it certainly inflicted major damage to the franchise's relationship with Deshaun Watson.
Unfortunately for the Texans, O'Brien's horrific personnel decisions, coupled with the lack of leadership and accountability from ownership, has left the franchise in shambles.
Coincidentally, Alabama's new offensive coordinator is strikingly similar in that regard to his new boss. Because before he became a college football legend, Nick Saban destroyed an NFL franchise of his own.
Nick Saban is all too familiar with destroying an NFL franchise
During his two years as the head coach of the Miami Dolphins, Nick Saban botched just about everything on the personnel side of running a football operation.
He started his "tenure" by making a franchise-altering mistake. Armed with the second overall pick in the 2005 NFL draft, the Dolphins selected running back Ronnie Brown over a number of future All-Pros, including DeMarcus Ware, Thomas Davis, and a quarterback by the name of Aaron Rodgers.
Brown only played 76 games in six seasons with the Dolphins and only surpassed 1,000 rushing yards once in his NFL career.
Still, the Dolphins went 9-7 in Saban's first year at the helm and headed into the 2006 offseason with a chance to take a big leap forward.
That didn't come close to happening.
Saban's second draft class also failed to measure up. He used the 16th pick on defensive back Jason Allen, who couldn't even earn a full-time starting role in Miami. Third-round selection Derek Hagan failed to develop into a reliable receiver in his brief time with the team.
Worst of all, though, Saban infamously passed over Drew Brees in free agency in favor of Daunte Culpepper. Though there were plenty of concerns about Brees' long-term health, he obviously proved everyone wrong by becoming an all-time great with the New Orleans Saints.
Meanwhile, Culpepper only started four games in his lone season with the Dolphins. He retired after the 2009 season.
Because of that critical mistake, the Dolphins only went 6-10 in 2016. Things got so bad that Miami players reportedly tried to fight their own head coach. Ultimately, Saban departed for Alabama and has since become a coaching legend.
How did the Dolphins fare the following year?
They went 1-15 and earned the No. 1 overall pick.
They used that selection on offensive tackle Jake Long rather than on quarterback Matt Ryan. The franchise hasn't come close to winning a Super Bowl in decades, but clearly the Saban era was a complete disaster that still brings up bad memories for Dolphins fans.
As for picking Long over Ryan?
That's someone else's fault entirely.
All statistics courtesy of Sports Reference and Pro Football Reference.