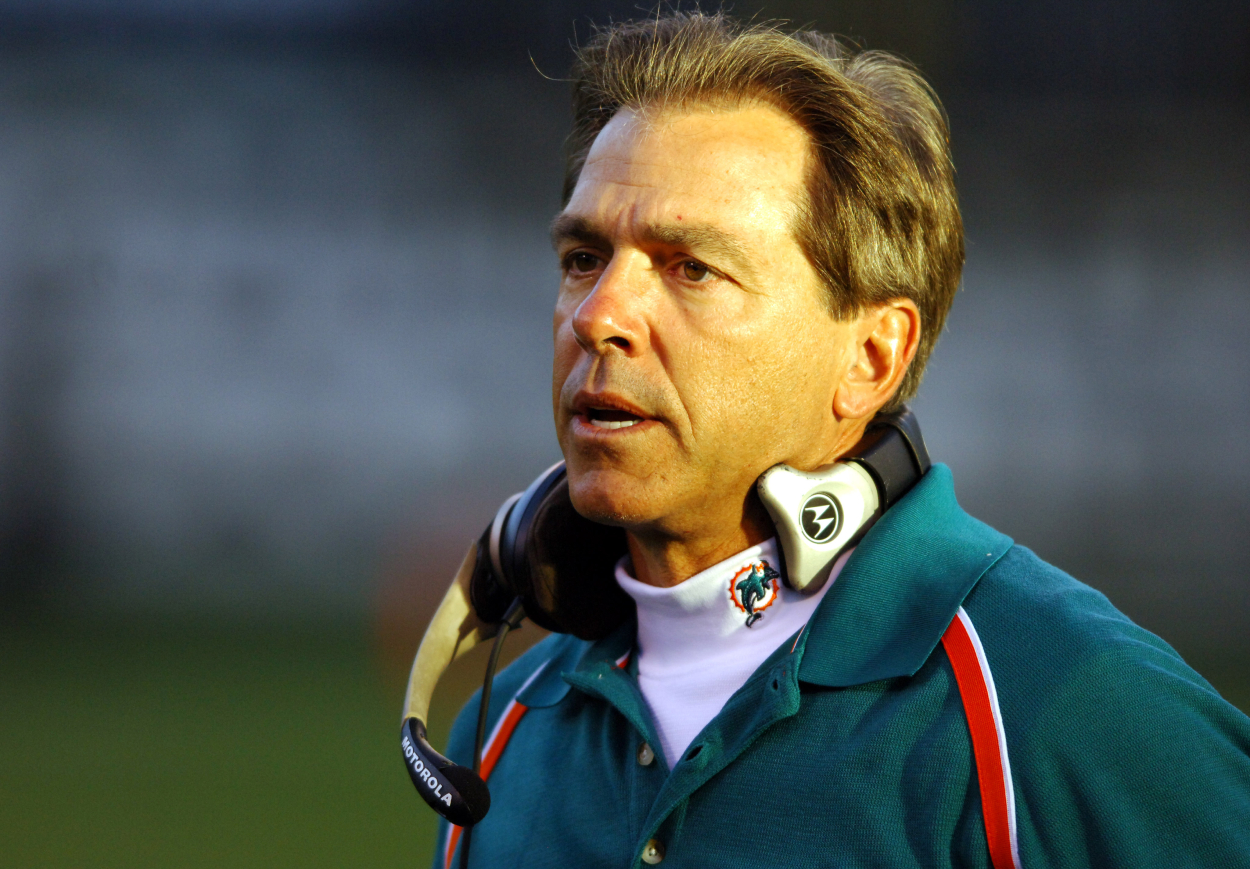 Nick Saban's Tenure With the Miami Dolphins Was Such a Failure That He Reportedly Had Players Wanting to Fight Him
Nick Saban's tenure with the Miami Dolphins did not go well at all. In fact, he even reportedly had multiple players wanting to fight him.
Nick Saban has proven that he is one of the best, if not the best, college football coaches of all-time. Saban's time in the NFL, though, was the complete opposite of all the years he has spent at the collegiate level. Saban's tenure with the Miami Dolphins was actually a complete failure. In fact, Saban reportedly had players wanting to fight him when he was the Dolphins' head coach.
Nick Saban is one of the greatest college football coaches of all-time
Nick Saban coached at Toledo and Michigan State before taking over at LSU in 2000. Saban had immediate success with the Tigers, too. After leading them to an 8-4 record in 2000, Saban helped LSU go 10-3 in 2001 and win the Sugar Bowl. In 2003, though, LSU was one of the best teams in the country. They went 13-1, won the Sugar Bowl, and were co-national champions with USC.
However, after leading LSU to a 9-3 record in 2004, Saban went to the Dolphins in 2005.
Saban then returned to college football in 2007, as he became the head coach of the Alabama Crimson Tide that year. He has since turned them into one of the most dominant dynasties of all-time. The Crimson Tide went 12-2 in his second season before going 14-0 and winning the BCS National Championship in 2009.
Alabama then won three of four national championships from 2009 through 2012. They then didn't win the national title again the next two seasons after that, but in 2015, Alabama won its first-ever College Football Playoff national championship. The Crimson Tide then ultimately went to four consecutive national championship games again from 2015 through 2018 and won two of those four titles.
Saban has since continued his dominance with Bama, too. The Crimson Tide won yet another national championship in 2020 and went 13-0 overall.
He had a short tenure with the Miami Dolphins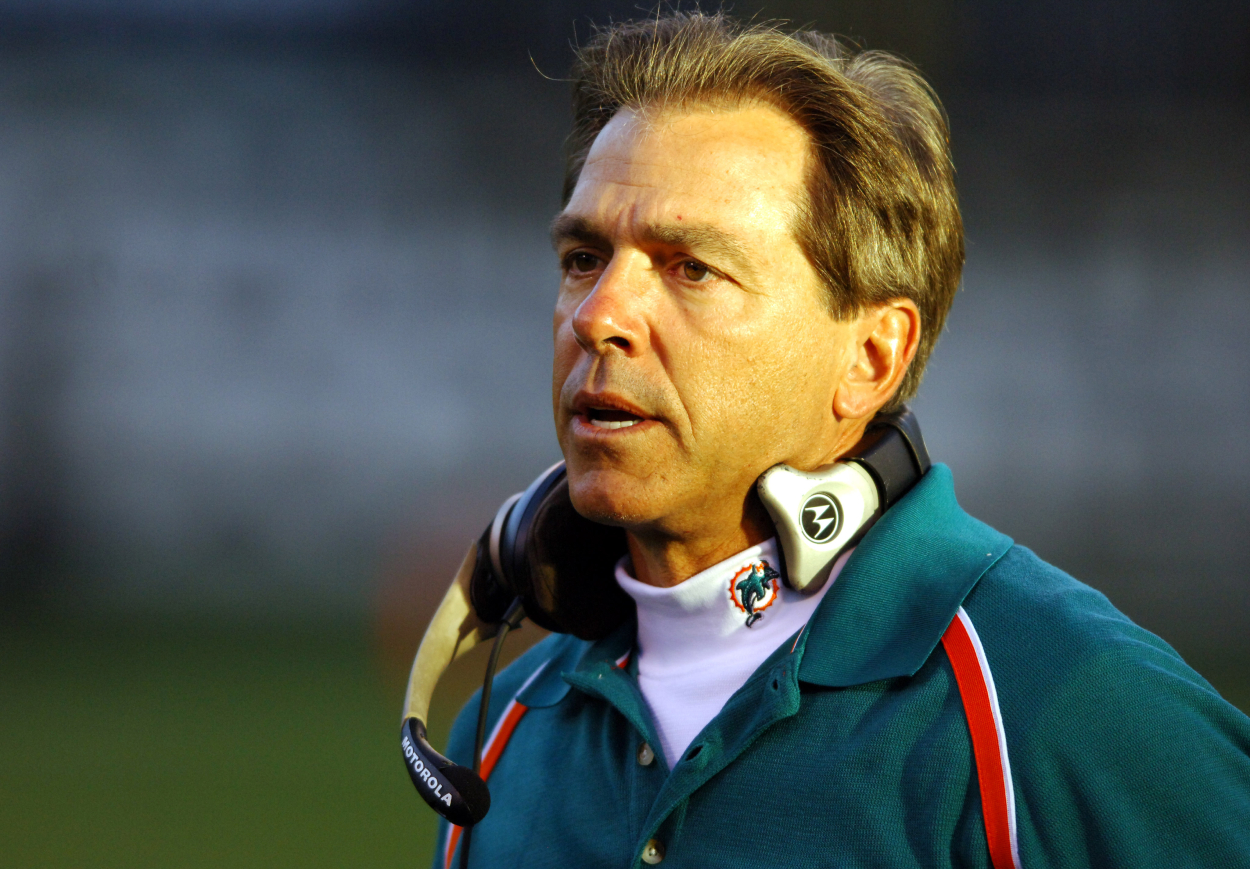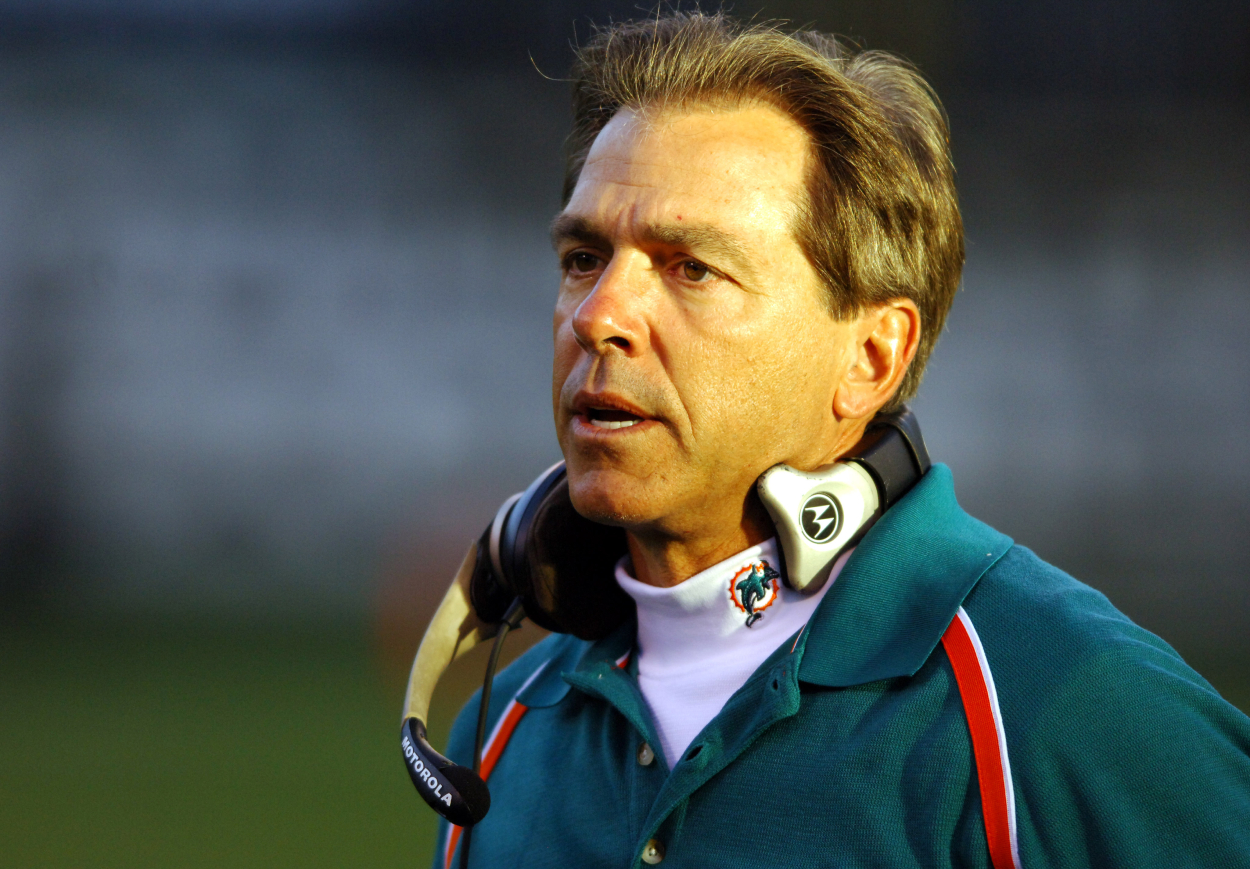 Nick Saban only needed two seasons as a head coach in the NFL to realize it wasn't for him. He became head coach of the Dolphins in 2005, and Miami was OK that year. They went 9-7 and missed the playoffs. 
Their best offensive players were probably running backs Ronnie Brown and Ricky Williams, and receiver Chris Chambers. Brown ran for 907 yards and four touchdowns in 14 starts, while Williams ran for 743 yards and six touchdowns in 12 games. Chambers, on the other hand, caught 82 passes for 1,118 yards and 11 touchdowns for the Dolphins that year. Miami also had a couple of great defensive players that season, too, as linebacker Zach Thomas earned Pro Bowl honors with 162 total tackles in 14 games. Defensive End Jason Taylor also earned Pro Bowl honors with 12 sacks.
In 2006, though, Miami was horrible. They only went 6-10 and finished last in the AFC East. Zach Thomas and Jason Taylor had excellent seasons again, and the defense was outstanding. The offense, however, was one of the worst in the NFL.
Saban then left and went to Alabama after that season.
Nick Saban reportedly had players wanting to fight him
Saban has had so much success in college football. So, why couldn't he have as much success in the NFL? FOX's Jay Glazer recently gave some insight into why that was the case.
"Nick Saban, the reason why he didn't make it in the NFL, Daunte Culpepper tried to fight him one day and a security guy stepped in," Glazer said on the Jan. 19 episode of The Herd with Colin Cowherd. "And then I think his final straw is that he questioned Zach Thomas' toughness and Zach almost kicked his butt. That just doesn't work on this level."
Culpepper only appeared in four games at quarterback with Miami in 2006 after leading the NFL in passing yards while on the Minnesota Vikings in 2004 with 4,717 to go with 39 touchdowns. Thomas, though, was a seven-time Pro Bowl and five-time First-Team All-Pro linebacker with the Dolphins that had been there for about a decade at the time. Why would Saban question his toughness? 
Nick Saban is a great college football coach. His NFL tenure, though, was a complete failure.
Stats courtesy of Sports Reference and Pro Football Reference