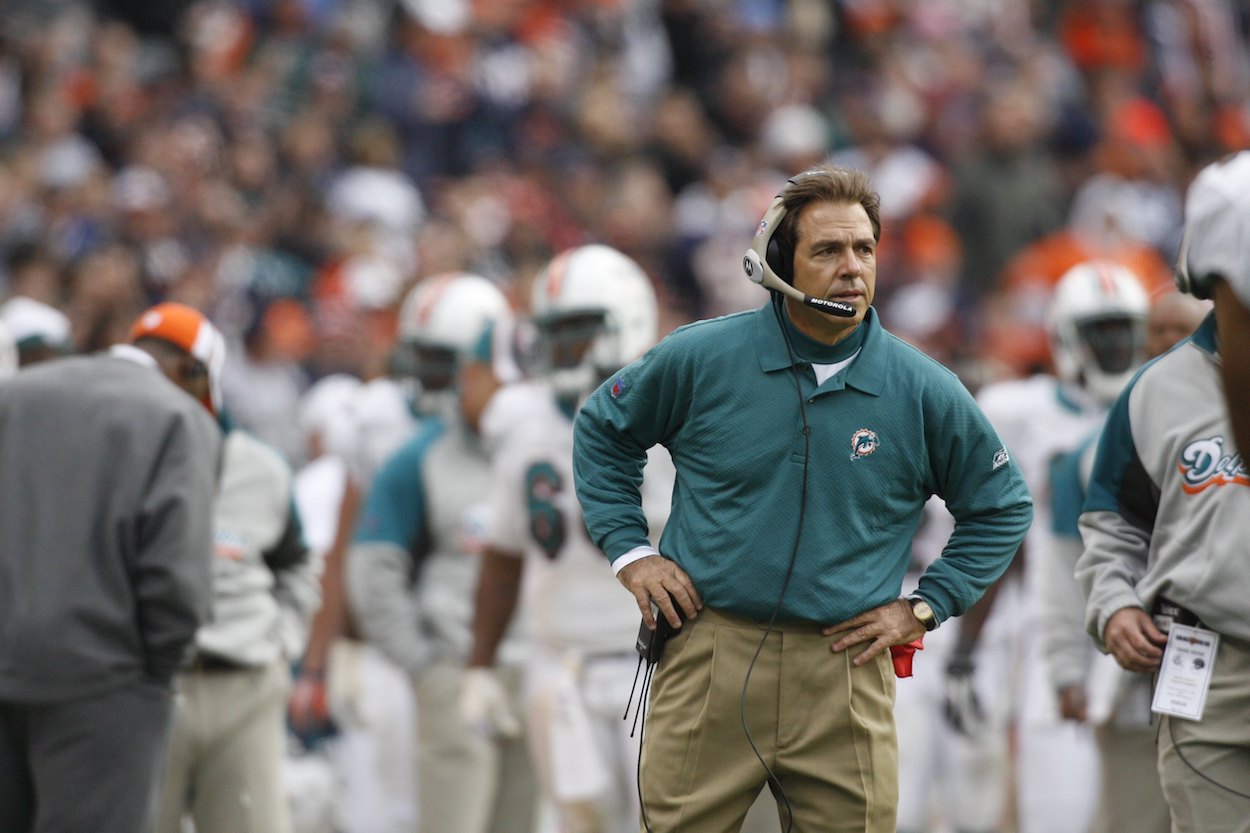 Nick Saban Bashes a Former Dolphins Team Doctor and Blames Him for Failed NFL Coaching Career: 'That Doctor Didn't Know His Ass From a Handful of Sand'
Nick Saban could've had a fruitful NFL coaching career if not for a Dolphins team doctor's unforgivable mistake.
Nick Saban is widely regarded as one of the greatest head coaches in football history at any level. However, his historic success in the NCAA didn't quite translate to the NFL.
Saban's NFL coaching career was short-lived, and his failed tenure with the Miami Dolphins can be traced back to the decision to pass on Drew Brees and trade for an injured Daunte Culpepper in 2006. Fifteen years later, Saban is still blaming a team doctor for that painful mistake. The longtime Alabama head coach recently bashed the doctor who failed Brees on his 2006 physical, and he admitted that was the moment he knew the NFL wasn't going to work out for him.
Nick Saban's failed NFL coaching career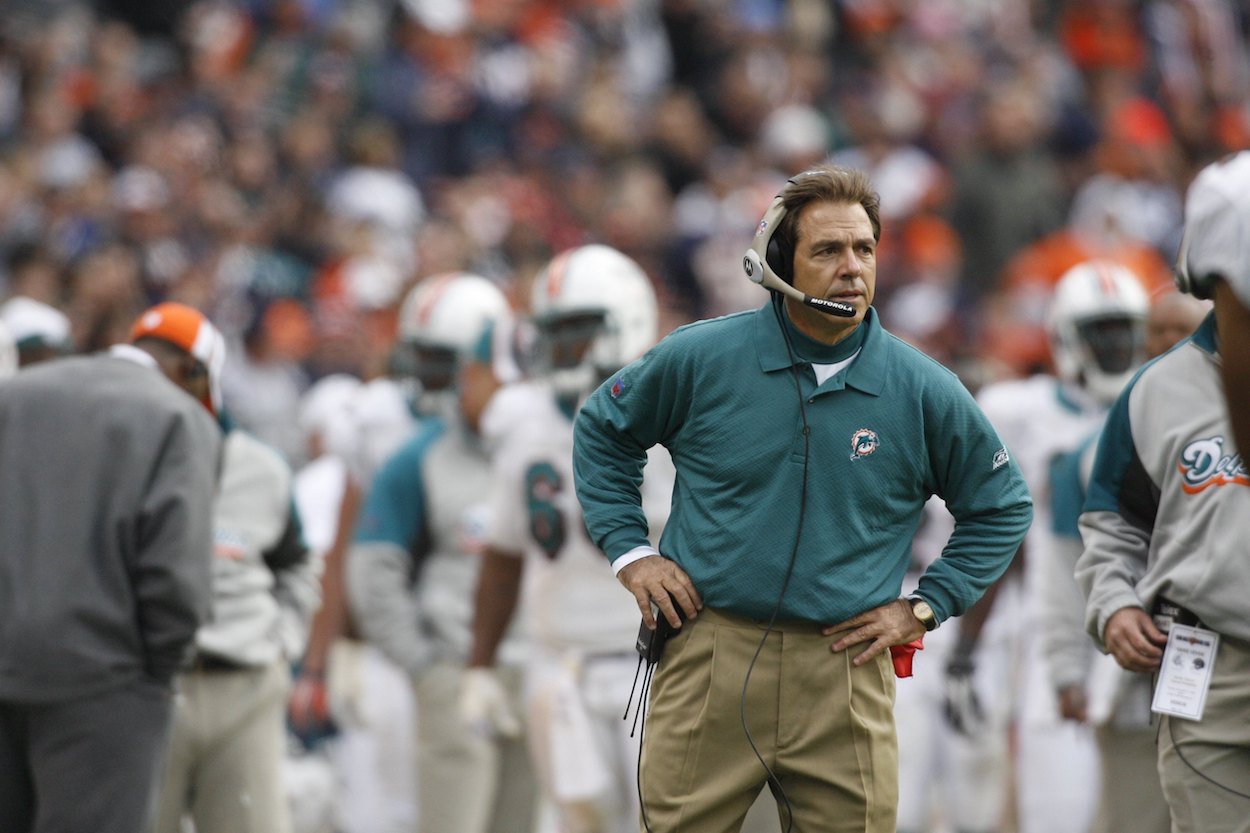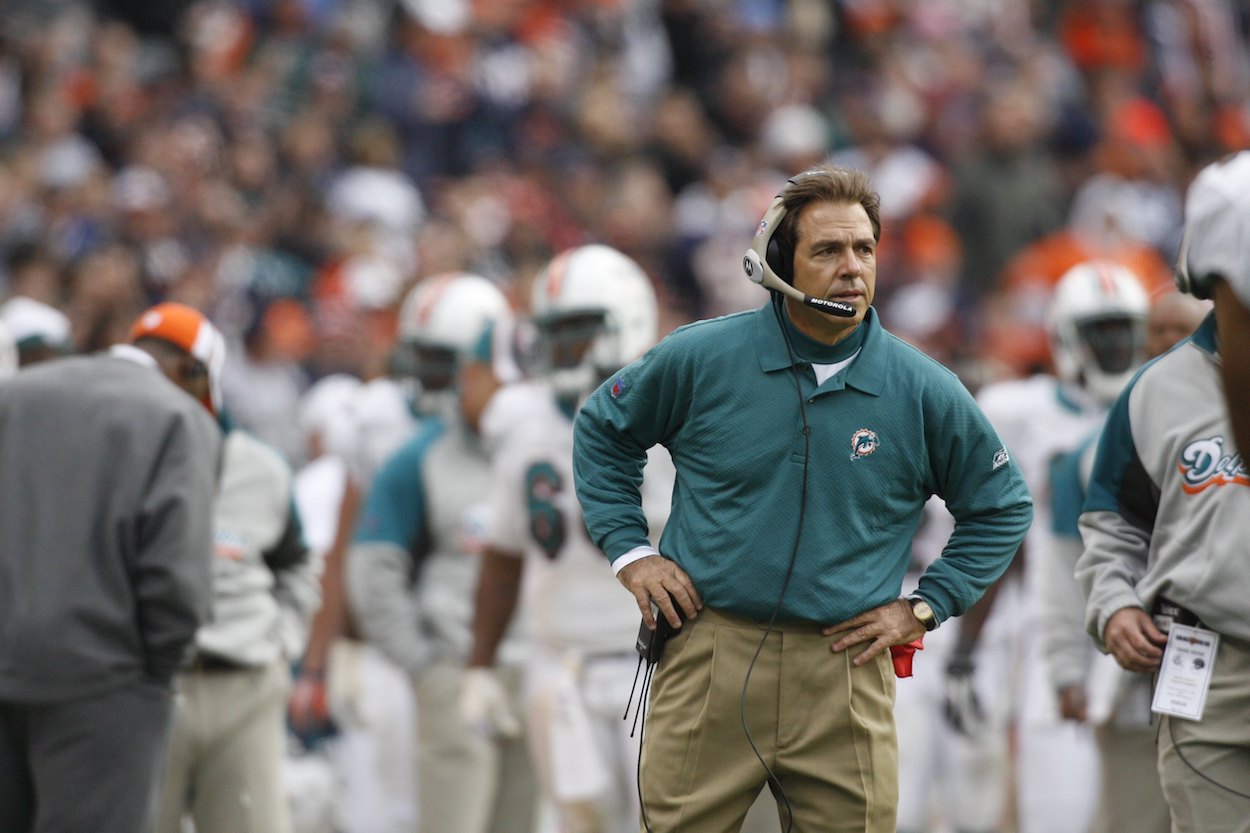 Saban has been a successful coach at virtually every stop throughout his legendary career. He's led two college football programs (LSU and Alabama) to at least one national championship, and he holds the record for the most national titles (seven) for a head coach in NCAA Division I history.
Even when he made the jump to the NFL to become the defensive coordinator of the Cleveland Browns, Saban was able to find success. His defense allowed the fewest points per game (12.8) in the league during the 1994 season. But once he took over his own NFL team in 2005, Saban experienced something he hadn't been accustomed to and hasn't seen since: failure.
Saban led the Dolphins to a 9-7 record in his first year in charge, but they missed the playoffs after finishing in second place in the AFC East. He followed that up with a 6-10 record and a last-place finish in the division in 2006. With three years and $13.5 million left on his contract, Saban ditched the Dolphins after his second season to take over at Alabama.
Saban bashes a former Dolphins team doctor for Drew Brees mistake
After Saban's first season in Miami in which his team went 9-7, the Dolphins just needed a quarterback upgrade to take the next step. That upgrade was supposed to come in the form of Brees, but a failed physical after the QB's shoulder injury prevented the team from signing him.
Instead, the Dolphins traded for Culpepper, who wound up starting just four games in 2006 coming off a brutal knee injury. Saban then resigned in 2007 after missing the postseason for the second straight year.
On Tuesday, Saban spoke at the Texas High School Coaches Association's annual convention and bashed the former Dolphins team doctor who stopped Miami from signing Brees.
"[Drew] was going to be the quarterback. That's all we needed," Saban said, per 247sports.com. "We just went 9-7 and all we needed was a quarterback to be a playoff team. We were going to sign Drew Brees as a free agent. Dr. [James] Andrews operated on [his shoulder], and I went to Birmingham to see Dr. Andrews, and he said it'll be fine. Our doctors failed him on the physical. [Drew] was there to sign with us.
"So I decided right then when that happened that we don't have a quarterback in the NFL, we're not going to win. I'm getting out of here. I'm not staying here. I'm not going to be responsible for this," he continued. "That doctor didn't know his ass from a handful of sand. Drew Brees plays 15 more years, wins a Super Bowl, goes to nine Pro Bowls. And we didn't take him in Miami, where he wanted to go. Some things you can't control. When we left there nobody understood why. Well that was why. There's always a reason."
Saban can only thrive when he has all the power
There's no arguing Saban is one of the greatest football coaches to ever live, but his brief, disappointing stint as an NFL head coach proved he can only thrive when he holds all the power.
As a head coach in the NFL, you still have to answer to the general manager and team owner regarding roster moves and personnel decisions. Those people above you build a roster they believe can compete for a Super Bowl, and it's your job to make it work.
But at the college level, Saban is able to hand-pick his rosters through recruiting and mold his players into the ideal competitors he wants to see on the field every week. The head coach always has final say on who the team will sign, who will start, and who will be hired to their coaching staff.
That's the exact situation in which Saban can flourish as a coach. Once he realized those decisions were out of his control at the NFL level, he high-tailed it right back to the NCAA.
Six more national titles later, and it was clearly the right decision.