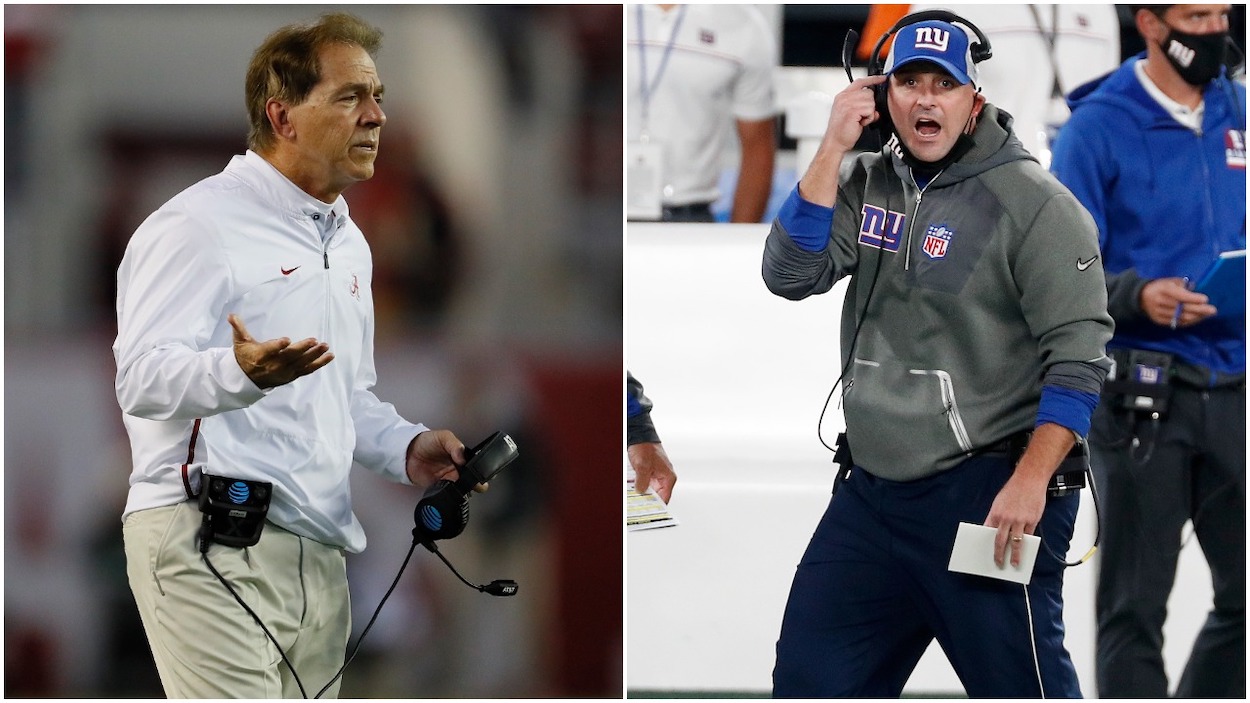 Nick Saban Made Fun of Giants Coach Joe Judge During His Alabama Interview 'Like the Muppets Hecklers'
New York Giants coach Joe Judge shared a story of legendary Alabama coach Nick Saban heckling him that shows the coach in a whole new light. The notoriously no-nonsense coach tested the young coordinator during the interview to see if he would crack under pressure. He didn't and got the Crimson Tide job.
New York Giants coach Joe Judge has a pretty impressive pedigree. Prior to taking the head job in New Jersey, Judge coached special teams under Bill Belichick in New England. Before his time in Foxborough (after a brief offseason stint with Southern Miss), Judge helped Alabama's Nick Saban run his third unit.
Belichick and Saban are notoriously prickly and non-nonsense coaches. However, Judge told a story on a podcast that shows Saban in a different light. According to Judge, Saban and an unidentified cohort turned Judge's interview into a comedy scene straight out of The Muppets.
Joe Judge was a surprise pick to become the New York Giants head coach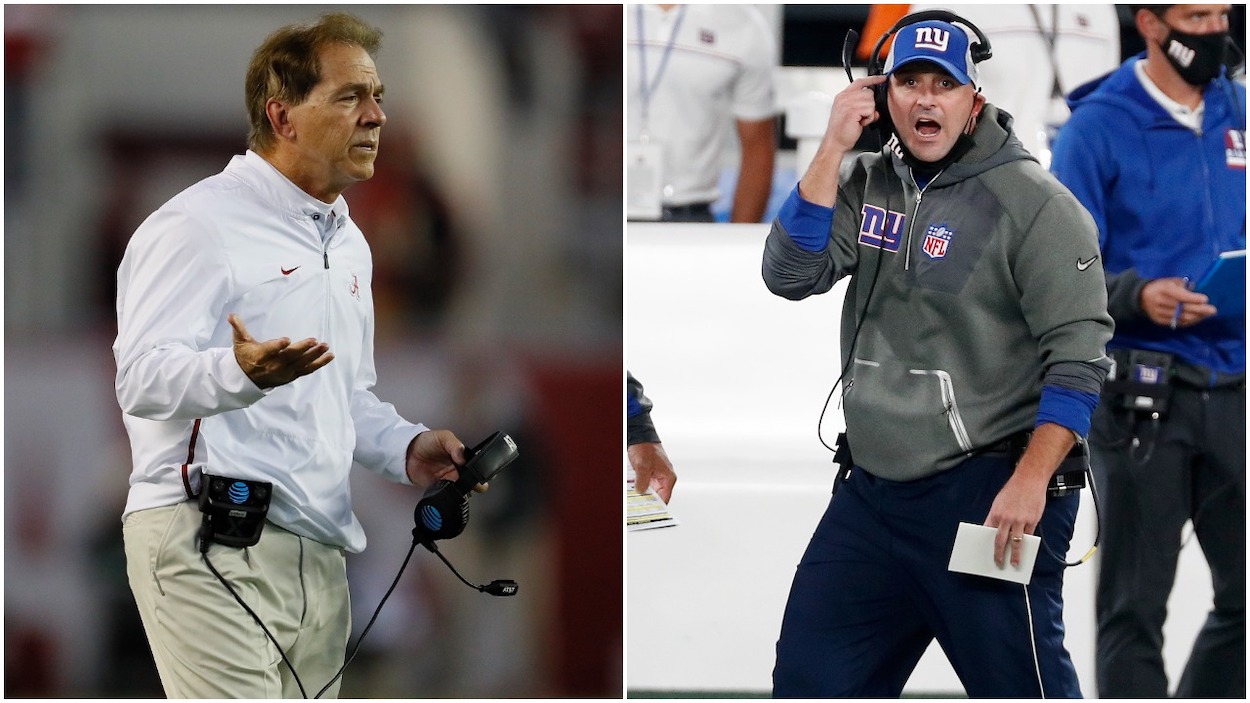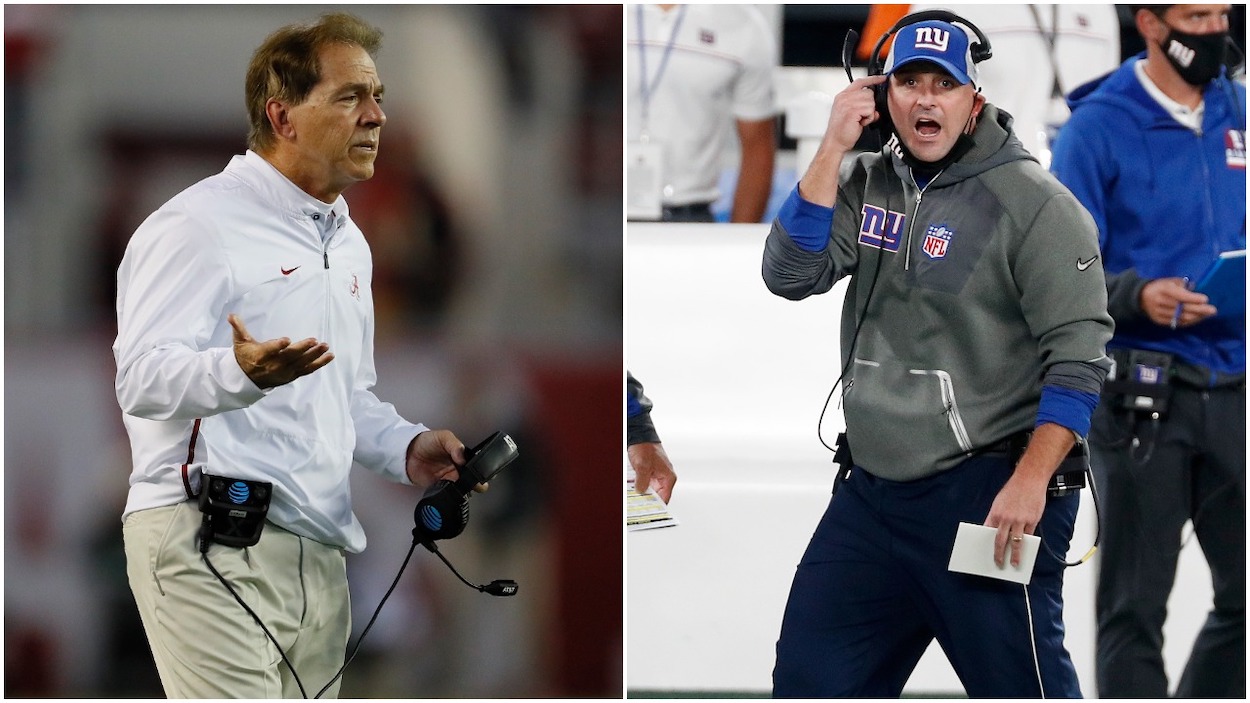 The story of Judge to the Giants goes back to the G-Men's previous coaching search in 2018. The ultimate result of that process was hiring Pat Shurmur, but not until after the team interviewed the Pats' offensive and defensive coordinators, Josh McDaniels and Matt Patricia.
According to The Athletic, both coaches told Giants leadership that they wanted to bring the then-36-year-old special teams wiz with them if they got the job. This stuck with Giants co-owner John Mara and GM Dave Gettleman after they fired Shurmur two years and a 9-23 record later.
During their 2020 coaching search, most reports said the Giants favored Matt Rhule, the head coach at Baylor who spent time in East Rutherford as an assistant to Tom Coughlin. However, Rhule took the Carolina Panthers job without even interviewing with the Giants.
The New York brain trust interviewed a number of hot coordinators and an experienced head coach during the process. These names included Mike McCarthy, Eric Bieniemy, Kris Richard, and Don "Wink" Martindale.
Judge's alma mater, Mississippi State, also pursed the Pennslyvania native for its open head coaching position. In the end, he opted to stay in the NFL and take the Giants job.
Nick Saban tested the former special teams coach in his interview at Alabama
Before there was the Giants job or even the Patriots one, Judge coached at tiny, Division III Birmingham-Southern. His work there caught the eye of Saban at Alabama, and the iconic coach brought him in to interview for the special teams coordinator position.
On the Flying Coach with Sean McVay and Peter Schrager podcast, Judge told a story about that interview that casts Saban in a whole new light.
Judge met with Saban and the entire coaching staff before the head man dismissed the other coaches. Now one-on-one, Saban asked Judge to "teach me punt protection." After diagraming some schemes, Saban told Judge he'd be right back and left the room.
The former Miami Dolphins and LSU Tiger coach didn't return for over 25 minutes. The whole time, Judge refused to sit down so he was "ready to go" when Saban returned. That's when the test began:
He walks back in. Now, he walks back in with some guy who I've never seen before and haven't seen since. So, I don't know who the guy is. But he walks in, and it's like The Muppets hecklers. This guy and Saban just sit there and basically are making fun of how I'm dressed – and I'm sitting there the whole time but I'm just looking, going like, 'you know, I've cut up enough in schoolyards, I know what you're here. You want to see if I'm gonna blink while you bust my balls.' I ain't doing that.
Judge said he smiled through the Saban and his partner's jokes and finally got back to "talkin' ball." After that, Saban offered Judge the job the next morning. The new Crimson Tide special teams coach would go on to work with the program for the next three seasons.
Judge is looking to follow in the footsteps of incredibly successful special teams coaches to become head coaches
For some reason, NFL teams don't usually hire special teams coordinators to be head coaches. However, when they do, it usually works out extraordinarily well.
On any list of best current NFL head coaches, you'll find Belichick and the Baltimore Ravens' Jim Harbaugh. Belichick coached special teams for the Detroit Lions in the late 70s, and Harbaugh ran the group for Ray Rhode's Philadelphia Eagles in the 80s, per Giants.com.
It doesn't stop there either. Super Bowl-winning coaches Mike Ditka and Dick Vermeil coached special teams for Tom Landry's Cowboys and George Allen's Los Angeles Rams. Also, before taking the Buffalo Bills to four straight Super Bowls, Marv Levy was the kicking game coach for the Eagles before joining Allen's staff in LA in 1970.
Even with the incredibly high percentage of success, special teams coordinators still don't get much love when the new coaching cycle comes around each year. If Joe Judge can lead the Giants out of their recent funk, maybe this will finally change.
All stats courtesy of Pro Football Reference