Mike Ditka Endorses Justin Fields to Be the Chicago Bears Starting QB in Week 1
Michael Jordan may be the famous athlete in the world, but even with that distinction, he's never been the No. 1 most respected or beloved sports figure in the city he's most associated with. The first face on Chicago sports' Mt. Rushmore is Chicago Bears legend Mike Ditka. When he talks, the Windy City listens, and he says that Justin Fields should be the Bears starting QB.
Bears coach Matt Nagy is insisting on sticking to his plan and not starting Fields over Andy Dalton right away. When Ditka publicly disagrees with a Bears coach, though, that coach should listen if they want to keep their job.
The Bears drafted Justin Fields to end their decades-long quarterback drought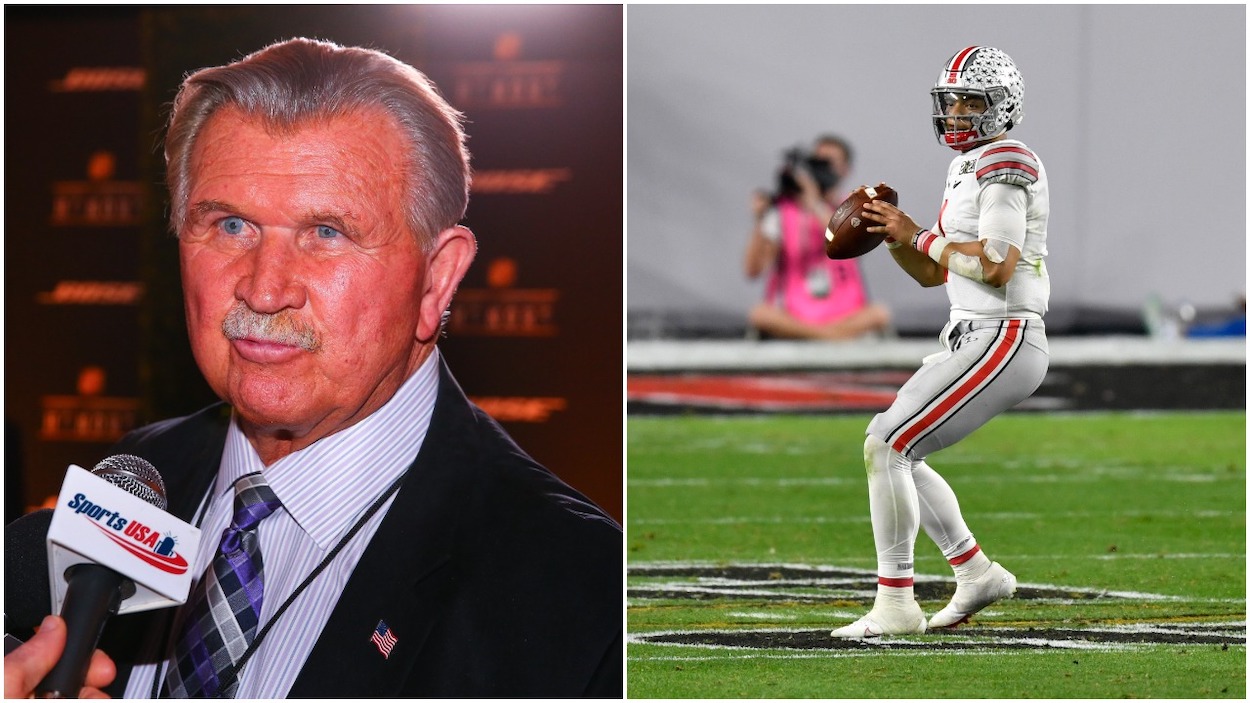 Sid Luckman played his entire career with the Chicago Bears from 1939-1950. He is a member of the Pro Football Hall of Fame and generally considered the best passer of his era. Since he retired, the Bears have 30 different QBs who have had led the team in passing yards.
George Blanda is also in the Hall of Fame, but he only led the Bears in passing twice. Billy Wade (1963 – with Ditka as his leading receiver) and Jim McMahon (1985 – with Ditka as his head coach) won championships in Chicago, but both led teams that won with imposing defenses.
In recent times, the Bears' most prominent signal-caller was the polarizing Jay Cutler. The talented yet frustrating QB threw for 154 touchdowns in his eight seasons at Soldier Field but also threw 109 balls to the other team.
In 2017, the Bears traded four draft picks for the right to move up one spot and select North Carolina's one-year-wonder Mitchell Trubisky at No. 2 overall. Then, after he spent four seasons in Chicago that included one Pro Bowl selection and playoff appearance sandwiched between three losing seasons, the team jettisoned Trubisky and once again traded up in this year's draft to take Fields from Ohio State at No. 11.
Mike Ditka believes Fields should be the Bears starter now
Outside of ex-Bull Scottie Pippen trashing everyone he ever played with, against, or for, the biggest sports radio topic in Chicago in the summer of 2021 is about when Justin Fields will start at QB for the Bears.
To that end, the legendary Coach Ditka weighed in with his two cents. The man worshipped by fictional superfans on Saturday Night Live told Jeff Kerr of CBS Sports, "Put [Fields] on the field and let him learn. You learn by playing, you don't learn by watching."
This endorsement echoes the sentiments of many Bears fans who want to see Fields as QB1 as soon as possible.
Although Ditka would handle the situation differently, he also said he has complete confidence in Nagy to deal with the situation in the best way possible.
"Matt Nagy knows how to handle Fields," Ditka also said. "And he'll do a good job with him."
Head coach Matt Nagy says he's sticking to his plan
Nagy was the offensive coordinator in Kansas City in 2017 when the Chiefs drafted a QB out of Texas Tech named Patrick Mahomes. He watched as Andy Reid kept Mahomes on the bench his entire rookie season in favor of Alex Smith. This was despite the fact that Mahomes reportedly outperformed Smith in practice on a regular basis.
Now Nagy runs his own team and has a similar situation with Fields and Dalton. The fourth-year head coach is already on the record saying, "Andy is our starter."
As training camp approaches, the heat on Nagy to truly allow Fields to compete for the starting job is already on. If Fields outperforms the veteran in the preseason, Nagy's seat will get even hotter. And, if Dalton does start the season as the starter, every INT and incomplete pass will only make the calls for the rookie louder.
Nagy is sticking to his guns for now regarding Dalton over Fields, but soon, he may not be able to, especially if Ditka and other ghosts of Bears past continue to bang the drum for the talented young QB.
All stats courtesy of Pro Football Reference