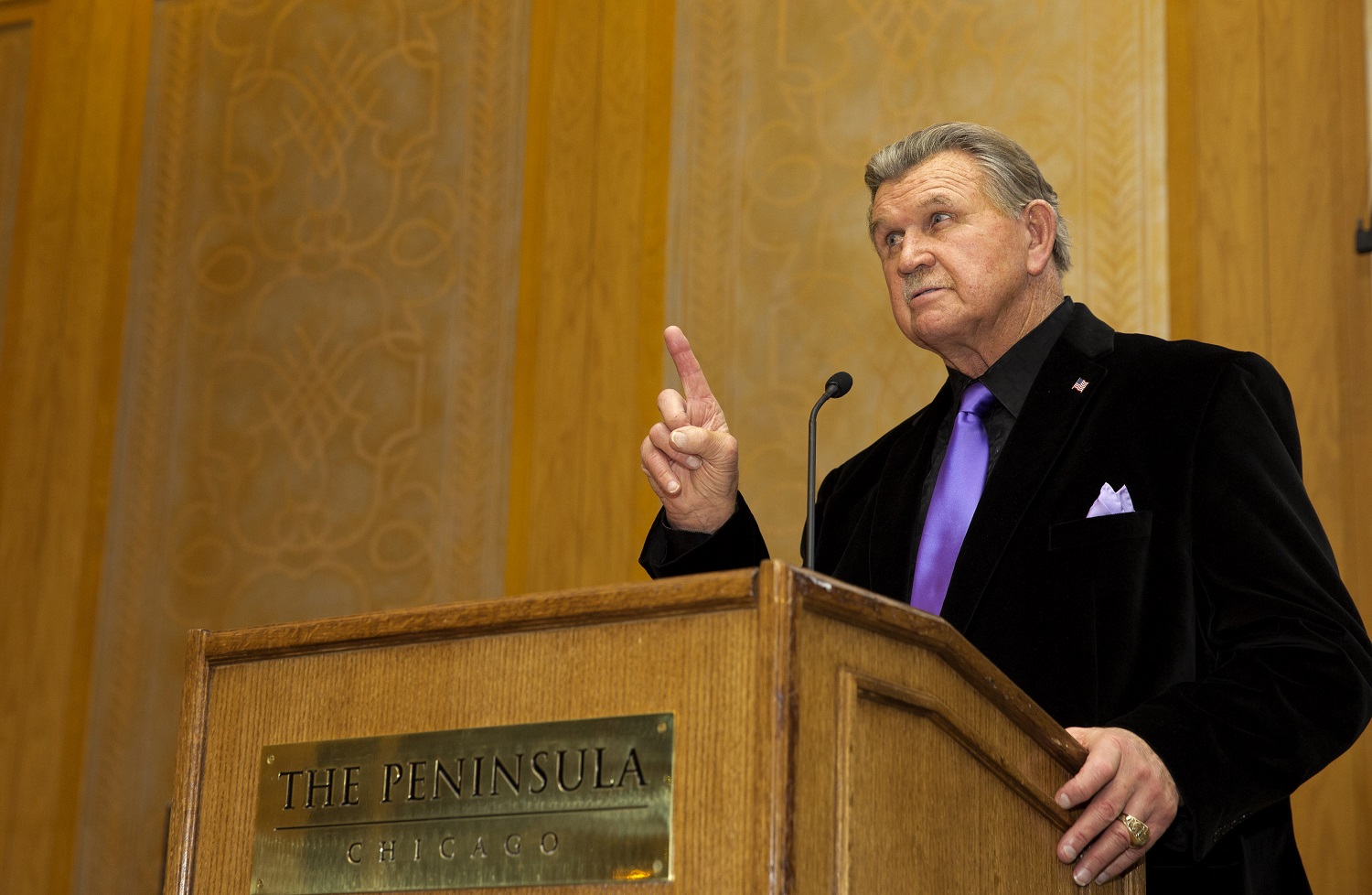 Mike Ditka Warns the Bears Not To Surrender Their Advantage
Former Chicago Bears player and coach Mike Ditka doesn't want to see the NFL team leave Soldier Field in favor of a place in a nearby suburb.
The Chicago Bears haven't given their fans a lot to talk about on the field so far this century – six playoff appearances and seven winning seasons. Mike Ditka is a different story. The team's beloved former tight end and coach continues to speak his mind, which makes for plenty of conversation.
Most recently, Ditka has injected himself into the discussion about the Bears moving into new digs, a hot topic since team executives began making overtures about heading to the suburbs.
The Chicago Bears are making noise about moving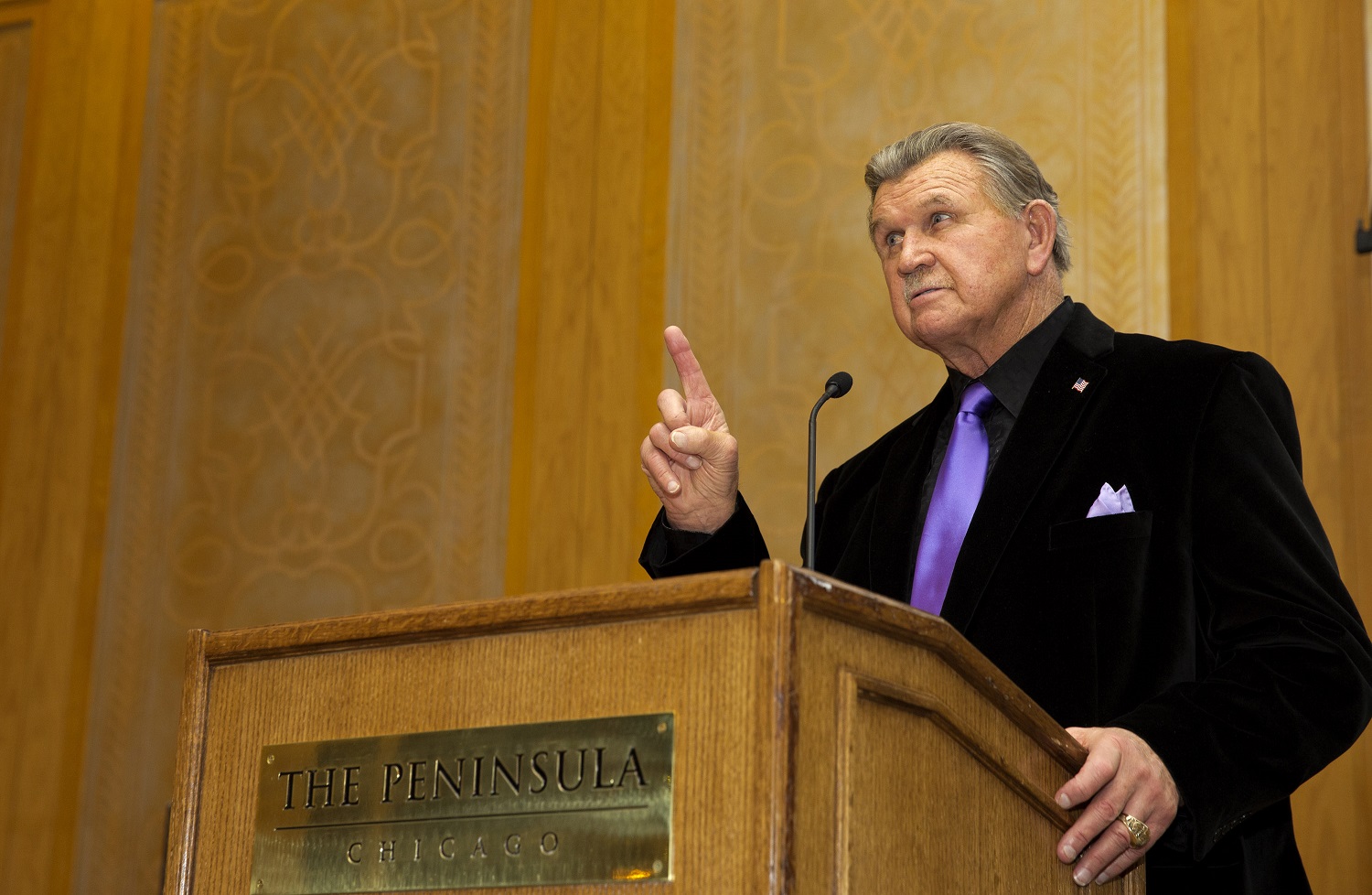 The Bears moved into Soldier Field in 1971, but they recently placed a bid on Arlington International Racecourse in Arlington Heights. The track sits a little more than 30 miles northwest of Soldier Field and belongs to Churchill Downs Inc. It's an attractive site for a new stadium.
Chicago Mayor Lori Lightfoot wasn't pleased. She released a statement in which she declared that the Bears need to spend less time contemplating a move and more time focusing on beating the Green Bay Packers and "being relevant past October. Everything else is noise."
Lightfoot said the Bears' bid on the 326-acre Arlington Heights property was a ploy to get the city to fund renovations at Soldier Field, which underwent $690 million in work in 2004. With a lease through 2033, the team seemingly doesn't have a strong negotiating position.
"I know there's contracts involved and lease agreements," Arlington Heights mayor Tom Hayes said in April, according to CBS Sports. "But a good attorney will tell you, you can always get out of those."
Ditka doesn't want to hear any such nonsense.
"The Chicago Bears belong in the city of Chicago," he told the Daily Herald. "That's it. Call me an old-timer, call me a traditionalist, whatever. They're a Chicago institution, and that should be the end of it."
Mike Ditka: If the Bears move, forget adding a roof
The majority of football fans in the Midwest and Northeast probably have the same thought when they hear talk of building a new stadium: Make it a dome. Minnesota, Detroit, and Indianapolis listened. Buffalo has discussed it for years, but the Bills appear destined to go without a full roof when they replace their Orchard Park digs by the end of the decade.
A dome is great for fan comfort, but it takes wind, rain, and snow out of the game. Any new stadium, with or without a roof, erases a bit of local history. In the case of what is under consideration in Chicago, Ditka says that's a two-fer.
"Arlington Park should remain a racetrack, he told the newspaper. "It's a gem, a thing of beauty. Arlington Heights is known around the world because of that racetrack. Racetrack in Arlington Heights, Bears in Chicago. That's the end of it."
As for a dome, Ditka says forget about that, too.
"You want to tell me that a team coming up from a warm-weather climate isn't giving away a significant advantage to try and play in cold and rain outside in a Chicago December or January?
"You can't practice for that kind of weather. You can't simulate it. You've got to be in it. Chicago Bears football weather is a great part of the team's legacy, and all of that legacy in Chicago in my life has been outdoors."
Mike Ditka's weather observation is a bit ironic
Ditka was one of the NFL's ultimate tough guys as a player. He made 427 catches over 12 seasons with the Bears, Philadelphia Eagles, and Dallas Cowboys, in helping to redefine the position. That earned him a place in the Pro Football Hall of Fame.
Now 81 years old, he remains active and loves playing golf. But don't look for him to be the first guy out on a Chicago-area course in mid-April or the last one still playing in mid-November. That's because the guy who thinks weather should be a factor in NFL games prefers to play all of his golf in sunshine, so he spends his winters in Florida.
Like Sportscasting on Facebook. Follow us on Twitter @sportscasting19.