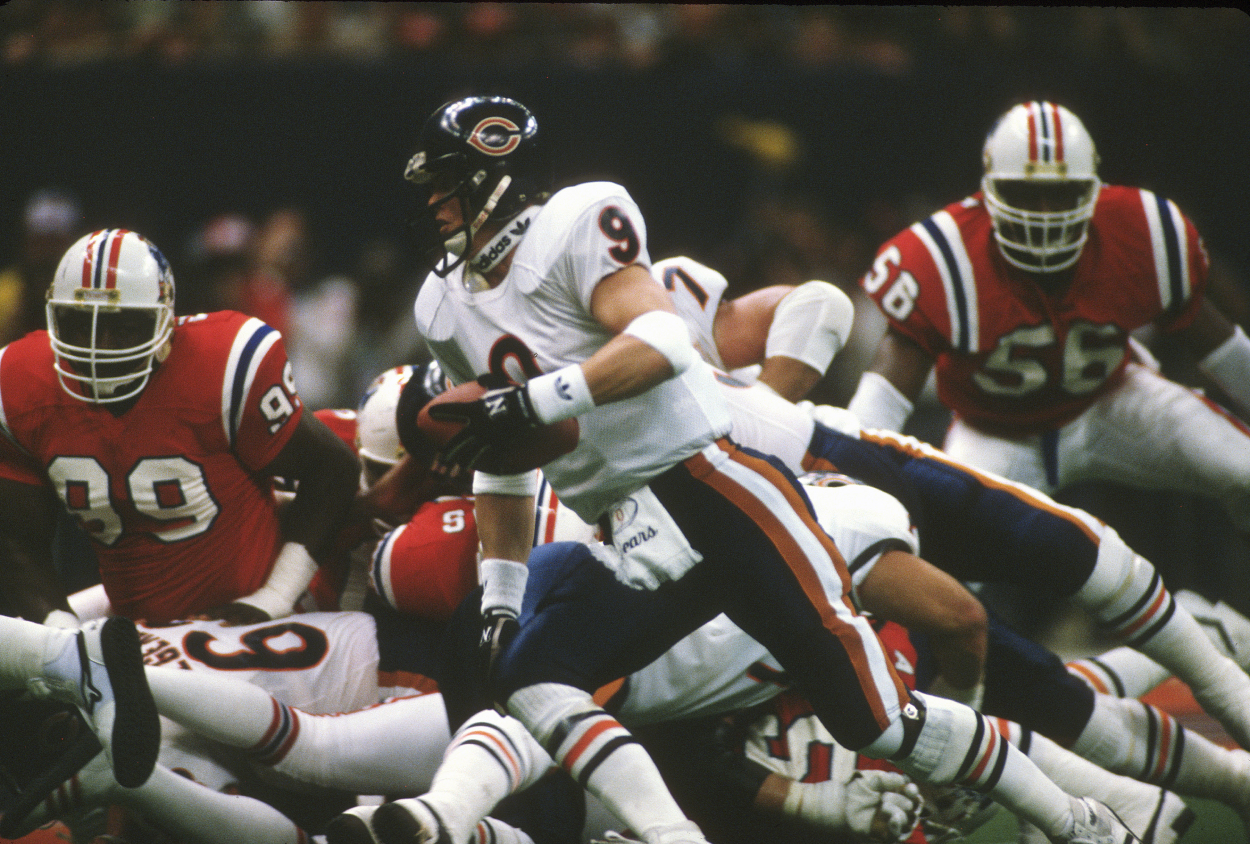 Jim McMahon Found a Loophole Around Getting Fined for His Famous Headband and Had the Super Bowl Referee Laughing
Jim McMahon found a loophole the prevented him from getting fined for wearing his headband in Super Bowl 20.
Jim McMahon is widely known for two things in his NFL career. He was the leader of the 1985 Chicago Bears Super Bowl-winning team, and he was always wearing a headband. While the headband doesn't sound like a big deal, it wound up getting him in trouble. It was his trademark – and a costly one – as it resulted in fines until he found a way to get around it.
The headband has always been a Jim McMahon trademark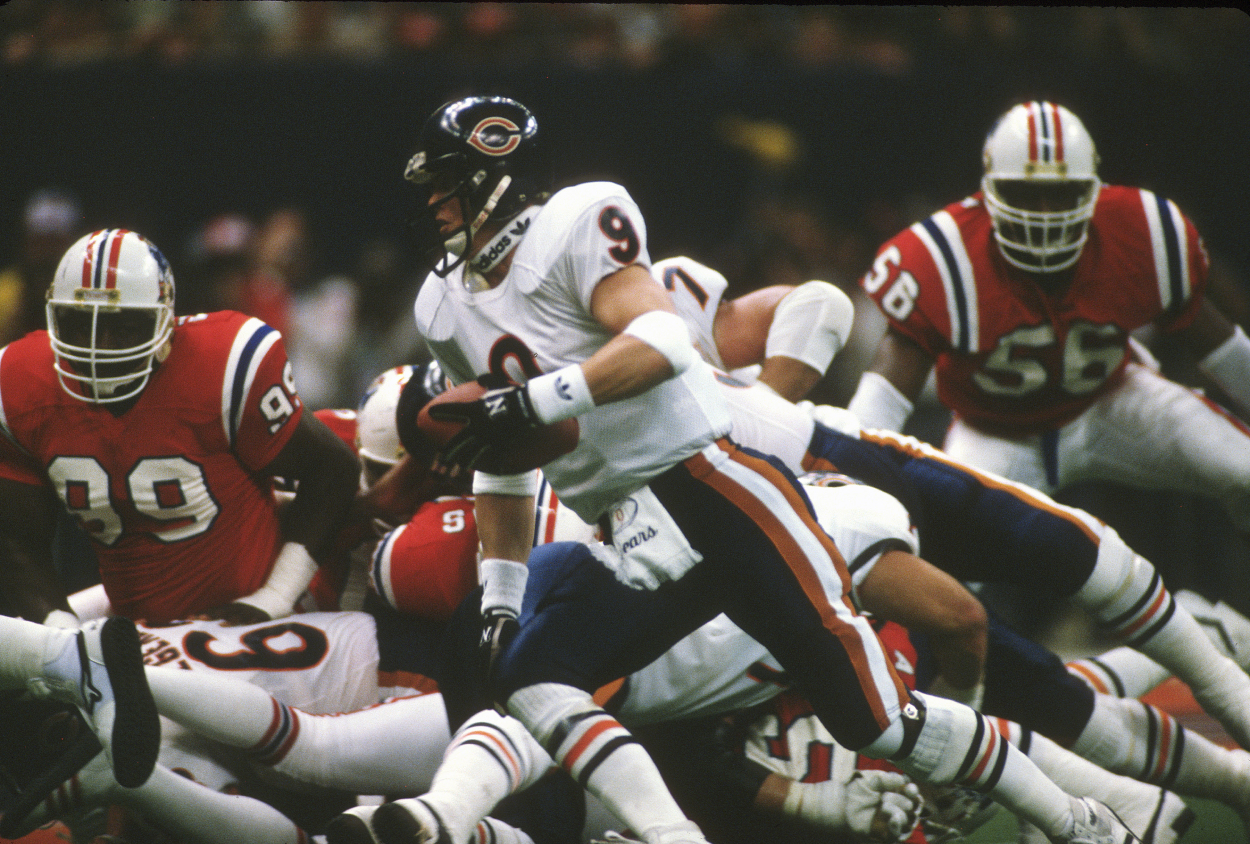 McMahon was drafted out of BYU in the 1982 NFL draft. The Bears selected the quarterback with the fifth overall pick. During his rookie season, he started seven games, compiling a 3-4 record. It's the only losing season McMahon had in his seven years with the team.
McMahon has always been a free-spirited guy. His image grew when he guided the Bears to a 15-1 record and a convincing win over the New England Patriots in Super Bowl 20. He always said what was on his mind, and he usually said it was that headband around his forehead.
"Since I got in the league I was wearing a headband," McMahon said on the Fat Mike Chicago Sports Show back in April. "Then Adidas came out with a headband, I think it might have been in 84 or 85, early on, and I had worn it all year long. I never got a word or a letter or anything from the commissioner or the league about the headband."
Jim McMahon was stunned he got fined for wearing his headband
The 1985 Bears cruised through the season, going 15-1 during the regular season. The one loss came in a game McMahon did not start. While that Bears team is widely known for its defense, McMahon was the face of the franchise. He was the outspoken one. He became a little more vocal, at least through his headband, as the season wore on.
McMahon was fined by NFL Commissioner Pete Rozelle for wearing the headband with Adidas written on it. So he came back out with the commissioner's last name written in capital letters on the headband.
"The first playoff game I wore it, I got a $5,000 fine," McMahon said. "I was wondering why I got that fine. I found out later I shouldn't have been fined because they just made it up. Five thousand was a lot of money for me back then. I was playing for Chicago so I wasn't very highly paid.
"I couldn't afford another fine so the next week I wore the Adidas one through the pregame warmup. Then you go in back right before the kickoff for that five minutes or whatever it is and I'm thinking what can I put on my head. I wanted to put something else in front of "ROZELLE" but couldn't fit it all on there so I just decided to put his name on there and see what happens.
When I came out, and everybody saw that – I remember John Madden laughing his ass off. I didn't get fined that week. Got a phone call from Pete, saying thank you for the free advertising. I said you guys are making a big stink about this, and there's nothing in the rule book that says I can't wear this."
McMahon's loophole even had the head referee laughing
McMahon said he found out that Adidas wasn't paying the NFL at that time, but he didn't care. He said he had been wearing the product since he got into the league and that wasn't his problem.
"I've been wearing Adidas since I've been in the league, and nobody's had a problem," he recalled, "and now all of a sudden we're in the playoffs and it's a big deal."
McMahon came up with a special plan for the Super Bowl.
"I decided I was going to wear all charities," he said. "I figured if they fine charities, they're going to look like idiots. Adidas offered me a lot of money at the time to wear the headband. I said OK I'll wear it but it might not be on my head. I had gotten a hold of the rule book and realized these guys were screwing with me and I'm going to get them back.
"All during the pregame warmup during the Super Bowl, I wore the Adidas headband, and the head referee kept chasing me around, saying I can't let you on the field. I said yeah I know. Soon as the anthem was over, I'm standing next to Walter (Payton) and the head referee is by me. Soon as the anthem was over, I went to put my helmet on and he grabbed me and said I cannot let you on the field.
"I said I know but you can't do sh*t about this. I pulled it down around my neck, and you can see the picture that I have in the Super Bowl, you can see Adidas very clearly. The ref just started laughing at me and he goes, 'yeah, you're right. I cant.' Every series, I changed it to a new charity and things worked out great."