The 1985 Chicago Bears Just Notched Their Biggest Win Ever at Emotional Fundraiser for ALS-Stricken Teammate Steve McMichael
The 1985 Chicago Bears are still winning. As dominant as that team was 36 years ago, the guys recently got together and posted yet another victory, probably their most meaningful one. Steve McMichael, the anchor of a defensive line that dominated their Super Bowl 85 season, recently announced he was diagnosed with ALS. His former teammates flew in from all over for a very emotional fundraiser Monday night for the man they call "Mongo."
Is the 1985 Chicago Bears defense the best ever?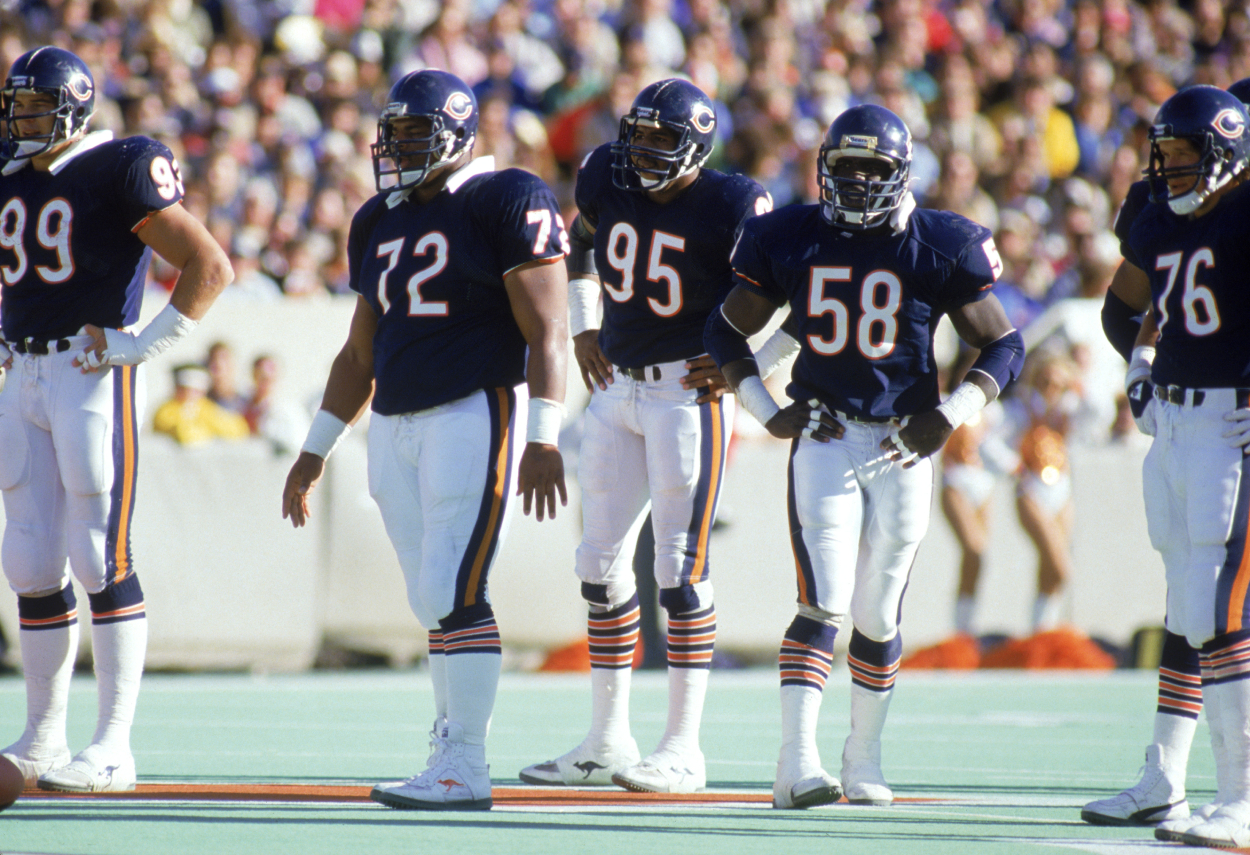 The numbers are astounding. The 1985 Bears allowed 198 points in the regular season and 10 more total in three postseason games. They forced 54 turnovers in their 16 games that saw them finish with a 15-1 record. In Super Bowl 20, they racked up six more takeaways in a 46-10 win over the New England Patriots. They forced 10 turnovers in the playoffs.
Back in 2016, Gil Brandt, a former NFL Media senior analyst and vice president of player personnel for the Dallas Cowboys for 28 years, named the Bears the best defense ever. "Bill Parcells told me this is the best defense he's ever faced," Brandt wrote, according to ChicagoBears.com. "The Bears trampled offenses in the regular season before going on an astonishing playoff run in which they shut out the Giants (21-0) and Rams (24-0), then beat the Patriots by 36 points."
Under defensive coordinator Buddy Ryan, the Bears' swarming defense collected 34 interceptions and had 64 sacks. "I was with the Cowboys when we played this team, and the Bears just manhandled us, romping to a 44-0 win," Brandt wrote. The following week, Chicago blanked the Atlanta Falcons 36-0.
Steve McMichael diagnosed with ALS
McMichael, a 6-foot-2, 270-pound defensive lineman, was a quarterback hound. He remains second in team history for quarterback sacks with 92.5. A five-time All-Pro, he started 191 consecutive games and was the team's iron man on defense. Today, the 63-year-old is confined to a wheelchair after being diagnosed with ALS four months ago.
McMichael has lost the use of his arms and hands. His legs are weak, forcing him into a wheelchair. Medical bills have piled up, adding additional stress to his wife Misty and their 13-year-old daughter Macy.
On Monday, a fundraiser was held to help the McMichael family with those costs. The event took place at Wrigley View Rooftop, located across the street from Wrigley Field. The money would also help move the McMichaels into a handicapped-accessible home. A GoFundMe page has been set up and more than $190,000 has been raised so far.
Several 1985 Chicago Bears teammates came out to help
During a night full of laughs and tears, several members of the Bears' 1985 team flew in from all over the country to help their teammate. According to ChicagoBears.com, 13 players and head coach Mike Ditka took part in the event. Wide receiver Willie Gault flew in from California and said he wanted to do anything he could to help.
"Mongo is part of our team, a teammate for a long time," said Gault. "He's an '85 Bear. Whatever I can do to help him, ease his pain, I want to do that. Anytime you know someone who's going through something like this, it's really sad. It hits home because it's so close. All we can do is support him, pray for him and do what we can to help him and his wife."
"It's a very difficult situation, and I think he's handling it incredibly well, and (Misty) is as well," said former teammate Jimbo Covert, who came in from Florida. "We're just trying to support him any way we can, both financially and emotionally. He's just a genuine person. What you see is what you get, and I've seen that since the first day I met him when I was a rookie in 1983 when I was 22 years old. He's just an incredible person and just one tough person. You have to be a tough person to deal with what he's dealing with."