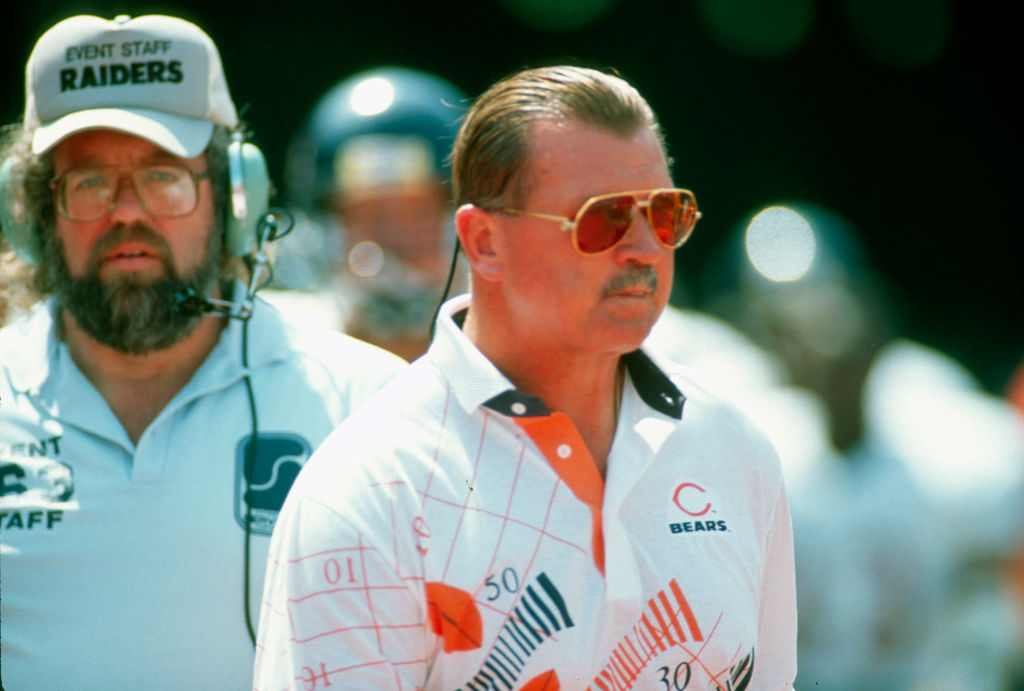 Mike Ditka Can't Fix the Mistake He Regrets Most
Mike Ditka would like to take back a play that he called in the third quarter of Super Bowl XX.
Retired NFL tight end and coach Mike Ditka's greatest regret in football could have been headed off so easily had he put more thought into a decision early on the evening of Jan. 26, 1986.
A great season capped by a Super Bowl victory
The 1985 Chicago Bears team was an NFL monster. The Bears stomped nearly everything in their way during a 15-1 regular season in which 13 of their victories were by two-score margins. Fourth-year head coach Mike Ditka fielded a defense that pitched two regular-season shutouts, held five other opponents under 10 points and allowed just 198 points.
The NFC playoffs were more of the same sort of domination with Chicago stomping the New York Giants 21-0 and the Los Angeles Rams 24-0 to reach Super Bowl XX against the New England Patriots in New Orleans.
The team's greatness can be measured by recognition after the fact. Ditka, who helped revolutionize the tight end position in his playing days, was enshrined in the Pro Football Hall of Fame in 1988. Players Walter Payton (1993), Mike Singletary (1998), Dan Hampton (2002), Richard Dent (2011), and Jimbo Covert (2020) would follow.
Mike Ditka and the Bears roll to the championship
Super Bowl XX was over for all practical purposes by halftime. After an early exchange of field goals, the Bears got short touchdown runs from fullback Matt Suhey and quarterback Jim McMahon, followed by Kevin Butler's third field goal for a 23-3 lead. Once McMahon scored on another keeper and Reggie Phillips returned an interception 28 yards in the third quarter the score was 37-3 and the Bears were on their way to a 46-10 victory for their first NFL championship since 1963.
For all the excitement that day, however, NFL fans always point to the Bears' final touchdown as the most memorable moment of the game and one of the all-time football memories.
Bears coach Mike Ditka had experimented during the regular season with lining up defensive tackle William "The Refrigerator" Perry in the offensive backfield in short-yardage situations near the goal line. The 6-foot-2, 335-pound rookie scored twice on five regular-season attempts and again on a carry in the NFC playoffs.
With the Bears in command in the third quarter and driving to another touchdown, Ditka sent Perry in and called his number. He plunged in from a yard out for a 44-3 lead.
Perry's touchdown was memorable, but it also slighted an all-time NFL great. Walter Payton was in the 11th season of a 13-year career that established him as one of the greatest NFL running backs ever. Payton had run for 1,551 regular-season yards as was the most important part of the championship team's offense.
Why did Mike Ditka slight Walter Payton?
Handing the ball off to William Perry instead of allowing Walter Payton to punch the ball in was an insult to the team's quiet leader, and Payton sulked during the post-game celebration in the locker room. Reporters noted Payton's frustration and asked if he was bothered by the play call.
"Yes, I'm mad," he responded. "Why shouldn't I be? I wanted the ball."
Asked about it for a book years later, Ditka said: "I realized after the game that Walter Payton didn't score. It bothered him and because it bothered him, it bothered me."
Ditka would double down on that in a subsequent interview:
 "I can stand up here now and tell you the greatest regret I ever had was when Walter didn't score a touchdown in the Super Bowl."
Ditka's decision that night was not entirely indefensible because the New England Patriots' defensive game plan was built around stopping Payton. That was borne out in the final statistics that showed Payton, who died in 1999, finishing with 22 carries for 61 yards.
For what it's worth, former Bear Dennis McKinnon did a radio interview last fall during which he said Ditka had an ulterior motive. McKinnon, a receiver on the Super Bowl team, said he "absolutely" believed that Ditka had placed a proposition bet in Las Vegas on whether Perry would score a touchdown in the Super Bowl.
"I was there," McKinnon said. "I had the game plan. I know what we'd been practicing the entire time for the Super Bowl — he was not in the offensive game plan. To take Payton out and put him in? I know what the line in Vegas was."
It must be noted that McKinnon was promoting a book at the time of the interview and that he has harbored some bitterness about how the organization has treated members of the Super Bowl XX team.