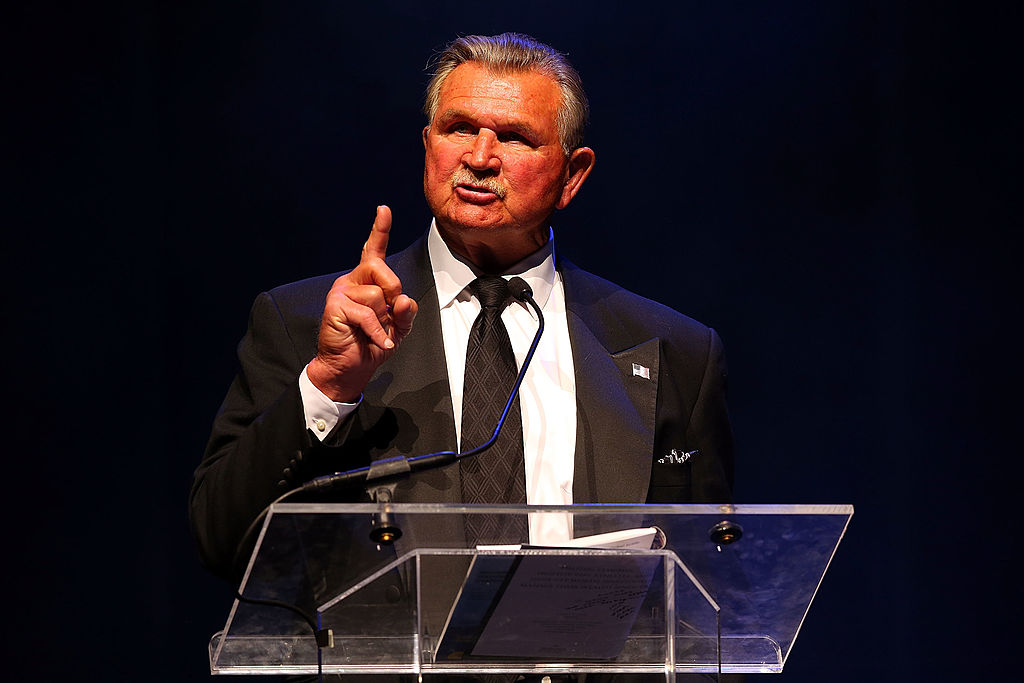 Mike Ditka's Next Coaching Job Will Surprise NFL Fans
Former Chicago Bears tight end and coach Mike Ditka is taking has career in a new direction, albeit briefly.
Mike Ditka is rejoining the coaching fraternity, but the Pro Football Hall of Fame has made a surprising decision on where to make his return. Ditka is trading the X's and O's world of the gridiron for balls and strikes on the baseball diamond.
Mike Ditka will manage a baseball team for a day
The return of the man known as Da Coach will take place May 22 as co-manager for a day of the Chicago Dogs of the American Association of Independent Baseball. The Dogs will be playing their season opener against the Sioux Falls Canaries in Rosemont, Illinois.
All fans in attendance will receive a Mike Ditka bobblehead that has the iconic Chicago sports figure decked out in his trademark sunglasses and sweater vest. The Dogs will play in special jerseys that will be auctioned off to benefit the Gridiron Greats Assistance Fund.
Ditka shouldn't expect to have to make any difficult decisions. His co-manager will be former Boston Red Sox infielder Butch Hobson, who is in his third season with the franchise. The Dogs, whose players last season included former Chicago Cubs pitcher Carlos Zambrano, were 59-40 last year.
Mike Ditka was a top NFL tight end in his playing days
NFL tight ends served largely as blockers when Mike Ditka came out of the University of Pittsburgh, where he was an All-American, in 1961 as the first-round draft pick of the Chicago Bears, but he played a significant role in changing that as a rookie. Ditka caught 56 passes for 1,076 yards and 12 touchdowns in that first season and in 1964 set a record for receptions (75) by a tight end that lasted until 1980.
Ditka, who also played with the Philadelphia Eagles and Dallas Cowboys, finished his 12-year career in 1972 with 427 catches for 5,812 yards and 43 touchdowns. He won a Super Bowl with the Cowboys after the 1971 season.
Mike Ditka's coaching career had successes, failures
Coaching legend Tom Landry brought Mike Ditka onto the Dallas Cowboys staff immediately after his retirement. He stayed for nine seasons, winning another Super Bowl.
Ditka returned to the Chicago Bears, this time as their head coach, in 1982. He coached the team to a 10-6 record and a playoff berth in his third season and then directed one of the most dominating teams in NFL history in 1986. Those Bears, led by running back Walter Payton and linebacker Mike Singletary, finished 15-1 in the regular season and swept to a 46-10 romp over the New England Patriots in Super Bowl XX.
The Bears went 37-10 over the next three seasons but made it back to only one NFC Championship Game. There would be two more playoff berths in four seasons, but Ditka was fired after the 1992 season.
The New Orleans Saints hired Ditka as their head coach in 1997, but the team went 6-10, 6-10, and 3-13 in his three seasons and he was fired again. His most controversial move was a lopsided trade in which Ditka sent all of the Saints' 1999 draft picks plus their first-round selection in 2020 to the Washington Redskins so that they could move up to draft running back Ricky Williams.
The Redskins used the bonanza of picks to draft future All-Pro players Champ Bailey and LaVar Arrington. Williams played three seasons with the Saints, rushing for 3,129 yards, and went on to play seven more seasons with two other teams. His career totals were 10,009 rushing yards, 342 receptions, and 74 touchdowns.