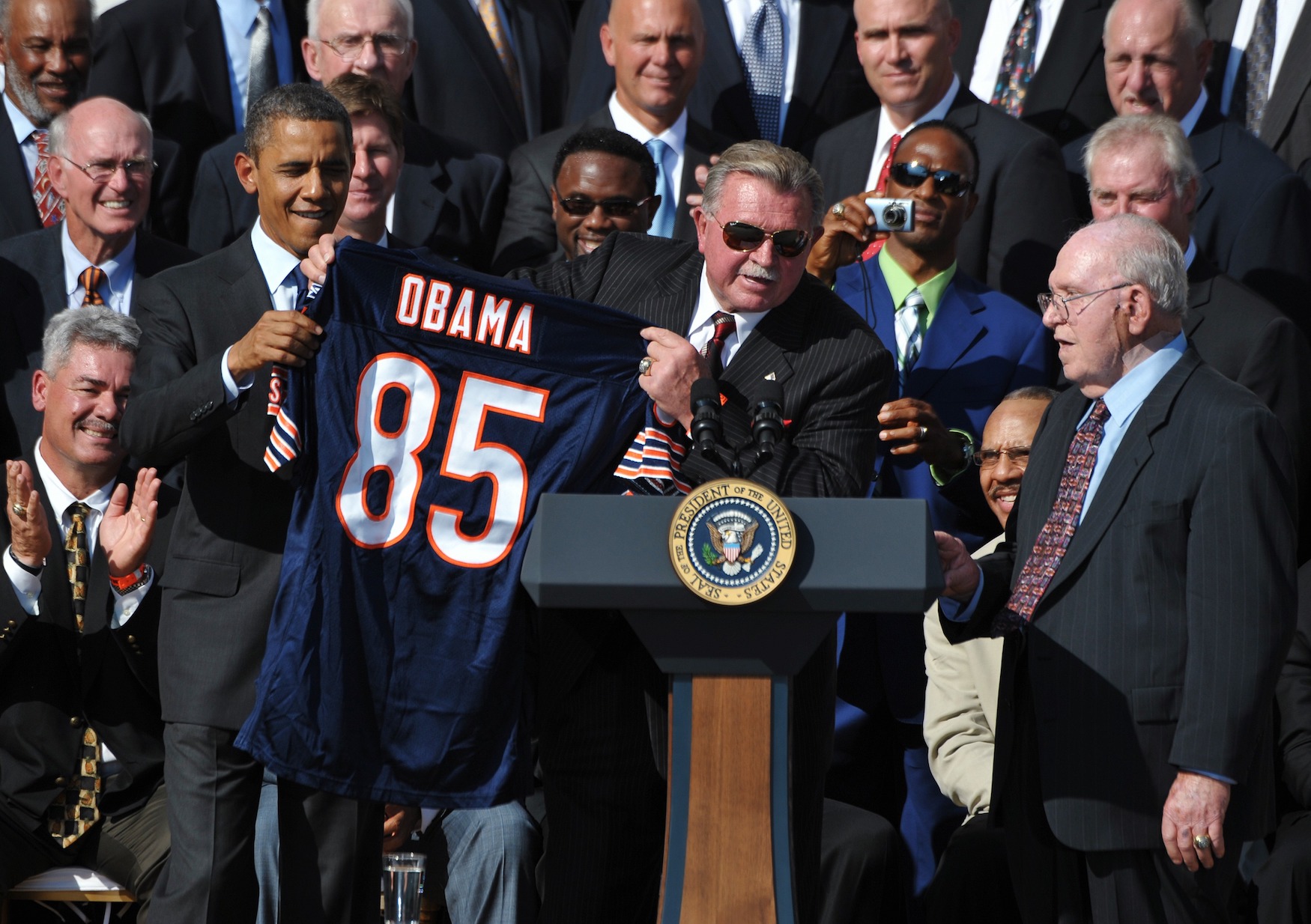 Mike Ditka Believes That Failing to Stop Barack Obama Was 'the Biggest Mistake' He Ever Made
In 2004, Mike Ditka considered running against Barack Obama in the race for United States Senate. The Chicago Bears legend still regrets staying on the sidelines.
If you were directing a movie and needed to cast a football coach, it would be hard to create a better character than Mike Ditka. Between his blue-collar background, on-field success, and iconic mustache, he seems like the perfect stereotype of a gruff gridiron guru. His "biggest mistake," however, has nothing to do with football.
After his coaching career came to an end, Ditka hasn't been shy about sharing his political opinions. In his mind, he failed to stop Barack Obama's rise to national prominence when he had the chance.
Mike Ditka's legendary football career
It's tough enough to ever make it to the NFL in the first place. Mike Ditka, however, found professional success as both a player and a coach.
As a native of Western Pennsylvania, Ditka enrolled at the University of Pittsburgh. While he played basketball, baseball, and football, his true home was on the gridiron; after three seasons as both a wide receiver and a punter, Iron Mike had shown enough talent to head to the pros.
Although he was drafted by the AFL's Houston Oilers, Ditka chose to join the Chicago Bears. He shifted from wide receiver to tight end and immediately made an impact; Iron Mike promptly pulled in 56 receptions for 1,076 receiving yards and 12 touchdowns, cruising to Rookie of the Year honors. He spent six seasons with the Bears before finishing out his career with the Eagles and the Cowboys.
Ditka's playing career ended in 1972, but his footballing life was just getting started. He joined Tom Landry's staff as an assistant and, in 1982, took over as the head coach of the Chicago Bears. While he and Buddy Ryan didn't see eye-to-eye, they worked together impeccably; the 1985 Bears lifted the Lombardi Trophy without breaking a sweat and are still regarded as one of the greatest teams in NFL history.
Failing to stop Barack Obama's rise to political prominence
In terms of his football career, Mike Ditka has said that his biggest mistake was failing to give Walter Payton the ball in the Super Bowl. Away from the field, however, it seems like he has another.
In 2004, Barack Obama decided to make the jump from the Illinois State Senate to the United States Senate. He ended up claiming an unexpected landslide victory, becoming a household name overnight; that prominence, of course, led to his eventual ascendency to the Oval Office.
At the time, Ditka apparently considered throwing his hat into the ring as the Republican candidate, but decided against it. To this day, he still regrets that decision. Even if Iron Mike didn't become a senator himself, he believes that he could have kept Obama out of Washington, D.C.
"Biggest mistake I've ever made," Ditka said in 2013, according to The Atlantic. "Not that I would have won, but I probably would have and he wouldn't be in the White House."
Mike Ditka still isn't shy about sharing his political opinions
While Mike Ditka decided against running for office, that hasn't stopped him from sharing his political opinions.
As documented by the Washington Post in 2016, Ditka appeared on a radio show and called Obama "the worst president we've ever had." While the former coach clarified that he finds Obama "pleasant" and would be happy to hit the golf course with the then-president, Iron Mike took issue with his leadership.
"He's not a leader," Ditka explained. "This country needs leadership. It needs direction. It needs somebody that steps up front. We need somebody like Ronald Reagan. Every once in a while you're gonna get punched in the chops, but you keep going forward. That's all there is to it."
The Chicago Bears legend has also voiced his support for Donald Trump and blasted anyone who kneels during the national anthem. While he didn't run for office, Mike Ditka isn't leaving his political opinions behind anytime soon.
Stats courtesy of Pro-Football-Reference