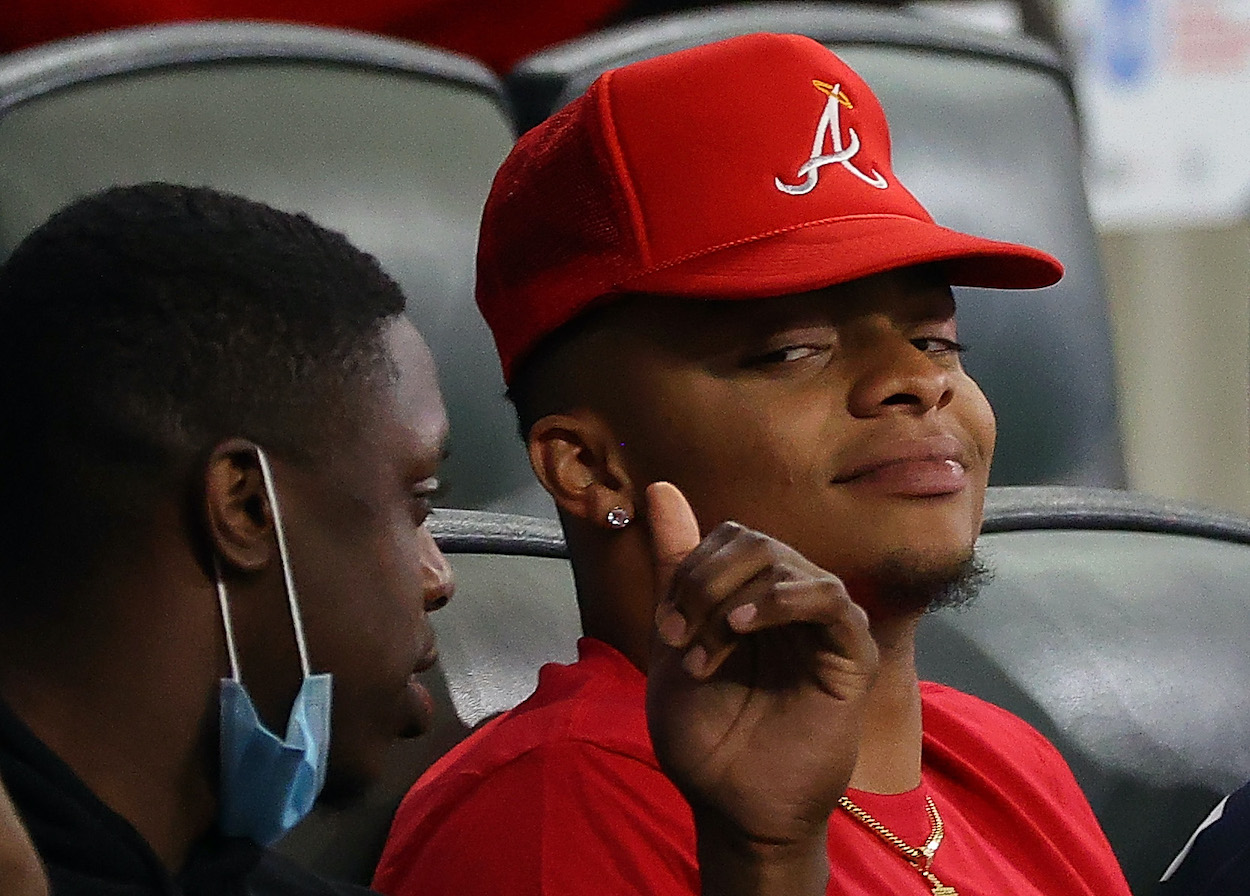 Justin Fields Trash Talk Shocked the Chicago Bears D: 'I Really Haven't Had a Quarterback That Talks Mess Back'
Justin Fields is the Chicago Bears QB of the future after the team gave up four draft picks to get him in the 2021 NFL draft. According to one Bears defender, he's also a serious trash talker. This could be bad news for NFC North defenses, if he can win the starting job in 2021.
Nothing strikes fear in the heart of NFL quarterbacks like the words, Chicago Bears defense. There is at least one rookie signal-caller that's apparently not intimidated by this vaunted unit: new Bears QB Justin Fields.
From Mike Singletary to Brian Urlacher to Khalil Mack, the Bears D is consistently among the scariest unit in the NFL. While these Monsters of the Midway have eaten up QBs for decades, Fields is not frightened. In fact, according to a Bears rookie defender, Fields is already talking trash right back to the heralded unit on the other side of the ball.
Justin Fields is the Chicago Bears QB of the future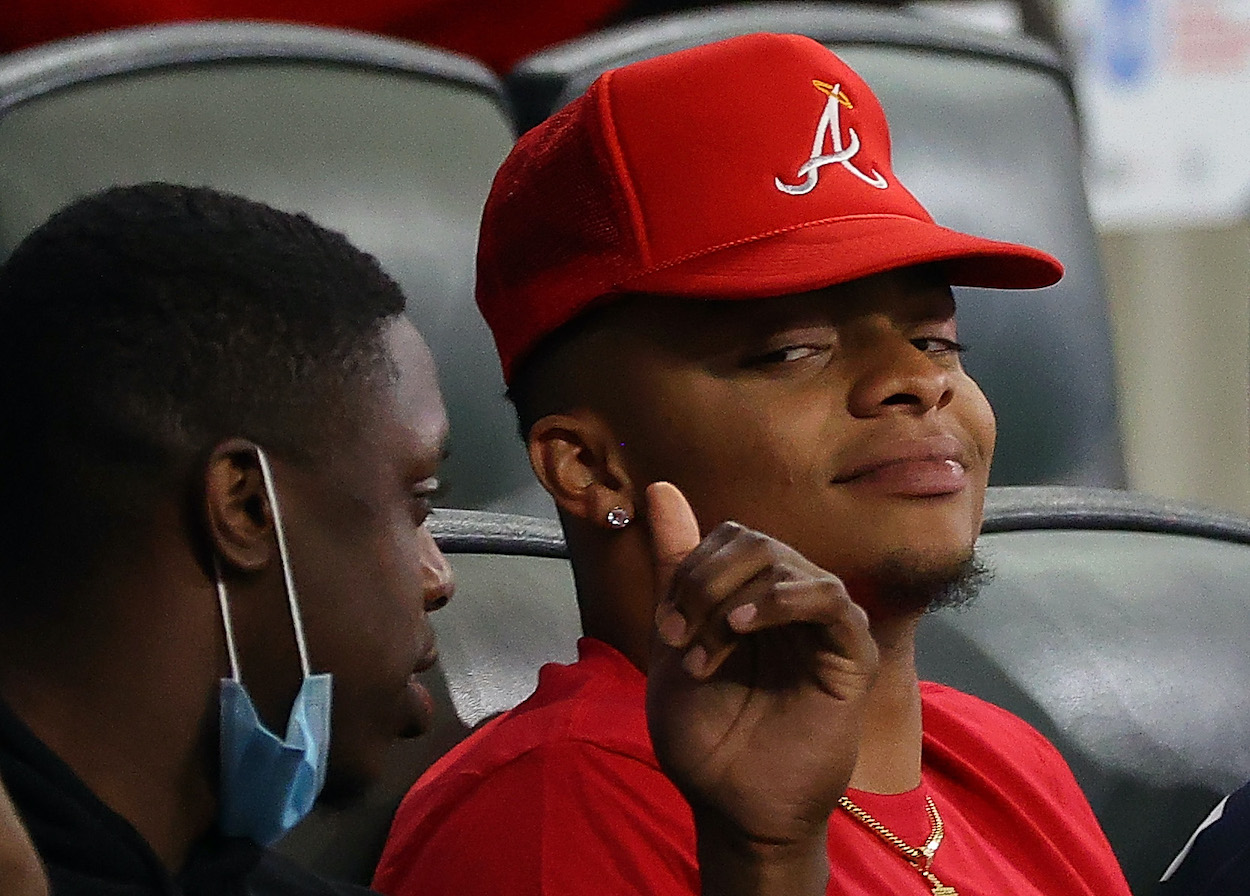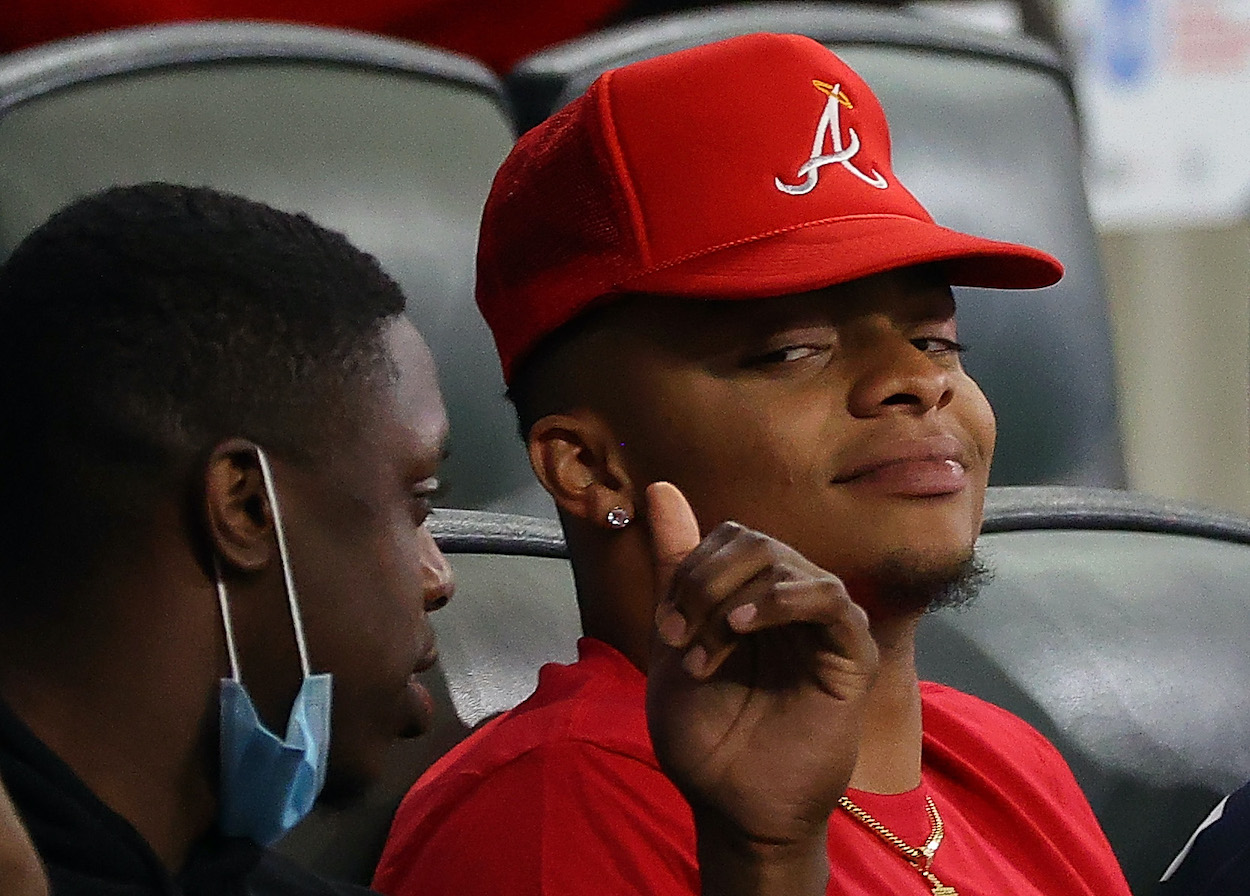 Just four years after trading up for failed QB Mitchell Trubisky, the Bears did it again in 2021 for Ohio State passer Justin Fields.
The former Buckeye was in the conversation during the college football season to be the second QB off the board after Clemson's Trevor Lawrence. However, both BYU's Zach Wilson and North Dakota State's Trey Lance leapfrogged the Georgia native in the pre-draft process.
Just getting to the NFL draft was a fascinating rollercoaster ride for Fields. The 6-foot-3 quarterback started his college career at the University of Georgia. He couldn't win the job from another top recruit, Jake Fromm, and ultimately transferred to Ohio State.
In Columbus, Fields beat out Kentucky transfer Gunnar Hoak and became a two-year starter. He threw for 5,373 yards and ran for another 867 while scoring 78 total touchdowns. This production led to the Bears sending the New York Giants the No. 20 overall pick and No. 164 (fifth round) picks in 2021 and first- and fourth-round picks in 2022 to take Fields at No. 11.
Rookie CB Thomas Graham Jr. says he's never had a QB talk trash back to the defense
Although the Bears gave away several 2021 picks, they kept No. 228 overall in the sixth round. The team chose Oregon cornerback Thomas Graham Jr. with that selection.
The corner recently guested on the Chicago Bears-centric podcast Kieq on the Mic to discuss a wide range of Bears-related topics. In addition to sharing his thoughts on preferring Michael Jordan over LeBron James, Graham also discussed his new QB.
"His confidence is his best quality just because he walks around with that swagger, where you're just like: 'Yeah, that's my quarterback,'" Graham said. "[He does] things not just to make himself better but everyone else around him better. That's what you want from a quarterback."
When asked about competing against him in practice, Graham disclosed:
It's good. I really haven't had a quarterback that talks mess back, so we'll be talking mess to each other, and he's gonna respond back, and I love that. He embraces the competition … It's very fun to be able to have that. Somebody that actually not just loves the game as much as you but still has that chip on their shoulder just like you do.
If Fields can dish it out to the Bears defense, he shouldn't have a problem doing the same with the other units in the NFC North and around the NFL.
The Bears and Justin Fields are sticking to "The Plan"
Fields might be a first-string trash talker, but he's not the Bears' first-choice QB heading into 2021 training camp.
In addition to drafting Fields this offseason, the team let Trubisky go, kept Nick Foles, and added former Cincinnati Bengals and Dallas Cowboys passer Andy Dalton. Fields is getting second-team reps over Foles, but Bears coach Matt Nagy insists that Dalton is the starter.
"I mean, Andy is our starter," Nagy told PFF's Chris Collinsworth, according to Sports Illustrated. "Again, I can't predict anything. You know how it goes. There's so many things that can happen between today and Week 1. But Andy is our starter and Justin is our No. 2 and we're going to stick to this plan."
The plan that Nagy refers to that could keep Fields on the bench even if he gives the Bears a better chance to win now and in the future is the subject of much derision from Bears fans. They want Justin Fields, and they want him now.
Nagy and GM Ryan Pace threw a Hail Mary to keep their jobs with the Fields pick. Now, if they don't let him get out on the field to talk trash (and play QB) when he's ready, that could be the last moves these two make in the Windy City.  
All stats courtesy of Sports Reference