The New York Jets Are Making the Exact Same Mistake With Zach Wilson They Made With Sam Darnold
In 2018, the New York Jets didn't put a competent veteran quarterback in place to support first-round draft pick Sam Darnold. Now, in 2021, they are making the exact same mistake by backing up No. 2 overall pick Zach Wilson with two QBs, James Morgan and Mike White, that have never thrown an NFL pass.
If you ask a New York Jets fan what the franchise's biggest problem is, you may hear that the organization makes the same mistakes over and over again. They draft the wrong players, hire the wrong coaches, and generally just haven't got it right since the days of Broadway Joe.
In 2021, the Jets have a fresh start with a new franchise quarterback in BYU's Zach Wilson. But, instead of learning from past mistakes, they are already repeating history. Will their failure doom Wilson like it did their last high first-round pick, Sam Darnold?
Sam Darnold never had a quality, experienced backup with the New York Jets
The Jets picked USC QB Sam Darnold No. 3 overall in the 2018 NFL draft. Then-head coach Todd Bowles and the Jets' power structure opted against starting the season with a proven NFL signal-caller alongside him. Instead, NFL journeyman Josh McCown, who was 39 years old during the 2018 season, was the other QB on the roster.
McCown started in the early season but took a seat during the third game so the Jets could bring on Darnold. The 21-year-old rookie started the next 13 contests, putting up a 4-9 record while throwing 17 touchdowns and 15 interceptions.
The following year was much the same, even under new Jets coach Adam Gase. Darnold again started 13 games producing a slightly better, 7-6 record. The three games he missed after contracting mononucleosis were all losses. This is because Darnold's understudies in 2019 were Luke Falk and Trevor Siemian.
New York brought in veteran Joe Flacco for the 2020 season. However, the QB looked like his best days were behind him when he was under center. The team was also horrible, and Flacco lost all four games he started.
The Jets threw Darnold to the wolves with no reliable veteran backup plan, and it was terrible for Darnold's development and the team. Now, they've learned their lesson and put a legitimate QB support system around Wilson, right?
Zach Wilson's backups are young and unproven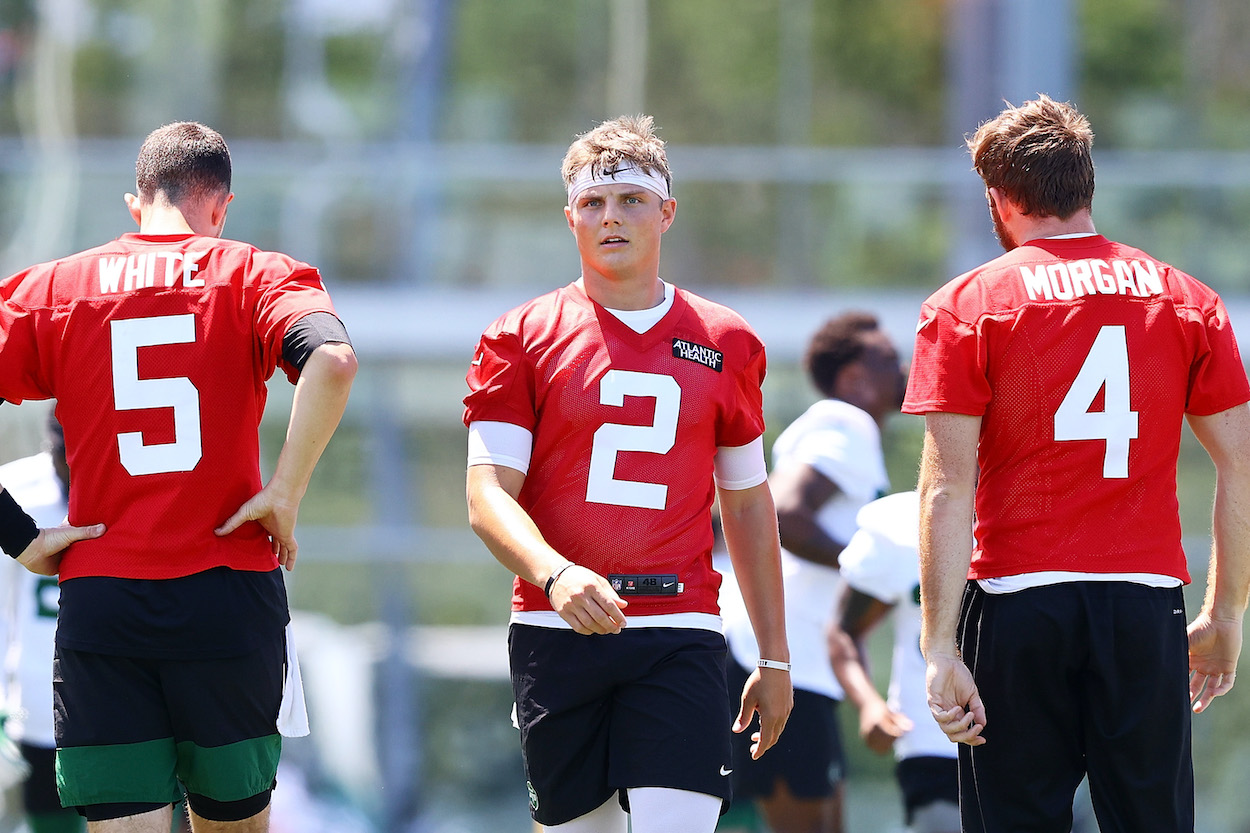 Wrong.
The New York Jets are at it again. This time it is with a new coach (Robert Saleh) and a new quarterback, but it's classic Jets. Who are the 21-year-old, No. 2 overall pick's backups heading into training camp in 2021?
First, there's James Morgan, a 2020 fourth-round pick from Bowling Green and Florida International who's never thrown a regular-season NFL pass. Then, there's Mike White, the 26-year-old former South Florida and Western Kentucky QB who has ALSO never thrown a regular-season NFL pass.
This is not exactly the no-pressure support system that the Jets should have put in place around Wilson or even the ones the other teams that drafted a QB high in 2021 did. Trey Lance has Jimmy Garoppolo, Justin Fields has Andy Dalton, and Mac Jones has Cam Newton.
Only No. 1 overall pick Trevor Lawrence's quarterback room is even close to as inexperienced as Wilson's, and he has Gardner Minshew II, who has 20 NFL starts under his belt.
There aren't a lot of good NFL backup QBs on the market now
Even if, during OTAs and minicamp, the Jets realized the error of their ways (again) and wanted to sign a competent, experienced QB to help mentor Wilson, it won't be easy.
The franchise did make a run at former San Francisco 49ers QB Nick Mullens and current New England Patriots backup Brian Hoyer, per Yahoo! Sports, but failed to sign either. The backup QB market is currently incredibly thin, with names like Matt Barkley, Robert Griffin III, and Josh Johnson among the best available.
The Jets' best option to not repeat their past mistakes is to trade for a quarterback who is third on a depth chart somewhere or to wait until a team releases a QB. If they take the latter route, they may have to wait until very close to the season, which may not help much. If they take the former, they could target the Chicago Bears' Nick Foles or revisit Hoyer.
There is a third option, and it's the most New York Jets solution ever.
In 2020, McCown was on the practice squads of both the Philadelphia Eagles and Houston Texans, making him the oldest practice squad player in league history, per NFL.com. Signing a soon-to-be 42-year old McCown to backup Wilson would truly make the "Jets never learn" criticism come full circle.
All stats courtesy of Pro Football Reference